'Mistero Buffo,' At The Poets' Theatre, Slices Sanctimony Down To Human Size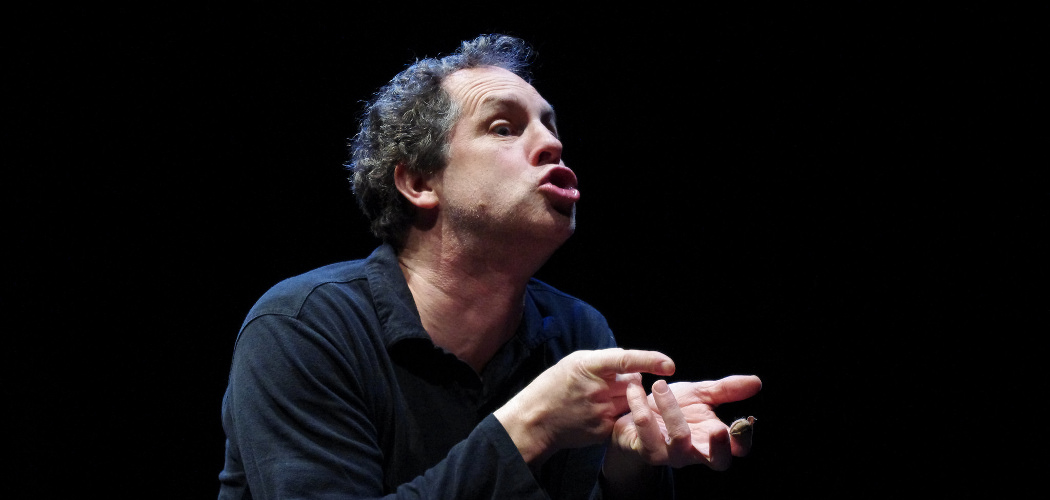 This article is more than 5 years old.
It's been said the urge to worship higher powers is an instinct rooted in the reptilian part of the brain. If so, the urge to make fun of pieties is probably as old as the human race, and it's part of what set us apart from lower life forms.
Nobel Prize-winning playwright and performer Dario Fo has made an art of cutting grand pieties down to human size. Fo didn't invent the form, but he celebrates and applies it to the contemporary world, drawing from the tradition of the "giullari," a kind of street theater from medieval times. The Poets' Theatre has selected five of Fo's short works and put them together into a minimalist — but highly charged — theatrical work under the title "Mistero Buffo," starring Benjamin Evett, Debra Wise and Remo Airaldi.
A "mistero" is a mystery in the sense of mystical church dogmas, Evett tells his audience in a vigorous, vinegary introduction, and "buffo" — well, there's no direct English equivalent, but suffice to say we derive the word "buffoon" from the word. In short, what we have in this anthology of Fo's satirical short plays is a troupe of holy fools getting up to some numinous high jinks at the expense of foundational Catholic myths.
"Mistero Buffo" is staged, in some parts, the way a standup comedy routine is staged: without props or much in the way of set design. There's a stool, and black curtains against the back wall; scene changes are marked by John R. Malinowski's lighting scheme and by the tenor of the actors' performances. Evett's prologue (a convoluted story in which his character explains how Jesus came back to Earth to charge him with the holy mission of skewering social and scriptural sacred cows) carries an especially strong flavor of modern standup, peppered as it is with up-to-the-minute political references. This just underscores the universal nature of humor, and of some its favorite targets: The pompous; the entitled; those who exploit, rather than reward, the efforts of others.
But there's also a strong and surprisingly recognizable undercurrent of what we now call sketch comedy — the sort of thing you'd see on "Saturday Night Live," YouTube or FunnyOrDie. How else to characterize the chapter in which Debra Wise, in the manner of a one-woman show, single handedly creates a crowd of quibbling, kibitzing spectators who have gathered to see Jesus resurrect Lazarus? This passage suggests that miracles of resurrection take place all the time, such that a cottage industry has spring up around it; the piece also has a manic game show vibe about it, an implied attitude along the lines of, "What's behind the stone of Tomb Number 2, Monty?" When the time comes that we find out just what is waiting behind the tombstone, it's like something out of an episode of "Family Guy," with disgusted onlookers picking off worms Lazarus shook onto them while passing by.
Other passages hew more closely to what we might think of as "commedia dell'arte," though of (an almost literally) pungent sort. In one particularly pointed bit of socioeconomic commentary, Evett's paralyzed man and Airaldi's blind man — both mendicants — team up to try and better their lot. But this humor is double edged: Any notions that this skit will tie up with a tart, pat comment on issues of our day (the destruction of the nation's unions, class tensions between the vanishing middle class and the ever more affluent one percenters) evaporate under a cruel sun of equal opportunity satire. After guiding Airaldi's blind beggar into a heap of dog doo for his own amusement, Evett's paralyzed mendicant climbs on Airaldi's back to ride piggy-back, warning as he does so that the duo should not stray too close to the miraculous prophet who has been healing the sick and the lame, lest a miraculous healing take their disabilities — and thus their livelihoods — from them. "Without our infirmities," the paralyzed man frets, "we lose the advantage we share with the rich and the powerful!" Whether situated on the political left or right, you can't help but grin at that one.
Most familiar as modern comedy, perhaps, is a riotous account of the wedding at Cana. You could think of it as My Big Fat Jewish Wedding, with a drunken groom, an overwrought father of the bride, and a special vintage on the wine list. There's the additional pleasure of Airaldi's perpetual drunk — he looks like the sort who'd harangue passengers on the Red Line with elaborate tales of woe in a bid to collect money — praising the miraculous wine. After all, who better to act as a de facto sommelier, whether the wine in question is of earthly or divine origin, than a lush?
This is unapologetically un-PC stuff (and never more so than the episode in which, upon noticing Mary approaching the site of Christ's crucifixion, Airaldi's character dreams up the idea of knocking her cold to spare her the heart-rending sight of her dead son).
But is it irreligious, or scornful of faith? One senses that it is not. In puncturing the clouds upon which the overtly, obnoxiously pious float, this mystery play returns the struggle for faith and atonement to the human realm.
"Mistero Buffo" continues at the Suffolk Modern Theatre through March 26. For tickets and more information, visit Modern Theatre's website. 
Kilian Melloy Theater Critic
Kilian Melloy is a contributor to WBUR's The ARTery.