8 Classical Music Festivals For A Festive Summer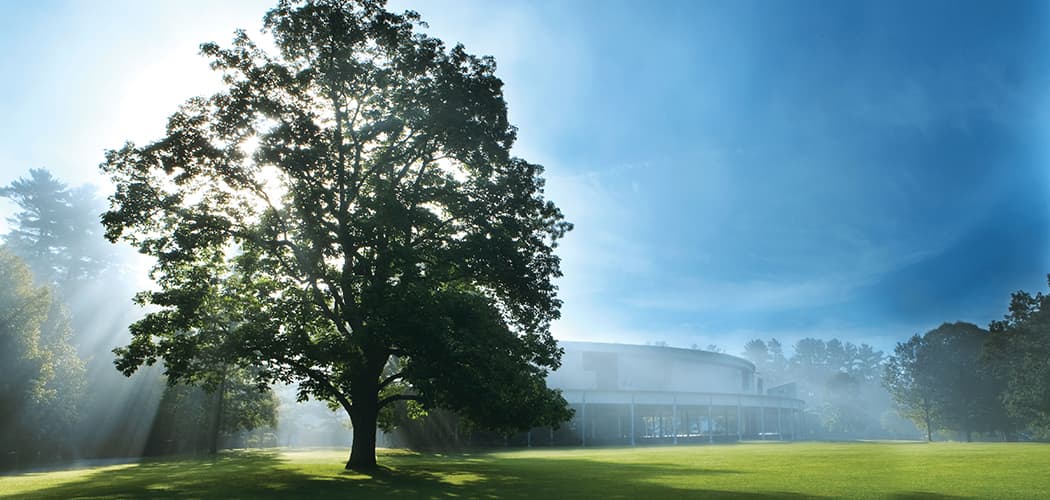 This article is more than 4 years old.
Summer is a season of exploration — a time to find new passions and try new things. Massachusetts has a score of classical music performances happening across the state from the Berkshires to the Cape, as well as around the Greater Boston area. With performances ranging from Baroque opera to Romantic piano music to contemporary jazz, there'll be plenty of opportunities to expand your musical palette.
1. Rockport Chamber Music Festival
On the North Shore, the small town of Rockport hosts one of the summer's biggest and best classical music festivals from June 3 to July 22. Performances are held in the stunning Shalin Liu Performance Center overlooking the harbor. Grammy-winning NEC grads the Parker Quartet open June 3 with pianist Menahem Pressler. They match a Haydn quartet with Bartok's lush first string quartet and Dvorak's A major piano quintet.
A week later, Brandon Ridenour plays a unique program that highlights solo piano music that he arranged for trumpet and piano. Naomi Kudo will join on piano for a performance of Gershwin and Debussy's preludes as well as a Ridenour virtuosic composition, "Fantasy Originals on a Theme by Paganini."
Other highlights include performances by the Borromeo Quartet (June 9) and pianist Lise de la Salle (June 18). You can also see the Borromeo Quartet at the Gardner Museum this summer July 31, Aug. 7 and Aug. 14.
Also at Rockport, the Harlem Quartet joins jazz pianist Aldo López-Gavilán, whom The London Times calls "a formidable virtuoso," for a concert of jazz standards and López-Gavilán originals on July 1. The performance will include "A Night in Tunisia," "The Girl From Ipanema" and López-Gavilán's "Pan con timba," shown below:
Those looking for more jazz can see The School at Jacob's Pillow's "A Jazz Happening," dance accompanied by live jazz music Aug. 21 at the Jacob's Pillow Dance Festival in Becket.
For those with a penchant for the opera, Odyssey Opera puts on two rarely performed works at Boston University June 3-12. The program consists of Gluck's 1750 opera "Ezio" and Mozart's "Lucio Silla," which was first performed when Mozart was 16. Both operas are dramas about figures of power in ancient Rome. For more opera, check out Boston Midsummer Opera's performances of Donizetti's "Il Campanello" and Mascagni's "L'amico Fritz," both 19th century one-act operas. Performances are July 20, 22 and 24 at the Arsenal Center for the Arts in Watertown.
For a taste of older music, turn to the Aston Magna Music Festival, the country's longest running summer festival for early music. The performers play on period instruments at four locations, including Brandeis University and Bard College at Simon's Rock. The festival begins in the middle of June with a program that includes selections from Monteverdi's "L'Orfeo" and selections from his instrumental music. The festival finishes with an early July performance of two Bach cantatas and an orchestral suite. Those looking for more choral music should check out the Berkshire Chorus Festival, which has an exciting summer program planned in tandem with the Springfield Symphony Orchestra.
4. Meeting House Chamber Music Festival
Many New Englanders like to escape to the Cape in the summer, so Orleans hosts the Meeting House Chamber Music Festival in June and July. Performers include violinist Irina Muresanu, who serves on the faculty at Boston Conservatory, and harpist Elisabeth Remy Johnson, who has been principal harpist of the Atlanta Symphony since 1995. One festival highlight is a June 19 performance that includes Vivaldi's Bassoon Concerto and a movement from a Villa-Lobos duo for oboe and bassoon.
5. Tanglewood
Tanglewood will have its typical bounty of classical treats this summer, with jam-packed programs every weekend in July and August from the BSO, the Boston Pops, the Tanglewood Music Center Orchestra and others.
The BSO summer program commences July 8 when Jacques Lacombe conducts a trio of popular works that span the late Romantic and early classical eras — Saint-Saens' third violin concerto (with Joshua Bell), Ravel's "Alberado de gracioso" and Prokofiev's Symphony No. 5.
You can get a taste of new compositions at the Contemporary Music Festival July 21-25. The festival presents works by 20th century masters Messiaen and Boulez, including Messiaen's "Turangalîla-Symphonie." But the weekend features a slew of present-day composers and lesser-known works, such as Sebastian Currier's song cycle "Deep-Sky Objects" (2012) and Donnacha Dennehy's "One-Hundred Goodbyes" (2011), both of which include digital components.
For those of you with a penchant for chamber music, the magnificent Danish Quartet combines Mendelssohn and Beethoven with Per Nørgård's first quartet in an effort to bring attention to Denmark's finest composers. Below they perform a work by Thomas Adès at Lincoln Center.
In alternative styles, Yo-Yo Ma's Silk Road Ensemble performs on Aug. 7 and The Knights orchestra plays an eclectic program ranging from a Haydn symphony to songs by Cat Stevens and Gabriel Kahane July 14.
Highlights from the rest of the summer include a BSO performance of "Rhapsody in Blue" with pianist Yuja Wang and The Firebird Suite July 17, as well as Andris Nelson's return to Tanglewood in late July. He will conduct Act I and II of Verdi's "Aida" Aug. 20. All Tanglewood performances will be in either Ozawa Hall or Koussevitzky Music Shed, two gorgeous performance halls that have seating extending into the grass outside.
6. Norfolk Chamber Music Festival
The Yale Summer Music School-Norfolk Chamber Music Festival celebrates its 75th summer in Norfolk, Connecticut this year from July 9 through Aug. 27. The Claremont Trio, Juilliard graduates and Columbia visiting artists-in-residence, pairs Dvorak and Schubert with modern composer Gabriela Lena Frank's "Folk Songs for Piano Trio," shown below in a Gardner performance.
Their Aug. 12 performance is preceded by the Emerson Quartet on Aug. 6. The summer culminates with the Norfolk Choral Festival on Aug. 20.
For those looking for music closer to the Boston area, the Boston Landmarks Orchestra, which has been performing all over the city and collaborating with local artists since 2001, has a full summer slate scheduled at the Hatch Shell. The summer opens on July 13 with a performance of  "music of the wilds and the countryside." The concert includes Copland's "Music for Movies" and features a fascinating piece commissioned for the National Youth Orchestra of the USA by Tan Dun, "Secret of Winds and Birds." The piece is supposed to represent sounds from nature and inspire hope for the future. It includes bird calls composed by Dun, recorded on traditional Chinese instruments and played on smartphones on stage and in the audience.
Two weeks later, the orchestra presents an evening at the opera with soprano Jane Eaglen. The beginning eases you in with some excerpts from Puccini's "Edgar" and "Manon Lescaut." The fun and games end when local choirs join Eaglen for the rousing "Libera me, Domine," which Verdi later rewrote as the conclusion to his "Requiem." They end with a bang, performing selections from Wagner's epic Ring Cycle.
8. Cape Cod Chamber Music Festival
If the Meeting House Festival doesn't provide enough Cape-centric entertainment, the Cape Cod Chamber Music Festival has its usual stacked summer of events between July 29 and Aug. 26. The Imani Winds, the Grammy-nominated quintet, will join pianist Brian Zeger for a pair of performances Aug. 1 and 2. The quintet has two member composers and connects European, American, African and Latin American traditions. Their program includes four movements from Ravel's "Le Tombeau de Couperin," Poulenc's "Sextuor for Piano and Winds" and a selection of contemporary pieces.
The Emerson, Harlem and Borromeo quartets make appearances before the sublime Escher Quartet takes up residency for the week of Aug. 22. They are joined by a small ensemble on the summer's final night for a performance that will include Chopin's E minor piano concerto.
---
Will Sullivan is an ARTery intern. He studies music and math and runs on the cross country and track and field teams at Swarthmore College.