Welcome To A New WBUR.org And A New ARTery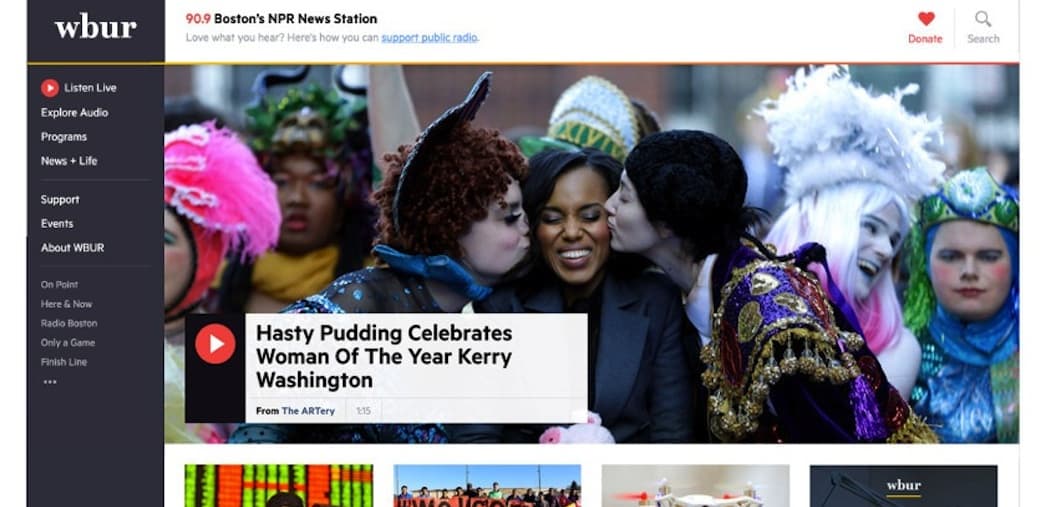 This article is more than 4 years old.
There's a new look to the WBUR website and a new look to The ARTery coming Friday, June 10. We've re-imagined how you experience public radio and how you read the content on websites like The ARTery, CommonHealth and Cognoscenti. Whichever device you use — phone, tablet, laptop — there'll be a sleeker, easier to use way to look and listen. Here's a preview.
What's changed:
A celebration of audio: This new platform is built to look and feel like an audio app. You can listen live or on-demand while browsing the site and the audio will stay with you. The idea is to make the audio easy to find, and most importantly, infuse the digital experience with some of the serendipity found in the best of public radio.
The site will be easier to use on your phone, too — modern, extremely fast and efficient. You should never have a problem loading wbur.org. Try us on your phone first.
You'll still be able to access all the archives of The ARTery here. In fact, the overall look of The ARTery will be very similar, particularly at first. But we'll be continuously working on it and offering new features and fixes every two weeks. We're planning a series of events this summer to gather more feedback so please share your thoughts here.
What hasn't changed:
All your favorite programs, blogs and content can still be found on this site. Everything is organized in our "Programs + Sections" page on the left navigation; new logos are bigger and displayed as album art to help you browse.
Live streaming is still a core issue for us. The WBUR live stream will start immediately from the wbur.org homepage when you click "Listen Live" in the top left corner. The player at the bottom is a guide to all audio on our site, and anytime you hit a play button, it will be reflected there.
We wanted to do all this in collaboration with you — our members, listeners and readers. We want to build this website with you so please tell us what you think. We felt the best way to do this is to design and build out in the open, showing our work, and have you weigh in.
Our site has been in beta form for four months and we've already received quite a bit of commentary that has already been factored in to what you're seeing now. But this is the beginning not the end, so your ideas matter. We promise to read everything you send. We have more work to do, but we hope you'll enjoy the updates and additions we've made to wbur.org. Ideas? Questions? Comments? Please fill out this form. You can talk to us on Twitter at @WBUR or @WBURartery or on either the WBUR or ARTery Facebook pages. You can also reach me on Twitter at @siegeled.