The Story Collider Shows The Human Side Of Science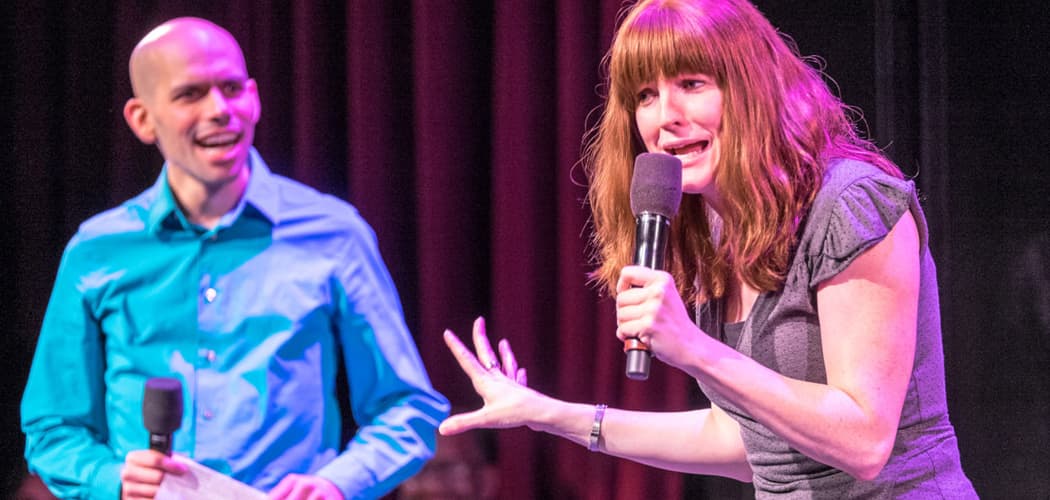 This article is more than 5 years old.
It's 2012, and Phoebe Cohen is a postdoc at MIT studying paleontology and science education. She's about to talk at the Cambridge Science Festival. After she is introduced, she walks up to the microphone, her fingers tightly entwined at her waist. "I was telling these [Story Collider] guys earlier," she starts, "how nervous I was, which is weird, since I spend a lot of time talking to public audiences."
Cohen is nervous because she is not about to deliver a scientific lecture, but a personal story about encountering a bear while conducting research on the Yukon-Alaska border. Her story is part of a program called The Story Collider, a science-themed Moth Radio Hour that comes to the Oberon in Cambridge Tuesday.
The Story Collider began in New York in 2010 as the brainchild of Ben Lillie and Brian Wecht, two theoretical physicists drifting away from the sciences toward the arts. Both active participants in the burgeoning New York City storytelling scene, they thought it would be fun to try sprinkling some science into the storytelling experience.
"I thought it was a terrible idea. I thought it would be really boring," says Erin Barker, a Moth GrandSLAM champion Lillie invited to attend the first Story Collider event. She didn't have anything against science — "I like antibiotics, I like electricity, I believe in global warming, I want to save the whales," she jokes — but she wasn't interested in going to see science lectures.
But Barker was "was blown away by how good it was" and found that the science stories had a real human component. She has been a producer for the show for the past five years and was named artistic director last month.
Both scientists and non-scientists share their stories at recorded live shows shared as podcasts online, with regular events in New York, Boston and Washington, D.C.. The Story Collider producers help shape the stories over the course of several phone calls and a dress rehearsal with the storytellers. While advertised as science stories, their link to science is often loose or tangential. The staff shared their favorite stories from 2015 in a January blog post, and the collection includes biologist Karen James' story about befriending an astronaut, Carter Edwards' tale of growing up and learning about the nature of truth through his passion for dinosaurs and John Dimandja's experience as a black chemist and professor.
The experience of listening to The Story Collider is essentially the same as listening to Moth Radio Hour, but Barker says The Story Collider has a unique mission — to show how science is connected to everyone and help people engage with science and scientists. "There's a popular mistrust of science and belief that science is only for certain people," she explains. Before joining The Story Collider, she was of the mindset that science was just not for her.
But stories like Diane Kelly's have helped shift her perceptions. The evolutionary biologist talked in 2012 about picking up roadkill because she hated the idea of killing animals for research. For Barker, hearing about that ethical quandary and scientists' efforts to do the right thing has built a trust with science that she didn't have before. Her admiration for scientists has grown through seeing their passion for their work and for the truth.
Likewise, the storytellers feel a connection to their audiences. Christine Gentry, who is one of two producers for the Boston Story Collider events and who has "told" at past Story Collider shows, says that storytelling is a special way for artists to share their work with an audience. "It's a singular experience," she says. "You'll never tell the story like that again. You feel an electric current between you and the audience that you don't get in other spaces."
Phoebe Cohen, who now teaches at Williams College, organized an April Story Collider event at the college. In an article she wrote for the American Geophysical Union Blogosphere following the Williams event, she talked about storytelling as a therapeutic experience for her as a scientist. "We [scientists] spend so much time trying to remove ourselves from our work, to remain objective, that it's liberating to be asked to do the exact opposite. Brian's notes to me on the first draft were peppered with '... but how did you feel?'. The process is inherently introspective, and both times I have done it it has revealed to me new truths, new connections, and new insights about my life."
She reinforced these ideas in our phone conversation last week. She said that in her experience, "Academia can be really isolating. It's motivating to connect to broader audiences … it reminds you why you do what you do."
Scientists and aspiring scientists in the audience can also find motivation in these stories. "After the show, students I chatted with told me they felt inspired and excited by our stories," she wrote in her blog post. "Others told me how they felt reassured — by publicly airing our foibles and doubts, we humanized ourselves, and thus also our science … By creating emotional connections, storytelling lets us all leap, albeit briefly, over the walls that so often cloister academic science."
Ben Lillie summed all these ideas up succinctly on his personal blog after The Story Collider reached 1 million downloads. "This world we live in is shaped more by science than anything else, and if we're going to be a part of it, we need to see that scientists are human and that science affects people who aren't scientists. And if we do it while laughing and drinking with friends … well, I think that's probably the best way."
You can still purchase tickets for The Story Collider show at Oberon June 7. The show's theme is "scientific surprises;" I would tell you more about it, but it's a surprise.
---
Will Sullivan is an ARTery intern. He studies math and music and runs on the cross country and track and field teams at Swarthmore College.
This article was originally published on June 06, 2016.