12 Summer Stages To Hit From Wellfleet To Williamstown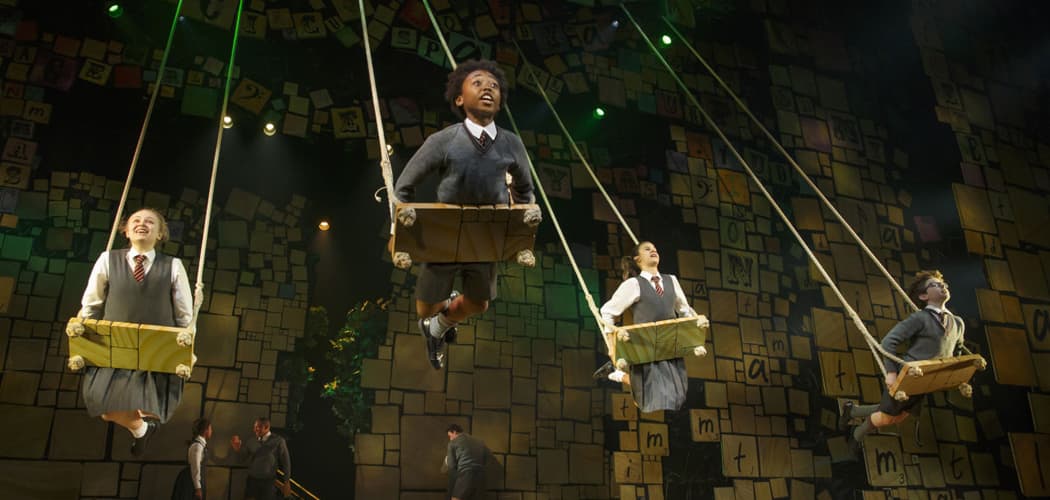 This article is more than 4 years old.
Summer theater is one of the most upbeat theater seasons of the year.
The much-anticipated "Matilda" is coming. Steven Maler, fresh off his Norton Award, is staging "Love's Labour's Lost," while Shakespeare & Company is remounting its highly touted "Merchant of Venice" in the Berkshires. Marisa Tomei is in Williamstown. And there's adventurous stuff going on at Company One Theatre as well as on Cape Cod and Cape Ann.
Boston
1. Broadway in Boston
Broadway in Boston brings theater's biggest little hero to the Boston Opera House June 14-26. "Matilda: The Musical," based on the timeless novel written by Roald Dahl, tells the story of a young girl whose psychic abilities help counter the wrath of grownups. The road version of this acclaimed production, which won 50 international awards, including four Tony Awards, is one of the most anticipated events of the commercial theater year. Below is a sneak peak of the musical's international tour:
2. Commonwealth Shakespeare Company
Maler, the founding artistic director of the Commonwealth Shakespeare Company, was awarded the Elliot Norton Prize for Sustained Excellence last month. Offering free and accessible shows for the past 20 years, Maler continues the tradition by directing "Love's Labour's Lost" at the Parkman Bandstand in the Boston Common July 20 - Aug. 7.
3. Company One Theatre
As many of us remember from elementary history, the Boston Tea Party was a rebuke to injustice. Likewise, Natsu Onoda Power's "The T Party" takes jabs at society's gender norms -- not by creating destruction, but by celebrating with song and dance. Company One Theatre presents the New England premiere July 15 - Aug. 13 at the Roberts Theatre at the Boston Center for the Arts.
The North Shore
4. Gloucester Stage Company
On the first anniversary of their father's death, the Schwartz family reunites in the Catskills where their pristine traditions are preserved. The New England premiere of "The Last Schwartz" surrounds the question of what it means to be Jewish through the perspective of a dysfunctional family. Writer and director Deborah Zoe Laufer, whose "Out of Sterno" got rave reviews last year, returns to the Gloucester Stage Company providing yet another performance focused on kinsfolk. GSC will also be reviving "Albatross," which The ARTery's Kilian Melloy praised when it played in the Boston area in 2015. This will be the first summer under the highly regarded team of Robert Walsh and Jeff Zinn. "The Last Schwartz" opens July 7 and closes July 30. "Albatross" lasts from June 16 through July 3.
5. North Shore Music Theatre
At the North Shore Music Theatre in Beverly, one can find some of the most popular musicals that theater has to offer. Families will find "Mary Poppins" (playing July 12-31), and "Singin' In The Rain" (Aug. 16 - Sept. 4) are great entertainment. Though "Funny Girl," with Shoshana Bean ("Wicked") as Fanny Brice, has more adult themes. It opens June 7 and closes June 19.
Cape Cod
6. Harbor Stage Company
Spending some time on the Cape this summer? Make sure to stop in Wellfleet at any time throughout the summer to experience some amazing performances. Another fascinating season from the upstart Harbor Stage Company, which has developed a great aesthetic of mixing classics like Strindberg's "Miss Julie" with hot young writers like Jez Butterworth and their own Brenda Withers. Beginning mid-June and finishing up early September, HSC will be presenting "Miss Julie" (June 16 - July 9), "The Kritik" (July 14 - Aug. 6) and "The River" (Aug. 11 - Sept. 3).
7. Wellfleet Harbor Actors Theater
Another theater group situated halfway between the "tip" and "elbow" of Cape Cod is the Wellfleet Harbor Actors Theater. This season, a Lynne Taylor-Corbett-directed production centers around four women who find themselves linked, not only in their various successes as singers, but in a hilariously twisted situation on their romantic escapades. With book and lyrics by Bill Russell, and music by Janet Hood, "Unexpected Joy" opens on July 21 on the Julie Harris Stage and closes Aug. 20.
Berkshires And The Pioneer Valley
8. Shakespeare & Company 
Shakespeare & Company, based in Lenox, will be commemorating the 400th anniversary of the troupe's namesake by bringing back Tina Packer's highly acclaimed production of "The Merchant of Venice," once again starring S&C mainstay Jonathan Epstein. Ed Siegel, ARTery editor and critic at large, wrote in the Boston Globe: "It is the ingenuity, if not genius, of Tina Packer, to make a rich, compelling case for a sympathetic treatment of Shylock while staying true to the comedic dictates of the author" and that Epstein's " 'Hath not a Jew' aria, while surrounded by a mob of spitting Venetian lowlifes, is the most extraordinary moment in an always extraordinary performance." Visit the Tina Packer Playhouse from July 2 through Aug. 21 for this performance. In addition to Shakespearian productions such as "Merchant" and "Twelfth Night" this summer, S&C also entertains contemporary work like Lindsey Ferrentino's "Ugly Lies the Bone," which tells the story of a combat veteran attempting to escape her traumatic pain through an experimental video game.
9. Barrington Stage Company
The world premiere of Christopher Demos-Brown's "American Son" establishes high expectations for the Berkshires' prosperous summer theater agenda. Barrington Stage Company founder Julianne Boyd directs this narrative on racial division from the perspective of a distanced, interracial couple who unite while understanding their son is in danger. We're also curious what another BSC mainstay, John Rando, will do with Gilbert and Sullivan's "The Pirates of Penzance." See "American Son" June 17 - July 9, and "The Pirates of Penzance" July 15 - Aug. 13; both on the Boyd-Quinson Main Stage.
10. Berkshire Theatre Group
The 1980s network television character, Alex Rieger, once said, "Every man has fears, but those who face their fears with dignity have courage as well." The familiar taxi driver played by Judd Hirsch could benefit from these words, as he plays Simon, a secluded children's author and illustrator faced with the daunting task of completing his first work in years. Distracted by fear, Simon is assigned an ancillary to confront the demons of "the woods." The Berkshire Theatre Group, one of the oldest performing venues in western Massachusetts, hosts the world premiere of "The Stone Witch." It opens July 23 and closes Aug. 20.
11. Williamstown Theatre Festival
Academy Award-winner Marisa Tomei ("My Cousin Vinny") stars in a new production of Tennessee Williams' "The Rose Tattoo." Visit the Williamstown Theatre Festival June 28 - July 17 to see this Pulitzer Prize-winner's "intoxicating comedy" about a woman's withdrawal from the world after her husband's death. Echoing themes of closure seen on the Main Stage, the American premiere of "And No More Shall We Part" revolves around humorous and devastating attempts of saying goodbye after learning of a loved one's fate. "And No More Shall We Part" plays on the Nikos Stage Aug. 8-21.
12. Chester Theatre Company 
The ARTery's Carolyn Clay was fortunate to see the sold out performance of the late Anat Gov's "Oh God" this past April in Watertown. She wrote, "...if the 90-minute work is necessarily talky, the talk drips both irony and conviction. And it is very well performed here, in an accessible translation by Anthony Berris, under the guidance of artistic director Guy Ben-Aharon, who accessorizes the sometimes-didactic dialogue with savvy, telling gestures." The Israeli Stage production moves from Watertown to the Chester Theatre Company (a little past Jacob's Pillow) in the charming Pioneer Valley from July 14-24.
---
Michael Hagerty is an intern for The ARTery. He currently studies communication at UMass-Amherst, and is the production and training director at the university's radio station WMUA.