Alice Cooper, Johnny Depp And Joe Perry Have A Band — Covering Hits By Dead Rock Stars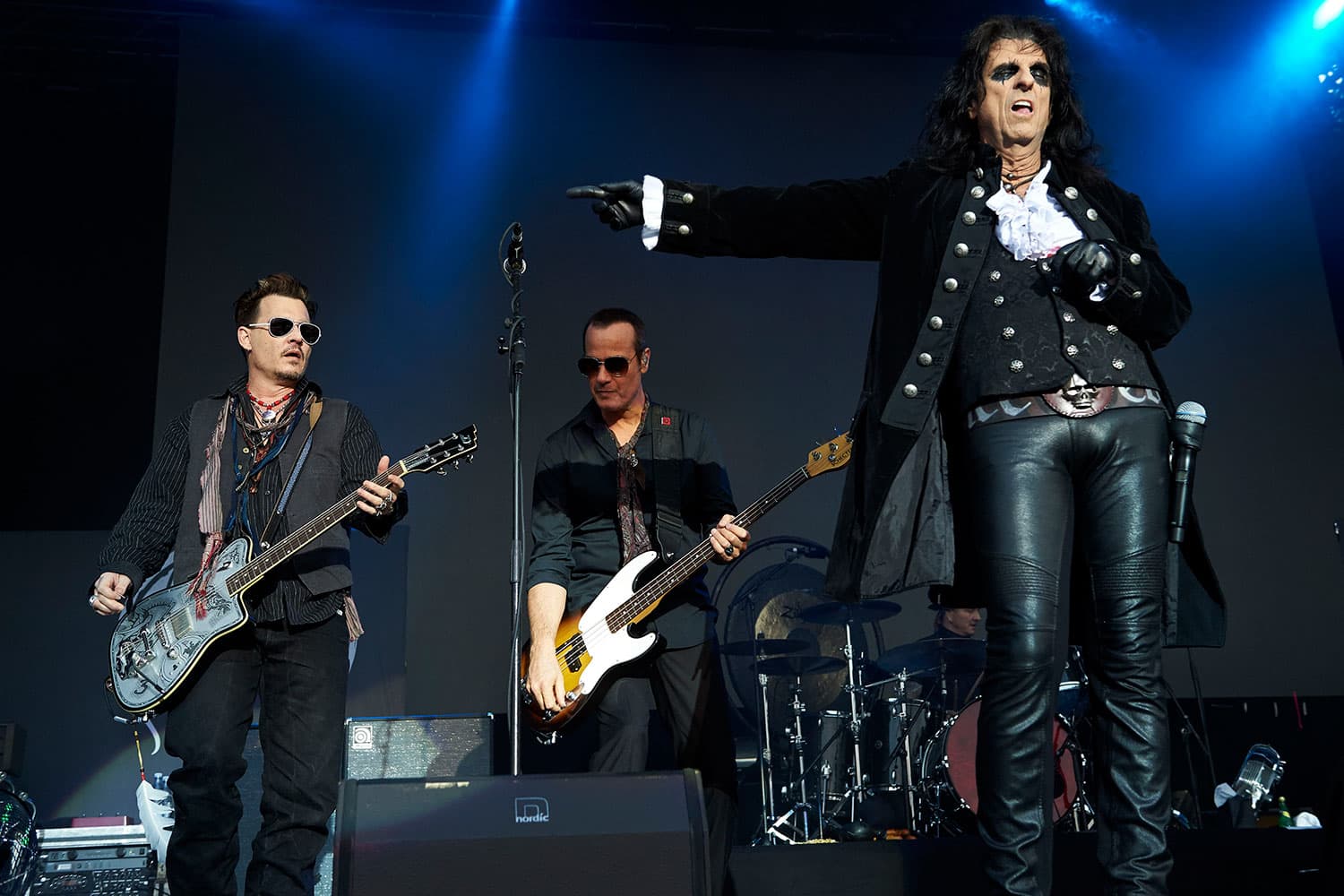 This article is more than 4 years old.
Alice Cooper is on the phone from Norway and he's singing a bit from Frank Sinatra's rendition of "One More for My Baby (And One More for the Road)." "Set 'em up, Joe," Cooper croons. "I got a lot of stories to tell …" (That's not quite the exact lyric, but close.)
Don't worry, Cooper, the fake-blood, shock rock showman is not doing an album of Sinatra covers like Bob Dylan. Cooper, on tour with his regular band and playing the Tons of Rock festival, is taking time to explain the roots of "My Dead Drunk Friends." It's the closing track on the debut album by Hollywood Vampires, a band of notables led by Cooper, Aerosmith guitarist Joe Perry and actor-guitarist Johnny Depp. In the song, Cooper's in a bar at closing time, recalling high times with his old departed drinking buddies, which in real life included John Lennon, Harry Nilsson, Ringo Starr (well, he happens to still be alive), Marc Bolan and Keith Moon. (They nicknamed their club the Hollywood Vampires.)
The chorus runs: "I'm raising my glass and tossing it back, but I can't remember why / So let's have another for all of my brothers, who drank until they died / My dead drunk friends — woo hoo! Woo hoo! / My dead drunk friends."
"Basically," Cooper says, "it's a guy in a bar and everything that's happened to this guy you don't really want to know the details of. He's come to the bartender and he's saying, 'OK, let's talk about what's happened to us.' This place is full of ghosts, but all these ghosts are my buddies. Let's raise a toast to these guys. It was fashioned after that type of saloon song."
At the end, they get to a rowdy group sing-along describing a cycle of misbehavior. "I couldn't help from thinking of Jack Sparrow in a pirates' bar," Cooper says, with a laugh. (Of course, Depp played Jack Sparrow in the "Pirates of the Caribbean" movies.) "The audience loves that part when we do it. They try to keep up with it: 'We puke and we fight and we drink and we puke and we fight.'"
Alcoholism may be no laughing matter, but many alcoholics have had a lot of good times over the years, before everything turned dark or deadly. It's that kind of message Cooper, a recovering alcoholic, he says he's been sober since 1983, is imparting when he fronts Hollywood Vampires: Have your fun, but note the cautionary flag. The Vampires' primary aim is to pump up classic rock songs by singers or members of bands who've died, most victims of addiction.
Hollywood Vampires, which released its eponymous debut album last fall, play Foxwoods Grand Theater Saturday, July 2. Among the 30 songs in the Vampires repertoire: The Who's "My Generation" and "I'm a Boy" (rewritten by Cooper to run, "My name is Alice / I'm head case / They practice making up my face"), Jimi Hendrix's "Manic Depression," Led Zeppelin's "Whole Lotta Love," The Doors' "Five To One" and "Break on Through (To the Other Side)" and John Lennon's "Cold Turkey."
"People think of Lennon and, of course, he was assassinated," Cooper says, "but he was one of the hardest drinking and drugging guys that I knew. He was not a lightweight. Harry Nilsson was not a lightweight. Ketih Moon, of course. It's almost more remarkable that Keith Moon got to 34 years old than Keith Richards still being alive. I don't know which one is the more bizarre.
"Keith Moon was the greatest live drummer I ever saw in my life. He could play anything, but the very fact was that Keith Moon was determined to be the world's class clown. He created his own world. It was like, Keith, 'You have made up your mind that however you go out, it will be spectacular. But there's no talking you out of jumping off that bridge into that river, is there? No? OK. You sat there and you let him go."
That was part and parcel of the world in which Cooper came to fame in the early '70s. "Jim Morrison, Janis Joplin, they were our big brothers and sisters that basically taught us how to drink," says Cooper. "At the same time, there was that crossroads you're going to come to where either you're going to stop or you're going to die. That's pretty much it. My doctor looked at me and said, 'OK, you're throwing up blood. Doc Holliday died from this and I'll give you another month and then you're going to be joining your friends.' And I got to that point of saying, 'I don't want to do that. I had my party, now I want to make more records.' But it was a big decision. Getting sober was a hard one."
The intent now with this side project – some people are using the word "supergroup," Cooper prefers "bar band" – is to revisit a part of classic rock's past. Not all artists were victims of self-abuse. The Vampires cover Spirit's "I Got a Line on You," whose guitarist Randy California, Cooper says, "passed away saving his son from drowning."
Doing that song led to what Cooper calls "one of the greatest compliments. We were in the studio and [Paul] McCartney was in the studio and we were playing back everything. We're doing 'I Got a Line on You' and he said, 'Who's singing that?' Johnny [Depp] says, 'Alice' and he says, "Wow!" I got a 'Wow' from Paul McCartney. I can live on that for 10 years." On "Hollywood Vampires," McCartney joined on the song he wrote for Badfinger in the early '70s, "Come and Get It." (Badfinger singer Pete Ham and bassist-guitarist Tom Evans both took their own lives.)
Cooper, who put the Vampires together with Depp (and a host of guests), talks about how Perry came into the fold. "I always surround myself with great guitar players," he says. "I always have and I always will. The guys in my regular band right now are the best I can get, but at the same time I'm sitting there talking to Johnny who can really play and Joe Perry walks into the room when Johnny and I are talking about the Vampires and he says, "I'm in." I went, 'Well, OK, now we've got two great guitar players' and after that everybody fell into place."
On Saturday, Cooper won't likely be dressed as garishly as he does in his regular band and there won't be any theatrical bloodletting or gallows. "It's so funny," he says, "because in the Hollywood Vampires I don't even play a character, just go out there as myself. I'm the lead singer in this band. I kind of pretend I'm in a bar and this is the band I picked up that night. And we try to keep it that loose. I'll put on a certain amount [of makeup]. I'm the only one that kind of plays it vampire-ish. The rest of the guys, we just let them be what they're going to be. But everybody insists on having two marks on their throat, that looks like we've been bitten and that makes it fun."
Born Vince Furnier in Detroit 68 years ago, Cooper has long considered onstage Alice to be a separate entity from the offstage Alice. "I take playing 'Alice Cooper' very seriously," he says. "I take the show seriously. I don't take myself seriously. I understand that I play the character."
If he's not on stage, he's likely on a golf course. Cooper is a 4-handicapper who plays six times a week when he's off the road and boasts four holes-in-one. It is, he says, a healthy addiction.
When he's with his regular touring band – now, or back in the early '70s with the band that bore his name – Cooper frequently plays variations on villains. A rock 'n' roll horror show that would climax with evil Alice being punished for his sins by hanging or guillotine. As much as teenagers loved it – and I was one of them – there was a time when that Alice Cooper was well-loathed.
"We weren't just hated by the establishment, we were hated by rock," Cooper says. "When we came out and we did the outrageous stage show, what it did was it was heralding to all the bands, the Grateful Dead and bands like that: That era was over. If you want to stay with it, you have to do a show. And bands like that hated us. Really, until you have a hit record, you're basically an outsider. And then you have a hit record, and then two and then three and all of a sudden, you're not an outsider, you are now what's going on."
And now, after all these years, all that blood and gore, he is … beloved.
"It's so funny," Cooper adds. "It's like Ozzy [Osbourne] and myself, we get to that point of being 'beloved.' What it is is we withstood everything that ever happened, we still make records, still tour, we still knock 'em out."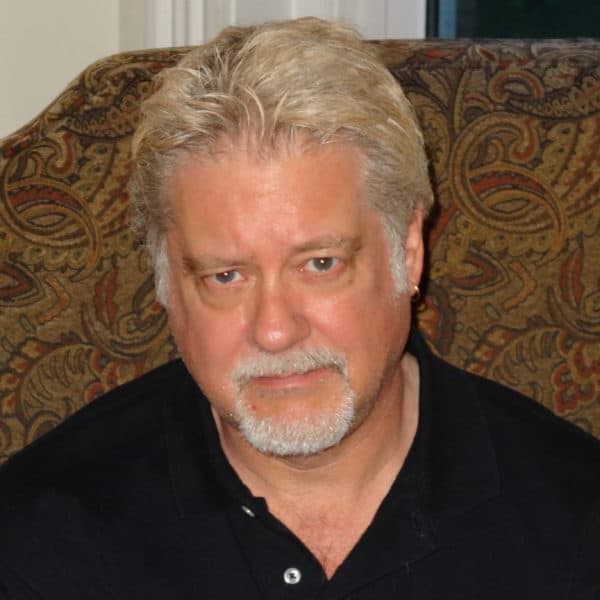 Jim Sullivan Music Writer
Jim Sullivan writes about rock 'n' roll and other music for The ARTery.