The Knights Orchestra: A Bridge From Brooklyn To Tanglewood; Schubert To Kahane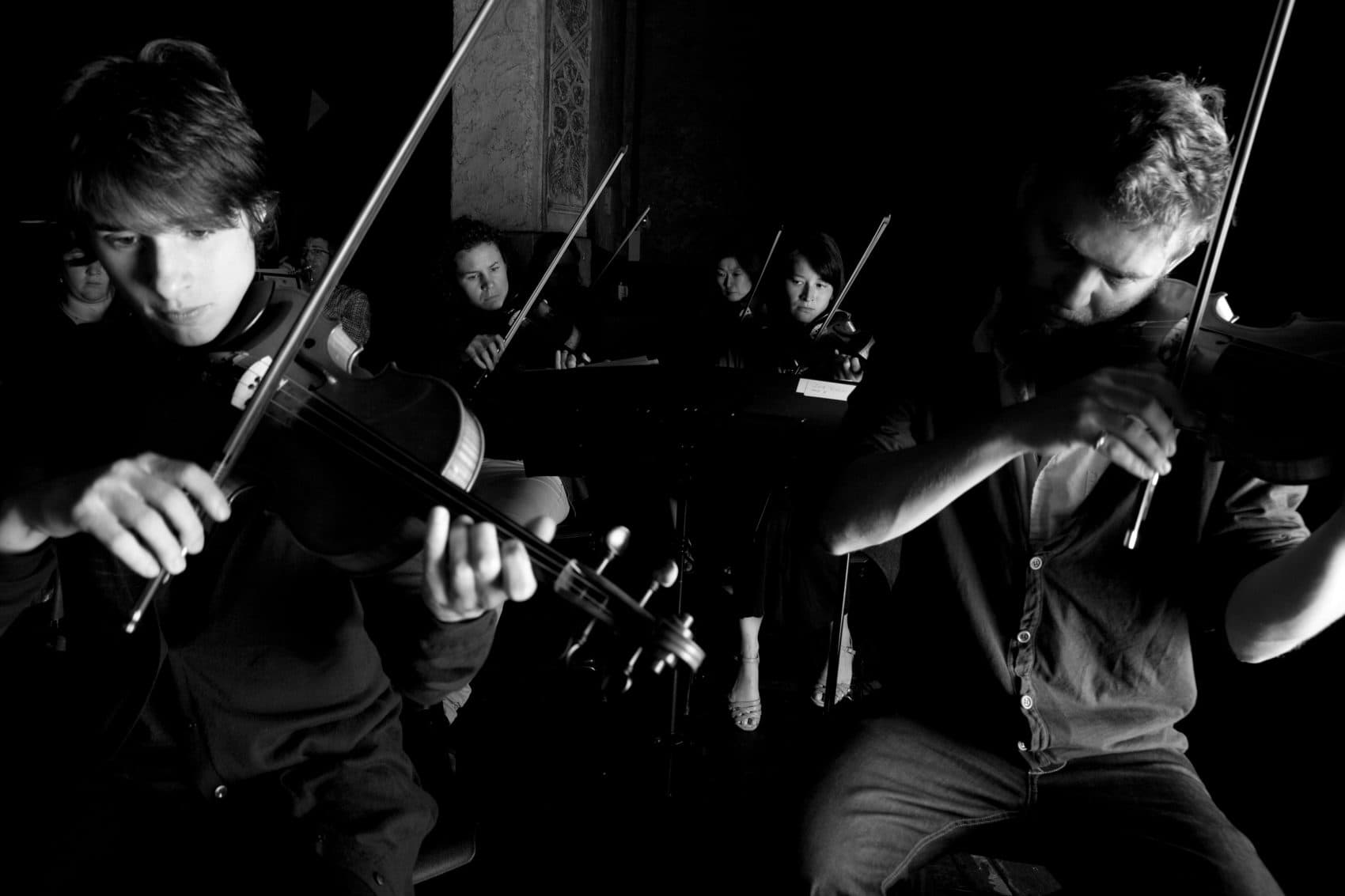 This article is more than 4 years old.
In a daring move, The Knights, a chamber orchestra, are bringing Brooklyn to the Berkshires.
Brooklyn and its famed bridge have long been a muse for New York artists. The Knights' Thursday night performance at Tanglewood, titled "The Times They Are A-Changin," revolves around a piece about the Brooklyn Bridge that is a bridge of sorts in and of itself.
That piece is Gabriel Kahane's orchestral song cycle "Crane Palimpsest," co-commissioned by the LA Chamber Orchestra and American Composers Orchestra and premiered at Carnegie Hall in 2012. Kahane began his musical studies at New England Conservatory before finishing his degree at Brown. Kahane's a self-described songwriter, and his songs have been performed in all venues — he's also written works commissioned by Carnegie Hall and lyrics for Punch Brothers, the bluegrass band he toured with extensively this past year.
"Crane Palimpsest" is a setting of poetry from Hart Crane's "The Bridge," an inspired tribute to the Brooklyn Bridge, and Kahane's own writing about the bridge and its city. In an interview with Carnegie Hall's Youtube channel at the time of the premiere, Kahane describes his piece as a bridge between "a dense, contemporary language and a more open, diatonic language that we would hear in folk song."At first, the Crane text is set to solo strings and Kahane's text to pop orchestral music before the two join at the piece's climax. "It's the merging of two voices from the past and present" explains Knights co-founder Colin Jacobsen over the phone last week.
A metaphorical bridging of styles and periods can be found throughout The Knights' program. The group follows Kahane's piece with Schubert's 5th Symphony. Jacobsen, a violinist who founded the group with his brother Eric (he's a cellist and conductor), says that Kahane looks to Schubert's open, lyrical and tender songwriting for inspiration. The program closes with Colin Jacobsen's arrangement of Bob Dylan's "The Times They Are A-Changin," the inspiration for the program's title. It might seem like a far cry from a Schubert symphony, but Kahane said in an interview four years ago with University of California Television that "the line separating the German 19th century art song tradition and the folk song tradition of the 1960s or 1970s … there's not much of a gulf there." Kahane will sing the Dylan song with vocalist Christina Courtin.
And thus one ends up with a program of Haydn's Symphony No. 64, Kahane's piece, the Schubert symphony, 1938 jazz song "Big Noise from Winnetka" and Bob Dylan's song. It begins in eighteenth and nineteenth century Vienna before whisking you away to a blend of Depression era, sixties and modern day Brooklyn. Thirty years ago, such a program was essentially unheard of, and while this mixing of genres is more commonplace today, its diversity is still noteworthy.
But to Jacobsen, a desire to do something different isn't the impetus that drives the orchestra. "It's highly reactive to just throw out all tradition," he says. He cites the influence Schubert's music has had on Kahane's songwriting as an example of tradition's importance. The group is more interested in creating the best musical experience they possibly can and will not be hindered by what an orchestra is "supposed" to look like. "You need to strip away what's there for convention's sake," says Jacobsen.
The Knights are a professional orchestra (albeit one that likes to have fun). Jacobsen says some of their players were once Tanglewood Fellows. And the two Jacobsens have played with Yo-Yo Ma's Silk Road Ensemble and received a prestigious United States Artists Fellowship in 2012. But The Knights break a few orchestral conventions. You'll sometimes see them performing without a conductor, or while standing (except for the cellos, of course), or in Central Park. They performed Thursday's Tanglewood program at Central Park yesterday. The Knights also hold democratic rehearsals — all members of the orchestra are free to contribute their thoughts and ideas to improve the group's playing.
On a personal note, I've been playing in orchestras regularly since I was 9 and have almost never heard someone holding a bow rather than a baton contribute their thoughts during a rehearsal. The Knights' rehearsal structure makes a lot of sense -- why not make use of the all the skills these creative professionals have to offer? I asked Jacobsen what inspired him to integrate this communication into the group's rehearsals.
"I haven't played very much in other orchestras," he admits. The group was born out of gatherings the brothers-Jacobsen organized to make music with friends. These gatherings were inspired by music-making parties the Jacobsen's parents threw at their home during Colin and Eric's childhood (their father was a violinist in the orchestra of the Metropolitan Opera and their mother was a flutist). The Jacobsen way of music making is built on communication — it's an innately social experience. "I love exploring music on an intimate level … it's a way of sharing emotions," says Colin.
But again, The Knights' main goal is to make excellent music. The group is constantly refining and honing their practicing to improve the final product. Ultimately, for Colin, the work has to be worth doing.
The Knights pride themselves on being able to connect with audiences without compromising the integrity of the music. Colin explains that the slow movement of the Haydn Symphony is filled with these "incredibly weird" passages where phrases start and stop.  He says that the players are actors in these moments -- in the performance you have to be as surprised as you were the first time you practiced the piece. He explains that you need to feel comfortable in the unexpected silences but still communicate them to the audience. "The music has to be totally living and breathing," he insists. "The heart of music listening is to be surprised."
The Knights' Tanglewood lineup is one that broadens the lens through which you take in music, exposing you to several times and places. It's all part of of The Knights' goal of being musicians that look up from their sheet music and take in the rest of the world. "You need Pollock hanging next to Monet in an art museum," explains Jacobsen.
Inspired by his range of tastes in music, I asked Colin which composers would make the lineup if he were planning his final concert, a cruel question to ask any musician. Colin said that he's been living and breathing the works of Schubert recently. He admits though that "if the world were to end tomorrow, it would be tragic, but ending with this concert would be a good experience."
---
_
Will Sullivan is an ARTery intern. He studies math and music and runs on the cross country and track and field teams at Swarthmore College.