Boston Indie Favorites, The Fat Creeps, Reunite For One Night At The Lilypad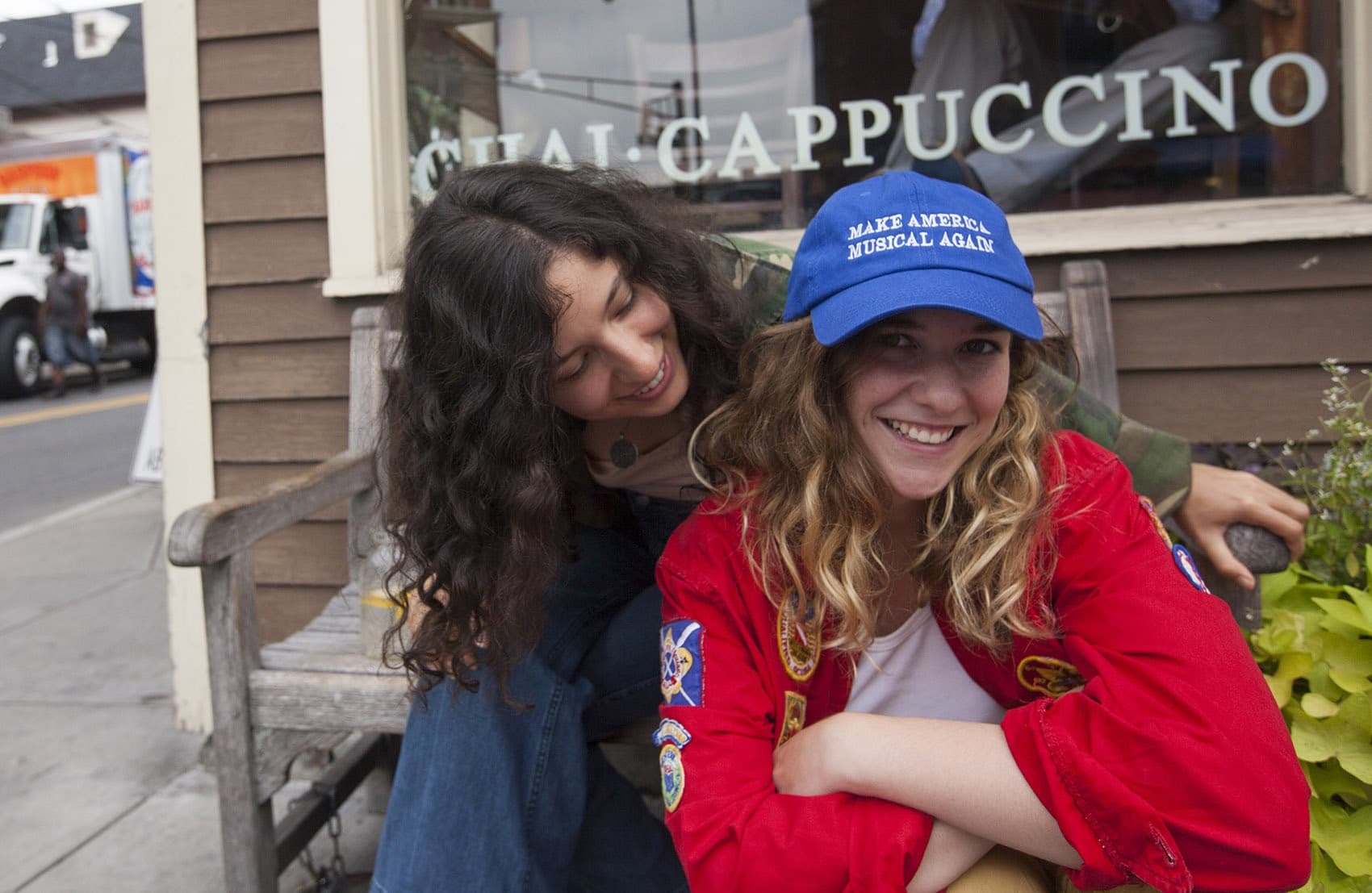 This article is more than 4 years old.
Fat Creeps got their name from their first show at a Chinese restaurant, when everyone there walked out during the set. A friend suggested they call themselves Fat Creeps because of the reaction.
Gracie Jackson and Mariam Saleh, the founding members, eventually got their act together to become one of the best indie bands in Boston, with cutting guitar riffs and a gloomy garage rock sound. After a long slog, however, they took a hiatus in 2014 and haven't played a show together since.
"We both just needed a little break," said Saleh. "We had been really going at it for four or five years or something. We both were just interested in different styles at the time, so we were like let's just do our own little projects for a little while and see if it brings us back together after a while."
Earlier this month they made a surprise announcement that they'd be playing a show at the Lilypad Friday and releasing two new songs. Tommy Allen from Drug Rug will be joining Jackson on guitar and Saleh on bass.
"We play music whenever we're together, I'd say. We definitely are strongly connected and comfortable in that way. So in that respect we'll never stop making music as long we're alive and friends," said Saleh.
Jackson was in town visiting from Los Angeles where she lives now, and the show came together spontaneously. The two tracks they released this week in anticipation for the show however, have been around longer.
"In Love" is a song Fat Creeps recorded at Converse Rubber Tracks shortly before disbanding. The fuzzed out track with heavy pounding drums and powerful harmonies is representative of the band's typical sound.
"Man In The Window" was made this year. It's a departure from what the two songwriters have done in the past. It's a lo-fi R&B style track inspired by a spooky night in Cooperstown, New York, where Jackson was living at the time. Saleh went to visit and the two were jamming when Jackson's mother called out of the blue and told her to check out photos of a house listing in Haverhill where she's from.
"I'm looking through all the pictures, and I didn't notice anything. And she said 'look closer.' So I'm flipping through these photos and in one there's this man (peering through the window) and he looks like a demon it's wicked scary," said Jackson.
Saleh set the scene.
"Keep in mind we're in a really rural area, everything closes at like 4 p.m. and it's dark and it's snowing. There's not a sound. It's a creepy area, beautiful but creepy," said Saleh. "The lyrics are really funny because it could mean so many different things. It could be about walking out on your love or so many different interpretations, but it's actually about two people being really freaked about something, but not talking about it. And then confronting it and being like 'I'm scared.' "
Given the bi-coastal living situations of the band members, this may be the only chance people have to catch Fat Creeps for a while. The outpouring of fans for this set though has surprised them both.
"I'm pretty touched by the amount of love and support that we've been getting since we announced our show. We were like let's just play a show low key, not a big deal if no one comes, and within the first hour we had over 100 people RSVP and [have] people sending us really nice messages," said Saleh. "We're really excited."
Fat Creeps, with opener Alaina Stamatas doing a comedy set, play the Lilypad Sept. 2. Doors are at 10 p.m.
Earlier videos
Joe Difazio is a multiplatform journalist finishing up his graduate fellowship at WBUR.