Before It Heads To Broadway, 'Significant Other' Shows Hilarity Of Misery On SpeakEasy's Stage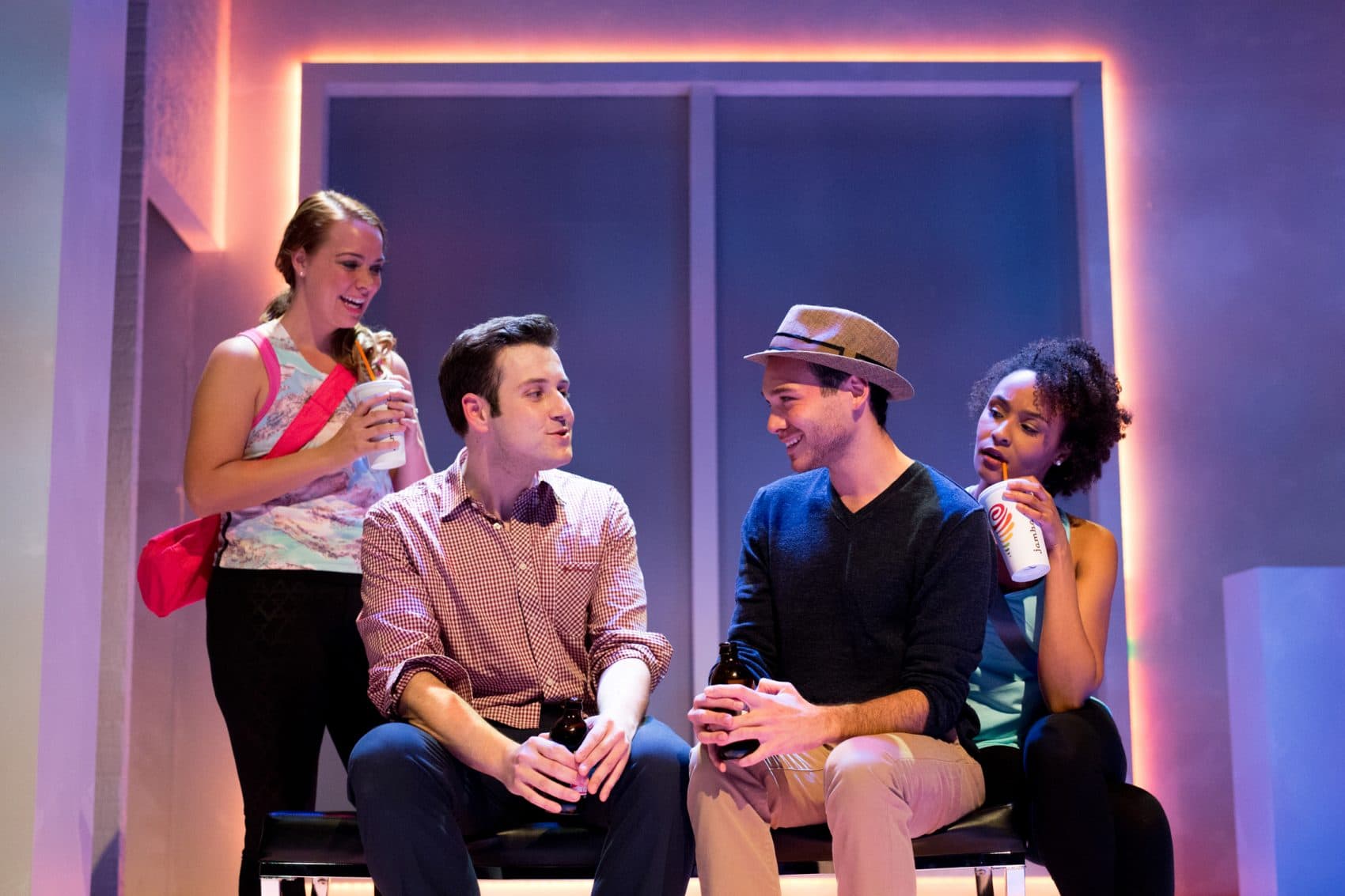 This article is more than 4 years old.
Joshua Harmon — the playwright who gave us the hilarious "Bad Jews," which SpeakEasy Stage Company produced a couple of seasons ago — turns his quill to a gay protagonist and his three female best friends in the Broadway-bound "Significant Other." Before Harmon's play reaches Broadway for a completely different production there, it's playing here in Boston, with SpeakEasy once again doing the honors. It might sound improbable, given how side-splitting "Bad Jews" was, but "Significant Other" is even funnier, in part because its anxieties are so much steeper and bleaker.
Jordan (Greg Maraio) is a mess. Sweet, lonely and pathetic, he obsesses over men he's too shy — and too awkward — to court. The latest object of his abject fascination is Will (Jared Troilo), a handsome new guy at work. Jordan regales his trio of friends — Kiki (Sarah Elizabeth Bedard), Laura (Jordan Clark) and Vanessa (Kris Sidberry) — with immensely detailed accounts of his every interaction with Will and the feelings those close encounters stir up. Forthright, self-abnegating and nerdily eloquent, Jordan's stories veer again and again into TMI territory, and yet the purity of his enthusiasm and his intense (but harmless) yearning make him sympathetic, even when his torrential verbiage piles up to absurd proportions.
Jordan and his friends could probably continue as they have been indefinitely — they seem to have arrived at some sort of comfortable stasis — but then, one by one, the girls start getting married. Kiki is the first to go: She weds Conrad (Troilo), a strong but silent type from Kansas whom she effortlessly bosses around. Next it's Vanessa, who's swept off her feet and into happiness — a novel state of being for her — by the hipsterish Roger (Eddie Shields). Finally, it's Laura's turn, when a nice fellow named Tony (Troilo) shows up and captures her heart. Jordan's panicked sense of abandonment only grows as Cupid's arrows pick off his friends while he remains single, and this is where the play's humor rubs up against its foundation of existential misery.
Jordan is only in his 20s — the play follows him from age 27 until he's almost 30 — but he struggles daily with the terror of time running out before his life has truly begun. "How many people in the history of the world have died without getting what they want out of life?" he frets at one point. At another moment he comes out with, "I hate being a person. I wish I was a rock, or... anything!" His grandmother (Kathy St. George), with whom he is close, offers him perspective, though hardly of a comforting sort. Having grown older than she cares to be, Grandmother speculates endlessly about what the best way to commit suicide might be. What's worse is the way she's clearly losing her grip. It's one thing for the women in one's life to up and get married — treacherous as that might be, it's at least a way of moving forward. Grandma, though, is simply fading out.
Mirroring Jordan in a funhouse sort of way is Evan (Shields), another gay man who works at the same ad agency. Evan, too, is smitten by Will, but seemingly only in a superficial manner. Whereas Jordan seeks meaningful connection, Evan is looking for a good time; he even propositions Jordan, despite the fact that neither of them finds the other desirable. "I mean, it's not like religion," Evan tosses out. "Casual sex isn't something you can choose to believe in. It exists." That, evidently, is reason enough to partake, regardless of trivialities like attraction.
The play's laugh meter ticks along so steadily — scarcely a minute goes by without a great punch line, spot-on performance beat or visual gag — that the inevitable climactic eruption of resentment, aggravation and angst stands out in harrowing fashion. I won't spoil it here, save to note that it's epic — an emotional nadir for Jordan but a ringing capstone for Mariao, whose performance throughout is akin to watching a six-armed juggler.
The play's design coalesces nicely under Paul Daigneault's direction. The minimalistic set (by Christopher and Justin Swader) allows locales to change easily from an Upper West Side apartment, to workplace break room, to coffee shop, to bar to anyplace else the story goes, thanks in large part to Daniel H. Jentzen's vivid lighting design and Lee Schuna's razor-sharp sound work. The way the play defines moments in time stands out as strongly as the way different places are delineated; we know these events are taking place in the midstream of busy lives, thanks to Tyler Kinney's work on costume design. Kinney's wardrobes underscore the professional and personal progress of the younger characters, while Grandma's outfits tell a much different story of enfeeblement. (By contrast, Grandma's house — a much more detailed corner of the set — remains tellingly static.)
Broadway is going to love this show. Lucky Boston — we got it first.
"Significant Other" continues through Oct. 8 at the Boston Center for the Arts. For tickets and more information, visit the SpeakEasy Stage Company website.
Kilian Melloy Theater Critic
Kilian Melloy is a contributor to WBUR's The ARTery.