Experimental Danish Brewery Brings Beer Fest To Boston City Hall
This article is more than 4 years old.
Those behind the homegrown Boston Calling music festival know what it's like to fit stages and sound equipment into the angular real estate on City Hall's red-brick plaza.
But this weekend it's about the placement of kegs of beer -- hundreds of them — along with upwards of 57 European and American brewers responsible for the contents inside.
"We've got folks from Denmark, we've got folks from Belgium, we've got people from the U.K. and the Netherlands — and then basically from all over the U.S.," Crashline Productions' Mike Snow explained as he ran through the lineup for the first edition of the Copenhagen Beer Celebration (CBC) to be held outside of Denmark. CBC Boston is Friday evening and Saturday on City Hall Plaza.
The festival has become something of a mecca for hardcore beer geeks and daring, indie brewers since it debuted five years ago. Now Snow is thrilled to be welcoming the community to Boston.
Crashline is collaborating with the Danish festival's creators from Mikkeller, a famously inventive microbrew operation founded by Mikkel Borg Bjergsø in Copenhagen in 2006.
Bjergsø has attained mythic status among beer fans around the globe for releasing an ever-changing portfolio of boundary-pushing beers, often in collaboration with other breweries. The bottle and can labels are commonly populated by odd but adorable cartoon characters.
I asked Snow about Crashline's role in bringing the Nordic fest to New England, and he replied: "We knew the city, we knew City Hall Plaza, we knew some of the hometown brewers here who certainly would want to be involved. Then we sort of left the rest up to them."
One-Off, Rare Beer Party
The 50-plus breweries partaking in Mikkeller's beer party will be pouring four selections each over the course of the weekend. Many of the recipes are one-of-a-kind that were created just for the CBC Boston.
"A lot of people remained true to what Mikkeller started over in Denmark by brewing specialty beers that they've never bottled before," Snow said. "They decided to experiment for our festival."
Mikkeller is known for coming up with entertaining names for its beers, and visiting brewers appear to be simpatico.
For example, there's: Thing 1 from Idle Hands in Everett; Fever Pitch Peach IPA by Brewski in Sweden; and Sipping into Darkness Café Su Berliner Weisse from the Norwegian brewery Lervig. Among the Mikkeller-made selections are Beer Geek Brunch Weasel and California Dream.
Beers from Evil Twin, the brewery Bjergsø's brother founded in Brooklyn, will also be in Boston. (They're actually identical twins who, as the story goes, don't always see eye-to-eye.)
A Collaboration Beer For CBC Boston
To mark the festival's inaugural edition Mikkeller teamed up with the makers of Samuel Adams beer to concoct a new collaborative brew called Bugs & Berries. It's a tart ale made with cherries from Denmark, New England strawberries and wild yeast.
In a statement, Samuel Adams' creator Jim Koch said: "Much like Samuel Adams in the U.S., Mikkeller has been an innovator and pioneer of the Nordic craft beer movement for years. And like myself, they got started by brewing crazy experiments in their kitchen."
Bjergsø mused that Bugs & Berries is "made from the best raw material ever: curiosity."
For some folks the CBC's arrival in Boston is a boon for this city's beer cred.
Locally based BeerAdvocate Magazine columnist Andy Crouch said: "The fest coming to Boston is an acknowledgment that the city has a strong beer culture — especially for imported brands and ideas."
Then he added: "I love that the brick sarcophagus that is City Hall Plaza can be transformed into a great, social space for music and beer lovers."
I had the chance to visit with Mikkel Borg Bjergsø in Copenhagen a few months ago and I asked why he chose Boston as the location of his first out-of-Denmark CBC.
"The East Coast is something that we can relate to being from Denmark and Copenhagen — especially up north where it's the same climate," he replied. "I just think the East Coast mentally, we're on the same wavelength, so I think it's a good match."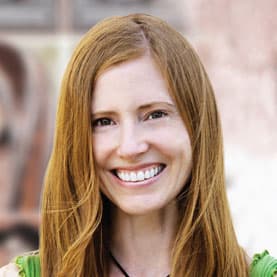 Andrea Shea Senior Arts Reporter
Andrea Shea is WBUR's arts reporter.