The Suffers' Electrifying Live Shows Have Won The Soul Outfit Legions Of Fans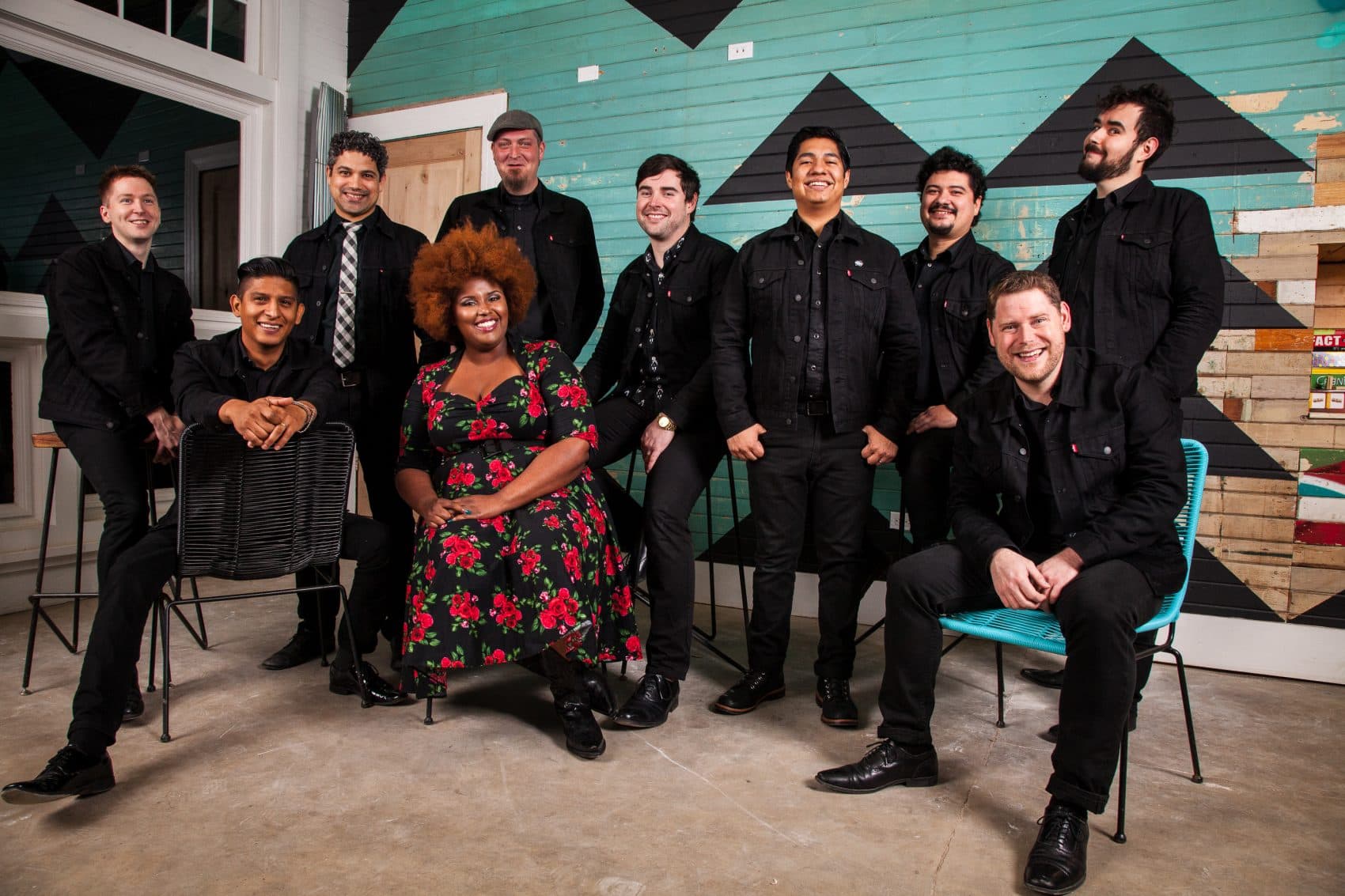 This article is more than 4 years old.
On a recent Friday afternoon, while she was getting her hair cut in preparation for a friend's wedding the next day, Kam Franklin was moved briefly to hold forth on matters of the heart. "Love is hard enough," she proclaimed. "Songs that make you feel some kind of way about love shouldn't be that hard to understand."
The remark was made not in reference to the impending nuptials but to Franklin's band, a 10-piece Houston soul outfit called The Suffers. Over the last year and a half, the group's electrifying live shows have won them the adoration of legions of new fans, including David Letterman and, perhaps more significantly, NPR's Bob Boilen. Franklin was speaking over the phone on the eve of the wedding of the band's trumpet player, Jon Durbin. Less than a week later, The Suffers were scheduled to hit the road on a U.S. tour that includes a show at the Sinclair in Cambridge on Sunday, Oct. 2.
I first caught wind of The Suffers back in March when they opened for beloved homegrown pop quartet Lake Street Dive at the House of Blues in Boston. The supporting slot is a notoriously tough one — the opening set often feels like a formality that both band and audience have tacitly agreed to endure — but that night, The Suffers won over the crowd with a combination of brass brawn and sheer charisma. Franklin, a magnetic frontwoman with a nimble, velvet voice, strode across the stage in a glittery red gown, channeling, by turns, Aretha Franklin and James Brown. At the end of the set she led the audience in a call-and-response chant just to make sure we knew who were dealing with: "Who are we? The Suffers!"
The Suffers' rise in prominence began in early 2015 with an enchanting debut on the "Late Show with David Letterman" that concluded with the talk show host's effusive declaration: "If you can't do this, then get out of the business." The group proceeded to systematically blast its way through a series of career-making gigs: NPR's Tiny Desk Concert, South By Southwest, Newport Folk Festival.
The Suffers did not get together with the thought of making it big. "It was just supposed to be a side project thing," says Franklin, who, like her bandmates, had been playing in reggae and ska outfits around Houston for about a decade when The Suffers started up. "We were just going to do it on our days off and maybe play once every couple months. We would just do reggae covers of popular music — be it R&B or pop — and play weddings here and there."
Once the group started playing originals, their sound began to morph — and people paid attention. "I'm a gospel singer at heart, so adding gospel over any genre, you're going to call it soul, no matter what it is," Franklin says.
The Suffers started out as "The Sufferers" but shortened their moniker to its grammar-defying incarnation with the aim of being a little easier to pronounce. The name is a reference to the 1978 reggae film "Rockers," in which the main character, a struggling musician, calls himself a "sufferer." "I feel like a lot of artists, even these days, go through that. Where they're basically put out there to go and perform and put on a big ol' show, but they go home hungry," Franklin says. "And for us that was the appeal. This was what we wanted to do, but because we had to do our 9-to-5s … making music was just a dream."
It is perhaps for this reason that The Suffers seem so happy to be onstage. They begin every performance with a pump-up ritual that involves all 10 members raising their arms in the air and letting loose an incoherent roar. It seems to put them in a giddy, euphoric mood, and their performances show it. But Franklin says that a lot of emotional work goes on behind the joyful exterior. "We always have a little mini meeting when we go onstage, where we just check each other and remind each other that the fact that we get to do this for a living is the most amazing thing in the world," she says. "So we kind of just remind ourselves to be in the moment, respect one another, and have a good time."
Though the band co-writes the music, Franklin supplies most of the lyrics. "I write what I feel and I write what comes naturally to me. I don't feel I'm a very complex writer, not even kind of," Franklin says, laughing. (She is about as forthright in person as she is in song, admitting, at one point, that she is hungover from celebrating her bandmate's upcoming wedding.)
On The Suffers' self-titled debut album, Franklin is at her most affecting when she delves into heartbreak and regret. "Does it ever get any better/ Or does it all stay the same?" she wonders at the beginning of the bittersweet, tentatively hopeful anthem "Better." The standout, slow-burning "Giver" has her telling a lover to "relax:" "I'll show you all the love you need … Cause I'm a giver," she croons, though the sentiment soon morphs into something more desperate: "I'll be your giver/ Was she your giver?/ What do you need?"
Franklin says the flip side of "Giver" is the chipper "Make Some Room": "C'mon let me cook for you baby/ Relax 'cause I'm cleaning, too/ I love you like I've known you forever/ I just need you to make some room."
"'I just need you to make some room.' As in, make time for me, the way that I'm making time for you," Franklin says. "Be an equal partner in this relationship and then you'll be rewarded."
The track's cooking theme has gotten her some flack — at one point in the song, Franklin offers to make her lover a sandwich — though she chalks it up mostly to Northerners not understanding Southern culture when it comes to food. "I'll have people give me various questions that almost make me sound like I'm not a feminist, saying a line like that in my songs," Franklin says. "You don't make food for just anybody. You make food for the people you care about. It is my decision to make him a sandwich because I enjoy cooking. I enjoy cooking for the people that I love. So I'm actually getting something out of it because I know my food is a reward. And if he doesn't act right, he will not be getting any more of these rewards. The offering of a sandwich is a privilege."
A "giver" is truly who she is, says Franklin. But it can get exhausting, especially as the lone woman in the group. "In these songs I try to give the most honest view of the type of woman that I am. I'm in a band with this many guys, and I am constantly, constantly working and working to try and make it work for all of us. And it gets to a point sometimes where I forget to make it work for myself."
"I'm learning the importance of self-care and self-preservation. Hence me getting this haircut," she continues. "I think this next record is probably going to be heavy on focusing on yourself and how great life can be when you choose you."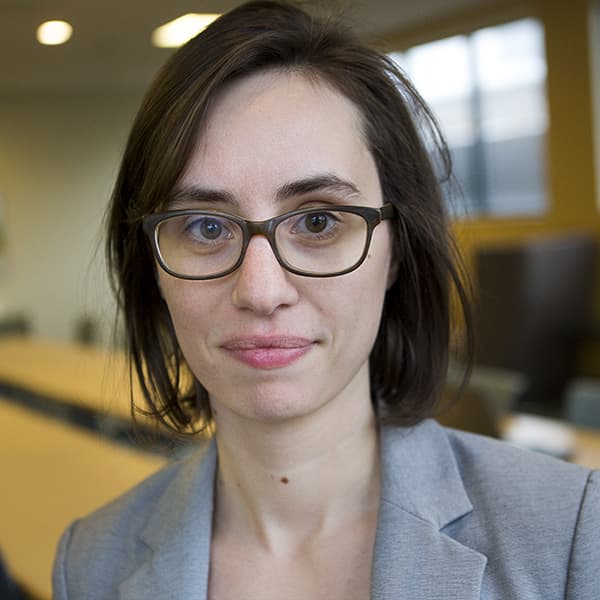 Amelia Mason Arts And Culture Reporter
Amelia Mason is an arts and culture reporter and critic for The ARTery, WBUR's arts and culture team. She covers everything from fine art to television to the inner workings of the Boston music scene.