Pop-Up Magazine Pushes Boundaries Of Journalism With A Night Of Live Storytelling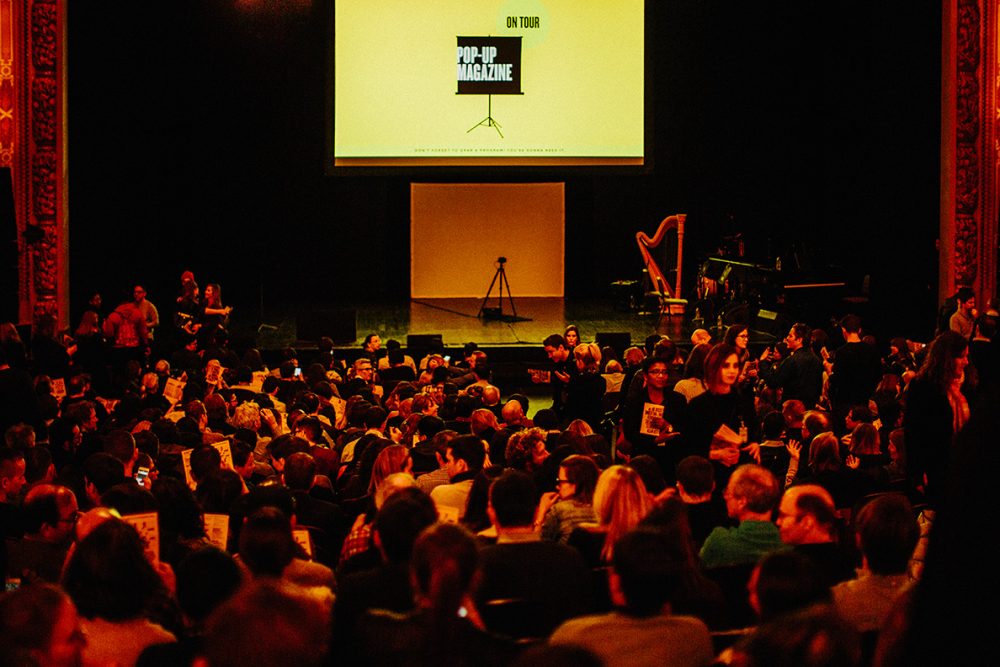 This article is more than 4 years old.
If you blink, you'll miss it.
The lights will come up, the story will end and you won't be able to see it again. You'll mingle with the writer at happy hour, but the pop-up shop of stories will pack up and move to the next city, leaving scant evidence it was ever there. There are no bookmarks or folded corners, no video or recordings to return to — if you blinked, you missed it.
Launched in 2009 in San Francisco, Pop-Up Magazine is billed as a magazine come to life — stories you would have read are instead performed live, often with multimedia elements and a live score. This on its own is experimental, but Pop-Up continues to push the boundaries of what we've come to expect of journalism — notably with its continued resistance to posting the show's content online.
This seems counter-intuitive in an industry so steeped in clicks on digital platforms, but for Doug McGray, co-founder and editor-in-chief, this is the whole point of Pop-Up.
"We were really interested in the idea of stories bringing people together," McGray said. "You turn off your phones with other curious people for something that won't happen again."
As part of their 2016 fall tour, Pop-Up Magazine is coming to the Wilbur Theatre in Boston on Tuesday, Nov. 15. (In the spirit of full disclosure, the show's stop in Boston is in partnership with WBUR.)
"There's a freedom to it," said Molly Webster, a producer at WNYC's Radiolab who will appear in Pop-Up's Boston show. "You really get this palpable feeling that everyone is in this together. The audience becomes a part of the show."
But is that show, performed onstage, really journalism? That question intrigued the "Columbia Journalism Review" enough to investigate the hybrid — when you blend journalism and performance, what is the result? CJR found that within the growing experimental genre the answer to that question is varied, but when it comes to Pop-Up Magazine, the editorial process adheres quite closely to traditional journalistic practice. The stories are pitched, researched, fact-checked and edited as if they were heading to print.
The resulting performance also mimics the physical structure of the classic general interest magazine, moving between stories as if flipping through pages — shorter stories at the top, followed by longer, in-depth features.
"Our stories are very narrative, very character driven," explained Anita Badejo, a Pop-Up producer.
"It's cool that they aren't personal stories. They're reported," said Webster, clarifying that the characters driving the stories are not the people on the stage.
The hybrid appears to be working — both Radiolab and This American Life have spent years producing theater-scale live shows, and The Moth Radio Hour hosts hundreds of live shows of varying size around the world.
However not all live journalism can turn a profit, and productions like this can get expensive. Pop-Up covers its costs from multiple sources, including advertising, sponsorship and ticket sales — an especially effective revenue stream when shows are regularly sold out. Noted in Forbes, it is normal for West Coast Pop-Up shows to sell out, with some of the venues reaching a capacity of nearly 3,000 people.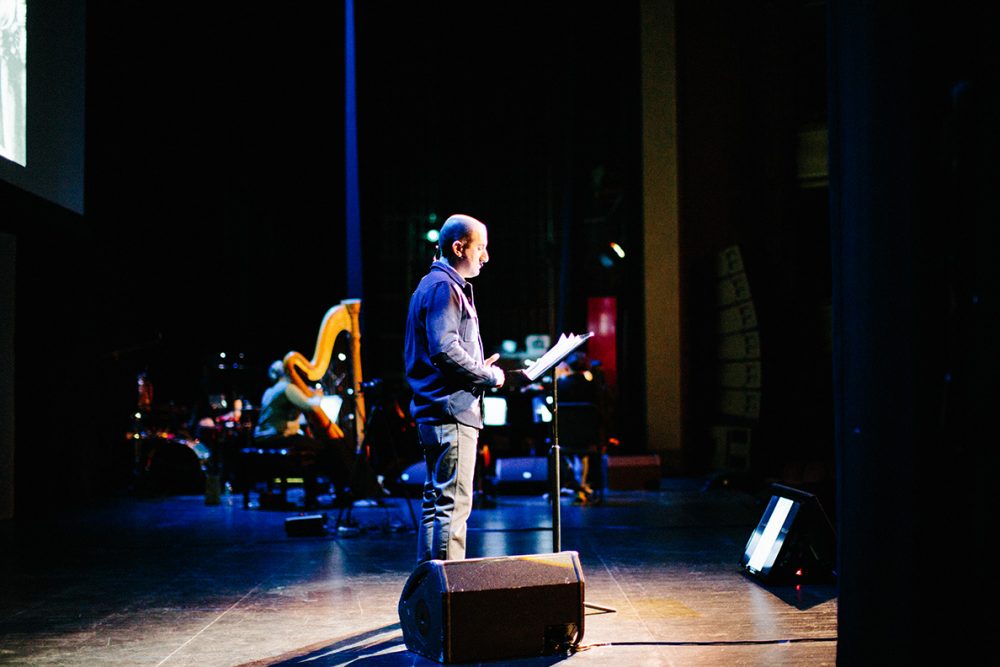 For all its traditional journalistic elements, fundamental differences exist. Language, for example, is seriously considered as something people will hear and need to understand immediately, with no opportunity to go back.
"You can't get away with super flowery language or complicated sentence structure," Badejo said. "It doesn't mean the stories aren't beautiful or complex, but you have to be really precise about the language you're choosing."
Especially when that language is woven together with music, animation, photography or, as happened with one particular story, shadow puppets.
In addition to Webster, Boston contributors include Jessica Hopper, editorial director for music at MTV; Stephanie Foo, producer at This American Life; Evgenia Arbugaeva, award-winning photographer whose work has appeared in National Geographic and The New Yorker; and Lam Thuy Vo, visual journalist, coder and fellow at the BuzzFeed Open Lab.
"Boston has always been high on the list," McGray said. Excited by the vibrancy of the city and its people, McGray sees a community ready for his show — and not only as an audience.
"Great future contributors live here," he said.
"Boston produces such great journalism, it seems like a really natural fit for us," expanded Badejo.
Changes to the original 2009 experiment have occurred as it's grown — Pop-Up Magazine has expanded to include a production company, brand studio and the California Sunday Magazine (in print and digital). Yet despite the expansion, McGray and his staff are committed to keeping the spirit of the show the same — great stories told in innovative and interesting ways that bring people together, even if only for a moment.
"It's discovery," McGray said. "You never fully know what you're going to get. You never fully know what's going to move you."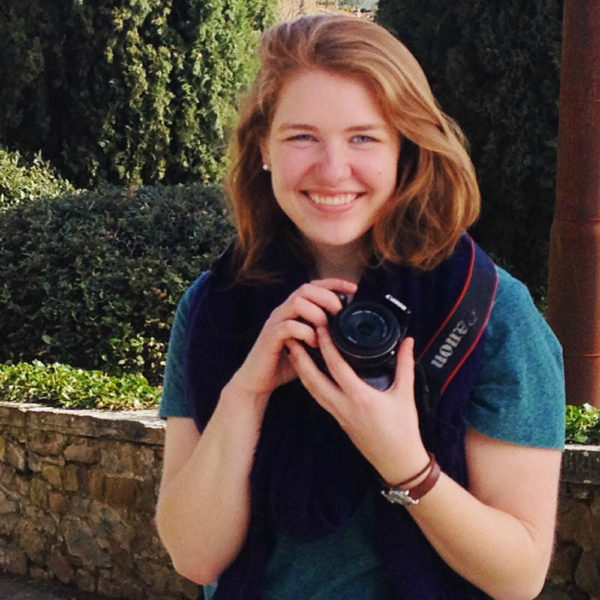 Hannah Chanatry All Things Considered Senior News Writer
Hannah Chanatry is WBUR's senior All Things Considered newswriter.