J.K. Rowling Returns To Harry Potter's World In 'Fantastic Beasts,' A Jazz Age Monster Mystery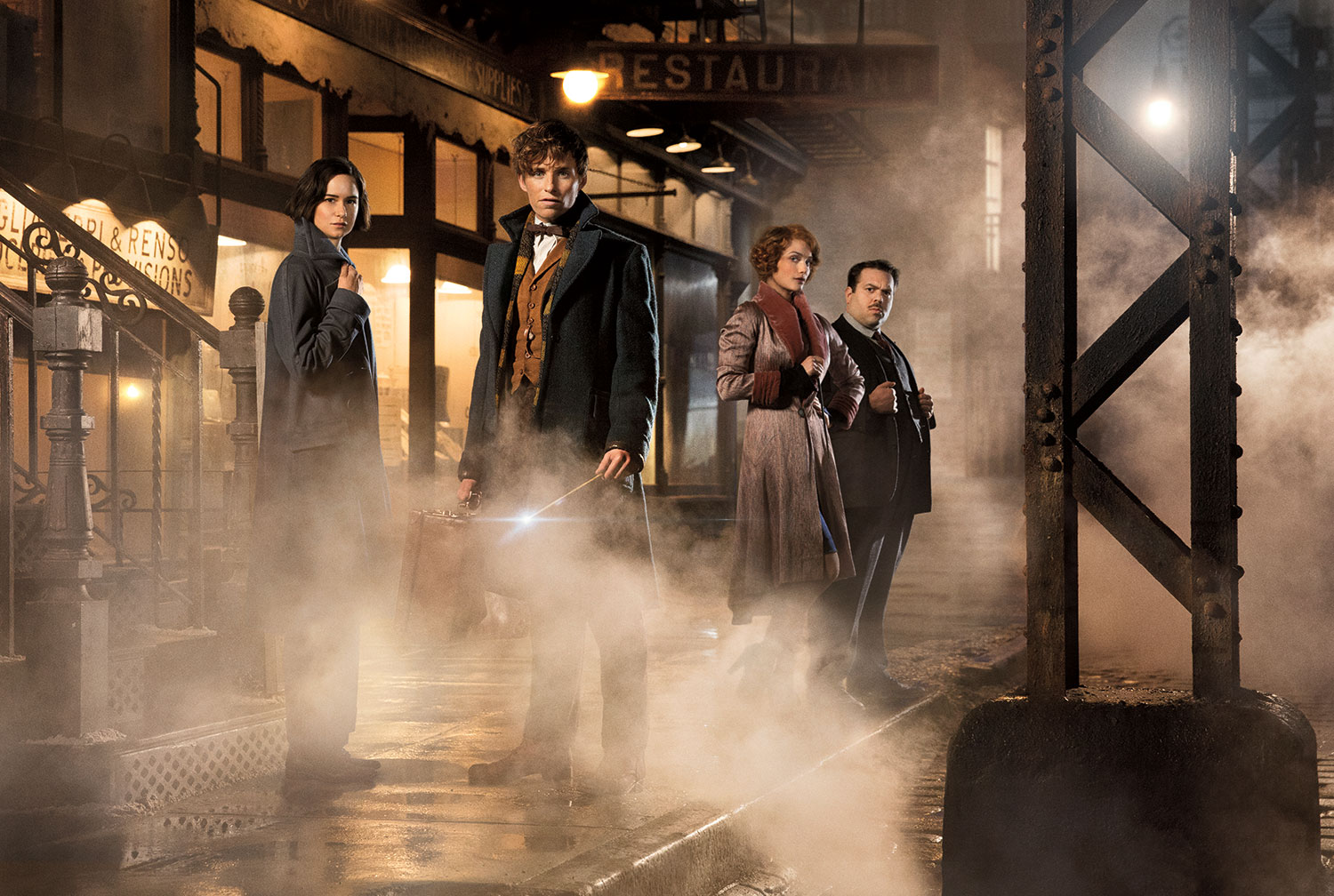 This article is more than 4 years old.
British wizard Newt Scamander (Eddie Redmayne) has barely stepped off the passenger liner into the streets of 1926 New York when the retiring fellow is arrested for allowing one of the magical critters stuffed into his suitcase to escape and wreak havoc in a bank.
The creature in question — one of the first we encounter in the film "Fantastic Beasts and Where to Find Them," a prequel to J.K. Rowling's Harry Potter wizard world novels, with a screenplay penned by Rowling herself — is a niffler with an incorrigible hankering for coins, jewels and other valuables. It resembles a cross between a mole, a duck-billed platypus and comic relief.
Agent Porpentina Goldstein (Katherine Waterston) of the Magical Congress of the United States of America (something like a wizard FBI) hauls Scamander in. But her superiors are preoccupied with investigating a mysterious magical attack that has leveled a brownstone like a bomb as well as worrying about Grindelwald, a very bad wizard who's been on a killing rampage across Europe.
Besides — spoilers ahead! — why should they pay attention to Goldstein, who has been demoted from top-level auror to wand-permitting. When she retreats to her basement office, she's humiliated again when it's discovered that in the brouhaha at the bank, Scamander has accidentally mixed up his suitcase with that of a muggle (or as we Americans apparently call them "no-maj," short for "no-magic") pastry chef by the name of Jacob Kowalski (Dan Fogler). And the bumbling Kowalski has gone home to his tiny apartment, opened the case and unwittingly unleashed magical critter chaos.
Oh, goodness, it is a pleasure to be back in the Potter-verse.
With all that going on — plus Goldstein's sister, a blonde bombshell who can read minds; a slimy politician running for high office backed by his slimy newspaper magnate dad; and a street preacher who beats her adopted waifs and leads a literal witch hunt via her "New Salem" cult — it feels like there should be enough plot to keep this film chugging along.
But the film's first half, with the search for the missing beasts and whatever destroyed that brownstone, is plodding. I mean, the main characters are endearing and the story is entertaining-ish, but none of the plot threads take off. Director David Yates — who helmed the last four Potter films and reportedly is signed up to direct as many as four "Fantastic Beasts" sequels — signals what emotions the film wants you to emote, but you don't much feel them. Happily, the second half mostly distracts you from these flaws with the excitement of chases and battles and very close calls with a dragon-type-thing and something that appears to be the evil lovechild of cobwebs and a tornado.
In "Fantastic Beasts," which was inspired by a slim glossary of the same name that Rowling published in 2001 between the fourth and fifth Potter novels, we're mainly in new territory. The film moves away from all the delightful eccentricities Britain has to offer and relocates us to a gloomy, dour world, a jazz age Manhattan rendered puritan black and white, where everyone speaks in the clipped Americanese of old time "Dragnet" episodes.
Rowling doesn't seem to quite get the United States. During the film, I found myself wondering if she learned everything she knows about the country by watching Hollywood products. In "Fantastic Beasts," she seems to be riffing on a Depression era gangster flick and one of those early World War II movies populated with a token representative of every major European-American ethnic stereotype — you know, the films with the WASP lieutenant who comes to understand the democratic benefits of tapping the talents of the street-smart Italian, the feisty Irishman and the other unwashed masses sharing his foxhole.
Rowling stumbles most in understanding our nation's diversity. The film's New York is another Hollywood New York in which nearly everyone is white — except for cameos by the head of the magic police and a goblin jazz singer in a gangster speakeasy whose distorted features read all wrong. Then the bad guys are revealed as … gay. Really?
All this is, well, disappointing. But for Hermione Granger's sake, I will give Rowling the benefit of the doubt. If I squint and concentrate, on an emotional level, "Fantastic Beasts" seems to be a warning about the dangers of repression. Society so rejects the gay villain's feelings and powers that he hides it all inside himself until he explodes. Society is so opposed to Scamander's love of all creatures great and small that he must lock it away in that suitcase.
The difference between the two characters is that Scamander finds a way to make it work, sort of. He doesn't fight back really. Mostly he just politely ignores the voices reprimanding him and keeps muddling on ahead, acting as if the world doesn't reject his ideals. Maintaining this attitude leaves him stammering and awkward. And he can't seem to make eye contact. And he seems always to be in a defensive crouch. But he manages in spite of it all to retain his deep empathy for all the creatures about him. That's his real magical power. There's a moral of the story in there somewhere, I'm sure.