Actors' Shakespeare Project Mounts A Simple But Enchanting Production Of 'The Tempest'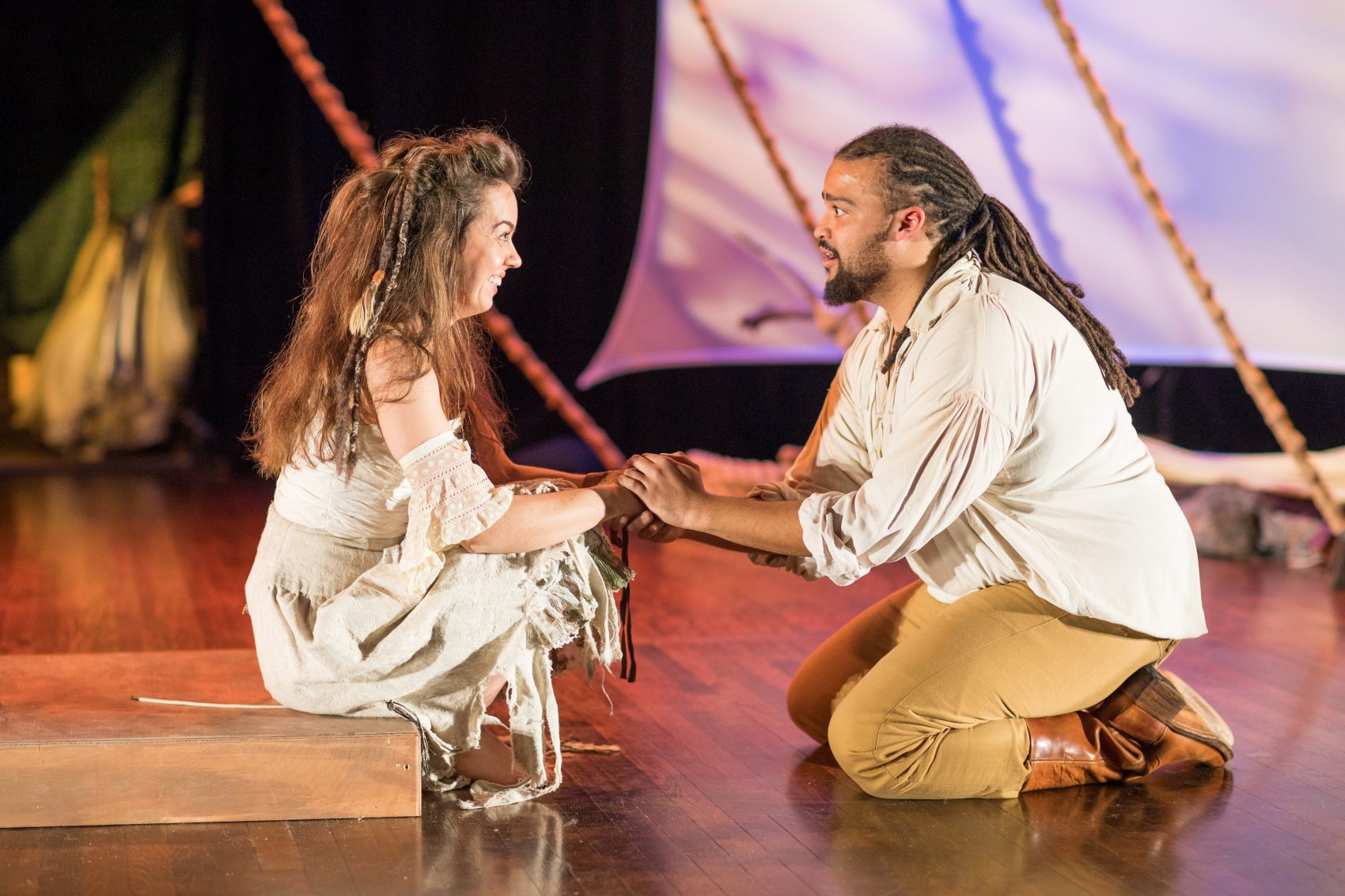 This article is more than 4 years old.
Minimalist magic floats the island in Actors' Shakespeare Project's staging of "The Tempest" (in Willet Hall at United Parish, Brookline, through Jan. 8). Gone is the masque conjured by Prospero to celebrate the marriage of Miranda and Ferdinand, replaced by a simple song and a ceiling bewitched by twinkling green light.
Director Allyn Burrows' streamlined approach to the play is fine by me; I have always found all that harvest-themed phantom pageantry no more than a labored lead-in to the exiled duke's great speech about the ephemeral nature of existence ("Our revels now are ended.").
But Burrows does not stop with blue-penciling Iris, Ceres and the Reapers. He has also banished several characters (including "honest old councilor" Gonzalo) and taken the testosterone out of Prospero. Here the wronged magician, who stirs up a storm to entrap and punish her enemies, is a woman — whom Marya Lowry imbues with all due authority, melting toward the end into a wrenching separation from her occult power and a tender embrace of mortality. This is a Prospero who brooks no defiance, can in fact be cruel, but who, in the end, is taught by her servant spirit to be both forgiving and human.
Less successful in the staging, which is inventively enhanced by lighting (by Chris Bocchiaro), music (chosen by estimable sound designer Arshan Gailus) and low-key aerial feats, are the comic elements. Here these include not only the alcohol-fueled antics of shipwrecked minions Stephano and Trinculo but also the portrayal of "admired Miranda" by Lydia Barnett-Mulligan (the marvelous Lady Teazle of ASP's "The School for Scandal") as something adorable but almost feral.
"The Tempest," written around 1611 and widely regarded as Shakespeare's farewell to his own artistic powers, takes the form of one last, great conjuration by Prospero, who will return, less distractedly than when he allowed his kingdom to be usurped, to his duties as duke (here duchess) of Milan. There is nothing tortured in the transformation of Prospero from gifted, controlling and protective dad into gifted, controlling and protective mom. And if Lowry does nothing spectacular like levitate Miranda, as Tom Nelis' duke did in the Teller (of Penn & Teller)-directed "Tempest" that played at American Repertory Theater, her performance is both formidable and feminine.
Perhaps to keep the Bard's mirror in place, Alonso, King of Naples, who schemed with Prospero's brother, Antonio, to steal her kingdom some 12 years before the events of the play, has also undergone a gender change. As portrayed by Mara Sidmore, Alonso is now a grieving mother who, having lost her daughter to a far flung marriage, believes her son to have been drowned in Prospero's storm. (Half of the tight production's eight players are women.)
For Actors' Shakespeare Project, on a stage festooned with wooden barrels and coiled ropes, with Prospero's magic book open and glowing like a lighted fan, this "Tempest" is indeed a girls' night out. Lowry's commanding Prospero either dominates or lurks behind the scenes, with Samantha Richert's eerily voluptuous Ariel controlling, at her mistress' bidding and bolstered by "sounds and sweet airs" that range from celestial strings to hurdy-gurdy piano, every action. Also effective are two large sails like vertical pillows, behind which lesser spirits appear to punch and ripple.
Approaches to the "monster" Caliban run the gamut of grotesquerie, pointing to both the wondrous and dangerous aspects of Nature. Here Jesse Hinson proves an uncommonly human witch's spawn; he's a tall, handsome guy in what look like buckskins, who hisses and flicks his tongue in a manner more redolent of an aggravated serpent than a stinking fish. His attitude toward Miranda, whom he has attempted to ravish, is certainly vulgar. But Miranda's toward the "brave new world" of hot guys is hardly more seemly. In Barnett-Mulligan's performance, Prospero's obedient if petulant pubescent daughter can't wait to jump on Ferdinand (and doesn't wait) and lustily wrestles with both him and Caliban! Wide-eyed and often crouching on her haunches, she's funny, unfettered and cute as a button, but it doesn't really work for Miranda.
As drunken ship's butler Stephano and stranded jester Trinculo, who co-opt Caliban and ineptly plot to murder Prospero, a doubling Michael Forden Walker and Mara Sidmore prove a bit too heavy-handed to make the comic most of their drunken shenanigans. And their harebrained, contemptuous treatment of Caliban serves to make Hinson's buff, lyrical "thing of darkness" appear more sinned against than sinning.
Though the ASP season was planned before this news was known, "The Tempest" will prove a valedictory of sorts for Burrows, who has for the past six years been artistic director of the itinerant troupe. But he is not — as the retiring Prospero promises — going to break his staff and drown his book. He is just Bard hopping to a larger operation: Lenox-based Shakespeare & Company, where he takes the artistic reins in January and, one hopes, will continue to ply the concise "rough magic" that is the strongest suit of this enchanting, uneven production.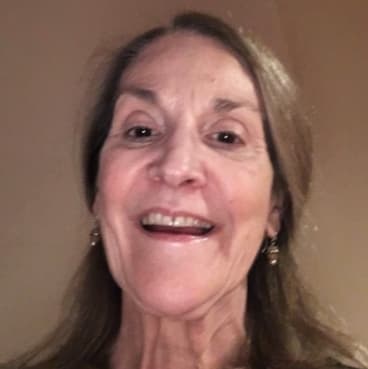 Carolyn Clay Theater Critic
Carolyn Clay, a theater critic for The ARTery, was for many years theater editor and chief drama critic for the Boston Phoenix.