From Singing Solo In The Car To Belting Onstage, Julie Rhodes Finds Her Voice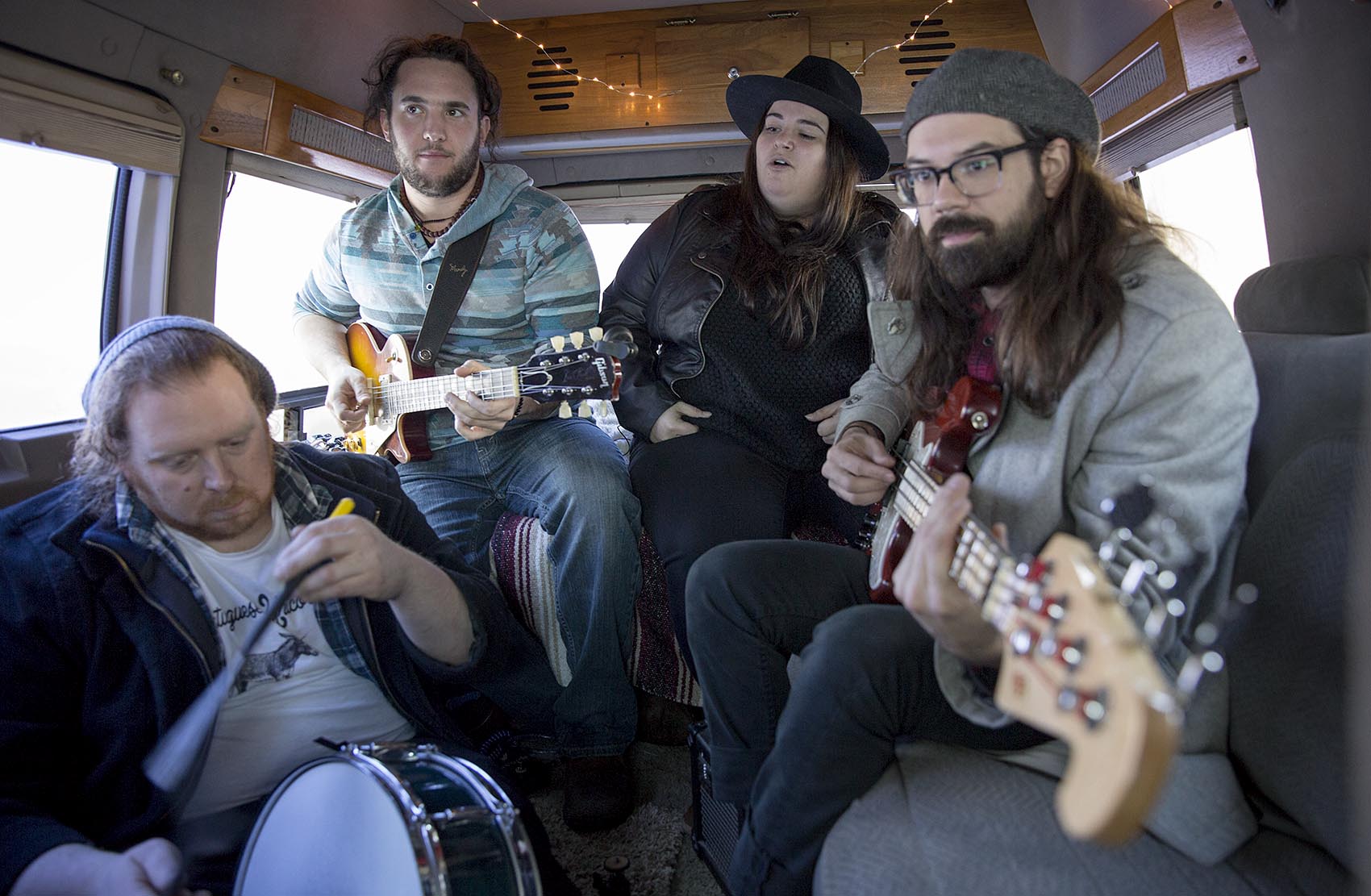 This article is more than 3 years old.
It wasn't long ago that Julie Rhodes was too self-conscious to sing anywhere but alone in her car. She wouldn't even let loose in that time-honored site of solitude, the shower. "There were too many people that could be listening," she says.
Rhodes released her debut album, "Bound to Meet the Devil," just last year. An unusually self-assured first outing, it features the Woburn native's soul-soaked voice at its center, and earned her four Boston Music Awards nominations. On Saturday, Jan. 14, Rhodes opens for Girls Guns and Glory at The Sinclair before embarking on tour with her band in March.
Rhodes' transformation from covert highway belter to local Americana darling began in 2013, at a house concert in Providence featuring the New Jersey singer-songwriter Jonah Tolchin. "Jonah was playing his set and made it a point to call out all of the other musicians the he room," the 29-year-old recalls. "You never really see that happen, where a musician is playing a set and they are kind of taking the spotlight away from themselves and pointing it onto everybody else." Tolchin invited a couple of the audience members up to perform. "That was really inspiring to me," Rhodes says. "I've always wanted to write songs, [and] this particular show made me feel like I could maybe do it."
"I've always wanted to write songs, [and] this particular show made me feel like I could maybe do it."

Julie Rhodes
After Tolchin's set, Rhodes stood chatting with another local musician — the Somerville folksinger Dan Blakeslee — and found herself momentarily moved to sing. "Not on purpose," she clarifies. "He was trying to remember a song, and I sang a line." Blakeslee encouraged Rhodes to try her hand at songwriting. Soon after, she emailed her first song to Blakeslee and Tolchin. Within months, he and Rhodes were working on her debut album.
The result, "Bound to Meet the Devil," chugs confidently through soulful refrains and the occasional 12-bar blues, propelled by Rhodes' formidable pipes. She sings with effortless power, as apt to purr as to belt, unafraid of the catch in her throat or the husk at the bottom of her range.
Listen to Rhodes singing "Holes" with her band:
The album, with its growly-yet-spacious production and judiciously deployed twang, undoubtedly benefits from Tolchin's deft hand. But Rhodes' songwriting carries the day. She possesses a knack for sharp, immediate imagery rooted in the grimy monotony of daily life.
"A lot of the album is about trying to survive," Rhodes says. "Trying to work enough to make enough money to keep a roof over your head and keep food on your plate."
She points to the song "Collector Man," a defiant, bluesy number that was inspired by the years she spent living in Somerville and working overtime at a local ice cream shop, trying to pay off her student loans. "It's basically about being in debt and having to work countless hours to pay back what you owe," Rhodes says, "for maybe something that you should not even owe in the first place."
It was only later that Rhodes realized her song closely mirrored another: "Collector Man Blues," which was recorded in the 1930s by the blues singer Sonny Boy Williamson.
The tale is illustrative of Rhodes' relationship to her musical forebearers — visceral but indirect, filtered through popular music's decades-long evolution into modern day Top 40. Like many young musicians, Rhodes has done her fair share of crate digging (or YouTube watching, as the case may be), discovering an affinity for soul greats like Etta James and Aretha Franklin and blues legends like Freddie King and Muddy Waters. But her youthful obsessions — pop punk, emo, ska — were utterly ordinary. "We all listened to pop music when we were kids," Rhodes says. "Very few of us were really jamming out to The Rolling Stones when we were 12. Some people do, but most of us, we dug into roots music [later]."
Rhodes' favorite band as a teenager was a ska outfit from California called Rx Bandits. More than anything, she loved seeing them perform live. Whenever the band came to New England, she would zigzag the region in her car, following them from gig to gig.
"I didn't know why I was doing it back then, but I look back on it now and I think I was always meant to do that, to travel for music."

Julie Rhodes
"I didn't know why I was doing it back then, but I look back on it now and I think I was always meant to do that, to travel for music," Rhodes says. "I think I was sort of living vicariously through the artists I was seeing. I was enamored by the whole thing. Just being onstage — it was almost like I was watching them watching us."
In college Rhodes started listening to singer-songwriters like Brandi Carlile and Amos Lee. One of her co-workers at the ice cream shop got her hooked on the Boston string-band Crooked Still, which lead her to Newport Folk Festival — the folk music mothership. The experience, Rhodes says, was life changing.
"It was kind of like I was back in my early pop punk days, when you would feel this beautiful sense of family and community. … It all just came back, just with a new group of people. I felt this feeling of community again, this feeling of togetherness and everybody bonding over music."
Back at the ice cream shop, "I was working way too many hours, too long, constantly on the clock, constantly on call," Rhodes says. "I just felt like I was working my life away."
Making music changed all that. After Rhodes started gigging, the ice cream shop let her go. "It was the biggest blessing," she says. Even though she still has to work part-time to pay the bills, things are different now — better. "Admittedly, I didn't escape [the grind] as much as I just shifted my focus to things that mattered more to me," she says. "When I started making music, that was my priority, and that came first."
With music a priority, touring is, too. Recently, Rhodes purchased a 1998 Dodge Ram conversion van for the band to take on the road — a big, boxy thing that still feels claustrophobic with the whole group and their gear squeezed inside. But Rhodes is stoked to hit the road. She knows that freedom isn't always glamorous. Sometimes it's just four wheels, a radio and a voice you're not afraid to use.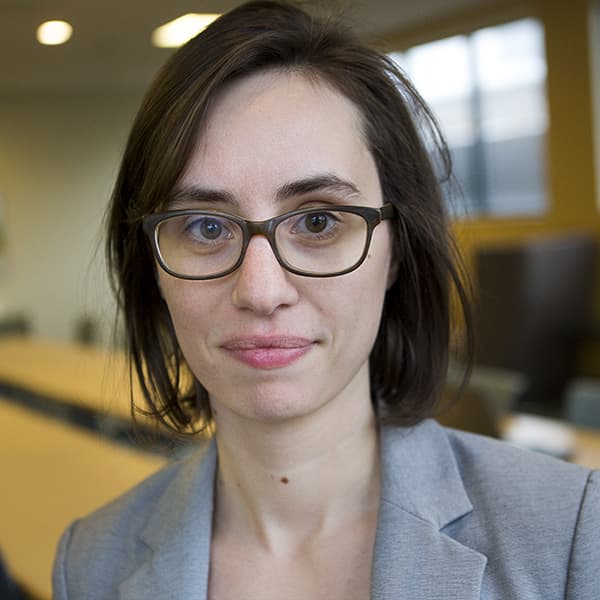 Amelia Mason Arts And Culture Reporter
Amelia Mason is an arts and culture reporter and critic for The ARTery, WBUR's arts and culture team. She covers everything from fine art to television to the inner workings of the Boston music scene.