In Poetic Rhythm, 'Paterson' Shares The Routines And Joys Of A Working-Class Artist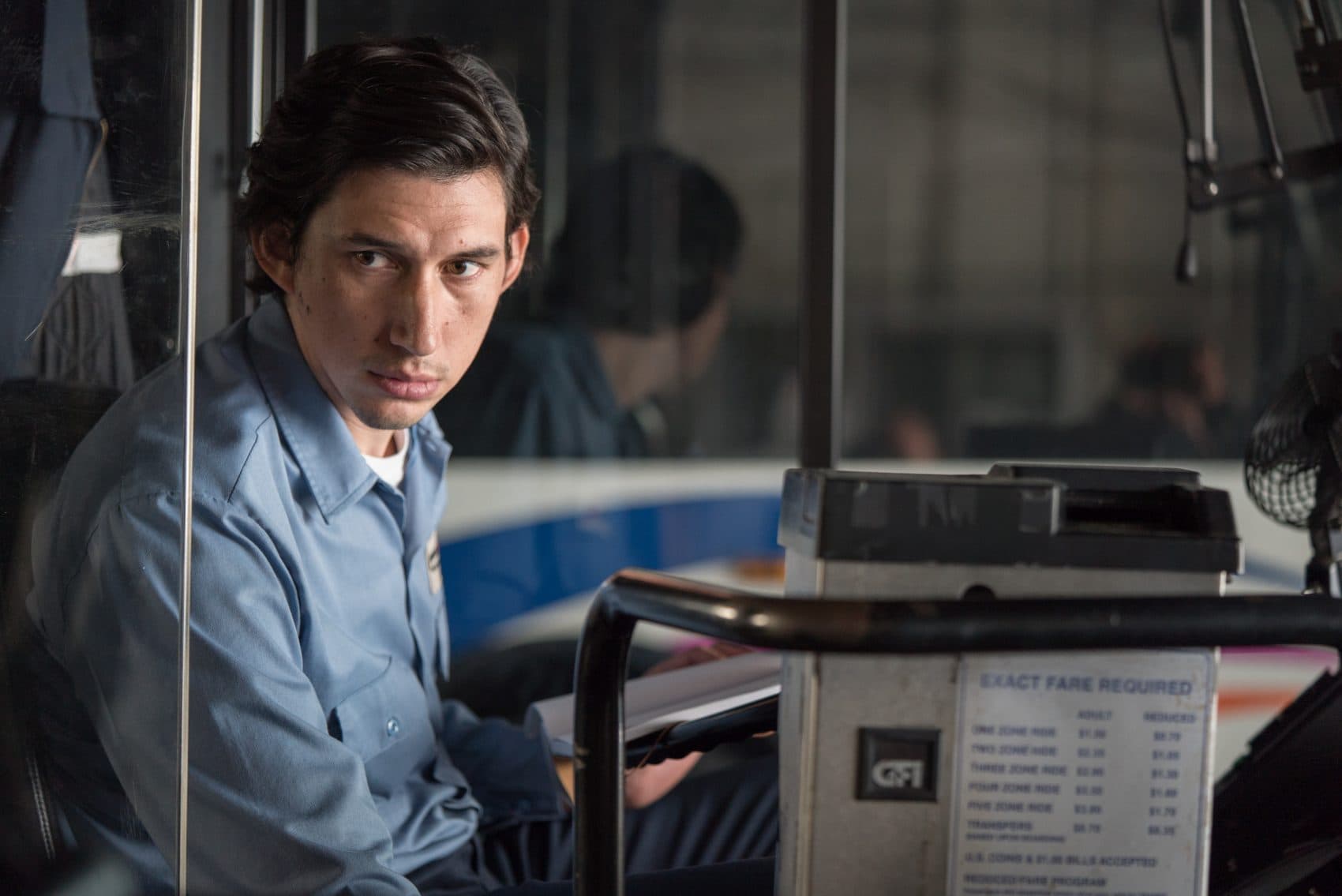 This article is more than 3 years old.
So this poet named Paterson is a bus driver in Paterson, New Jersey. To say it that way it almost sounds like a palindrome, like his hero William Carlos Williams (himself a former resident of the Jersey city — he lived there in the 1950s, back when he wrote the epic poem "Paterson.") Except Paterson's girlfriend Laura calls him Carlos William Carlos, and I hope this admittedly confusing opening paragraph is giving you a sense of the delirious doubling and tripling of words and images in Jim Jarmusch's altogether delightful "Paterson."
Out of all the famous sons of New Jersey's former industrial center, from which the picture takes its name, perhaps the most reverence is reserved for Lou Costello (who even gets his own park) and whose "Who's On First" is quoted alongside Frank O'Hara and other masters of modern literature. The movie is, quite simply, a joy. And I don't want to know who's on third.
Adam Driver stars as Paterson, his face a quizzical wonder of cubist angles and too-slow reaction shots. Jarmusch's film follows him for a week, adhering to a strict routine at work and home. Paterson wakes up without an alarm clock every morning alongside the lovely Laura (Iranian actress Golshifteh Farahani), eats his cereal and walks to work. He drives his routes over and over, listening to the crazy conversations of his passengers, before returning home for dinner. Later in the evening he takes the dog out for a walk (though it looks more like the dog is walking him) and has a beer at the local bar before turning in and starting it all over the very next day.
On his lunch break, Paterson sits upon a bench overlooking the Passaic Falls and scribbles his poems into a notebook. They often begin with banal observations — the first and best concerns boxes of Ohio Blue Tip matches, which he and Laura now prefer to Diamond Brand. Written by the 74-year-old Oklahoma poet Ron Padgett, Paterson's poems start out small and leap to unexpectedly large conclusions, finding multitudes in everyday banalities — which is a pretty keen match for this, or really any other Jarmusch film.
Ever since his 1984 breakthrough "Stranger Than Paradise," Jarmusch has been finding transcendence in stasis and "Paterson" is nothing if not a movie about the wonders of routine. It's broken down over a week so the days themselves become like stanzas in a poem, with repeated shots and locations becoming his visual rhyme-scheme. What happens here is, I think, what the filmmaker was striving for and failed at with his 2009 "The Limits of Control" (the one Jarmusch movie I unequivocally dislike), which similarly reiterated the same scenes ad infinitum with infinitesimal variations, but sorely lacked the warmth that Driver and Farahani bring to this one.
Movies about artists are typically concerned with domestic discord, thrown glassware and substance abuse. But Jarmusch is different. The filmmaker credited his longtime partner Sara Driver (who produced his first couple of films) as "instigation and inspiration" for his 2013 triumph "Only Lovers Left Alive" — a wondrous picture in which Tilda Swinton and Tom Hiddleston starred as millennia-old, married vampires coming to terms with modern mediocrity. But really it was a movie about how effin' great is to grow old with someone who loves the same books, movies and records that you do.
"Paterson" has that same warmth, avoiding the exhausted clichés of emotional tumult as necessary for artistic growth and giving our hero a super-awesome, creative girlfriend who supports him every step of the way. OK, so sometimes she invents some weird culinary dishes like a Brussels sprouts and cheddar cheese pie that Paterson dutifully pretends to enjoy. But domesticity doesn't always have to be prison. Laura also bakes a lot of cupcakes.
The amazing cinematographer Frederick Elmes (a favorite of David Lynch and Ang Lee) captures entire worlds in reflections of storefront windows while Paterson drives around his regular route, and Jarmusch's great visual joke about this doubling effect is that half his supporting performers appear to be identical twins for reasons I have yet to quite nail down. Whatever they are, I love them anyway.
"Paterson" is a very funny film and it's weird. This is a rare, gentle movie making a case that being a blue-collar, working-class artist in America right now requires kindness and understanding. I don't think we'll see the likes of it again anytime soon.
"Paterson" opens in the Boston area at Kendall Square Cinema on Thursday, Jan. 19.