Gidon Kremer Introduces Boston To Prolific But Little-Known Composer Mieczysław Weinberg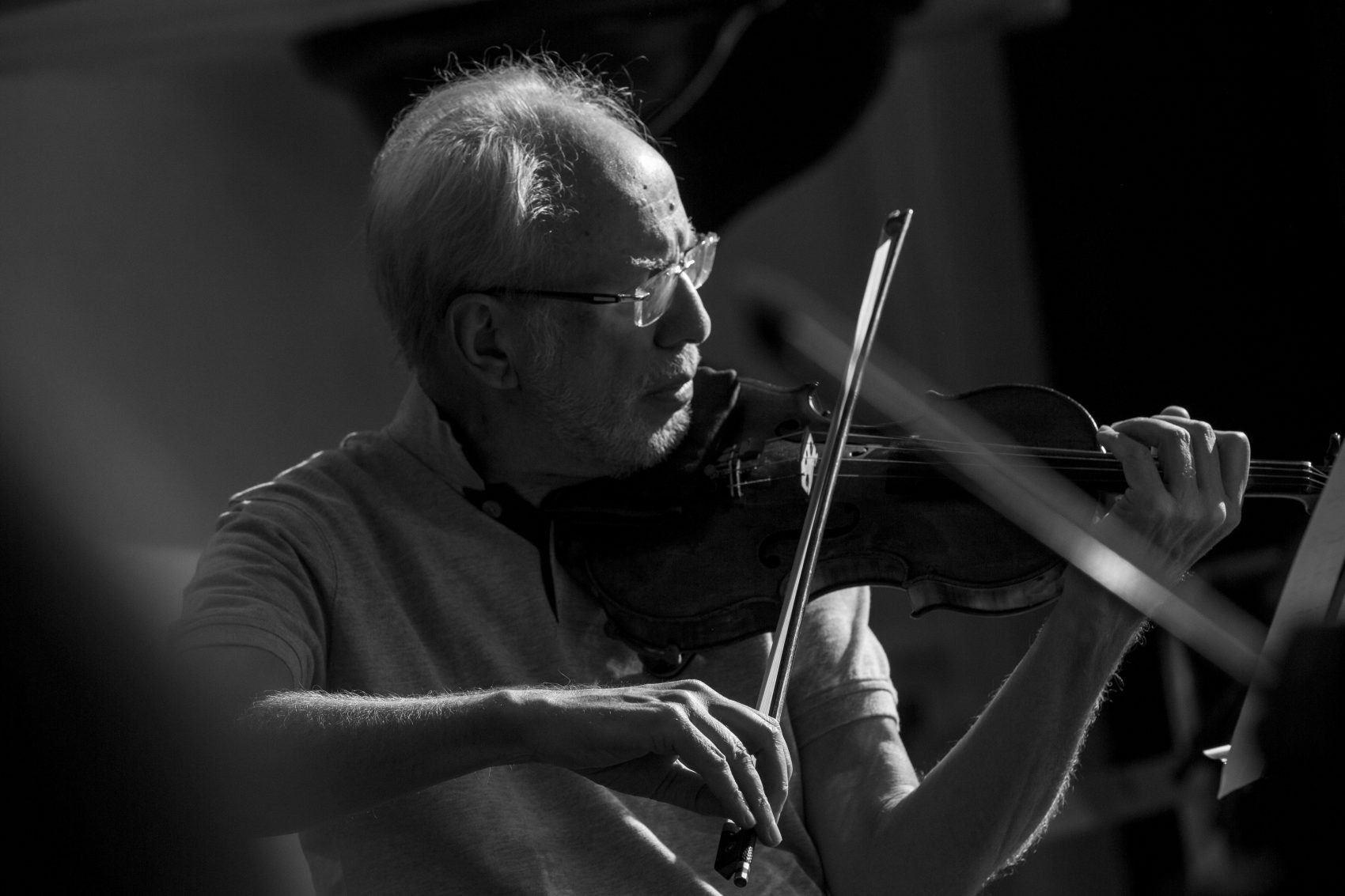 This article is more than 4 years old.
To celebrate his 70th birthday, renown violinist Gidon Kremer is treating Boston Symphony audiences to a first.
When the Latvian musician takes the stage with the Boston Symphony Orchestra under the baton of conductor Juanjo Mena, on Thursday, Jan. 19, he'll be playing the violin concerto by Mieczysław Weinberg (1919-1996), introducing a prolific but little-known 20th century Polish-born Russian composer to a new audience two decades after his death.
Kremer is at the forefront of those championing Weinberg's music and his dedication is securing Weinberg's place as an important composer notably compared with Dmitri Shostakovich, his mentor and close personal friend.
A Prolific Career
The four performances mark the first time the BSO will perform a work by Weinberg, who in a career spanning 50 years, composed seemingly at a frenetic rate: 26 symphonies, 17 string quartets, six concertos, seven operas, an operetta, three ballets and more than two dozen sonatas. He also composed 60 film scores, among them the landmark Soviet-era film on WWII, "The Cranes Are Flying" (1957).
Weinberg's life and music resonate with the tragic historical tides of 20th century: His immediate family members were murdered by the Nazis and he endured anti-Semitic persecution throughout the Stalinist era of the Soviet Union.
Recently, Weinberg has been emerging from the shadows. There have been worldwide performances and a biography by British music scholar David Fanning. In Warsaw, where he was born and lived for the first two decades of his life, Weinberg was among the composers whose work was explored at a 2013 conference on the Jewish music renaissance in Poland and Germany.
Mena was first introduced to Weinberg's music some 15 years ago, by Polish members of the Bilbao Symphony Orchestra, where he was artistic director, he said, in a phone conversation from New York.
This will be the first time he conducts the violin concerto and the opportunity to create something new with the BSO is exciting.
"First-time performances by big orchestras definitely help bring figures like Weinberg in from the cold. And it's time," said Jeremy Eichler, the Boston Globe's classical music critic and currently a Radcliffe Institute fellow, about the BSO's upcoming concert in an email. "Here is an authentic 20th-century voice. His best music arrives with the force of a testimony and glows with a haunting, premonitory beauty."
Eichler named another performance of the violin concerto among the best albums of 2015.
Kremer: 'The Gold Standard'
The Latvian-born Kremer, whose own father, also a violin player, survived the Holocaust in hiding, has made two recordings of Weinberg's work on ECM New Series, with Kremerata Baltica, a chamber orchestra Kremer launched 20 years ago to feature musicians from the Baltic states. The newest CD, being released on Jan. 27, features four chamber symphonies including Chamber Symphony No. 4 (1992), his last completed work, as well as a new arrangement of Weinberg' early piano quintet. The group's first Weinberg recording (2014) is a double CD that earned a Grammy nomination. The chamber orchestra is now touring the U.S. and Canada in a program that includes Weinberg's Symphony No. 4.
"The value of Weinberg's music to me is absolutely obvious — his opuses are not written following a certain compositional system, school or ideology. For myself, the 'discovery' of Weinberg some years ago became a source of an unlimited inspiration," Kremer wrote in a note accompanying the new CD. "The chamber symphonies are ... like a diary of the most dramatic period in the 20th century."
Kremer first performed with the BSO in April 1979. This is the ninth season Kremer has appeared with the orchestra — he has also played three summer concerts at Tanglewood.
"Gidon Kremer is the rarest of soloists, a violinist with a broader mission to actively shape the musical culture of our time."

Jeremy Eichler
The violinist's embrace of Weinberg's work reflects his dedication to performing the work of other composers from Russia and Baltic states.
"Gidon Kremer is the rarest of soloists, a violinist with a broader mission to actively shape the musical culture of our time. He has done so by championing composers such as [Alfred] Schnittke, [Arvo] Pärt, [Sofia] Gubaidulina, and now Weinberg. I think we can expect a deeply sincere performance driven by that insurgent style of virtuosity that is his alone," Eichler said.
Schnittke, Part and Gubaidulina are among the composers whose work is featured in a new 22-box set of Kremer's recordings released by Deutsche Grammophon. In his year-end review, The ARTery's critic-at-large Ed Siegel described Kremer as the "gold standard" of violinists.
Friendship Of Weinberg And Shostakovich 
Weinberg was born in 1919, to a Jewish family in Warsaw, where his father was a violinist in Jewish theater. His musical studies at the Warsaw Conservatory ended in 1939, when the 20-year-old Weinberg fled east just before the Nazi invasion of Poland, without his immediate family. He learned later that his parents and sister were murdered at a concentration camp. In 1943, Weinberg moved to Moscow, where he spent time with Shostakovich. It was the beginning of what would become a lifelong friendship steeped in their music.
While Weinberg achieved acclaim and a strong following in Russia, he was measured against Shostakovich. Writing for the Boston Globe in 2014, Eichler said Weinberg's voice is distinct from his mentor: "the lines of influence between the two composers ran in both directions."
Along with Shostakovich and other artists during Stalin's reign, Weinberg negotiated the balancing act between the official limits of acceptable music and the creative drive for artistic freedom. At times, Weinberg's music was denigrated. In 1953, he was imprisoned for 11 weeks, part of Stalin's vicious persecution against Jews. Shostakovich wrote an impassioned letter seeking his release, which came shortly after Stalin's death.
Remarkably, Weinberg, described by many who knew him as humble, remained grateful to the Soviet Union, where he escaped the tragic fate of his family.
The 1960s and 1970s were highly productive, and included his Holocaust-themed opera "Passazhirka" ("The Passenger"), that had its New York premiere in 2014.
But as Soviet composers embraced a more contemporary style influenced by the West, Weinberg was considered too traditional. He died after a period of illness and increasing isolation, in relative obscurity. But renewed interest in Weinberg's chamber music began not long after, according to David Fanning, writing in Kremerata's new CD.
The violin concerto, one of Weinberg's best known and most frequently recorded works, opens dramatically in the key of G-minor, with a stirring rhythmic melody and ranges over four movements, at times energetic and bold, while other passages sound mournful. Shostakovich described his friend's concerto as a "beautiful work, in the true meaning of the word."
Listeners familiar with Shostakovich's Cello Concerto No. 1 will note some similarities, conductor Mena said. But the unison of the strings in Weinberg's first movement is a point of departure, he said. Mena is particularly drawn to the violin concerto's third movement: "It's quiet, yet very dark, the tension is very evident," he said.