'Something Rotten!' Scrambles Shakespeare Into A Broadway Musical At The Opera House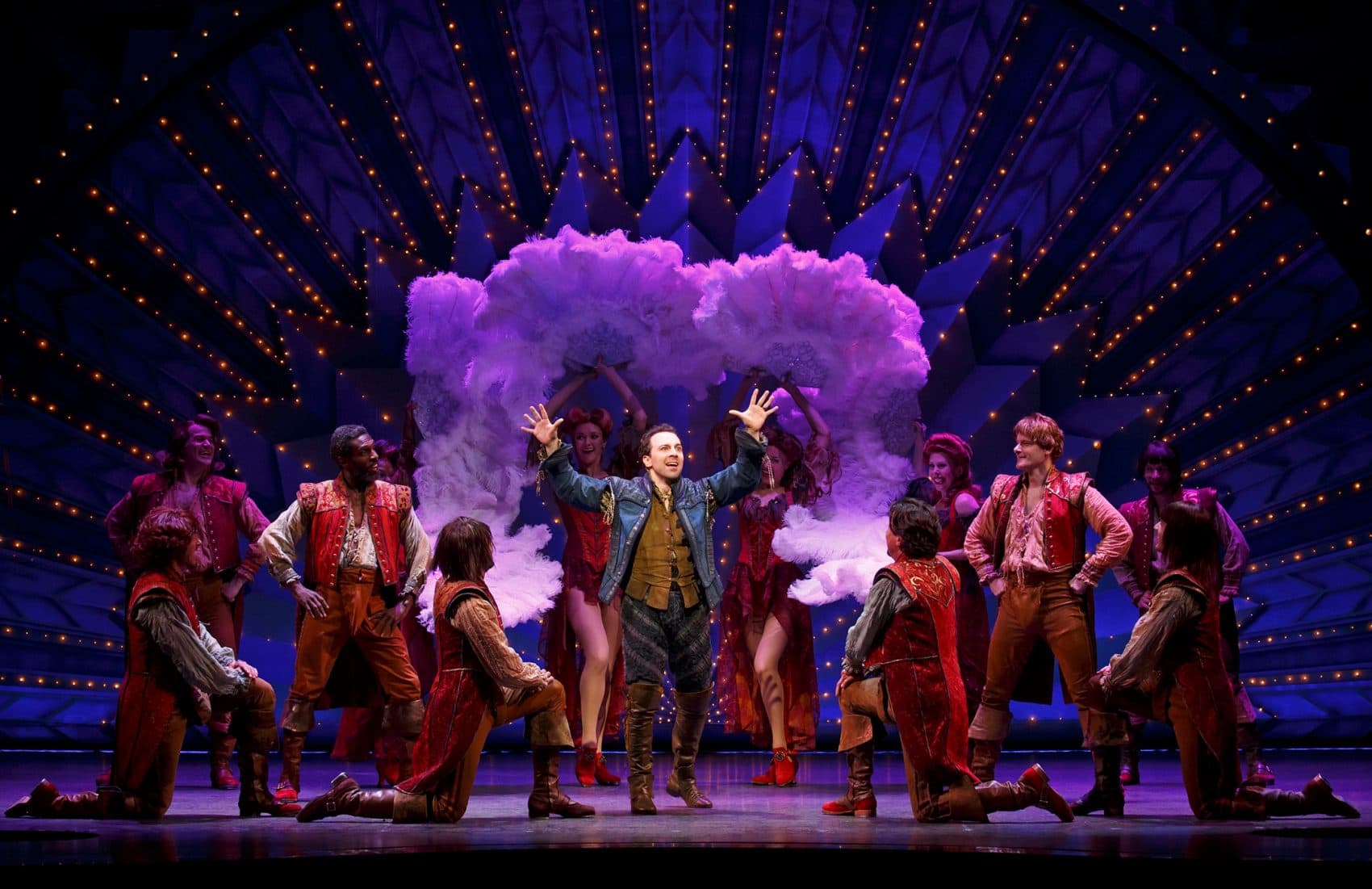 This article is more than 3 years old.
Shakespeare meets a Hasty Pudding show in "Something Rotten!" And what's bubbling in the pudding pot is every musical ever written whipped up with plagiarism gone ridiculously, extravagantly wrong.
The rollicking "Something Rotten!" debuted on Broadway in 2015 and now launches its national tour at the Boston Opera House (through Jan. 29). The show, which is beyond exuberant, was nominated for nine Tony Awards in 2015, winning for Featured Actor in a Musical. This prize went to Christian Borle, who played William Shakespeare as Mick Jagger with quill and codpiece in the Broadway staging.
On the road, that role is cockily assayed by original "Rent" star Adam Pascal (the biggest name in the touring production), rocking tight leather breeches and a spike-collared Hamlet shirt that opens to reveal a buff, bare chest.
Yes, that's right, Shakespeare's a dramaturgical rock star in "Something Rotten!," which is set amid the thatch-roofed, half-timbered town of 1595 London and centers on two playwriting brothers who, between the Bard and the bear-baiting, just can't get a break. Naturally, they try to steal from Shakespeare — who's a bit of a literary kleptomaniac himself (a conceit earlier fielded by Robert Brustein in "The English Channel").
The real bards behind this silly, spangled mash-up of the Renaissance and Broadway are another team of brothers: Grammy-winning Nashville songwriter Wayne Kirkpatrick and "Chicken Run" screenwriter Karey Kirkpatrick, who wrote the music and lyrics, with libretto duty being done by Karey and British humorist John O'Farrell. Already armed with an over-the-top, cannibalistic idea, the team found its fourth musketeer in director/choreographer Casey Nicholaw, who had already married the preposterous to the tuneful as co-director/choreographer of the wildly successful "The Book of Mormon."
All this group needed for Borscht Belt Nirvana was Mel Brooks. In his absence, they decided to look over Shakespeare's shoulder while perusing the roster of great and not-so-great musicals, from "The Sound of Music" and "West Side Story" to "Cats" and "A Chorus Line." And there is one production number in "Something Rotten!" -- a grab bag of theater yet to come envisioned by a back-alley soothsayer — that is worth the price of admission. Of course, it's not pilfered by or from Shakespeare; the pocket picked here is "Forbidden Broadway" parodist par excellence Gerard Alesandrini's.
OK, let's use one stone to kill the two birds of cueing you into the premise and also the sophistication level of "Something Rotten!" The show's protagonists are the Bottom brothers, Nick (named for the rude mechanical in "A Midsummer Night's Dream") and Nigel. Their surname makes for endless posterior-centered jokes as well as for the spectacular reversal of fortune imagined in the elaborate first-act finale, "Bottom's Gonna Be on Top."
But before we get to that, Nick, the hungrier if less talented of the siblings, who has been preempted by Shakespeare in his treatment of Richard II and is under pressure to come up with another idea, consults the aforesaid soothsayer — here a less lustrous nephew of the famed French seer Nostradamus clad in a down-at-heels Falstaff get-up.
What this guy foggily perceives as the wave of the future are plays in which "dialogue stops and the plot is conveyed in songs." Immediately the seedy London setting vanishes and showgirls pop out of nowhere to populate an escalating spectacular that nods like a bobblehead to "South Pacific," "Jesus Christ Superstar," "Annie, "Les Misérables" and "A Chorus Line," among other singing, dancing notables. It's like a fireworks display of showboating extravagance, cliché and cleverness, and it's pretty fabulous. (Unfortunately, the show tries twice more to duplicate the energy and opulence of this vision, entitled "A Musical," thus proving the law of diminishing returns.)
Meanwhile on the domestic front, the hard-pressed Nick grows increasingly desperate as his wife, Bea, goes to work disguised as a man, á la Viola in "Twelfth Night" (except that Viola's job is not toting bear s---). And the shyer, poetical Nigel falls star-crossedly in love with the voluptuous blonde daughter of a Puritan called Brother Jeremiah. This paves the way for a lot of double entendre involving sex and religious repression, á la "The Book of Mormon."
In my favorite bit, Nigel and his pulchritudinous Puritan (who is called Portia, foretelling more accurately than any soothsayer a courtroom scene) are invited to something called Shakespeare in the Park — an outdoor concert in which the red-hot, metal-swathed Bard, fronting four "Will Power Backup Boys" while gyrating on a raised platform under blinking lanterns, turns bits and pieces of Sonnet 18, "Richard III" and "Romeo and Juliet" ("one for all you lovers out there") into a rocking call-and-response opportunity for fans and groupies.
Do I need to spell out that some of this is funny, that all of it is absurd, and that most of the humor emanates from the anachronistic intersection of Elizabethan England, where "pewter" rhymes with "Tudor" and the citizenry breaks its moves in farthingales and doublets, and Broadway, with its danceable tunes and glitz? The Kirkpatricks' songs are catchy if unmemorable, and the tap-dancing in heavy boots and period puffy pants is as odd-looking as it is impressive.
The touring show is not manned by as many A-list musical-comedy stars as was the Broadway cast, which included Brian d'Arcy James, Brad Oscar and Brooks Ashmanskas. But Josh Grisetti's Nigel Bottom is aptly geeky and sweet and possessed of an impressive tenor. Rob McClure's enthusiastic Nick sells every number as if his own continued showbiz life depended upon it. And Scott Cote's round, rigid Brother Jeremiah milks every drop of gay or sadomasochistic innuendo and curdled brimstone from the part.
I don't know why the Boston Opera House sound system is less friendly to the female voices than to the male voices, but it does make the Ado Annie-esque Bea of Maggie Lakis sound a bit harsh and the giddily verse-arroused Portia of Autumn Hurlbert squeaky. Still you've got to give it to the whole spirited cast: They all seem to be swimming in a sea of Red Bull.
The relentlessly winking show's title comes, of course, from a reference in "Hamlet" to the state of Denmark. And a misguided rip-off of that (in 1595) not-yet-written tragedy, whose title sounds a little like something you make with eggs, also features prominently in "Something Rotten!" You might say that Shakespeare's masterpiece jumps out of the fire and into the frying pan. But whether what's being cooked is just your dish depends on whether you favor yolks and yuks or something a bit more refined.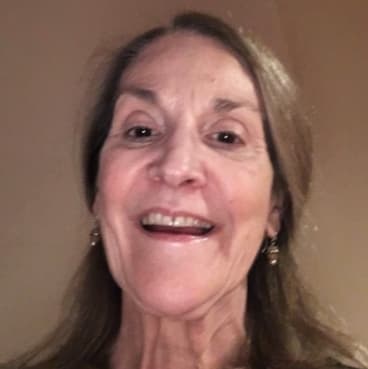 Carolyn Clay Theater Critic
Carolyn Clay, a theater critic for The ARTery, was for many years theater editor and chief drama critic for the Boston Phoenix.