The Illusionist: Carly Glovinski's Sculptures Look So Real That Sometimes Everyone Gets Fooled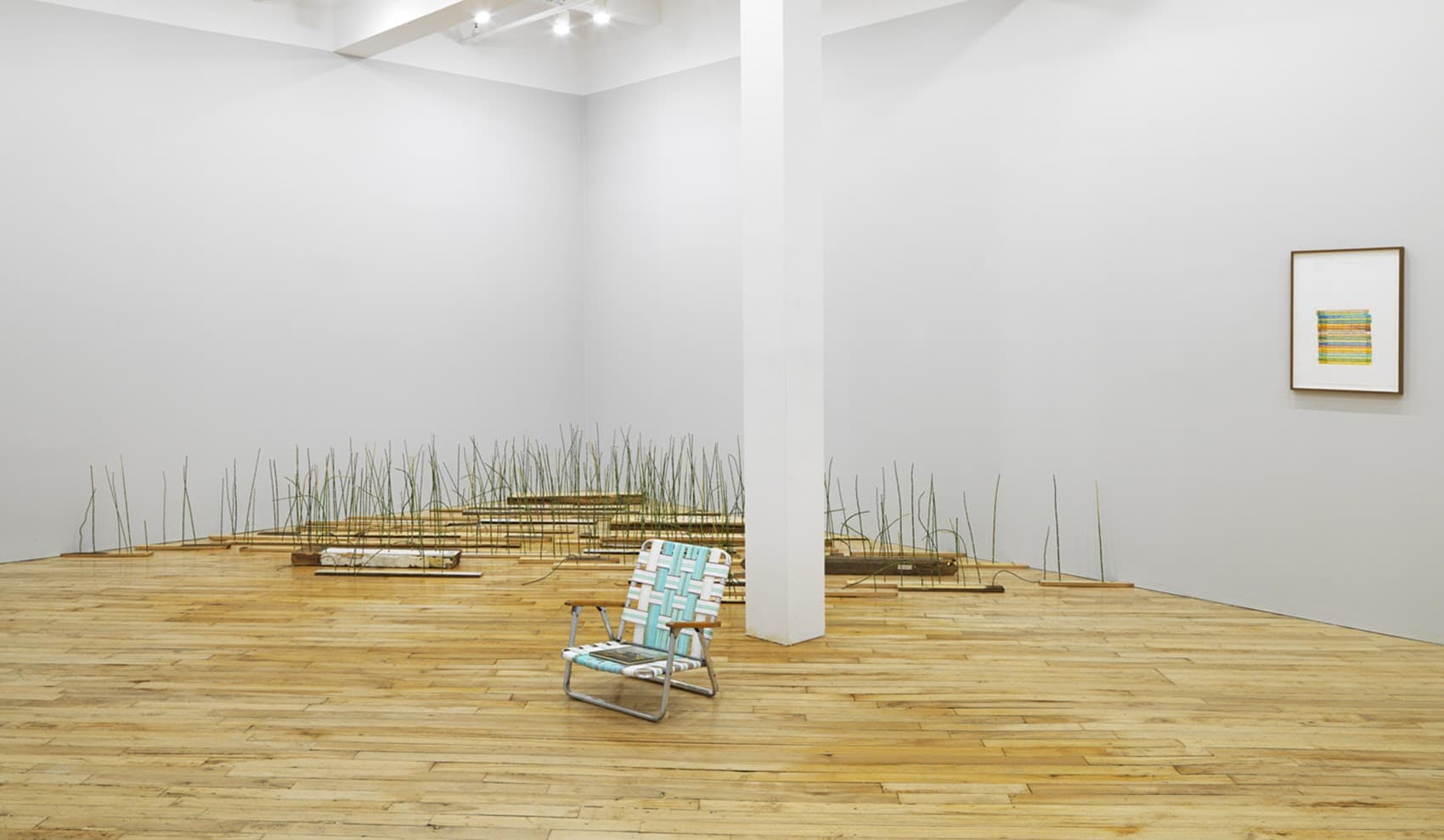 This article is more than 4 years old.
One time Carly Glovinski's sculpture of a McDonald's cheeseburger wrapper, seemingly wadded up and tossed aside, was thrown out by caterers who mistook the art — the iconic red lettering drawn on yellow paper, which was then crumpled — for a real discarded wrapper. Then there was the time when "a child picked it up and gave it to their parents to throw away."
"I've had multiple experiences of damage to my work over the years because it's taken to be the thing that it's not," she explains.
One time a critic writing a review mistook a painting she made of a blanket on wood for an actual blanket. Then there are her folding beach chairs, in which the seat webbing has been replaced with matching line drawings on strips of paper to evoke the classic seats. "I have had a child sit on one of the chairs before, " Glovinski says. "They actually break pretty aggressively."
Glovinski's art — on view in her solo exhibition "Scout Land" at Carroll and Sons gallery in Boston through Feb. 11, and as part of the group exhibition, the "DeCordova New England Biennial," at the Lincoln museum through March 26 — is sometimes referred to as trompe l'oeil, a highfalutin' French term for "deceiving the eye." But she resists being categorized as a trickster. Instead she's fascinated by a blurry sort of double-vision, when we can see her art as both drawings and sculptures, as both a crumpled up burger wrapper and as a drawing crumpled up so expertly that it appears to be the thing it's depicting.
"I don't want them to be shallow trickery. … I'm interested when someone looks at my work and that shift in perception," Glovinski says. "The trickery part is not the goal. The perception part is the goal."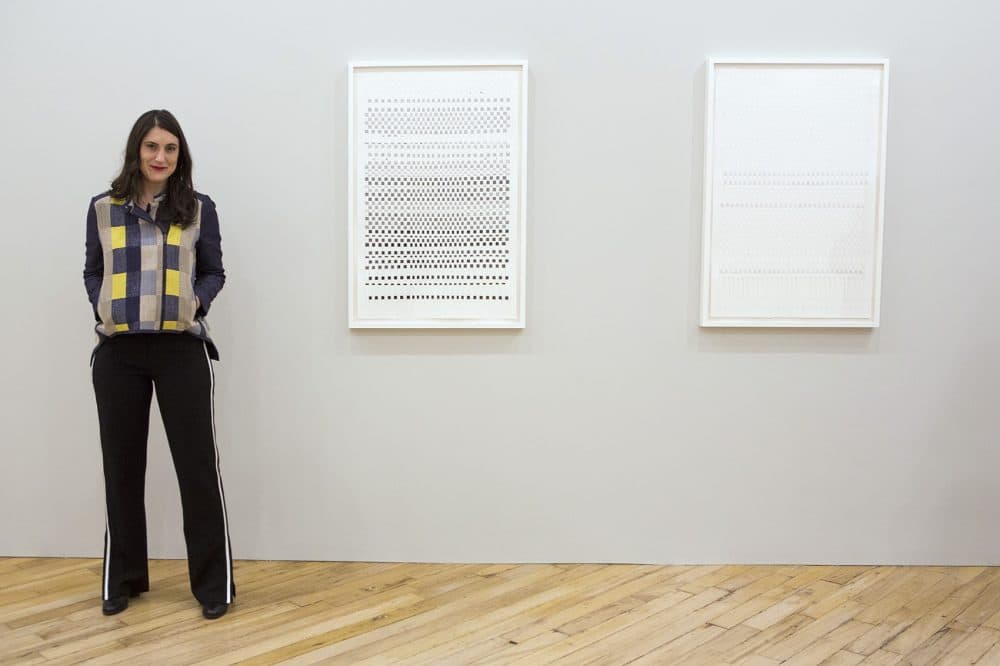 Glovinski grew up in Berwick, Maine, attended school just across the state line, in Dover, New Hampshire, where she lives now. (Her studio is in Rollinsford, New Hampshire.) She studied painting at Boston University, graduating in 2003. The program has a reputation for a rigorous, somewhat conservative approach to teaching painting. "Nine hours a week of observational drawing and painting," Glovinski recalls.
Glovinski says she enjoyed it. She set up cubist-looking still-lives of paper and cloth, then painted them with strict devotion to detail, for a result that offered meditations on the sometimes slippery borders between realism and abstraction.
But she grew unsatisfied with painting. "I just got kind of frustrated about being stuck on this surface that's two-dimensional and a shape. I just wanted to break that whole boundary," Glovinski says.
Her transition came around 2010 with a drawing she made of a dishrag from her parents' home. She carefully sketched its pattern of lines accented with stripes on each end. "I realized that to finish this drawing, it needed to be crumpled and folded up to become an object," Glovinski says. "In order to finish it, I had to destroy its two-dimensional work-on-paper-ness."
Folding the drawing added a curious bit of magic — the paper came to appear more like an actual towel.
She made highly realistic looking drawing-sculptures of rag rugs, and phone books and plastic shopping bags that were actually paper with the "Thank you" hand drawn in red, then crumpled. She made incomplete puzzles — just the edges with the center missing — out of laser-cut Plexiglas that she painted with hints of the Grand Canyon or a pretty seaside or some other landscape. She painted maps onto sheets of folded metal so that they closely resembled folded paper maps. Her Carroll and Sons exhibit includes one of her newest motifs: horsetail plants made by casting actual plants in resin, then hand-painting them.
At times, the objects she depicted so meticulously were so ordinary that even though people knew they were walking into a room of her illusions they still completely overlooked some of her creations. Like her painted metal sculpture of an orange electrical cord, one of those objects so ordinary and ubiquitous that we tend not to pay attention when one's there.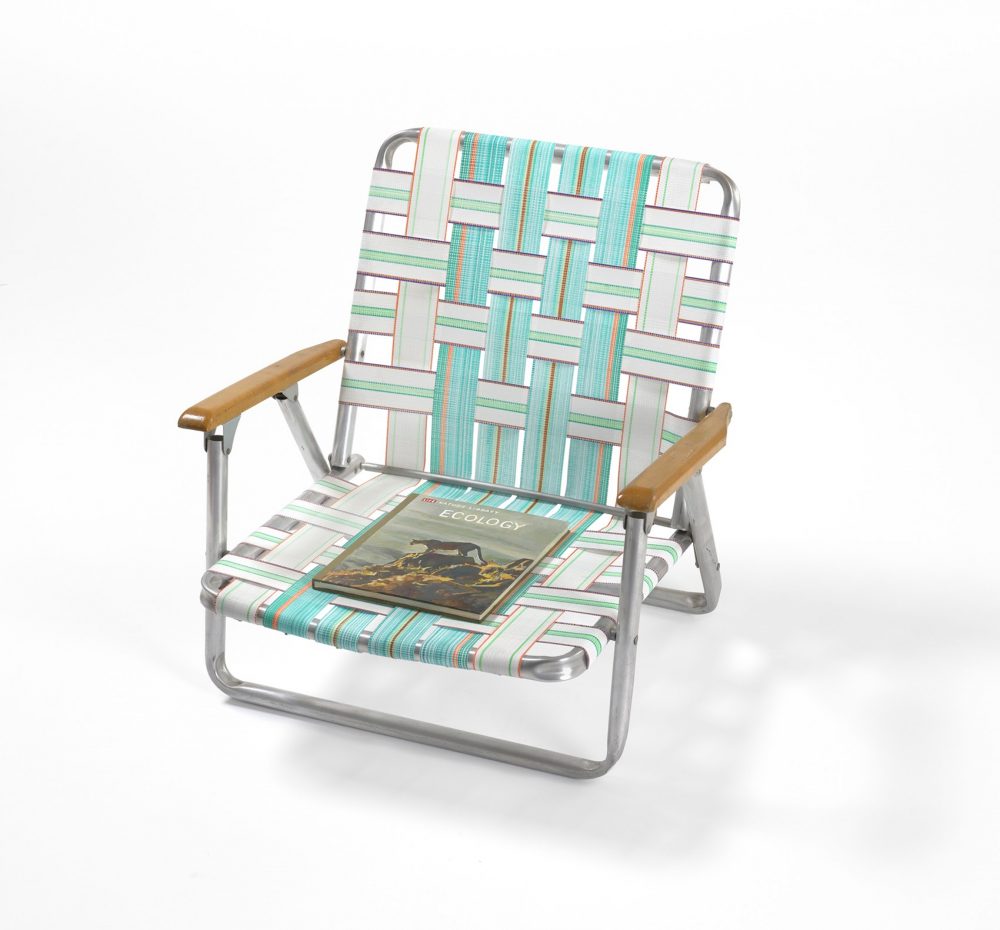 Glovinski has a thing for geometric patterns and lines — in the weave of a dishtowel or the design of a fried chicken take-out box or the woven straps of a folding beach chair.
"I was doing a lot of really repetitive line work with phone books and rugs and textiles and all of a sudden I found the chair and the chair stood right out to me," Glovinski says.
This was 2015. "I had the chair already because it had this aesthetic that I love. And I had it in the studio collecting dust because I took it to the beach six months earlier," Glovinski says.
"The webbing of the chair is basically just a series of straight lines over and over again that almost becomes like a meditative practice," Glovinski says. "It's making those straight lines vertically and horizontally and thinking about each line being a thread, so it's essentially sewing on paper and the lines being the thread."
She took the aluminum frame from an actual beach chair and replaced the webbing with strips of paper covered with her line drawings. "It was two-dimensional, but it became sculptural," Glovinski says. "I wanted to do something that was a three-dimensional drawing. This chair became an armature for me for drawing."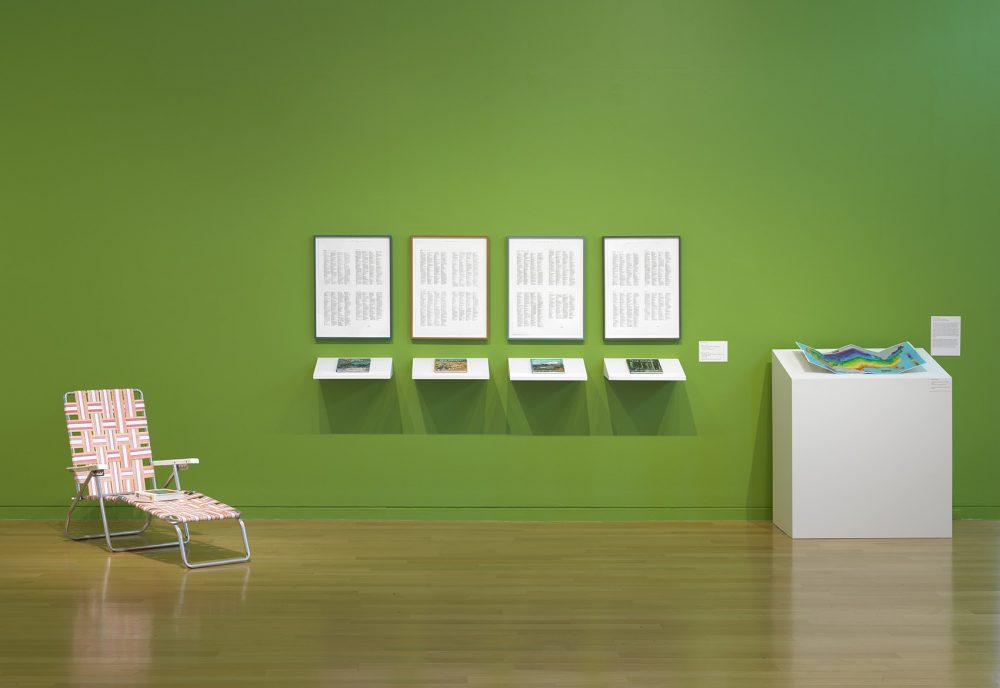 On the seats of her chair sculptures, she often places a book — or what appears to be a book. Usually an old nature book or school textbook. But if you look closely, Glovinski's reproduction of the covers is a bit loose, giving away that they're actually paintings on blocks of wood.
"The book is going back to my painting roots almost," Glovinski says. Again we find ourselves at a border, seeing the book almost simultaneously as a book and a sculpture of a book. "It says a lot about how we look at art, it says a lot about attention," Glovinski says.
The old nature books, the vintage chairs, "there is a campy Americana thing going on. I want to be humorous and almost a little bit sad," Glovinski says. "It's kind of got this tragic humor in it."