8 Films To Celebrate (Or Help You Get Through) Valentine's Day At The Brattle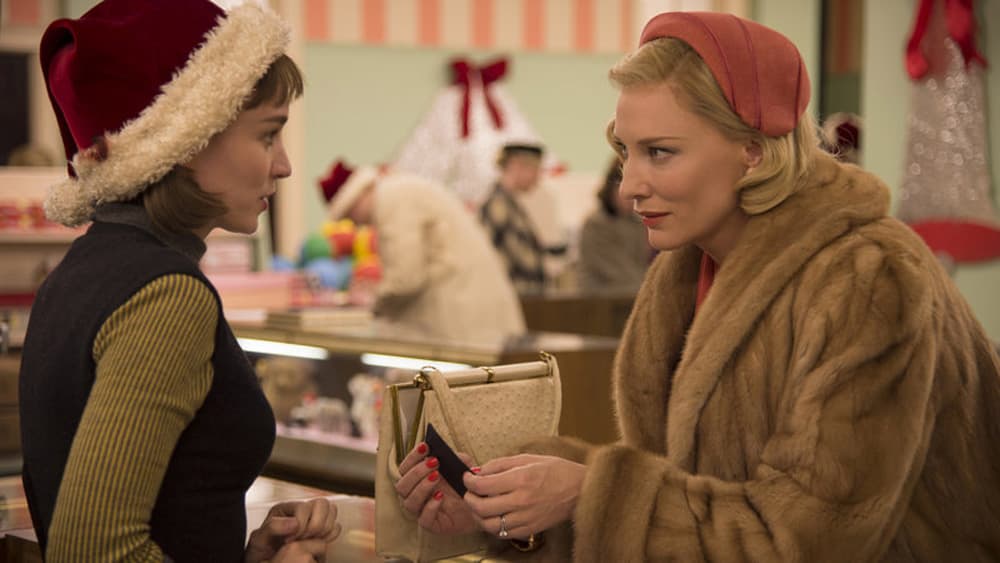 This article is more than 3 years old.
There's no better way to curb the winter blues than with a jolly old romance movie. While mostly jolly and relatively old (I'm looking at you, millennial), the Brattle Theatre has cooked up eight Great Romances that will make you say, Yes, to butter on your popcorn.
The series has appeared on and off over the last decade or so, each year with a different combo of films. If you're not sure which romance is the right fit this year, here's a guide to the series with my very own commendations. Romance certainly is personal so you may as well add a dash of salt to that popcorn. Titles are listed in order they screen between Friday, Feb. 10 and Wednesday, Feb. 15. (And if your true love is cinema, I've indicated which films will screen on 35mm.)
"Carol" (2015)
Best Atmospheric, Clandestine Romance
Forbidden love is the smoke that leads to fire in 2015's lightning-hot "Carol." Caught in an uptight era and passionless marriage, Carol (Cate Blanchett) strikes up an affair with a much younger New York City shop girl (Rooney Mara). Praised by critics for its period precision (it's a Todd Haynes drama set in the 1950s) and Blanchett's intense nonchalance, it's plausible to be more taken by the film's art design than its lead characters' chemistry. It seems like far more than a year ago that they were the stars gracing award ceremony red carpets. This is a first showing for the Great Romances series; time will tell if "Carol" returns.
---
"Purple Rain" (1984)
Best Way To Rekindle Your Romance With Prince
In the heat of summer 1984, Prince did not skyrocket to global fame because of his acting chops. Rather it was the enigma of his androgynous magnetism at play on the big screen in the unexpected hit movie "Purple Rain." It's said that Prince willed this film about a struggling funk artist with a violent father into being. What other 5 foot, high-heeled man could redefine sexy by tearing through downtown Minneapolis and the surrounding woods on a purple motorcycle? The stunningly beautiful Apollonia Kotero and hilarious Morris Day (of Prince's then opening act, The Time) presumably make it a love triangle. But "Purple Rain" is a love story of one. It's a high-haired, leather and lace reminder of just what was lost with Prince's passing last year. Though some of his fans trace that loss all the way back to what came after this film and its soundtrack's success. Within a few years Prince began cutting ties with his protégés, The Time, and his own band, The Revolution, whose members appear in the film more or less as themselves. Screening on 35mm.
---
"Wings Of Desire" (1987)
Best Romance For Spiritual Seekers, Doubters And Believers
In "Wings of Desire," Berlin is a city of mysterious angels. They can hear humans' inner thoughts and lay a reassuring hand on a shoulder but otherwise move about by stealth, with little influence. One angel becomes enamored with a trapeze artist and considers choosing "real" life — and death — in order to meet her. Not an obvious choice for a romance series (though the Brattle has included it before), Wim Wenders' 1987 classic spends most of its time in fragmented black-and-white scenes looping back to a circus, a movie set and a library. It prods at the nature of existence, time, and desire, asking: "What does it take to live in full color?"
---
"Amélie" (2001)
Best Romance For People Who Believe In The Butterfly Effect
Love stories are often intertwined with fate and "Amélie" is a celebration of destiny down to the minute detail. In a saturated, rapid-fire series of events that would delight any Wes Anderson fan, we are introduced to doe-eyed Amélie (Audrey Tautou) and the tragedy of her childhood. There's only one way to go from here and it's called "Anything Amélie Wants, The Poor Adorable Soul Should Get." In other words, the audience aligns with her on her quest to secretly make other people happy. She meddles in their affairs and stumbles on love along the way. Beloved when released in 2001, "Amélie" can surprise again and again with its originality and its heart.
---
"Roman Holiday" (1953)
Best Romance For Armchair Travel
Imagine yourself a movie patron in 1953, when "Roman Holiday" was released, and you can appreciate how much film has been or can be a substitute for travel. This film in particular is from the point of view of Princess Ann (Audrey Hepburn in her earliest lead role) on her European Grand Tour. With the help of an undercover newsman played by Gregory Peck, she visits what has become Rome's greatest hits — the Colosseum, Trevi Fountain and the Mouth of Truth, to name a few. Rome today is not the Rome it was then. Catching it at the dawn of globalization is a worthy on-screen trip. Not entirely the same as real travel. But shorter. And cheaper. (Plus, the Brattle serves wine.) Screening on 35mm.
---
"The Philadelphia Story" (1940)
Best Girl-Gets-Several-Guys Romance
Here's a marvelously witty 1940 screenplay that still holds up. (Maybe because it started as a Broadway play written for and starring Katharine Hepburn, who also stars here.) High-society dame Tracy Lord (Hepburn) is about to embark on her second marriage when her ex-husband (Cary Grant) shows up for the wedding festivities with an incognito couple from Spy magazine (Jimmy Stewart and Ruth Hussey). High jinks ensue. This is a time and place where the bride lounges in the library the day before her wedding, parties last until 4 a.m. and then there's swimming and blackmail. Three men pursue Lord with only one punch thrown between them. Maybe that's because Hepburn bought the movie rights and sold them to MGM upon the condition that she could choose the director George Cukor, screenwriter Donald Ogden Stewart and cast. What an exquisite and timeless combination.
---
"Casablanca" (1942)
Best First Date Romance
As one past patron of the Brattle's annual Valentine's Day screening of "Casablanca" summed, "nothing says romance like Nazis, alcoholism, and anti-fascist propaganda." Yet somehow the tension between expat Rick Blaine (Humphrey Bogart) and his ex-lover (Ingrid Bergman) lives on as one of cinema's finest unraveling. Bogart's not my version of a heart-shaped box of chocolates but I am a sucker for tradition (the Valentine's event started in 2000) and I confess nostalgia for the old restaurant below the theater. That said, for those taking the cautious first steps into a new romance, "Casablanca" is a safe bet. But get your tickets pronto. It's a popular seat. Screening on 35mm.
---
"The Princess Bride" (1987)
Most Quotable Romance For All Ages
It's actually pretty hard to find a decent film for the whole family. "The Princess Bride" has all the ingredients for watching and re-watching with any assemblage of kin. It's funny without offense. There are sword fights without stakes. And it centers on a boundless love story not too-sweetly told by a grandfather (Peter Falk) to his ailing grandson (Fred Savage). On a series note, Falk also appears in "Wings of Desire."
---
Still Searching for Ms. Or Mr. Right Romance Movie? Here are some crowd-sourced suggestions that you'll have to rent or stream: "The Apartment," "Drugstore Cowboy," "First Girl I Loved," "Love and Basketball," "Moonlight," "Obvious Child," "10 Things I Hate About You" and "Titanic." Agreed, there are hundreds of others to consider as well.
But perhaps you're in an Anti-Romance kind of way. By all means binge watch Showtime's "The Affair" or HBO's "Divorce." Or there must be an episode of "Seinfeld" running somewhere.