A Genre-Bending Recording Remembering Matthew Shepard Is Up For A Grammy
08:53
Play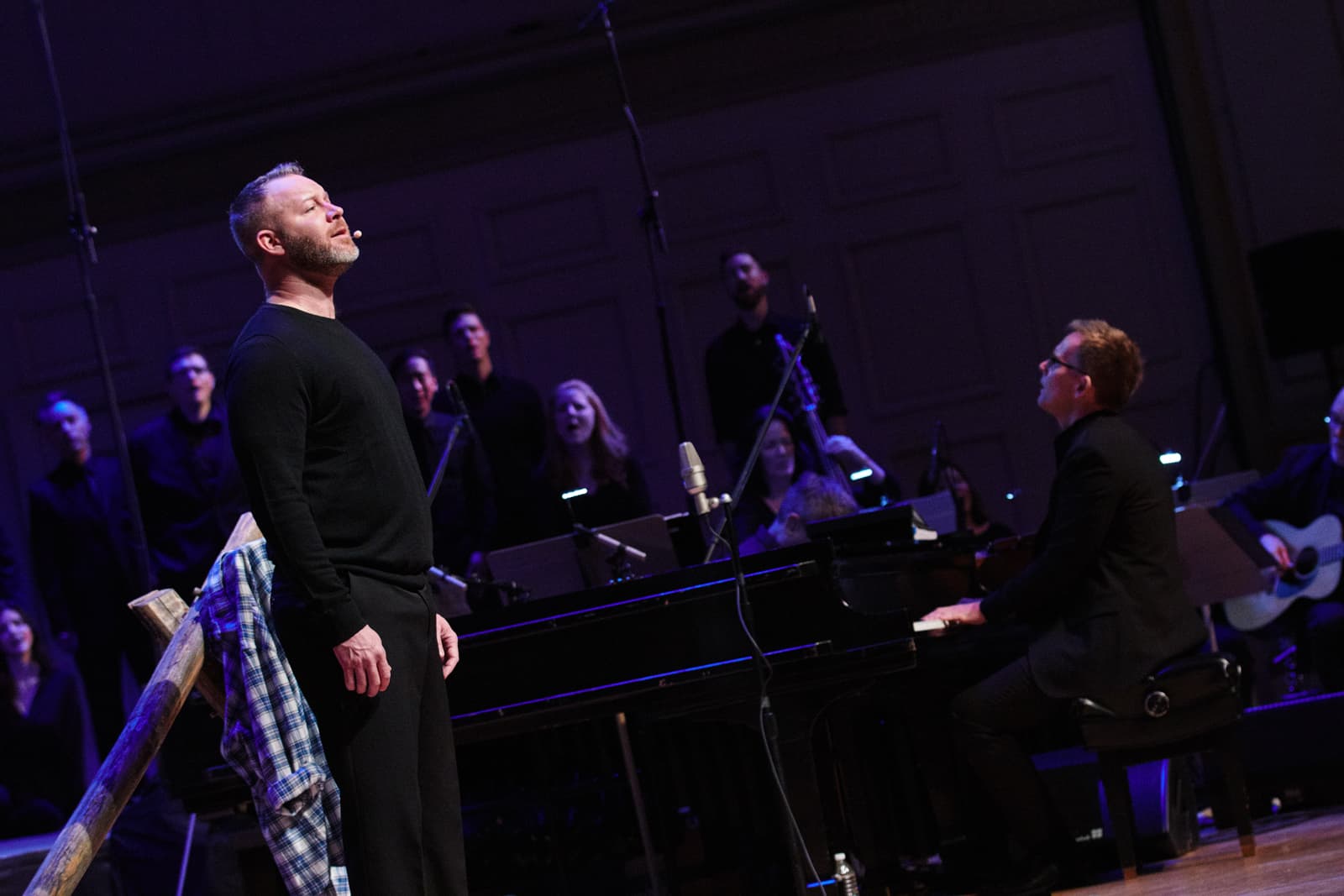 This article is more than 3 years old.
Among the slew of nominees up for Grammy Awards this Sunday is a surround sound album created by Craig Hella Johnson, a composer who studied online with Boston's Berklee College of Music. His contemporary choral piece is titled, "Considering Matthew Shepard."
Matthew Shepard was the young, gay college student who was brutally beaten and abandoned in a Wyoming field in 1998. He died six days later. His murder led to the enactment of anti-hate crime legislation signed into law by President Obama in 2009 known as the Matthew Shepard Act. It's also inspired an outpouring of responses from artists over the past 19 years, including from Johnson. At the same time, questions have been raised in recent years about the circumstances of his murder.
The composer channels his own emotional response to Shepard's death in an epic work performed in an almost head-spinning range of musical genres by his Grammy-winning ensemble Conspirare. They journey through styles including Gregorian chants, Gospel, spirituals, rock, jazz and classical.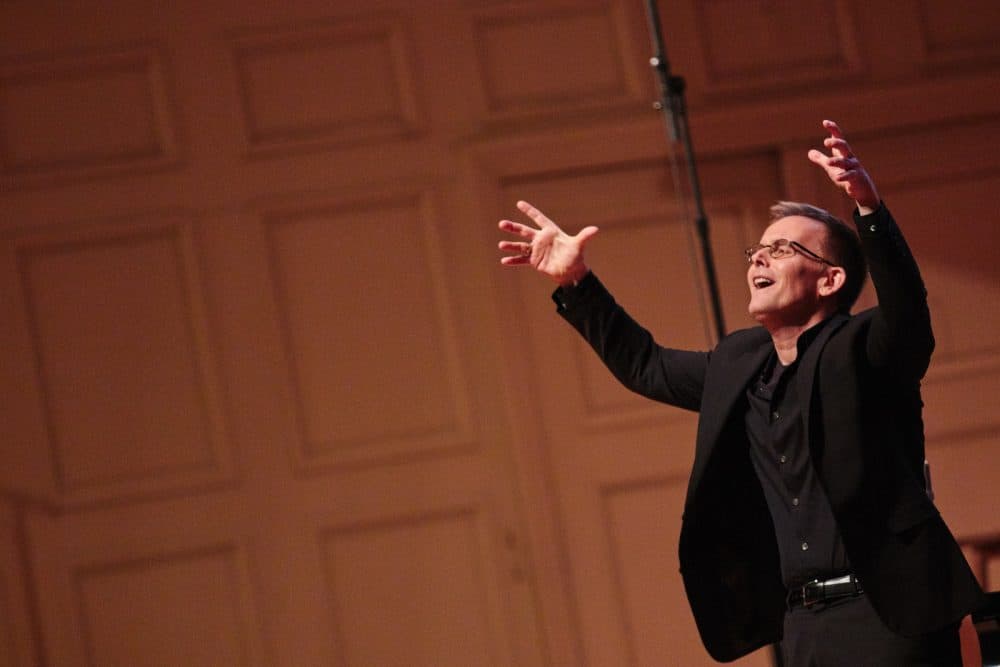 "Considering Matthew Shepard" begins simply, with Johnson playing Bach's Piano Prelude No. 1 in C Major from Book 1 of the Well-Tempered Clavier. But then, the composer's first concert length work quickly shifts style and tone with a lone cowboy's yodel. Soon members of Conspirare set a vast, bucolic scene, singing of sky, cattle, horses and grass.
But inevitably, tragedy hits.
In the song, a male vocalist describes what happened to Shepard:
"Near midnight they drove him to a remote area, tied him to a split-rail fence, beat him horribly and left him to die in the cold of night."
Johnson said he'll never forget learning about Shepard's death in 1998.
"In that moment, it was piercing for me, and I remember it vividly — almost in my body, still," the composer recalled. "And then what happened in the weeks and months after his death created such a big space in me."
Johnson said the violent event took him back to his own coming-of-age.
"I was a regular gay kid growing up in the Midwest. I've had a lot of things thrown at me. I went through conversion therapy as a young person," he remembered. "All of a sudden I thought, 'Oh my gosh, here it is.' The hatred I had felt as a gay person suddenly has such a focused, incredibly tragic story here in Matt that became this catalyst for me to feel more deeply. And I think it opened me up."
The choral composer felt compelled to respond the way he knows how — through music and words.
'A Real Feel For Who Matt Was'
To tell Shepard's story respectfully, Johnson reached out to Judy Shepard, Matthew's mother. With her husband, Dennis, she started the Matthew Shepard Foundation in Casper, Wyoming, to honor their son's memory by supporting LGBT youth.
Johnson remembers proposing his project to Judy Shepard one day over lunch. He recalled for me how she very plainly replied, "Well, you know Matthew Shepard — and that's the work that I do — but to us he was Matt," she said. "We lost our son Matt."
The composer immediately understood and realized he needed to create nuanced, realistic snapshots of Matt for the piece. Judy Shepard was willing to help.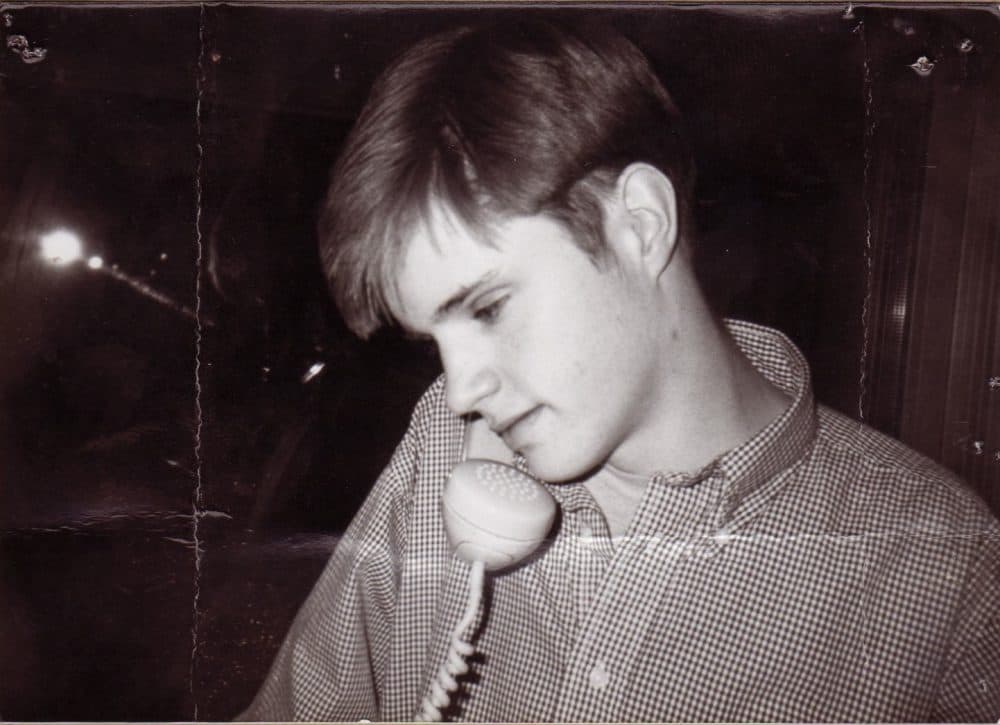 Reached by phone in Casper, she told me how her son has moved many artists to create.
"Candidly, it's really hard," she said. "You feel like you want the Matt you know to be represented — and so rarely is that the case. It's an interpretation of who they think he is. So we've officially endorsed very few projects, and this was one of them [playwright Moises Kaufman's 'The Laramie Project' is another]. We just felt that Craig had a real feel for who Matt was."
Not included in Johnson's story line is the alternative view of Shepard's life and death in the 2013 book titled, "The Book of Matt: Hidden Truths About the Murder of Matthew Shepard." In it, investigative journalist Stephen Jimenez raises questions about Shepard's murder, postulating it was not a hate crime, but instead a drug deal gone bad.
When asked about how the book affected his storytelling process Johnson said, "I read it, I considered it quite thoroughly, and then I moved on," because it wasn't the story he knew and it wasn't the story he intended to tell.
To paint a portrait through oratorio, Johnson used interviews with family members and set some of Shepard's own writings to music. Judy Shepard doesn't call them journal entries — she says they're more like fragmented musings he'd put down on random pieces of paper or in notebooks.
She admits she's long avoided listening to Johnson's final recording in its entirety, but she has given herself the space to take in the movement titled, "Ordinary Boy."
"I only heard it by itself — and it just tore me up," she recalled, choking up a bit, "because it was Matt's words. And Matt Alber who sings that particular piece was spectacular."
Though the work premiered in Austin, Texas, where Johnson is based, last February, Judy Shepard hadn't seen Alber and the Conspirare ensemble perform the three-part work live until earlier this month — at Boston's Symphony Hall.
In "Ordinary Boy," Alber embodies Shepard, singing, "I am funny, sometimes forgetful and messy and lazy. I am not a lazy person though."
He goes on to unfold a litany of loves: "I love theatre, I love good friends, I love succeeding, I love pasta, I love jogging, I love walking and feeling good."
When talking about "Ordinary Boy," Judy Shepard said to me: "Makes him feel real to you, doesn't it?
Alber, who sings this part, agrees that it most certainly does.
"It feels incredibly healing to hear the story," Alber shared, "even knowing how difficult it is to listen to it."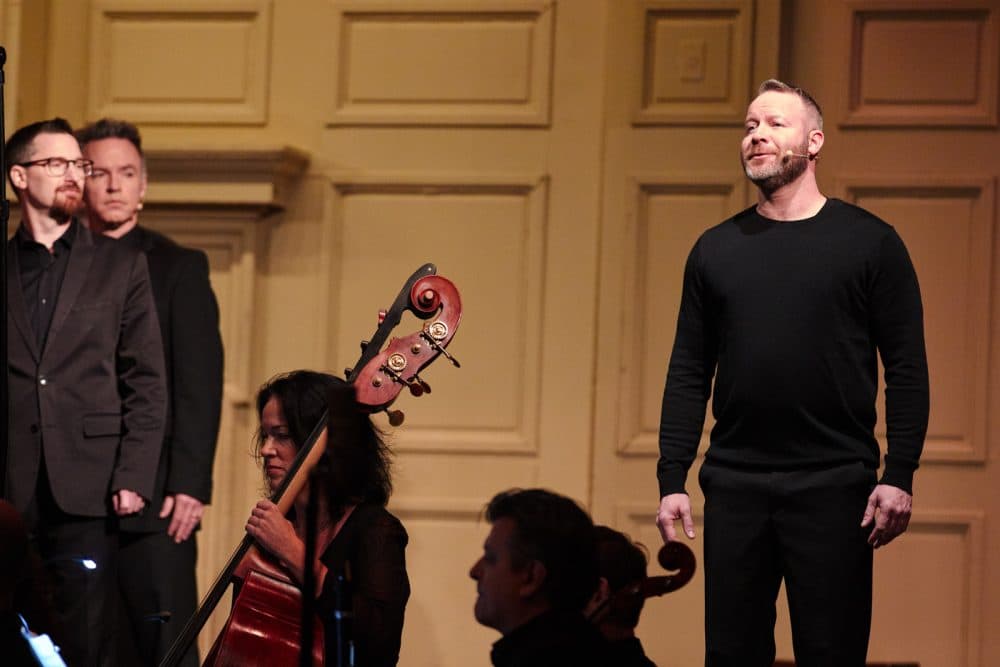 Alber sings in the chorus and plays the yodeling cowboy from the opening movement. Like Johnson, he says he also struggled as a gay youth and connected deeply with Shepard.
"Craig has told us many times that he felt like he got a message from Matt when he was composing this," Alber said. That message was, "Don't leave me on the fence."
The infamous fence that Shepard was tied to for 18 hours plays the role of innocent bystander in the Johnson's composition. The words it intones come from Holyoke writer Lesléa Newman's collection of 68 poems for titled, "October Mourning: A Song for Matthew Shepard." Here's an excerpt:
THE FENCE
(that night)

I held him all night long
He was heavy as a broken heart
Tears fell from his unblinking eyes
He was dead weight yet he kept breathing

He was heavy as a broken heart
His own heart wouldn't stop beating
He was dead weight yet he kept breathing
His face streaked with moonlight and blood
Newman is also the author of the groundbreaking 1989 children's book about same-sex parents, "Heather Has Two Mommies." She was invited to speak during Gay Awareness Week at the University of Wyoming, where Shepard went to school and was a member of the LGBT association. She arrived on campus the day he died. After his death Newman says she promised to keep Shepard's memory alive, and continues to tell his story at schools across the country.
"Not only have the students mostly never heard of him — but sometimes the teachers haven't. My hope is that through music, his story reaches a wider audience and people are inspired to keep his name alive by doing good in the world," she says of Johnson's composition.
Words from other poets are also in the ode. They include the medieval German Benedictine nun Hildegard de Bingen, Rumi the 13th century Persian Sunni Muslim poet, William Blake and contemporary writer Michael Dennis Browne.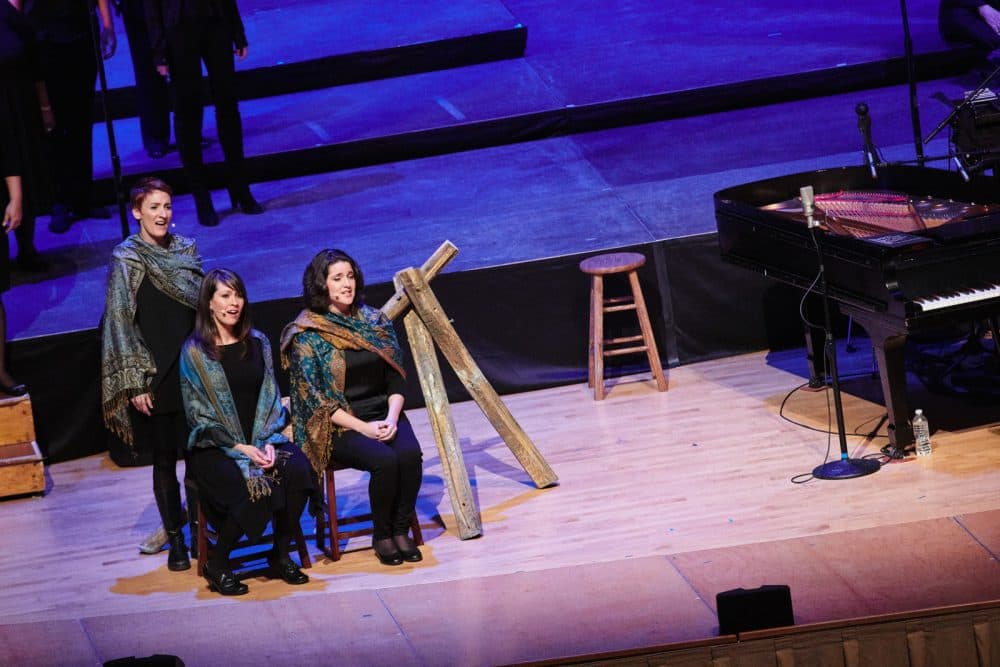 A trio of deer also bear witness to Shepard's suffering. Boston-based soprano Sonja Tengblad sings one of the part and is a member of the Conspirare choir.
"The deputy that found him said that when she got there, there was a deer that — to her knowledge — had been standing out there all night," Tengblad explained. "So Craig wrote this beautiful movement where three of us play that deer and it's kind of the sacred, feminine presence in the piece."
While the subject matter in "Considering Matthew Shepard" is heart breaking and dark, Tengblad says the music's message channels compassion and hope.
"It's not just optimistic, fluffy hope — it's the real kind," she mused. "It's such an honor to be able to share that with others."
'Drawn Into It Again And Again'
James Donahue was one of the Grammy Foundation members who cast his vote for "Considering Matthew Shepard" in the somewhat obscure category Best Surround Sound Album.
"I was absolutely moved by the text, I was moved by the recording, and I was really moved by the mix," Donahue, who also teaches at Berklee and is a long-time classical music engineer, said. "It's a horrible tale, the sort of tale that I would run away from or turn the page. But when you listen to the music you're absolutely drawn into it again and again."
The album was recorded last winter in Indiana by Boston engineer Brad Michael. Donahue said listening to the Conspirare performance and Michael's mix in surround sound is a dynamic, magical experience.
"There are these moments where — when you're listening in surround — where you're hearing little after-effects, little other thoughts that are going on behind you in the sense of the reverb that they were choosing or the effect they were putting up there," he explained. "You know, sort of the tears of the event happening, but they're happening in space around you."
And Donahue added, "Whether they get the Grammy or not, it's still a moving, beautifully presented project."
Johnson, the composer, hopes the Grammy nomination — and possible win — will help his ode to Shepard reach a broader audience. (It did reach number four on Billboard's Traditional Classical chart soon after its release.)
"This was really — at its most-simplest — just a song for Matt," Johnson said, smiling. "It ended up being a 107 minute song — but his death shook me to the core and moved me deeply and I wanted to sing a song back."
Correction: An earlier post incorrectly stated that Lesléa Newman had met Matthew Shepard. We regret the error.
This article was originally published on February 10, 2017.
This segment aired on February 10, 2017.