With Respect For Tradition, Cécile McLorin Salvant Takes A Theatrical Approach To Jazz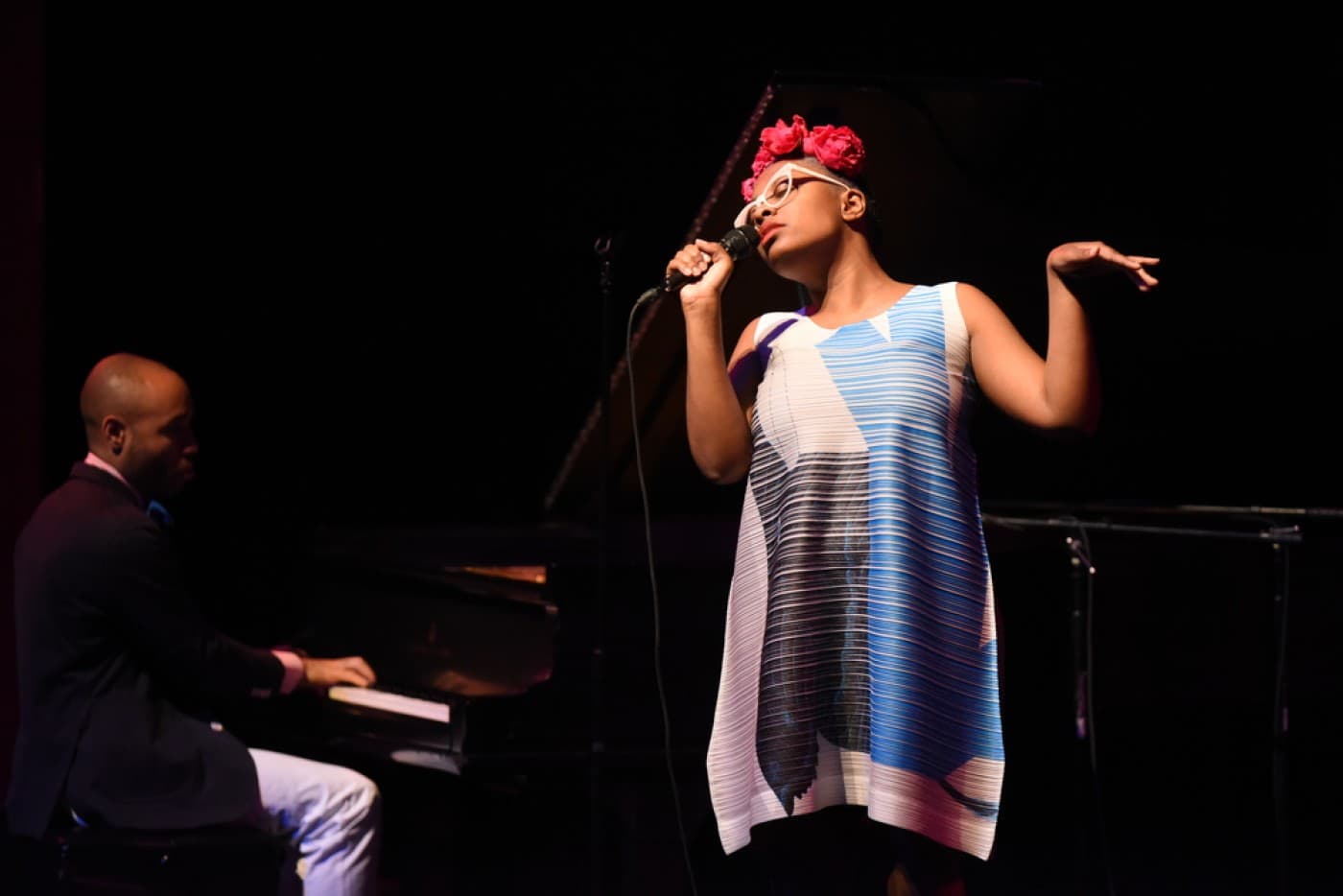 This article is more than 3 years old.
The cover of jazz vocalist Cécile McLorin Salvant's most recent and Grammy-winning album, "For One to Love," is a painting of a face against a bright red background. With one eye open and slanted, the other closed with tears, and an ambiguously curved mouth, the face could be smiling, crying, flirting or expressing something else entirely. Salvant painted the image, so it makes sense that the image is similar to her music — bold colors, a broad emotional palate, familiar but thought-provoking.
"Cécile creates a dramatic episode with what she's singing," pianist Aaron Diehl told me last week. Diehl has been Salvant's go-to pianist for her past two albums, the Grammy-nominated "Womanchild" and "For One to Love."
Now, they are touring with a program called "Jelly and George," which makes a stop in Boston at the Berklee Performance Center on Friday, Feb. 17, through the Celebrity Series. The consistency of Diehl's stride and ragtime-inspired playing makes him a good match for Salvant's ever-changing vocal timbre and range.
The pair also fits the music of George Gershwin and Jelly Roll Morton, with their experience in traditional jazz and classical music. Morton was one of the earliest performers and composers in jazz, Gershwin was a pioneer in blending European classical music with American jazz and musical theater as in his folk opera "Porgy and Bess." The evening at Berklee will likely include lots of swinging bass lines and black key slide-offs from Diehl, and Salvant showing her gritty, bluesy side for Morton's songs and operatic chops for Gershwin's.
According to Diehl, the pair will be closely following Morton's conception of music as related to Alan Lomax: "sweet, soft, but plenty rhythm." Diehl has been interested in Morton and Gershwin since he was a kid listening to pianist Marcus Roberts' interpretations of their music. The foundation for this project began when Diehl spent time with Roberts during a summer residency in the Catskills in 2013. In line with Morton's vision, Diehl wants the music in this concert to achieve "balance and sensitivity while still having that edge, that spontaneity and sense of surprise that's so intoxicating in jazz."
It's an ambitious goal for two young musicians. Diehl is 31, Salvant is only 27. But while Diehl has been playing jazz since he was a teenager, Salvant started singing jazz just a couple years before she won the prestigious Thelonious Monk Vocal Competition in 2010. Salvant had been studying classical and baroque music at a conservatory in France.
Growing up in Miami, Salvant listened to jazz, blues and folk music, but focused on classical music and technique. She spent a lot of time listening to Sarah Vaughan, but was mostly interested in her vocal facility and execution. Salvant told NPR Fresh Air's Terry Gross that when she was a teenager she "just wanted to sound as much like [Vaughan] as I possibly could. So I'd spend a lot of time listening to her and seeing how I could make my voice sound like that."
The elasticity of Salvant's voice and style is most obviously compared to that of Vaughan's, but while "Sassy's" low contralto notes, heavy vibrato and operatic swoops into higher registers are characteristic of Salvant, so is the bluesy and buttery way Billie Holiday uses her vocal quality to slide into a note. So is the way Betty Carter stretches and savors vowels. So is the way Abbey Lincoln makes sudden dynamic shifts from swinging belts to soft coos. Salvant's vocal stylings include elements from every classic jazz vocalist, but this doesn't subtract from her originality. She is proudly standing on the shoulders of the jazz masters before her, and she's carrying on their tradition by recombining the vocabulary in her own way.
Like Vaughan, Holiday and Carter, Salvant also has a well-defined stage presence and general aesthetic. With signature large framed glasses and elegant vintage-inspired accessories like the red lace veiled beret in the official Mack Avenue video for "Look At Me," Salvant's persona is charming and bold. She sometimes keeps her eyes open, gesturing to the audience, sometimes she focuses inward, tilting her head and closing her eyes as if reliving an emotional memory. The physicality of singing is very much communicated in her accentuated pronunciation. Salvant opens her mouth wide to create round O's, bright I's and pointed S's and T's.
Salvant's prominent articulation plays into her organically crafted theatric way of approaching jazz. She never studied musical theater or acting, yet her artistic presentation is marked by the dramatic. She rarely scat sings, instead using the lyrics as vehicles for sophisticated improvisations. Her repertoire also errs on the side of vaudeville, blues and Rodgers and Hammerstein numbers from Broadway musicals that never made it into the jazz standard repertoire.
"Wives and Lovers" was written in 1963 by Burt Bacharach and Hal David as the theme for a film by the same name, although it has been recorded by many jazz artists since. Salvant's arrangement is in service of telling a story. Diehl told me Salvant emphasizes simplicity when directing her band, when he's accompanying her he follows the rule of "just don't get in the way." You can hear that in this track where he begins the song with a boisterous piano riff then breaks for Salvant's soft, almost whispering, entrance: "Hey, little girl." Throughout, the band makes dynamic changes to support the lyrics, but stays quietly intense. As Diehl says, "When you have too many things going on musically, it distracts from the story."
This song is a prime example of what Diehl says of Salvant: "Cécile has an acute skill for selecting material." The song selection for "Jelly and George" was a collaboration, resulting in the inclusion of more well-known tunes from "Porgy and Bess" but also Gershwin's obscure "Ask Me Again," which was only recently discovered by singer Michael Feinstein, and Morton's "Why," a composition from late in his career. It is difficult to find any recordings of these songs, and even aficionados in the audience might be surprised. This is an intentional goal of the project, Diehl says: "If they don't know the material, they might not know if George Gershwin wrote it or if Jelly Roll Morton wrote it."
In many ways, Diehl, Salvant and other musicians of today have the same challenge as Morton and Gershwin. "They both were geniuses at taking all of these disparate styles of music they heard and distilling them in a way that was true to their own musical vision," Diehl says. He wants audiences to hear "every detail of what was intended by Jelly Roll" while acknowledging the individuality that will inevitably come through when he's playing the music with Salvant. It's heartening to see the care these two young jazz musicians have put into exploring the well-known and lesser-known songs in the works of two classic composers, and it will be interesting to see where they go with the responsibility.
Claire Dickson Contributor, The ARTery
Claire Dickson is a jazz vocalist and writer studying at Harvard College.