'Last Tea Of The Titanic': A Taste Of What Dining Was Like On The Doomed Ship
The last tea on the passenger ship Titanic, as you may recall, didn't end so well. But that, I'm assured, is not the case of "The Last Tea of the Titanic" offered by the Wenham Tea House. In fact, the "Last Tea" is so pleasing that organizers say the Feb. 25 culinary event is already sold out. But tickets remain for two "Last Teas" in April, coinciding with the 105th anniversary of the doomed 1912 ocean voyage from Southampton, England, heading toward New York, but instead striking an iceberg.
Christopher Keohane, owner of Fresh Food Catering, which operates the Wenham establishment, came up with the "Last Tea." The tea house had a number of teas that were popular with children, but they were looking for something with grown-up appeal.
"I'm super passionate about history in general. I love the Titanic," Keohane says. "I knew they did tea on the Titanic, but we never hear much about how they did tea."
So Keohane says he spent six months digging into the history of the tea service on the ocean liner before it sank. "A menu of first-class tea was found in the wreckage of the Titanic and brought to the surface and I found it online," Keohane says. He turned to books about the ship to fill in some gaps. Then, about two years back, he debuted his Titanic-themed tea. Including his brother Jason Keohane dressed as the medal-festooned captain of the Titanic, a three-piece orchestral trio playing vintage tunes like "Nearer, My God, to Thee" (said to be the last song the band on the actual Titanic played before the great ship drowned), and guests sporting period attire ("welcomed and appreciated").
"I serve the exact thing the first-class passengers received on the day before the Titanic went down," Keohane says. Well, except for two or three menu items that are difficult to source more than a century later. Like chartreuse jelly.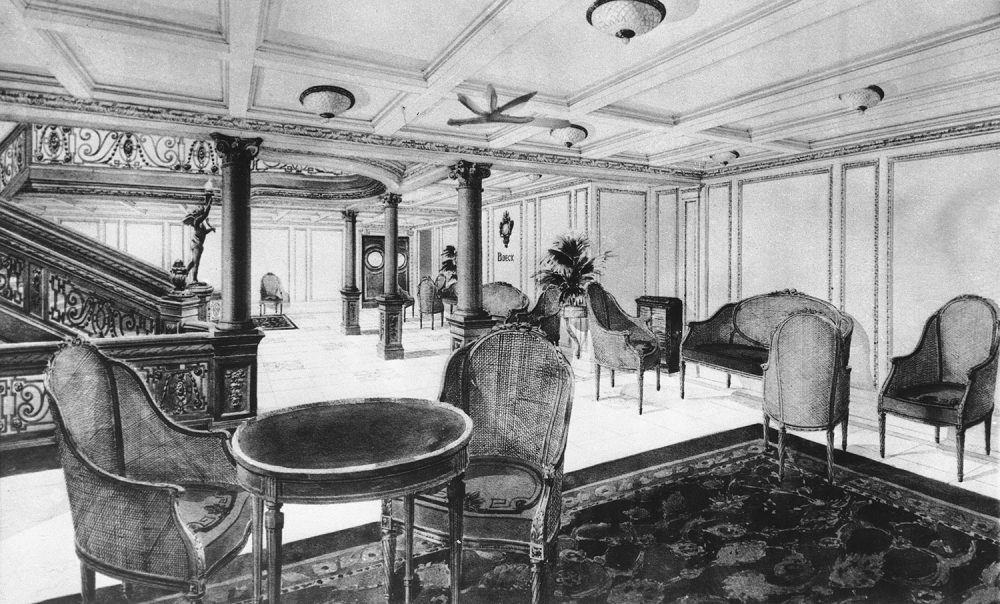 The menu for "The Last Tea of the Titanic" offers three courses, including Irish cheddar, fruity tomato chutney, baked Irish ham, Irish smoked salmon with lemon pepper butter, topside of beef with horseradish cream and diced spring onion, freshly baked raisin and fruit scones with Cornish clotted cream and strawberry preserve, lemon meringue tartlet, chocolate and vanilla éclair, fruit cake and coconut macaroon.
Tea is not even mentioned — because at the Wenham Tea House, tea is, of course, assumed. Also, tea on the Titanic, "to be blunt, was awful," Keohane says. The ship only served English breakfast tea, powdered, in tea bags, he says. The "Last Tea" will provide English breakfast tea to those who desire it, but it is just one of 50 teas the Wenham Tea House offers, loose leaf, in glass pots.
Might "The Last Tea of the Titanic" be considered a tad morbid? Or humorous?
"That's not the thought process at all. If people want to focus on death and destruction that's fine, but that's not what we do at the tea house," Keohane explains. Rather, the emphasis of the "Last Tea" is on class. "The Titanic was always renowned as the most luxurious cruise liner of its time. … That's exactly the mentality we have at the Wenham Tea House. We only offer the finest food."
Though, Keohane acknowledges, there may be one teensy morbid part of the "Last Tea." He says, "The ice cubes in the water glasses are little Titanics and there are icebergs. So that's the Titanic sinking in the water glasses."