Jesse Burke Was Known For His 'Dude Photography,' Then He Had A Daughter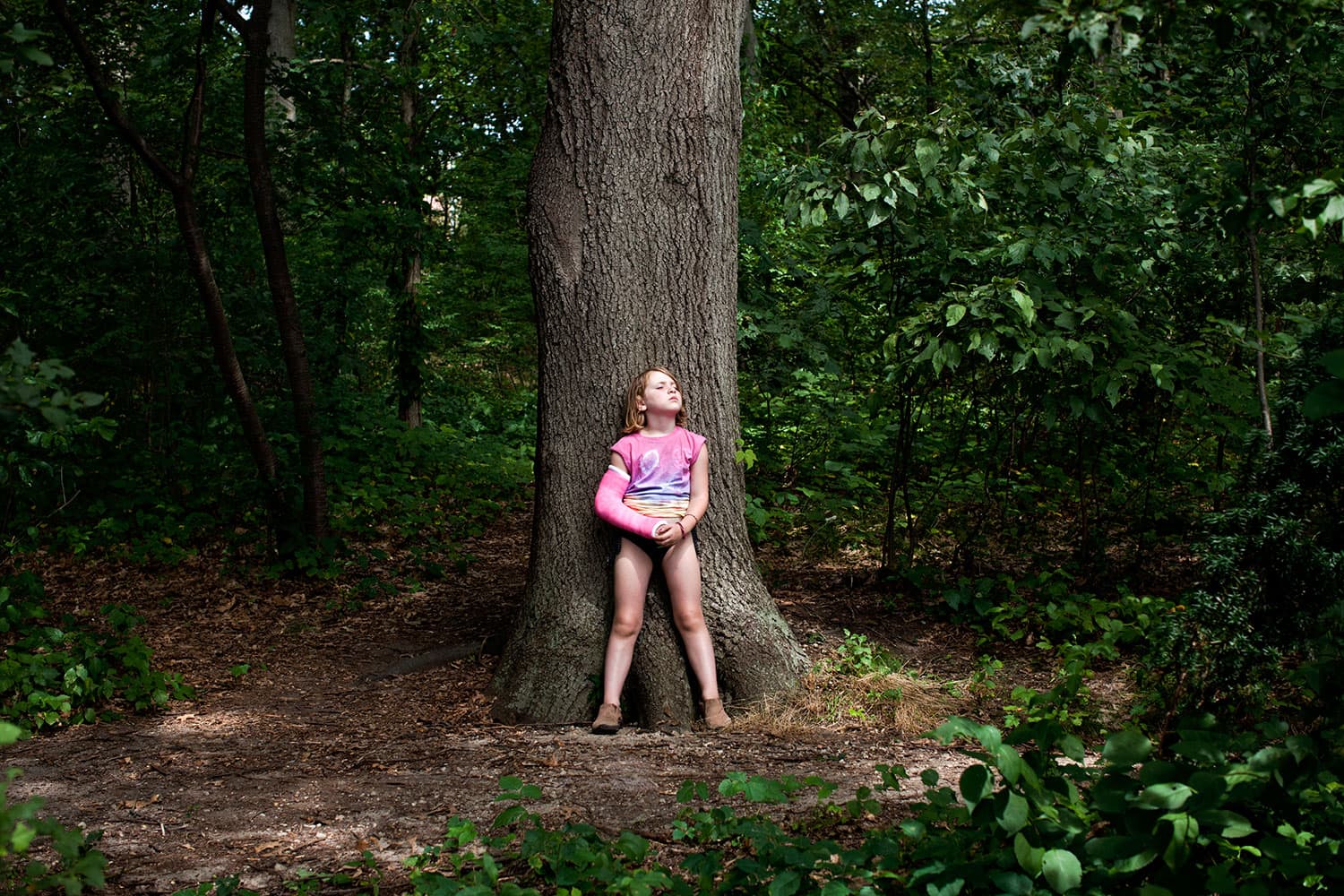 This article is more than 3 years old.
When Rhode Island photographer Jesse Burke's oldest daughter Clover turned 5 in 2010, they set out on a journey. It began with a drive to Maine. But it turned into a series of adventures — road trips around New England, family trips to North Carolina's Outer Banks, Florida, the Grand Canyon, Arizona, the Pacific Northwest.
Over the next five years, they stood along the edges of various rushing rivers and bodies of water. They gazed over the precipice, down into the Grand Canyon. Clover climbed rocks along a mountain peak and up into trees. She touched a dead bird's beak. She held a frog and a salamander and a moth and various other critters (alive or dead) in her hands. They carried home feathers and rocks and shells, bark pecked by woodpeckers, snow (now melted) from the top of a mountain, a branch from a beaver dam.
Their trips were intended to be "nature schooling" and a chance for Burke and his daughter to just spend time together. And, of course, because he's a photographer, taking pictures was one of the goals as well. "Wild & Precious," an exhibition of photos and other things they brought back over those five years, is on view at Gallery Kayafas in Boston through Saturday, Feb. 25.
Burke grew up in Stratford, Connecticut, a beach town along Route 95 between Bridgeport and New Haven. "We lived in a lower income neighborhood," Burke says. "So our escape was to the woods and the natural places around our home. That instilled in me this respect for nature and the wild."
He spent a decade in Tucson, Arizona — including studying photography at the University of Arizona — before heading to grad school in photography at Providence's Rhode Island School of Design, where he now teaches.
"When I came back, I was reintroduced to all this stuff I grew up with, but with a more critical eye," Burke says. "So I turned the camera on all that stuff, turning the camera inwards in a sense."
He was "exploring masculine identity in my social and family circles" — "the New England male, and how I did and did not fit into that world" — with photos of shirtless dudes, people shotgunning cans of beer, camouflage hunting gear, football, a dead deer. "All of my work has straddled the line of reality and metaphor," Burke says. He mulled his own ideas and stereotypes. He'd get an image in his mind and go out and stage it for his camera: "Dad, hold your axe and stand there."
"I got this reputation for doing dude photography," Burke acknowledges. When you visit his website, at the top is a photo of Brett Favre, the former quarterback for the Green Bay Packers pro football team. When not pursuing his art photography, Burke makes his living as a commercial photographer — you know, advertising. Which led to him being commissioned to help sell clothing for the Wrangler company by photographing Favre at his Mississippi home working wood and smashing things with a sledgehammer and other rugged, manly-type endeavors.
But on these new adventures, Burke was photographing his 5-year-old daughter. "The transition for me happened eventually because I had a child and I transitioned my role from the son into the father," he says.
"I don't see it as much about femininity as I see it about the vulnerability of youth," Burke says. "She's this feral little creature, who is incredibly vulnerable and fragile and warm in this dangerous and hostile world."
She wasn't alone; Burke was always with her photographing. Sometimes the whole family joined them. In the photo of Clover at the Grand Canyon, her two sisters — Poppy Dee, now 6, and Honey Bee, now 4 — are just off stage, behind Burke.
A 2013 photo shows Clover standing against a tree with one of her arms in a pink cast — she'd previously fallen and broken her wrist at camp. This was in Providence, near the end of Waterman Street, along the Seekonk River.
"We went on a hike in the woods," Burke says. "I came around this corner and see her standing there basking in the sun and I say, 'Freeze.'" He readied his camera — for the project, he shot with a Canon digital camera (mainly the horizontal photos) and an iPhone (mainly the verticals).
"She kind of knew what to do. She's kind of performing. That picture is the perfect example of half acting and half reality," Burke says. "She's reenacting it."
"In the beginning [of the project], I was being more of a director to a subject. Stand there. Don't move. Look a certain way. … And she would get frustrated with that and then I would get frustrated," Burke says. Because they weren't producing good photos. "I thought I needed to be in control of her every move, but I quickly learned that I didn't."
He says, "The power was to actually let her be a kid and let her be herself."
In Vermont, one winter, they collected a branch with a cocoon stuck to it and brought it back to Rhode Island (they presently reside in Barrington). In his studio the following spring, "Clover's like, 'Look.' The moth is standing on its cocoon flexing its wings." They put the Promethea moth in a box and drove to some local woods. He photographed as "she put it on her hand to let it go and it just stays there and wouldn't fly." It climbed around her shirt before it finally took off.
One photo shows deep red blood dripping from Clover's nose, down her mouth and chin. "She's in the shower and she's got a bloody nose and she called me because she was panicking. I calmed her down," Burke recalls. Then he said, "I'm going to get my camera."
There was the time they heard about a dead humpback whale that had washed up on the news. So they went and found it. Clover posed standing next to the giant, belly up on a rocky Rhode Island shore. Another photo shows Clover curled up in tall grass at a Rhode Island Audubon sanctuary with a young raccoon that had been rescued. When they were away overnight, mainly they stayed at roadside motels — for the ease and comfort and Internet access. And Burke often photographed Clover as she slept. One day while driving along a road winding through the tall evergreens of the Hoh Rainforest in the northwest part of Washington State that abuts Canada, they spotted an elk standing on the yellow line.
In 2012, they visited Dungeness Spit, a 5-mile long arm of sand sticking out into the Strait of Juan de Fuca, the river running from the Pacific Ocean to Seattle. "All the drift logs get caught on this piece of land. We had this moment where we had this conversation. I wanted her to stand up on this log, but she was afraid because it was really high," Burke recalls. He urged her to face her fears. She cried. "Then she went out there and she was really proud of herself. It was this moment of overcoming your fears and becoming really brave."
Clover, who turns 11 next month, is "like in love with [the project]," Burke says. "It's our thing. Which makes it really special. It's just between the two of us, that she doesn't share with my wife or her sisters. She's a real nature girl. She's been doing this for half of her life."
"My job as a parent is to raise conscious humans, the next wave of environmental stewards, kids that will be all loving and embrace all humans and the planet equally," he says.
"The idea is that kids and humans in general, young humans, do better when they're more exposed to nature. They're less stressed. They're kinder. They're more gentle," Burke says. "That was my motivation all along."