Not Your Average 'Squeeze Box': BSO Premieres New Bayan Concerto
06:57
Play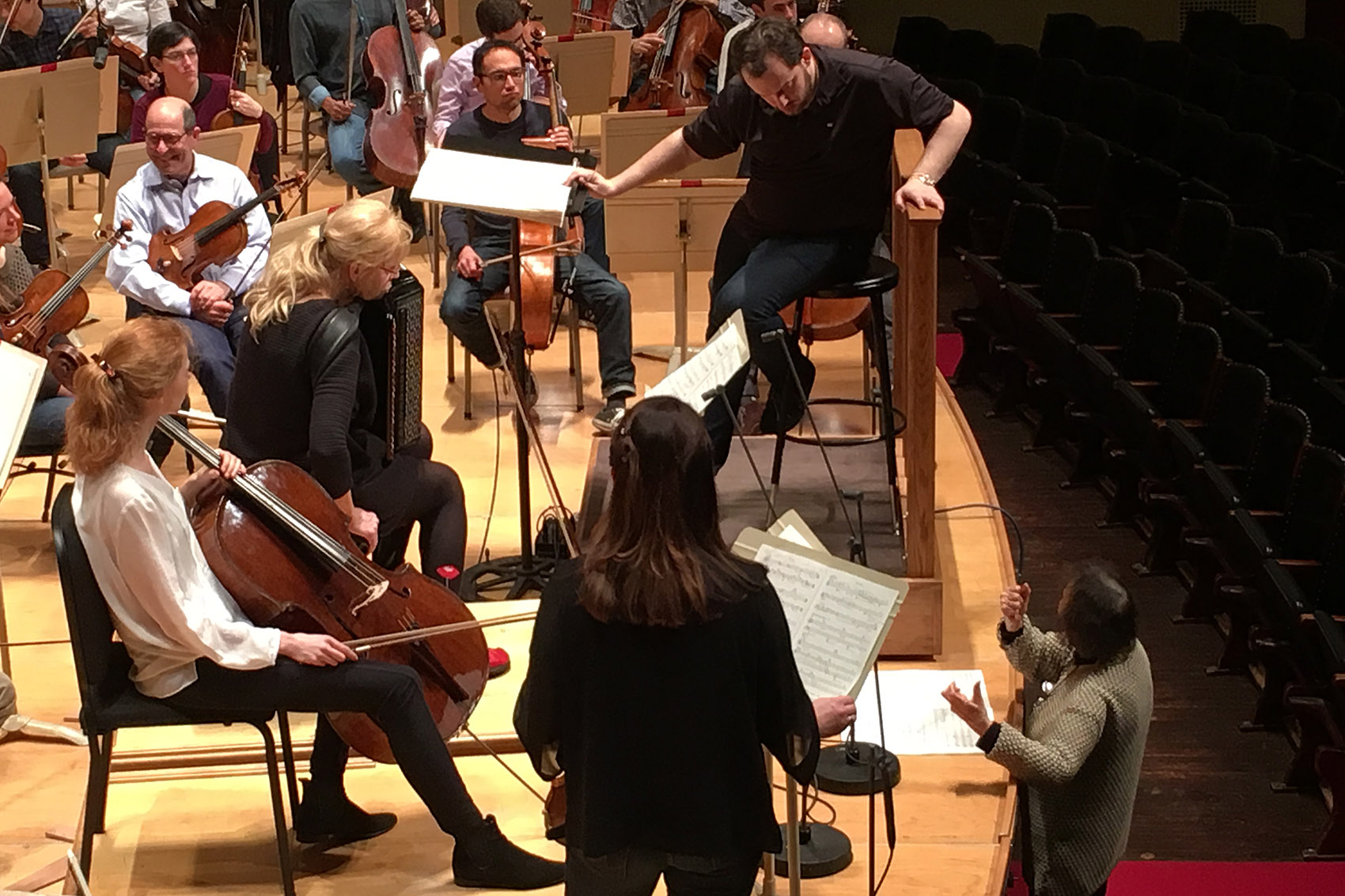 This article is more than 3 years old.
A novel instrument is on stage this week at Boston Symphony Hall. It's called a bayan. Sometimes it can sound a bit like an organ, but it's actually a Russian button accordion.
If you're like a lot of people, the word accordion might conjure memories of the tango, polkas or the circus. But for decades, acclaimed Soviet-era classical composer Sofia Gubaidulina has been taking the bayan to another level. She's written about a dozen works that include the oft-pigeonholed instrument.
Her latest piece is a co-commission with the Boston Symphony Orchestra that's enjoying its premiere this week. I went to Symphony Hall to find out more about the bayan, the award-winning composer and her muse, Elsbeth Moser.
'Wish To Get Fantastic Music' For The Bayan
Moser, a Swiss-born musician, goes back in time to when she started playing stereotypical accordion music at age 4.
"When I was young I played Switzerland folk," she said, then showed me what she meant with a jaunty, punctuated demo. When she was finished, Moser added, "but I hated that later. In my soul, in my spirit, in my heart was the wish to get fantastic music for this instrument."
Today Moser teaches bayan at the University of Music, Theater and Media in Hanover, Switzerland. She's also taken her passion for the accordion's potential to students in China and Croatia.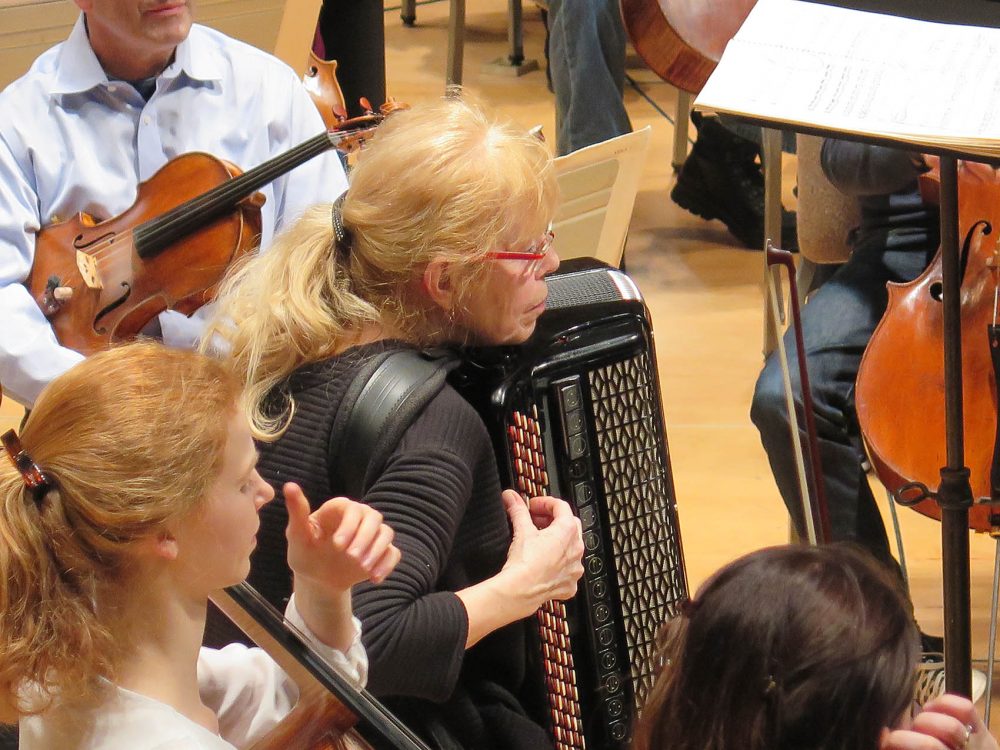 In a dressing room at Symphony Hall she introduced me to her heavy, ornate accordion. Holding it close to her body Moser mused, "it feels my vibrations, my temperature — it's me!"
Then she poised her agile hands over her bayan's more than 200 buttons to demonstrate the instrument's range of musical and emotional expression.
First the bellow exuded a deep, ominous, resonant sound. "This is the contrabass region," Moser explained before switching gears to a much higher register. "Here brings you to the, to the piccolo flute region of sound."
Next, Moser played a bit from the new Triple Concerto for violin, cello and bayan that Gubaidulina wrote for her and the BSO. The musician sang along with her parts, commenting on the pain and beauty she hears in the bayan's notes.
"It can be dramatic, terrifying. It can be nostalgic, wistful," BSO artistic administrator Anthony Fogg said of the instrument. "It can be fleeting."
Pushing The Boundaries Of The Bayan
Fogg helped bring Gubaidulina and her world premiere to Boston.
"This tremendous range of colors that is possible with this instrument is something that [Gubaidulina] loves to explore," said Fogg, who helped bring the composer and her world premiere to Boston.
As a student in Soviet-era Russia, Gubaidulina was criticized for exploring non-traditional sounds and tunings, but, as the story goes, famed composer Dmitri Shostakovich supported her boundary-pushing work.
Like so many Russian artists and musicians she was scrutinized and remained behind the Iron Curtain, largely cut off from the West. In 1979, she was blacklisted by the composer's union as one of the so-called "Khrennikov's Seven" for taking part in Western music festivals. This meant she and the others were banned from radio, television and publishing their scores.
"Gubaidulina was one of those figures during the Soviet-era that we knew a little of," Fogg explained. "There was some recordings of her music, but she was almost a sort of mythical figure regarded as one of the important figures in the next generation after Shostakovich."
The BSO's relationship with Gubaidulina began in 1988, as her international recognition was rising. She was able to travel to Boston for a festival of Russian music. The orchestra and composer have collaborated many times since then. In 1997 Gubaidulina was a composer-in-residence at Tanglewood.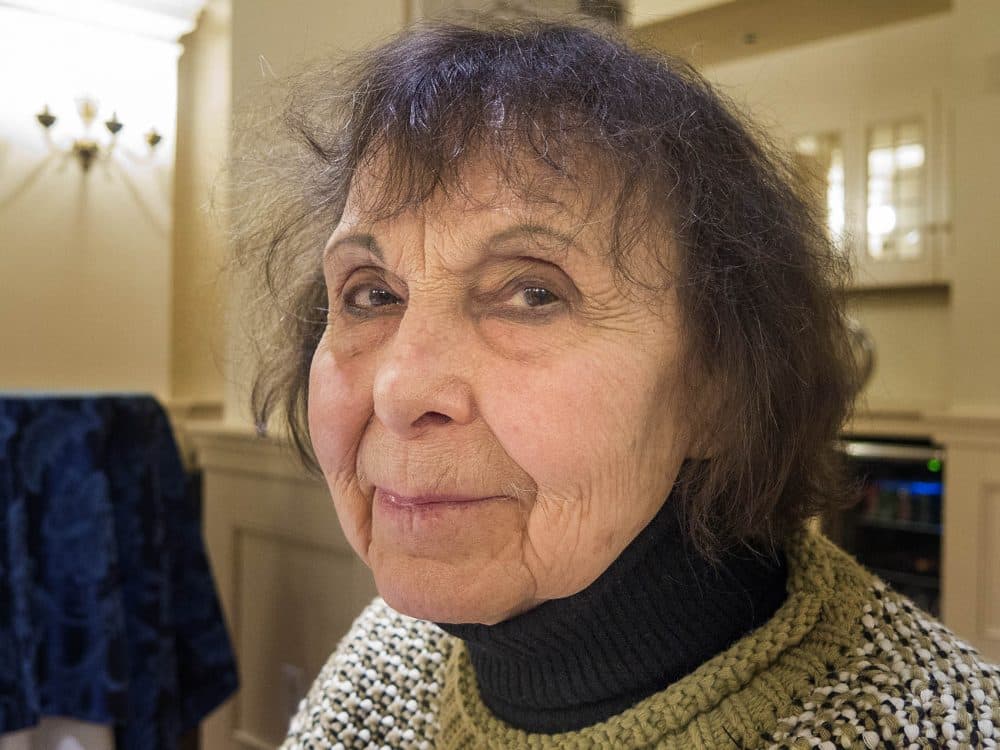 At rehearsal with the orchestra and three soloists, the 85-year-old composer followed along with her printed score. She periodically made comments to BSO music director Andris Nelsons, who has also lived in a Soviet-controlled country (Latvia). Bayan player Elsbeth Moser wore a black sweater dress on stage with red, short boots and socks with flowers that climb up her calves.
Afterward Gubaidulina reflected on her love of the bayan through interpreter Laurel Fay.
"She feels it had a tragic history," she begins. "Originally the bayan was a secondary instrument, for little songs and dances. And it was only in the 20th century — and really in the second half of the 20th century — that the instrument emerged as an instrument that is proving itself."
That evolution has been fueled with the composer's help. For Gubaidulina, part of the bayan's "persona," as she calls it, and its spiritual power is that it "breathes."
"That gives it an earthy quality that no other instrument in the orchestra has," she told me.
'A Mission For Her Music'
Gubaidulina and Moser have worked together since the 1980s. They both clearly remember their first rehearsal together. It was in Lockenhaus, Austria, before the Western premiere of a piece titled, "Seven Words." Moser recalled how she left the church, sat on a stone, and cried.
"I was so shocked and touched deeply in my heart and my soul," she said of Gubaidulina's composition. "She gave us — and me really — the chance and the possibility to enter in the music world."
The composer and bayan player's relationship goes well beyond music. In 1991, Moser helped Gubaidulina get out of Russia.
"In 1991 was the civil war," Moser said, "and I helped her come to Germany. I was the key for it," she continued with a little laugh. "It's a very big value of work — in life — to help somebody. She helped me, I helped her, and it's really a mission for her music."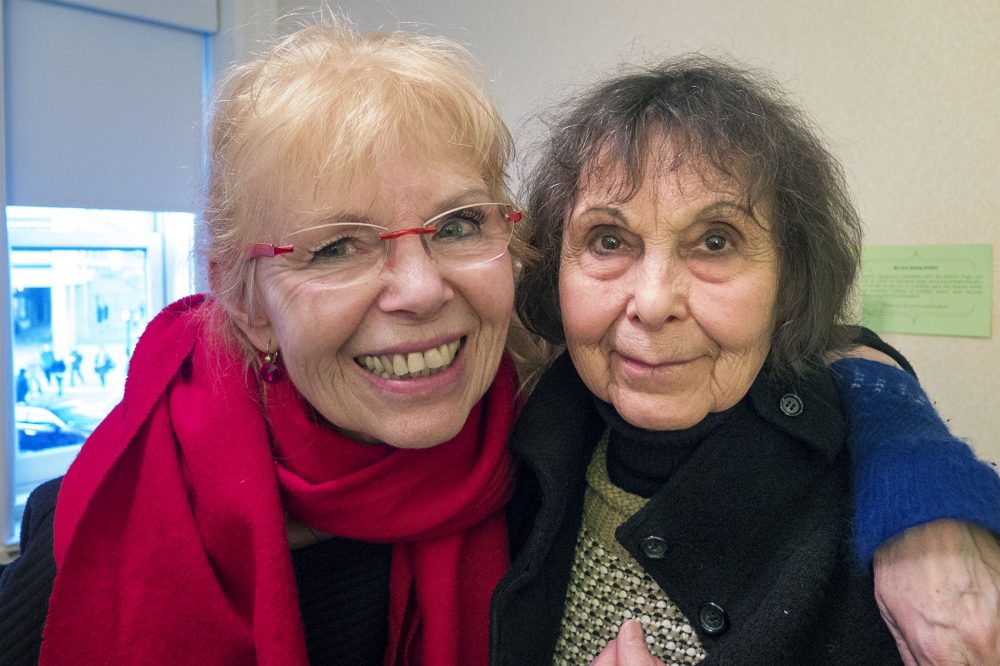 Now Gubaidulina lives in a small, Hamburg village where she wrote the new concerto — at Moser's humble request. It was supposed to premiere at a music festival in Hanover, where the bayan player lives, last year, but illness prevented the composer from completing it on time. Moser is thrilled to be playing it in Boston this week.
And while things are certainly better for Gubaidulina, the bayan player says you can hear the composer's concern about the state of the world today in her music.
"We have the worst things on one side, but through the music — especially with her music — we can make the people happy and say something. This is something from her deepest soul. And I think people must only be ready to listen."
The BSO performs Sofia Gubaidulina's Triple Concerto for violin, cello and bayan Saturday, Feb. 25, at Boston Symphony Hall and Tuesday, Feb. 28, in New York at Carnegie Hall.
This segment aired on February 24, 2017.