Diane Paulus Wins 2017 Elliot Norton Prize; SpeakEasy And Huntington Get 9 Nominations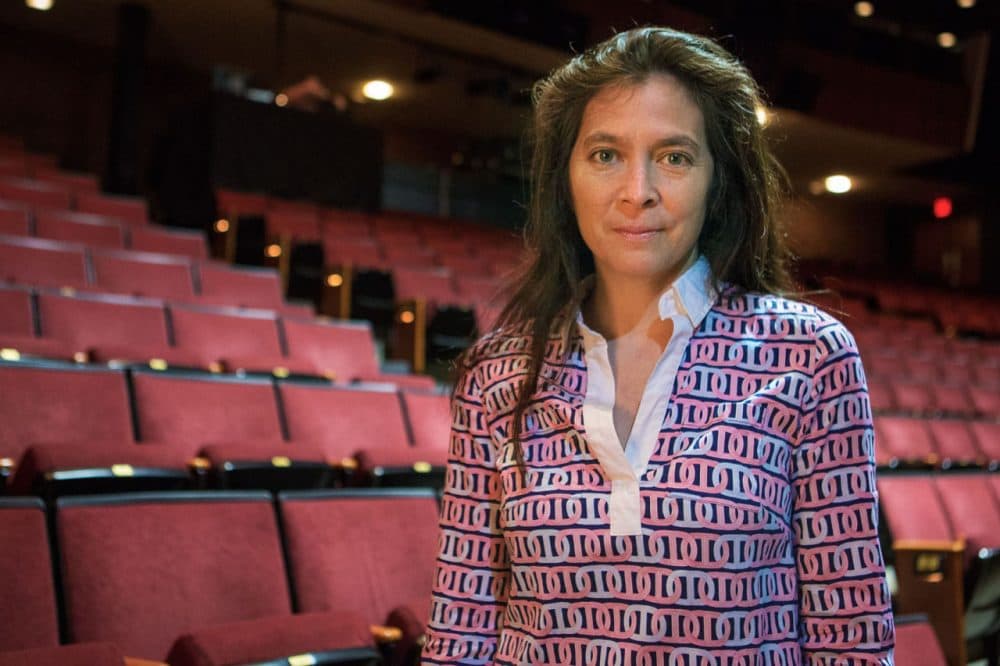 This article is more than 3 years old.
The Boston Theater Critics Association is bestowing its Elliot Norton Prize for Sustained Excellence on American Repertory Theater Artistic Director Diane Paulus at the 35th annual Elliot Norton Awards. The ceremony, which this year has the theme "Alternative Acts," is at the Huntington's BU Theatre on May 15.
The BTCA cited Paulus' role in "expanding the boundaries of Boston area theater and its role in the national conversation." Paulus has overseen several award-winning projects at the A.R.T. including the Tony Award-winning 2011 production of "The Gershwins' Porgy and Bess." Paulus was also named one of the 100 most influential people by Time magazine in 2014.
The SpeakEasy Stage Company and Huntington Theatre Company lead the way with nine nominations each. Two SpeakEasy shows netted four nominations apiece. "Hand to God," Robert Askins' comedy about a demonic sock puppet, was nominated for production, actor Eliott Purcell, actress Marianna Bassham, and director David R. Gammons, while the Kander and Ebb musical "The Scottsboro Boys" was nominated for musical production, ensemble, actor in a musical De'Lon Grant, and director Paul Daigneault (who also directed SpeakEasy productions "Dogfight" and "Significant Other"). Newcomer Alejandra M. Parrilla also picked up a nod for her work in the musical "Dogfight."
The Huntington Theatre Company's nine are spread across three productions. The Suzan-Lori Parks two-hander "Topdog/Underdog" alone garnered five, including nominations for production, actors Tyrone Mitchell Henderson and Mathew J. Harris, director Billy Porter and its design team.
The A.R.T. follows with seven nominations. "Fingersmith," based on the Victorian thriller of the same name by novelist Sarah Waters, netted four of those, for production, design, director Bill Rauch and actress Kristine Nielsen.
The Lyric Stage Company of Boston commanded five nominations (four of them for "Who's Afraid of Virginia Woolf?") and four each went to the Actor's Shakespeare Company Project (three of them for the rarely-produced Christopher Marlowe play "Edward II"), Boston Playwrights' Theatre (which split its four nominations between a revival of Ronan Noone's "The Atheist" and Leo McGann's new play, "The Honey Trap"), and Israeli Stage (whose four nominations all went to its production of Anat Gov's "Oh God").
This year's Guest of Honor will be Cherry Jones, whose Broadway career has been distinguished with five Tony Award wins and whose work in television and film has included roles in movies as diverse as "The Horse Whisperer," "Ocean's Twelve" and "Knight of Cups." She has had recurring roles in several television series, including "American Crime," "Transparent," "Awake" and "24," for which she won an Emmy Award as the president of the United States.
A portion of the proceeds from ticket sales to this year's event will be donated to the Boston Arts Academy.
This year the BTCA has separated out visiting productions in several categories. The winners of these categories will be announced at the awards ceremony.
Here's the full details on all 66 nominations in 22 categories:
Outstanding Production, Large Theater
"Fingersmith" (American Repertory Theater)
"Topdog/Underdog" (Huntington Theatre Company)
"Love's Labour's Lost "(Commonwealth Shakespeare Company)
Outstanding Production, Midsize Theater
"Hand to God" (SpeakEasy Stage Company)
"Who's Afraid of Virginia Woolf? "(Lyric Stage Company of Boston)
"Edward II" (Actors' Shakespeare Project)
Outstanding Production, Small Theater
"Oh God" (Israeli Stage)
"Lettice and Lovage" (Gloucester Stage Company)
"We're Gonna Die" (Company One)
Outstanding Production, Fringe Theater
"Blasted" (Off the Grid Theatre Company)
"Silent Sky" (Flat Earth Theatre)
"The Little Dog Laughed" (Take Your Pick Productions)
Outstanding Design, Large Theater
"Fingersmith" (American Repertory Theater) — Set design by Christopher Acebo, costumes by Deborah Dryden, lighting by Jen Schriever, composer/sound designer Andre Pluess, projection design by Shawn Sagady, wig and makeup design by Rachel Padula Shufelt
"An American in Paris" (Boch Center Wang Theatre) — Set and costume design by Bob Crowley, lighting by Natasha Katz, sound design by Jon Weston, projection design by 59 Productions
"Topdog/Underdog" (Huntington Theatre Company) — Scenic and costume design by Clint Ramos, lighting by Driscoll Otto, sound design by Leon Rothenberg
Outstanding Design, Midsize, Small or Fringe Theater
"The School for Scandal" (Actors' Shakespeare Project) — Set design by J. Michael Griggs, costumes by Tyler Kinney and Jen Bennett, lighting by Karen Perlow, hair and makeup design by Amber Vonner, sound design by Darby Smotherman, props master Misaki Nishimiya
"Edward II" (Actors' Shakespeare Project) — Set design by Sara Brown, lighting by Jeff Adelberg, costumes by Rachel Padula Shufelt, sound design by David Wilson, violence design by Omar Robinson, props master Elizabeth Rocha
"The Atheist "(Boston Playwrights' Theatre) — Scenic design by Ronan Noone, lighting by Matthew Breton, sound design by Phil Schroeder, costume design by Georgia Lyman, media advisor Zachary Dyer
Outstanding Actor, Large Theater
Tyrone Mitchell Henderson, "Topdog/Underdog" (Huntington Theatre Company)
Matthew J. Harris, "Topdog/Underdog" (Huntington Theatre Company)
Russell Harvard, "I Was Most Alive With You" (Huntington Theatre Company)
Outstanding Actor, Midsize Theater
Maurice Emmanuel Parent, "Edward II" (Actors' Shakespeare Project)
Eliott Purcell, "Hand to God" (SpeakEasy Stage Company)
Steven Barkhimer, "Who's Afraid of Virginia Woolf? "(Lyric Stage Company of Boston)
Outstanding Actor, Small or Fringe Theater
Christopher James Webb, "Blasted" (Off the Grid Theatre Company)
Barlow Adamson, "The Honey Trap" (Boston Playwrights' Theatre)
Will Lyman, "Oh God" (Israeli Stage)
Outstanding Actress, Large Theater
Kristine Nielsen, "Fingersmith" (American Repertory Theater)
Amanda Plummer, "The Night of the Iguana" (American Repertory Theater)
Karen MacDonald, "Finish Line" (Boch Center in association with Boston Theater Company)
Outstanding Actress, Midsize Theater
Marianna Bassham, "Hand to God" (SpeakEasy Stage Company) and Hamlet (Actors' Shakespeare Project)
Paula Plum, "Who's Afraid of Virginia Woolf?" (Lyric Stage Company of Boston)
Celeste Oliva, "Stage Kiss" (Lyric Stage Company of Boston)
Outstanding Actress, Small or Fringe Theater
Maureen Keiller, "Faithless" and "The Honey Trap" (Boston Playwrights' Theatre) and Oh God (Israeli Stage)
Kippy Goldfarb, "Really" (Company One at Matter & Light Fine Art)
Erin Eva Butcher, "Silent Sky" (Flat Earth Theatre)
Outstanding New Script
"Mala," by Melinda Lopez (ArtsEmerson)
"Notes from the Field: Doing Time in Education," by Anna Deavere Smith (American Repertory Theater)
"I Was Most Alive with You," by Craig Lucas (Huntington Theatre Company)
Outstanding Solo Performance
Obehi Janice, "We're Gonna Die" (Company One)
Anna Deavere Smith, "Notes from the Field: Doing Time in Education" (American Repertory Theater)
Georgia Lyman, "The Atheist" (Boston Playwrights' Theatre)
Outstanding Director, Large Theater
Billy Porter, "Topdog/Underdog" (Huntington Theatre Company)
Bill Rauch, "Fingersmith" (American Repertory Theater)
Garry Hynes, "The Beauty Queen of Leenane" (Druid Theatre Company, presented by ArtsEmerson)
Outstanding Director, Midsize Theater
Paul Daigneault, "Dogfight," "Significant Other" and "The Scottsboro Boys" (SpeakEasy Stage Company)
David R. Gammons, "Hand to God" (SpeakEasy Stage Company) and "Edward II" (Actors' Shakespeare Project)
Scott Edmiston, "Who's Afraid of Virginia Woolf?" (Lyric Stage Company of Boston)
Outstanding Director, Small or Fringe Theater
Guy Ben-Aharon, "Oh God" (Israeli Stage) and Dog Paddle (Bridge Repertory Theater)
Danielle Fauteux Jacques, "Brilliant Adventures" (Apollinaire Theatre Company)
John Kuntz, "Blasted" (Off the Grid Theatre Company)
Outstanding Musical Production, Large Theater
"Sunday in the Park with George" (Huntington Theatre Company)
"Show Boat" (Fiddlehead Theatre Company)
"Spamalot" (North Shore Music Theatre)
Outstanding Musical Production, Midsize, Small or Fringe Theater
"Fiddler on the Roof" (New Repertory Theatre)
"The Scottsboro Boys" (SpeakEasy Stage Company)
"Billy Elliot" (Wheelock Family Theatre)
Outstanding Musical Performance by an Actor
Jeremiah Kissel, "Fiddler on the Roof" (New Repertory Theatre)
De'Lon Grant, "The Scottsboro Boys" (SpeakEasy Stage Company)
Seth Judice, "Billy Elliot" (Wheelock Family Theatre)
Outstanding Musical Performance by an Actress
Shoshana Bean, "Funny Girl" (North Shore Music Theatre)
Alejandra M. Parrilla, "Dogfight" (SpeakEasy Stage Company)
Jenni Barber, "Sunday in the Park with George" (Huntington Theatre Company)
Outstanding Ensemble
"Regular Singing" (New Repertory Theatre and Stoneham Theatre)
"The Scottsboro Boys" (SpeakEasy Stage Company)
"The Beauty Queen of Leenane" (Druid Theatre Company presented by ArtsEmerson