Defying Genre, 'The Fact Of A Body' Artfully Narrates 2 Painful Stories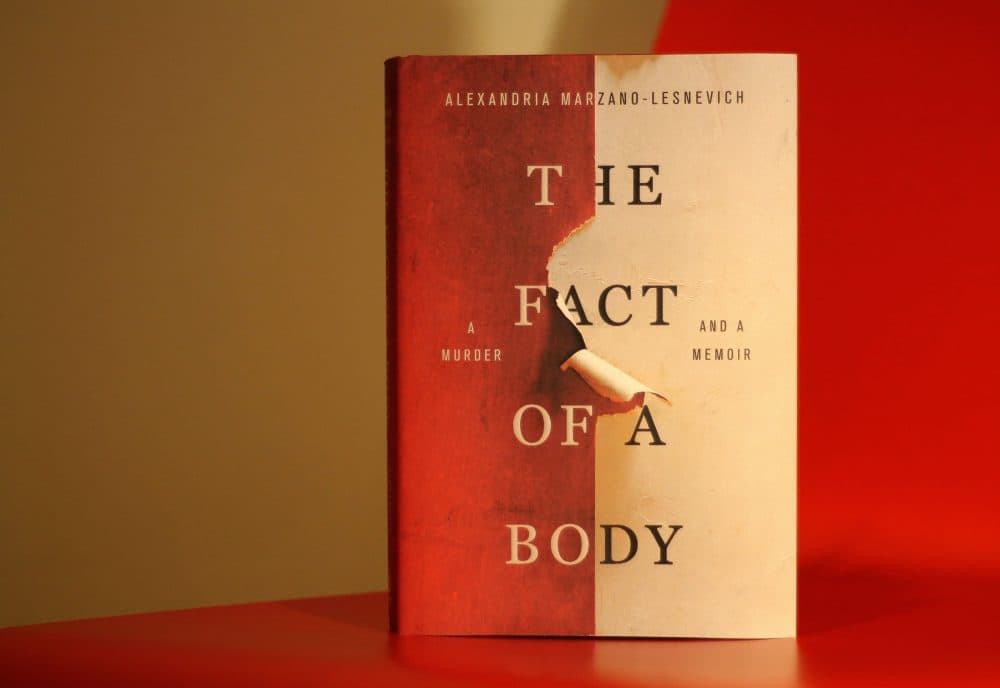 This article is more than 3 years old.
Alexandria Marzano-Lesnevich's "The Fact of a Body: A Murder and a Memoir" is everything that it promises, but not nearly as straightforward as the title suggests. Those who are looking for a whodunit with a tidy resolution, or a predictable personal chronology, will find neither. Instead, this layered narrative makes readers question whether and how we allow space for complexity and empathy in the stories we tell, even stories about the most gruesome crimes or painful memories.
On one level, the story is simple and tragic. In Louisiana, in 1992, convicted child molester Ricky Langley murdered 6-year-old Jeremy Guillory. At Langley's first trial, the jury deliberated for three hours; he was sentenced to death.
In 2003, Marzano-Lesnevich, then a law student, interned for the summer with a Louisiana firm that represented people accused of murder. On her first day, she watched Langley's 1992 confession tape; the firm had just defended him in a retrial that changed his sentence from death to life in prison. Langley's case haunted Marzano-Lesnevich, not only because the crime he described was so disturbing, but also because it conjured some of the darkest moments of her own past.
She didn't become a lawyer after all. That she found another calling as a writer is clear in her skillful, absorbing prose. She re-animates the day of the murder with sensory detail. "At the end of the road there is a weathered white house, and behind it, a thatch of woods. The woods are the dense, deciduous, swampy kind, the kind in which rotting leaves mingle with the earth … Jeremy runs out the door" toward that house and those woods. He never returns. The action flows in a crisp present tense, interrupted occasionally with a subtle but arresting word choice that provides a glimpse ahead. More than once, for example, we're told that a figure in the scene is "still alive" now. An awful mixture of curiosity and dread demands we turn the pages and learn the character's fate.
The vivid language draws readers into the crime and into Langley's personal history, and also alerts us to the narrator who is crafting the story and who is an active, questioning presence. Jeremy's sweatpants are "the color of a Louisiana lake," but, the author notes, they are called blue in the police report, and Jeremy's mother will always describe them as aqua or teal. Some details passed through many mouths and hands before they were recorded on the thousands of pages of documents the author studied. "This is a game of telephone I'm playing with the past," she writes.
Marzano-Lesnevich, who lives in Boston, weaves in her own past, too, starting in early childhood, and she highlights what she calls "collisions" between her story and Langley's. These collisions might involve something as simple as a piece of clothing; sometimes they elide two significant figures: "When I imagine [Langley's father, Alcide] there, kneeling at the frame of the house, a nail gripped between his teeth … I see my father, a saw horse erected in the backyard and one of the house's repairs under way."
In addition to providing a window to the way her mind and memory works, the author tries to help readers see into her subjects' interiors. Reflecting on the mutual silence when she returns home from college with an eating disorder, she writes of herself and her parents, "We are so determinedly fine it must be overwhelming for them to have a daughter who has suddenly shown up with the marks of all that is not fine so visibly on her." The author also bravely and carefully explores Langley's thoughts and emotions. Reading into the circles, cross-outs and marks on his psychological self-evaluation worksheet, she finds, "The page becomes evidence of the struggle" to acknowledge his demons and crimes. Based on his account and others', she reimagines a scene in which Langley tells a co-worker about his wish to have his own place by the river. "When Ricky dreams … he dreams of a place where he can be who he is …" In making space for his aspirations, she offers an opportunity for readers to see another dimension of him.
Exploring characters in their full complexity is as captivating and unsettling as the violations at the center of the plot. As readers are drawn into these empathetic investigations, the bounds of the mysteries expand and new questions emerge. Marzano-Lesnevich asks, "Is what happens in a family the problem of the family, or the problem of the one most harmed by it?" Can the blame for a crime extend beyond the man who committed it? How far? Can forgiveness or mercy extend that far, too?
Readers may also start to sense a new danger haunting the story, that that too much redrawing could erase or obscure painful, lived realities. The book averts that danger because Marzano-Lesnevich returns to the body. Readers see Jeremy Guillory's body at the scene of the crime. "His face is as bloodless as porcelain, no marks. But under the sweater, bruises from Ricky's forearm cover his chest." Marzano-Lesnevich also bares her own scars, and she finds the bodies of those whose physical wounds may not be seen in her files or photos, but that mark the narrative nonetheless. This often means a trip to a burial site.
While those graveside quests may seem grim, as a reader of a book subtitled "a Murder and a Memoir," one is already inclined to understand the compulsion to witness what is left at the end of a life, and to trace a life to its beginnings. In an interview, Marzano-Lesnevich ventured that we are drawn to crime stories because they "unlock the unsayable." Unsayable, perhaps, because the truth is so shocking or painful, and maybe because it isn't easily encased in the simplified structures we contrive for communicating cause and effect, guilt and innocence, pain and forgiveness.
We may find relief in experiences that allow us to use our imaginations to find empathy, test new perspectives or find alternate beginnings and endings. These may even provide some hope in our human capacity to find new ways to see and understand what happens to us, or to find the courage to examine the pasts we carry with us. Whatever you seek in "The Fact of a Body," you won't be able to turn away.
Author Alexandria Marzano-Lesnevich will be at the Brookline Booksmith on Thursday, June 1; at Trident Booksellers on Monday, June 5; and Newtonville Books on Tuesday, June 6.
Emily Avery-Miller Writer, The ARTery
Emily Avery-Miller has contributed reviews, essays and prose to publications including Art New England and Foreword Reviews.