3 Action-Packed, Frighteningly Realistic Books To Heat Up The Summer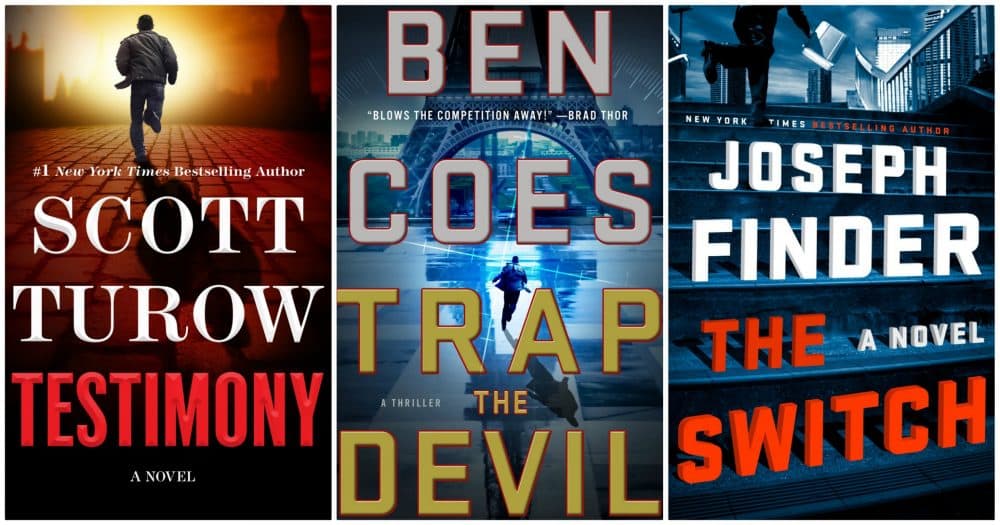 This article is more than 3 years old.
At the edge of summer, the political climate in D.C. is even more scorching than the recent stretch of 90-degree days here in Boston. There's no better time to read some thrillers that capture your imagination and rattle your nerves: tales of government sponsored hyper-surveillance of regular citizens, a war that never really ends and a plot to restore a skewed form of greatness to America. These storylines feel so uncannily close to today's headlines they seem coated with the same ink.
'The Switch,' by Joseph Finder
In Joseph Finder's "The Switch," a chance mistake sets off a chain of events that swiftly escalates from curious to lethal.
Finder, a graduate of the Davis Center for Russian and Eurasian Studies at Harvard University and a Boston resident, is a master of the corporate thriller. His novels infuse fast-moving plots with well-researched business minutiae and impressively current tech details. The protagonist is often a businessman (a sales executive for an electronics corporation in "Killer Instinct," the CEO of a high-end office furniture company in "Company Man") thrust into perilous circumstances that spiral from a random event. Typically, he will need to outmaneuver some extremely capable bad guys in a very compressed timeframe. More often than not, you'll happily keep turning the pages to see just how Finder's protagonist accomplishes this.
"The Switch" begins in a slow-moving security line at Los Angeles International Airport. At last, Michael Tanner, founder and CEO of Boston-based coffee company Tanner Roast, grabs his Macbook Air, belt and shoes from the bins and just makes it onto his flight to Massachusetts. It's only after he's back at his home in the South End and opens the laptop that he realizes it's not his.
This particular laptop belongs to Sen. Susan Robbins, and she has big reasons to want it returned as soon as possible: it contains a file on a proposed government surveillance program that would make even today's tenuous version of privacy seem quaint. Will Abbott, her weaselly chief of staff, is even more eager to retrieve it, since he was the one who unlawfully copied the file for her from the SCIF (Sensitive Compartmented Information Facility). If SCIF sounds familiar, it was made famous in March when Devin Nunes, chairman of the House Intelligence Committee, met an unnamed person in a SCIF on White House grounds before he made allegations about alleged surveillance of the Trump transition team by the Obama administration.
Years of political gamesmanship have so corroded Abbott's soul that he'll stop at nothing to protect Robbins. But Tanner proves surprisingly resourceful at navigating not only Abbot's machinations and his hired thugs, but even some truly nerve-wracking encounters with agents from the NSA. Oh, and he also has to wage economic battle against a ruthless competitor who's encroaching on his coffee business. And shore up his faltering marriage. It's not just another week in Boston business, and you find yourself rooting for Tanner — an engagingly flawed hero — all the way.
'Testimony,' by Scott Turow
As much as "The Switch" shows how easily someone's personal world can shift from benign to sinister, Scott Turow's "Testimony" shows the great human toll when an entire section of the world descends into chaos.
Thirty years ago, Turow debuted his landmark legal thriller "Presumed Innocent," and has followed that up with many fine works of both fiction and nonfiction. With "Testimony," you'll want to turn the pages a little more slowly, for this novel is a legal thriller on a grand stage.
By established standards, Bill ten Boom (Dutch for "at tree") has had a full life: successful law career, financial comfort, long marriage, two grown sons. Now in his 50s, Boom has shed his job and his marriage, "in looking back I couldn't identify a moment when, at core, I had felt fully at home with myself," he narrates.
As a dramatic response to a life crisis, Boom leaves Kindle County, Illinois for Holland, to become a prosecutor at the International Criminal Court (ICC) in The Hague, for a case involving the unexplained disappearance of hundreds of Roma (Gypsies) from a refugee camp in Bosnia.
The novel's pace and priorities are signaled from the simplicity of its opening line, as a man addresses the ICC: "'There were men,' said the witness."
He then recounts a night of horror 11 years earlier in 2004, when he and his young son — both in hiding — witnessed masked, armed men round up everyone at their refugee camp in Bosnia, drive them to a nearby cave, and set off explosives: "They were dead. My woman. My children. All the people. They were dead. Buried alive. All four hundred of them."
Turow is exceptional at creating courtroom scenes, and this one is particularly powerful: the singular recounting; the pauses necessitated by translators; the one precious remaining family photograph; the courage to appear before this imposing court. In the turbulent aftermath of the Bosnian war, there was a wide list of possible suspects: the local mafia, Islamic terrorists, Serbian paramilitary, or even the U.S. military.
To find the truth, and with ever-increasing personal risk, Boom navigates small villages in Bosnia and holds clandestine meetings in Washington. He is helped in his case by investigator Goos (Gus), who sports an Aussie accent and amusing slang, and works with defense attorney Esma Czarni, an English barrister of Roma origin who is predictably attractive. Boom predictably has a romance with her. As written, their fling is more stilted than diverting, but Boom's personal circumstances are an effective high contrast to the case he's doggedly pursuing.
Turow's descriptions of the causes and aftermath of the Bosnian war are both substantive and compassionate, although there are also long sections on international law that could have used a lighter touch. But these recede into the larger canvas of the novel, which sheds an unwavering light on the devastating human toll and the still-reverberating political aftershocks.
'Trap the Devil,' by Ben Coes
To move from harrowing events that actually happened to ones that only — luckily — might have, pick up Ben Coes' "Trap the Devil." Coes, a former fellow at the Kennedy School of Government and a resident of Wellesley, Massachusetts, may spend as much time keeping up with the news as he does writing air-tight thrillers. "Trap the Devil" is the seventh in the series featuring former special forces soldier Dewey Andreas.
Andreas is often in the midst of a high-wire scenario that feels ominously plausible: a terrorist attack on a U.S. dam and oil rig ("Power Down"), or a Russian hacker who's breached the CIA computer system ("Independence Day"). As in the most riveting spy thrillers, events blaze up and Andreas ultimately extinguishes them — with the public unaware anything untoward even occurred.
In "Trap the Devil," there's enough intrigue to satisfy even a hard-core conspiracy theorist. For the last few decades, while we regular civilians have been going about our business, members of a secret U.S. organization have been selecting and placing highly trained operatives in all levels of government, from the State Department to the Secret Service. Its leaders have a loathsome twofold mission: save the world from terrorism by wiping out all those who practice Islam, and restore America to its "true" glory by installing one of their own as president. After years of planning, they're ready to strike.
No one (legitimate) in the CIA or NSA knows about this organization, but some unexplained phone signals via a supposedly inactive communications satellite get some vigilant staffers investigating the unusual activity. Meanwhile, CIA Director Hector Calibrisi sends Dewey Andreas to Paris for what seems routine backup security for the visiting U.S. Secretary of State.
Coes devises a bundle of overlapping plots — assassination attempts; cat and mouse games between Andreas and terrorists, Andreas and the French General Directorate for Internal Security; a hunt for a mysterious woman who holds key information about the plot against America — and winds them all into a tight and then tighter narrative skein. As the story propels forward with action in multiple countries, Coes steadily shows how the men out to "save" America have taken on all the vile, righteous attributes of any terrorist.
As 24-hour cable news continues its inexorable march through hours of political drama, turn down the TV, crank up the AC and open some gripping summer reading, even before summer has officially begun.
Carol Iaciofano Book Critic
Carol Iaciofano has contributed book reviews, essays and poetry to publications including The ARTery, the Boston Globe and Calyx.