Longtime Boston DJ Chronicles The Change In Rock — And Radio — Over The Years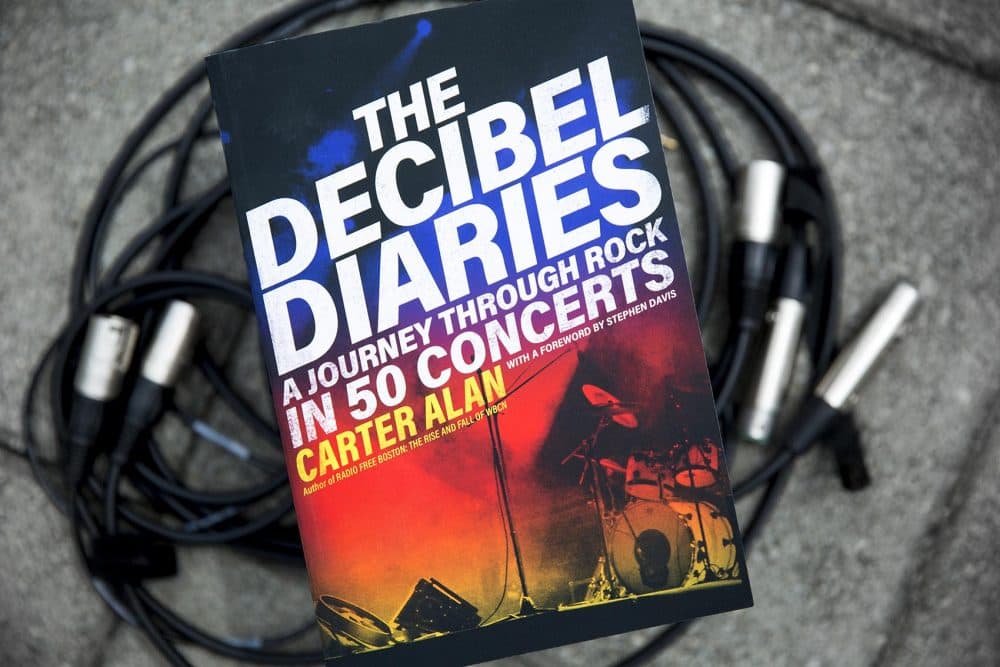 This article is more than 4 years old.
Most devoted concertgoers cannot say right off the top of their heads how many shows they have attended. Carter Alan, however, is not the average concertgoer.
"I've been to 3,313 right now," the WZLX midday DJ and music director said in a recent phone interview. The Hopkinton resident went to his first-ever concert in his native Pennsylvania when he was in ninth grade. The date was Dec. 28, 1970, and the band was The James Gang.
Most of Alan's 3,000-plus concert attendances have been made possible, or necessary, by his job as a DJ. After graduating from New England College in 1977 and subsequently moving to Boston, he started off at WTBS in Cambridge and would later spend 19 years at WBCN before assuming his current position at WZLX. (In 2013, he published "Radio Free Boston: The Rise and Fall of WBCN.")
Despite the myriad Alan had to choose from, he somehow narrowed his experiences enough to write his new book, "The Decibel Diaries: A Journey through Rock in 50 Concerts."
"The common thread," Alan explained, "[was] to find shows that have a great story to them as a writer. So it was more of a writer's situation where I have to create what I thought would be 50 short stories that would be really interesting to read. My idea was to get someone to read the story and enjoy the story no matter who the artist was."
One of the most interesting aspects of several chapters is the author's having seen many artists before they became known to millions worldwide. In 1974, Ted Nugent took the stage in the presence of "60 or 70 people." Talking Heads was still a trio when they did a three-night stand at Kenmore Square's The Rathskeller — aka, "The Rat" — in 1977. U2, meanwhile, played a 1982 gig to a mere (by the band's later standards) 1,500 people aboard the SS President in New Orleans.
And these are just a few who went on to be huge.
According to Alan, "In the case of Guns 'N Roses [1987], when they left the stage at the Paradise it was like, 'Oh my god, what just hit us?' You just knew that they were going places. And the same thing with Prince [1981]. ... There was so much talent on that stage that the room couldn't possibly hold that guy again. ... These bands are bound for glory, and you know that when you leave the room."
There is some purposeful repetition among the 50 chapters. Joe Walsh figures prominently in three because he was the lead singer of The James Gang in Chapter 1 (1970), the new guitarist for The Eagles in Chapter 15 (1976), and a finally detoxed solo artist in Chapter 50 (2015).
U2 is the subject of the 1982 New Orleans concert and of another chapter about the Irish quartet's four-night run at the Fleet Center 19 year later. (Alan has seen U2 "well over 100" times and his first book was titled "Outside Is America: U2 in the U.S.")
Having seen so many artists live, and several many times at different stages of their careers, has allowed Alan to bear witness the unfolding of the post-Beatles category of popular music that would become known as "classic rock," which is the format at WZLX.
While this means that the most contemporary artist that he writes about is Jack White, who released his first album as a member of The White Stripes in 1999, the fact is that all that would one day be classic has to first be new. Thus, Nirvana and Pearl Jam may have been the coolest bands on earth when Alan saw them in the early 1990s, but their legacies were far from certain at the time.
The importance of Alan's having seen these emerging artists as an established on-air radio personality cannot be overstated. New artists need DJs to hear their music, because if they like it, then the concert-going public will hear it.
"Certainly radio is one of the exclusive ways to promote a show," according to Alan. "And so you have a lot of interaction with a band through whoever was promoting the show, so you usually have access to the artist because you were the one that was the main squeeze for putting the word out about that concert."
With the emergence of satellite radio, streaming services and playlists, however, the role of traditional radio has changed much in those 40 years.
"These days it's not as exclusive, certainly, because there are many other ways to promote a concert, the internet being maybe the biggest," Alan said.
Has the availability of alternative listening and advertising options been for better or worse?
"It certainly pulls [radio] audience numbers away," the veteran DJ acknowledged. "You may get less advertising dollars than you did years ago because people are always looking for ways to promote their product. ... If you're a record label and you want to try to get attention for your artist, you don't just need to go to radio. You can go to these other sources."
Of course, there was a time when, as Alan puts it, "radio took a hit from television," thereby changing how people got their entertainment and information when they were at home.
But this was hardly the death knell for radio, Alan points out. "In the car, radio's still king. We still rule the car."
It is this truth, coupled with the recognition that few things evolve as much these days as the medium for entertainment, that allows Alan to be optimistic but realistic.
"Who knows? Something could come along that changes everything. I could be out on the street tomorrow. I hope not!"
Blake Maddux Writer, The ARTery
Blake Maddux writes about nonfiction, popular music and stand-up comedy for several publications in the Boston area and on the North Shore.