How An Allston-Based E-Commerce Startup Is Bringing Auction Houses Into The 21st Century
06:08
Play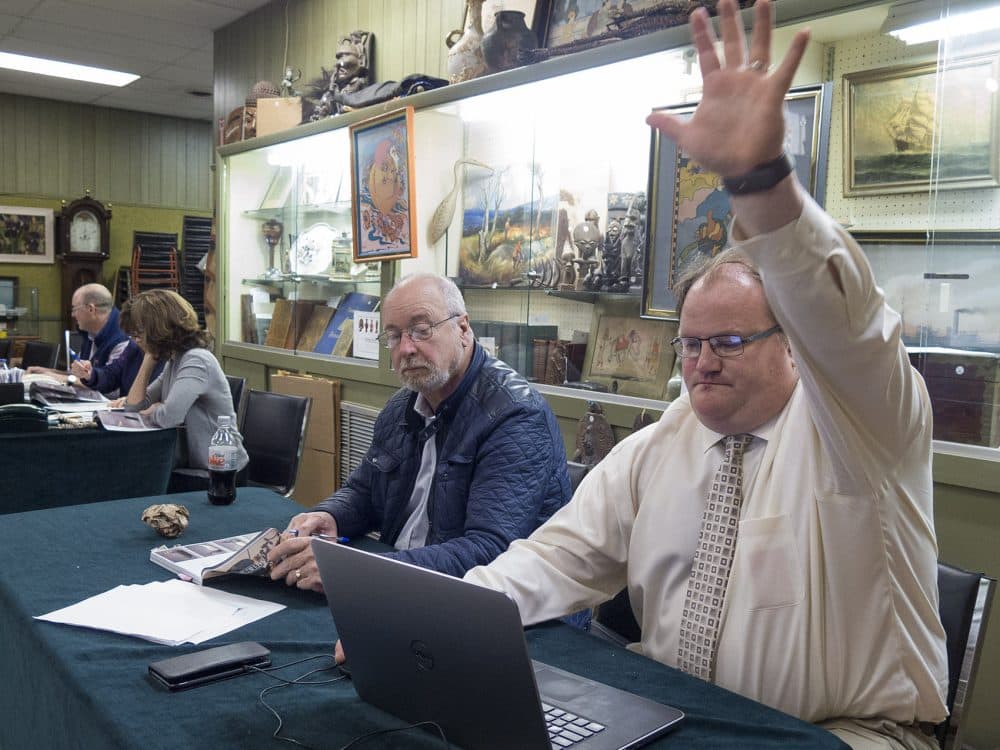 This article is more than 4 years old.
Next week, collectors with a burning "Star Wars" obsession — and very deep pockets — will have their chance to bid on an original R2-D2 (yes, one that was used in the franchise) at a California auction house.
But droid lovers won't need to be physically on the West Coast. Instead, they can opt to raise a virtual paddle through Invaluable, an e-commerce art and collectibles website that's been quietly growing in Boston.
The company is helping to bring the traditional auction house system into the 21st century by connecting bidders and buyers with sellers of the things they seek. Today, Invaluable works with more than 5,000 establishments of all sizes from 50 countries.
Eldred's, on the Cape, is one of them. It's New England's oldest, continuously operating antiques and fine arts auction house. The inside of its big barn smells like the past. There are no velvet ropes or tight security like you would see at a high-profile Sotheby's sale in New York or London. A few dozen people in chairs with numbered paddles and thick catalogs on their laps are competing for hand-carved duck decoys at the house's Americana, Paintings & Maritime Art sale.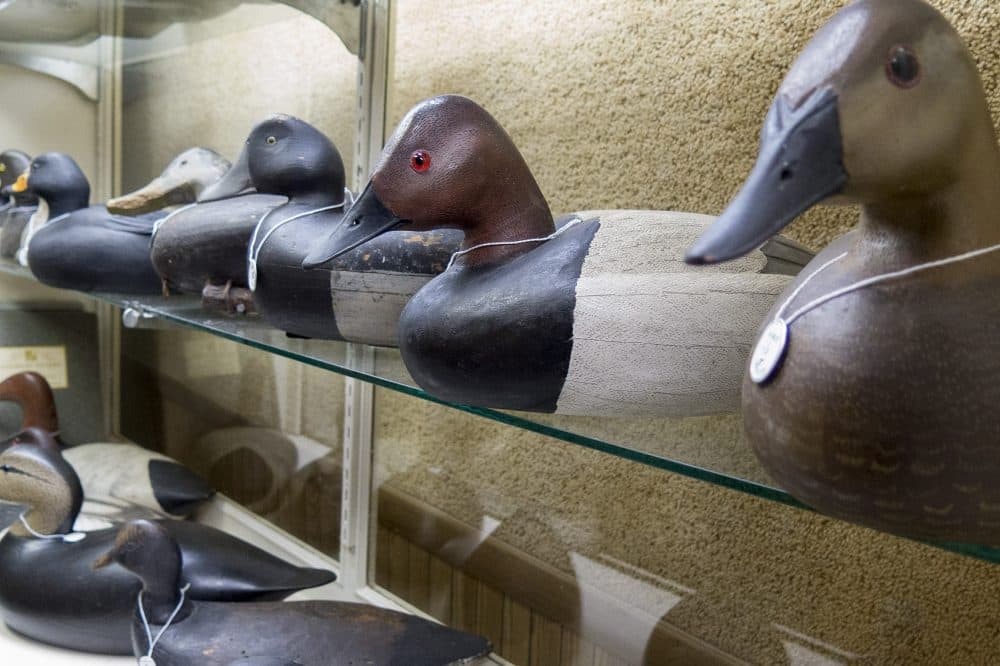 Dollar amounts roll off auctioneer Glenn Krawczyk's tongue as he invites bidders from the stage to join the fray. He's worked at Eldred's for 27 years and intones: "$60 with me. Now $70. $70, are you bidding? Josh has $80, do I hear $90? 80-bid-90, 80-bid-90?"
The crowd on this weekday morning skews older. Eldred's president, Joshua Eldred (the "Josh" mentioned by Krawczyk), says attracting younger customers to this third-generation auction house has become a top priority.
"They don't buy things from traditional stores -- they go to Amazon, they go to eBay, they go crateandbarrel.com. They're buying online as it is," he tells me. "Frankly, if we don't move with the times we won't make it to a fourth generation."
That's why Eldred signed on with Invaluable. The platform has been supporting a global marketplace that's adding online to the mix of in-person and phone bidding.
During this auction, Eldred sits at the back of the room with a laptop. He's poised and alert, monitoring the stream of offers coming in from around the world. Eldred basically serves as the physical stand-in for online bidders, uses the number 363, and raises his hand to let the auctioneer know that someone out there is vying for a decoy.
"Sold to 363,"Krawczyk announces. And Eldred whispers to me, "The internet just bought that."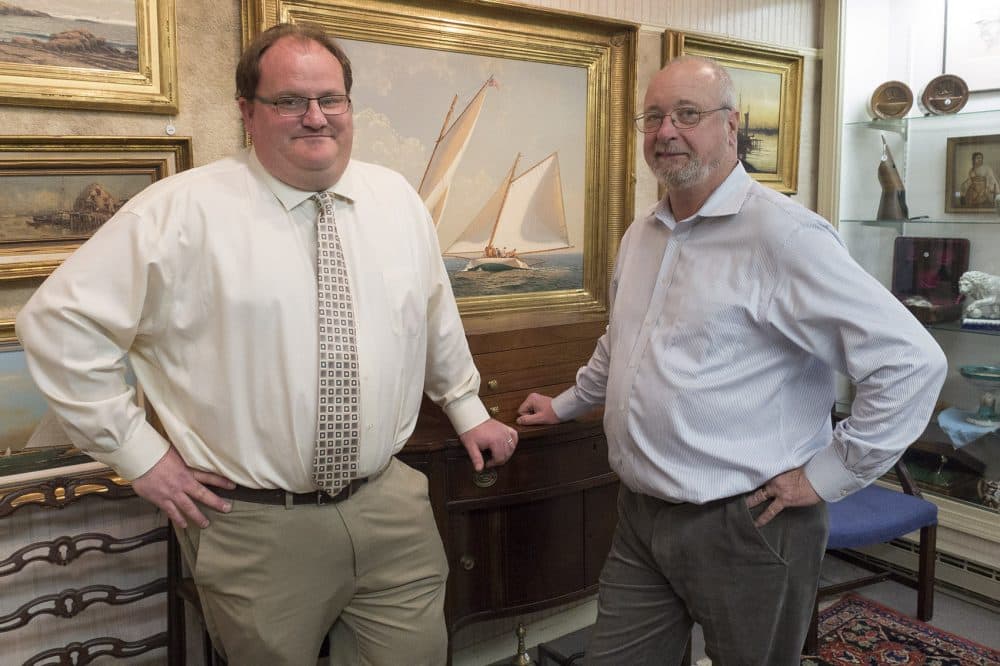 Eldred says 40 percent of its bidders are online for any given auction. Collectors from around the world can access the house's catalog of unique, sometimes obscure items. Eldred says signing on with Invaluable been a game-changer.
"It's made finding objects much easier," he explains. "Someone in San Francisco or London or Hong Kong can not only find the objects we're selling, but they can actually bid on them, you know, from the comfort of their home."
But evolving what's often seen as a stodgy business hasn't been easy. Invaluable CEO Rob Weisberg says some bricks-and-mortar auction houses have resisted. But Eldred's was an early adopter.
Now the e-commerce company works with thousands of accredited auction houses to sell hundreds of thousands of collectibles — including movie memorabilia like R2-D2 and Darth Vader's helmet, fine paintings by old masters and contemporary artists, rare coins and antiques.
Weisberg says a lot of people aren't aware of the vast auction house arena because juggernauts like Sotheby's and Christie's -- with headline grabbing sales of works by stars like Jean-Michel Basquiat — dominate our popular imagination.
"The media has a tendency to focus on the absolute pinnacle of the art and auction world," Weisberg told me. "You hear about $110 million paintings. In actuality, 95 percent of the pieces sold at auction are sold below $5000."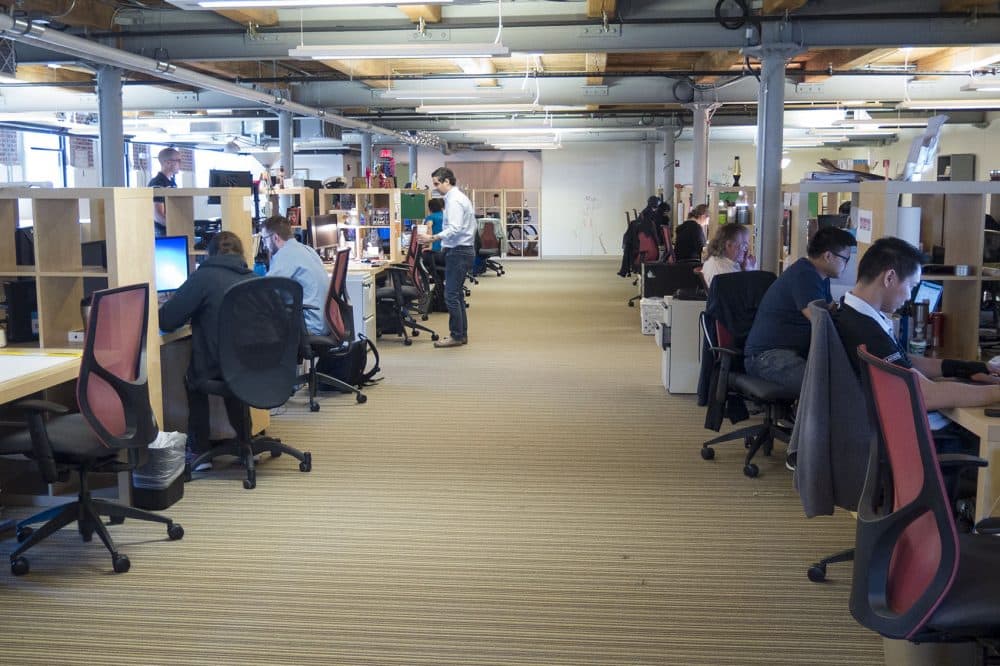 Invaluable's offices are tucked away in an industrial pocket of Allston not far from the Mass. Pike. Sales reps and marketers fill desks in an open-concept space where conference rooms are graced with names of artists whose work has been bid on through the website — there's Lichtenstein, O'Keefe, Warhol. There are bean bag chairs on the floor and snacks and beers on tap in the kitchen.
Down in a basement room, four of the company's 132 employees huddle around computers to track global bidding transactions — along with incessant hacker attacks.
Art is meeting e-commerce live on two wall screens with streams from Sotheby's auctions in Hong Kong and London.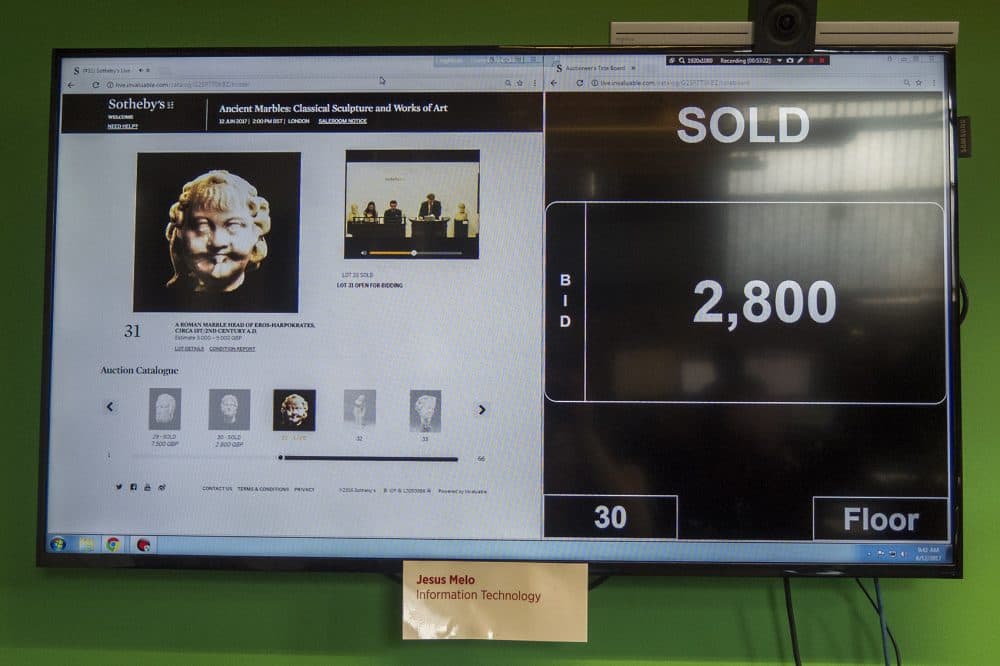 The well-dressed auctioneer on screen tells the audience, "The online bidder has $85,000." On the block: expensive bottles of rare whiskey and an ancient, marble sculpture.
"You'll see it kind of switch between floor bidder, absentee bidder, phone bidder and online bidder," Weisberg explains as we watch. He led marketing for Zipcar and Domino's Pizza before joining Invaluable in 2012 and says this startup has taken cues from the rise of e-commerce giants like Amazon and eBay.
"The people who have been so successful in e-commerce in general — places like Amazon — have not had tremendous success in the sale of unique collectibles," former Sotheby's CEO Bill Ruprecht tells me. These days he's on Invaluable's advisory board.
"[Invaluable is] doing a huge service for the small auction house and the regional auction house," he says.
Ruprecht has been in the auction world his whole adult life. He got his first job at Sotheby's in 1980 sweeping floors at that company's warehouse in Harlem. Ruprecht himself is an active collector of watches and vintage, bamboo fishing poles. And he thinks Invaluable is helping auction houses to remain relevant.
"They're bringing a very sophisticated, global buyer base to a small room. And in that sense they make their business transformed economically. A small auction house cannot send catalogs to millions of people — that kind of reach is something smaller operations could not otherwise afford."
Back at Eldred's in Dennis, collectors peruse nautical paintings, ornate silver and a 19th century music box. Keith Dumas says he drove here from Yarmouth to check out the antique guns, artworks and carvings. He bids in-person and online, but believes it's important for him to see a lot of the objects in person before buying.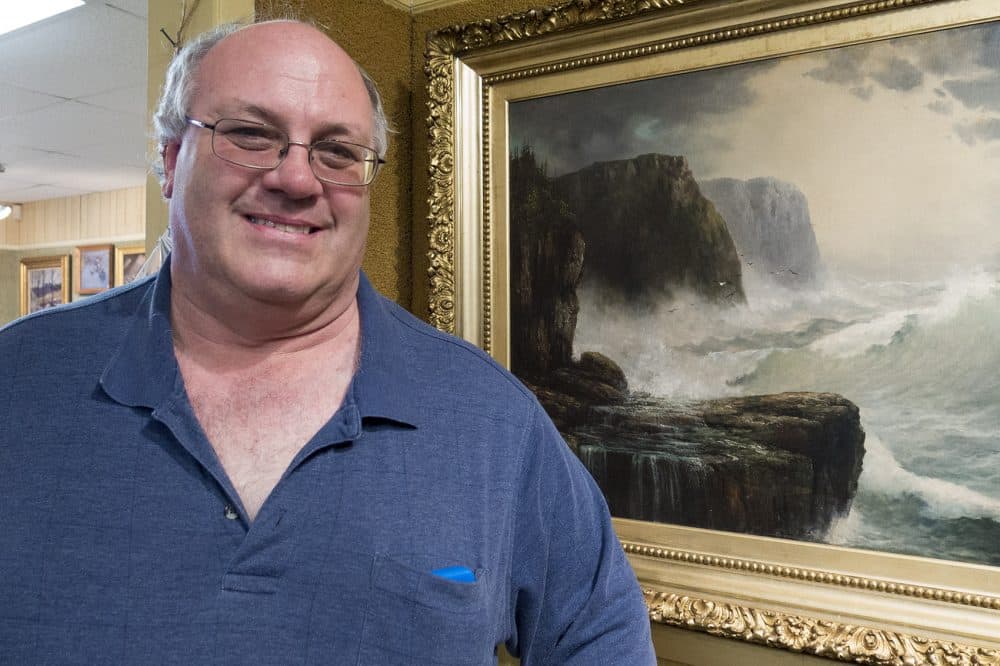 "I browsed the whole catalog of this auction online," Dumas tells me, "and then when I got here I saw the size of the painting. So you can think it looks good on a two dimensional picture -- but when you actually physically see it, and hold it, and touch it — it just doesn't have the same effect."
Dumas says the opposite can be true, too. "Sometimes you see something online that doesn't really pique your interest, but then when you see it in person it's much nicer than you thought it would be."
When asked if he thinks online bidding could ever replace physical auctions — like the one here at Eldred's -- Dumas responds, "I don't know if that it would ever change that much. It's like buying clothes online."
Invaluable's Rob Weisberg says plenty of consumers are comfortable with buying art works worth hundreds of thousands of dollars via the internet, "because the buyer is very aware of the piece, and the artist, and the accredited auction house. Superzoom photography can actually get down to the brushstrokes, and you can do 360-degree reviews of multiple pieces."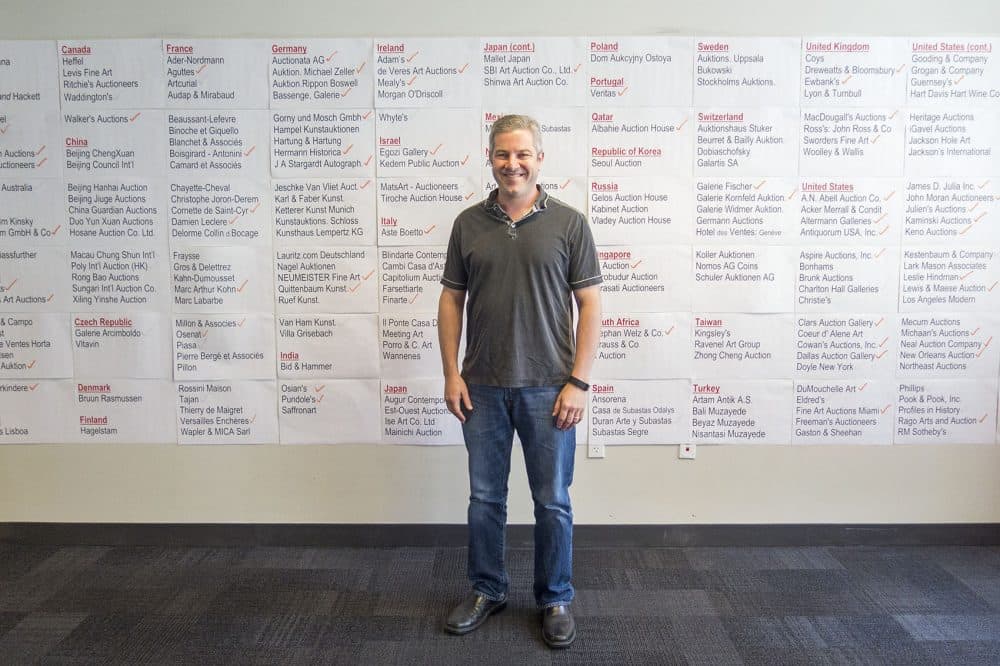 While Invaluable is embracing technology to bring the age-old auction model forward, Weisberg believes some things in this industry will never change.
"It is truly a free market," he says, "and it's one of the purest forms of commerce, in that the value of a piece — at any given time — is what somebody is willing to pay for it at that moment."
Currently, business is booming for Invaluable. In 2016, the startup signed 575 new auction houses, and its roster expanded to include 400 art galleries. Weisberg says sales have reached $300 million a year — compared to $48 million when he first joined the company in 2012. His goal is to surpass a billion before taking the startup public in, he predicts, about three years.
Even with so much success, the CEO acknowledges he'll have to pass on the R2-D2 being auctioned through Invaluable next week.
"My kids want me to buy that for them — I don't think it's going to happen, unfortunately," he says with a smile. "It's going to go for over a million dollars."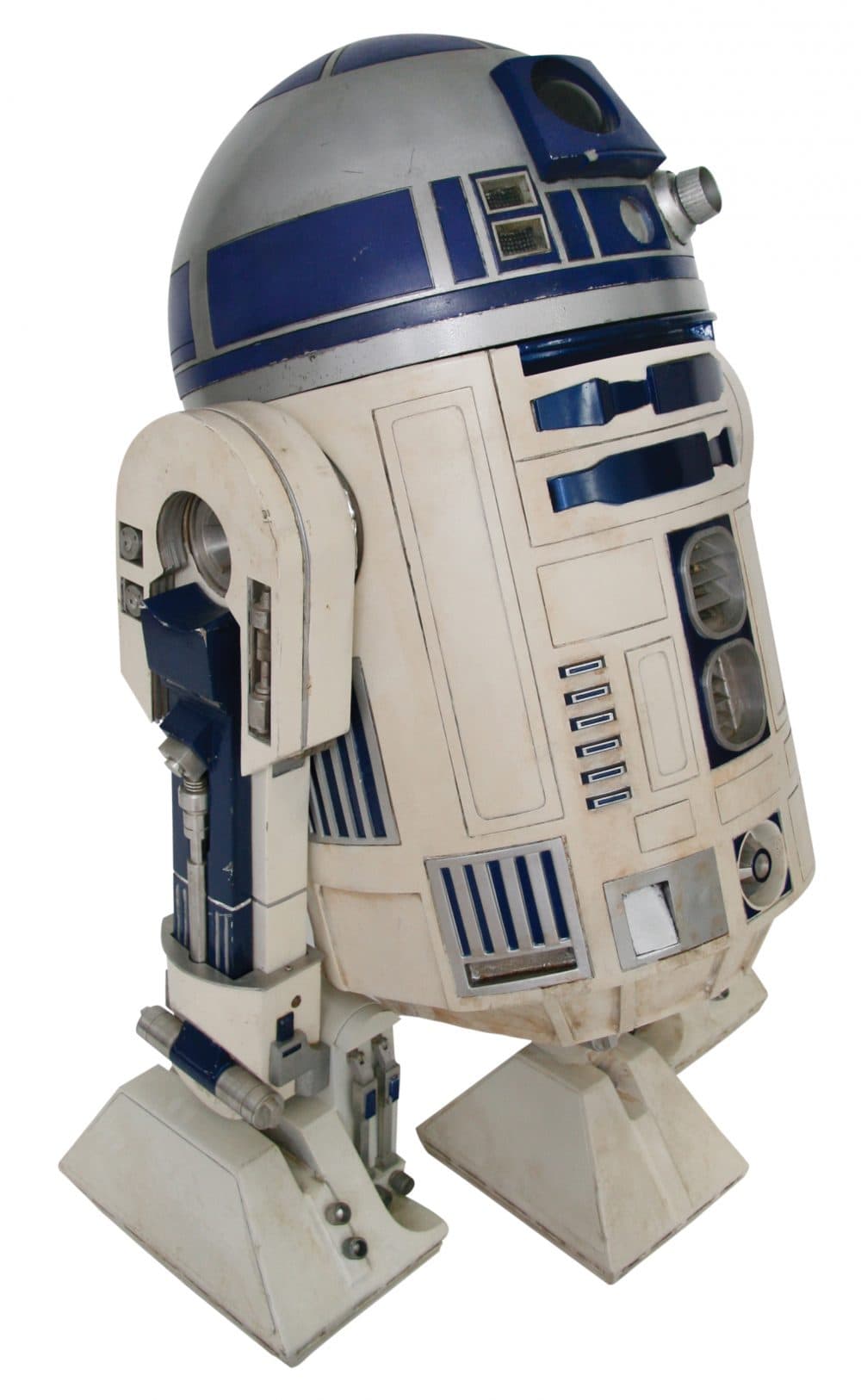 This segment aired on June 20, 2017.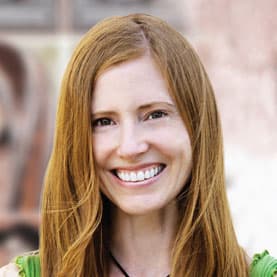 Andrea Shea Senior Arts Reporter
Andrea Shea is WBUR's arts reporter.