'The Effect' Asks If Love Is Nothing More Than A Drug At Gloucester Stage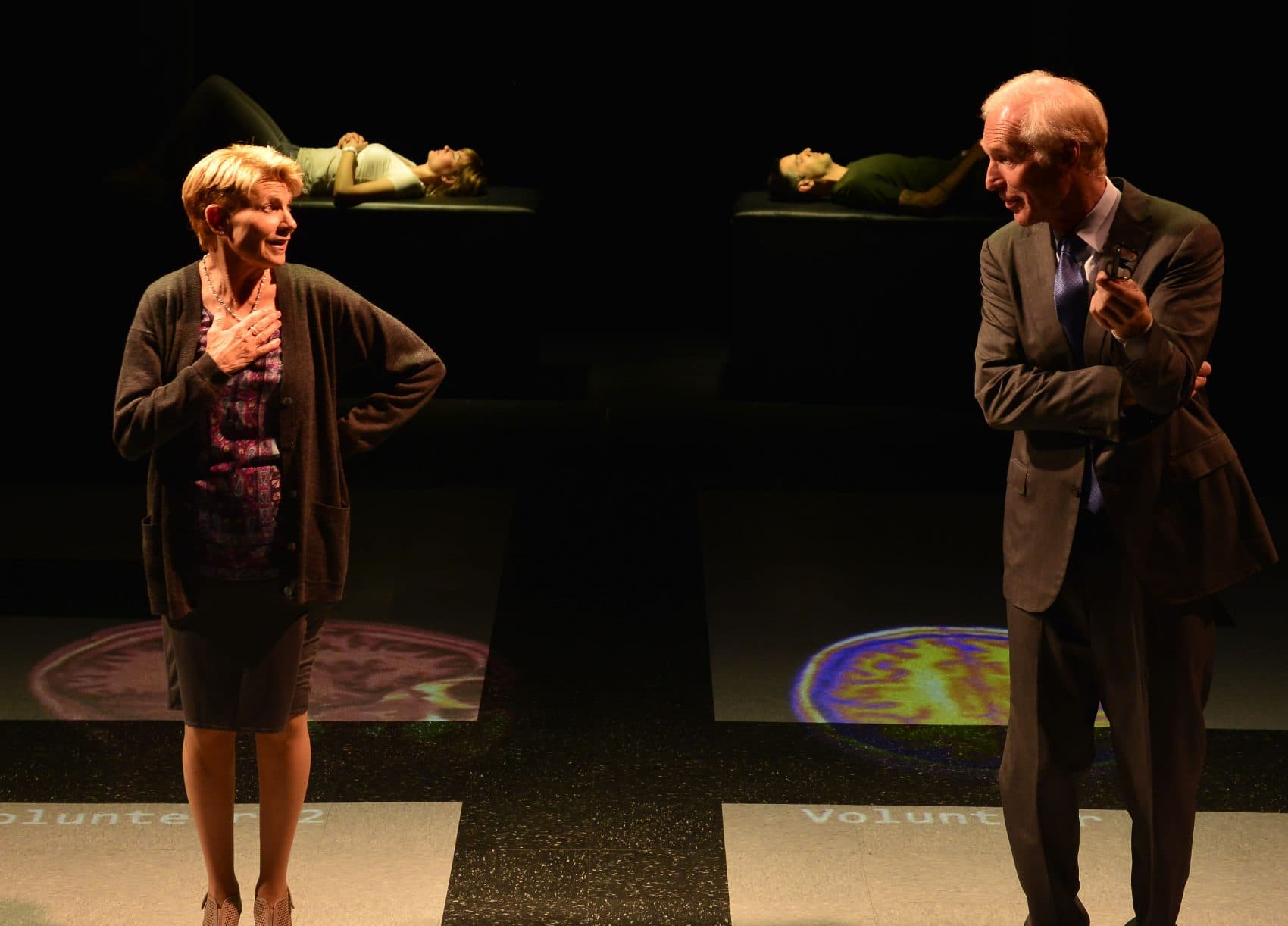 This article is more than 4 years old.
Two young people meet during a clinical trial of a new antidepressant, and fall head over heels for each other. The circumstances of their meeting poses the question: Is their love nothing more than chemical? But hold on: Isn't all love a matter of brain chemistry (poetic metaphors and romantically-inspired literary tradition notwithstanding)?
That, in capsule form, is the plot of British playwright Lucy Prebble's award-winning "The Effect," which Gloucester Stage has realized with humor, heat and assurance under the direction of Sam Weisman.
Connie (played by Susannah Hoffman) might seem a little scattered, but she's not dumb; if anything, she tends to overthink to the point of near-paralysis. A psych major herself, she's perceptive about what the doctors are looking for in the month-long trial she's signed up to be part of. Fellow trial participant Tristan (Mickey Solis) is her polar opposite. A creature of bodily rhythms, energetic and impulsive, he's heedless of protocol and happy to flout the rules.
If the two of them were to start talking at a cocktail party they might very well end up in the same place they do here, panting for each other with the impatience and intensity of teenagers. On the other hand, she might simply brush him off, annoyed with his hyperactive tics and conscious of the fact that she's already in a relationship, tepid as it might be. But they're thrown into close quarters, so be it a matter of propinquity or pharmaceuticals, the odds favor passion over prudence.
Overseeing the trial (and attempting to keep the boys and girls on their best behavior) is Dr. Lorna James (Lindsay Crouse), whose own complicated relationship with colleague Dr. Toby Sealy (Brad Hall) exists in a rough parallel to that of Connie and Tris. Lorna worries about her responsibilities, with the physicians' credo of "do no harm" hanging over her every interaction with the trial's participants. Lorna obsessively scours brain scans and tracks EKG readings. By contrast, Toby presses ahead with the zeal of a visionary — or a snake oil salesman; he incorporates elements of both, and at once point we see him deliver a smarmy speech in which a human brain serves as a prop. (Lorna has a similar — and much more soulful — monologue, brain and all.)
For two and a quarter hours, Prebble's play electrifies scientific and philosophical questions about the nature of human life and human connection. The uniformly strong and skilled cast make every point feel meaningful. Even the occasional abstruse bit of dialogue never seems abstract; everything these people are talking about (and, in the second half, all too often shouting at each other about) carries a sincere emotional weight, even if the emotions in question might be artificially amped up by an experimental drug.
Most fascinating — and practically a thesis in itself — is the understated resonance of sympathetic effects between those who are on the trial antidepressant and those who are merely in their sphere of influence.
Gloucester Stage's production (on through July 8) doesn't try to make the play feel British. Rather, there's a universal quality that matches the theme, although the characters are specified as Americans; Connie is from Delaware and Tris from Michigan. When we see the study's protocols being carried out, it's with an emphasis of consistency and objectivity. A voice-over — sort of a running log or journal of events — reinforces the notion that this is a tightly-controlled environment, all of which stands in high contrast with the extremely disorderly and chaotic emotions that come bursting forth.
Along those same lines, the set design, by J. Michael Griggs (who also designed the clever, well-incorporated projections) has a cookie-cutter, post-industrial look that's both reassuringly sturdy and without specific character. We could as easily be in a hotel lobby or a library as a medical facility.
David Remedios' sound design is appropriately "science-y," often resorting to the essential sound of a human heartbeat as a foundation, but at the same time framing Claudio Ragazzi's emotive music in a way that's well balanced and offers emotional contrast. Russ Swift's lighting design follows suit, with saturated color effects punctuating a crisply clinical style of illumination.
You may well fall in love with this play for the beauty of its construction, but it's just as likely you'll be smitten with its mind. Smart writing meets authentic craftsmanship in this well-executed production.
Kilian Melloy Theater Critic
Kilian Melloy is a contributor to WBUR's The ARTery.