The Boston Symphony And Thomas Adès Bask In Their Artistic Partnership In The Berkshires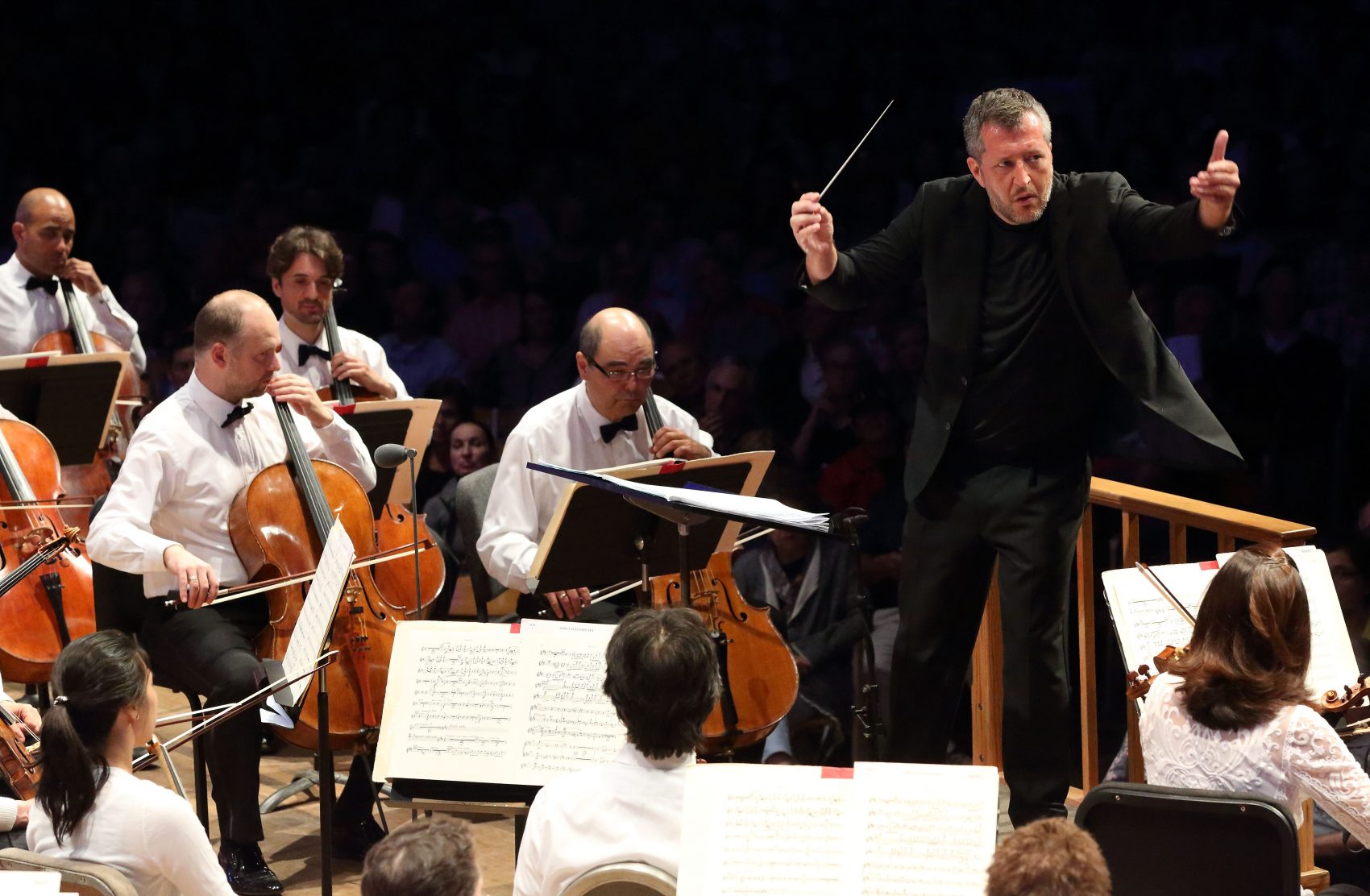 This article is more than 2 years old.
How exciting is it to have Thomas Adès as the Boston Symphony Orchestra's artistic partner? How exciting would it be to have Russell Westbrook playing for the Boston Celtics?
That's how it felt this week watching Adès at Tanglewood turn in classical music's equivalent of a triple double as composer, pianist and conductor. Quadruple double, if you consider his stellar work as accompanist as well. Want to go for quintuple? He's working with the Tanglewood Music Center Orchestra and the TMC conducting fellows Monday, July 24.
Adès began the week taking part in the ongoing program, "Schubert's Summer Journey," accompanying Andrè Schuen, who was making his lapel-grabbing United States debut singing Schubert lieder. Both were in full command of the material; Schuen capturing all the passion and perils of love — and mortality. Adès was by turns unintrusive and assertive, keeping the spotlight on the charismatic baritone.
In the second half, though, he took over in the "Trout Quintet." Performing with three-quarters of the Emerson String Quartet and BSO principal double bass Edwin Barker, Adès drove the Trout along forcefully, getting the best out of his teammates at every spirited Schubertian turn. He's probably more familiar with the music than they are, having recorded the piece as well as having performed it, including a concert with the BSO Chamber Players last March. As either alpha dog or beta, Adès' playing is full of warmth and generosity.
Saturday night he was at the podium with the BSO on what turned out to be a beautiful Berkshires night, though the threat of rain kept the lawn crowd down. The shed wasn't packed, either, as the first half of the evening was given over to 20th and 21st century works — Benjamin Britten's "Sinfonia da Requiem" and Adès' "… but all shall be well."
Too bad if it that kept the crowd down, because both these works are accessible and timely. The world was about to go to war when Britten wrote his requiem and the piece has premonitions of looming danger, but also hope for the future. It begins with a lamentation ("Full of tears"), moves to "days of wrath" and concludes in "eternal rest," or peace.
The 20-minute requiem was followed by "... but all shall be well," Adés' own 10-minute work, his first for a full orchestra, from 1993. His music is rarely less than a wondrous soundscape, highlighted here by some superb scoring for harp and percussion. But pairing it with Britten underlines that there's more to Adès than that, in this case a thematic and musical trajectory quite similar to Britten's. With the questions facing us today about the fate of the world, and the fate of the country, Adès and his fellow Brit seem like kissing cousins.
Some might look at Beethoven's "Emperor Concerto" as dessert after eating Britten and Adès vegetables, particularly with sweet-toned crowd favorite Emanuel Ax on piano, but that does everyone a disservice. Britten and Adès' music aren't Brussels sprouts and Beethoven was as passionate about issues of war and peace as Britten, a pacifist, was. As the late Michael Steinberg said in the BSO's program notes, "The Fifth Piano Concerto is a magnificent affirmation asserted in terrible times." The world also seemed under assault in Britten and Adès' music which, though less triumphant, is certainly affirmative in their own quieter ways. (There's more Britten and Adès, along with Sibelius scheduled for the Monday night concert. And the BSO continues to play Adès both at Tanglewood and, next season, at Symphony Hall.)
Adès and the BSO played the same role with Ax as Adès had with Schuen in Schubert. I don't know that Ax brought new insight to the "Emperor," a title Beethoven would have hated, but it was a performance by pianist and orchestra that pushed the music forward, to a place beyond interpretation, beyond words.
As a conductor, Adès has a more self-confident presence onstage than he did a few years ago. He will never be an Andris Nelsons on the podium, for better or worse, but he reaches out into the orchestra, eliciting both power and subtlety. Not that they need much guidance. Nelsons and James Levine have built a great team.
A great orchestra that now has a great artistic partner.