New England Conservatory Celebrates 150 Years With A New Student And Performance Center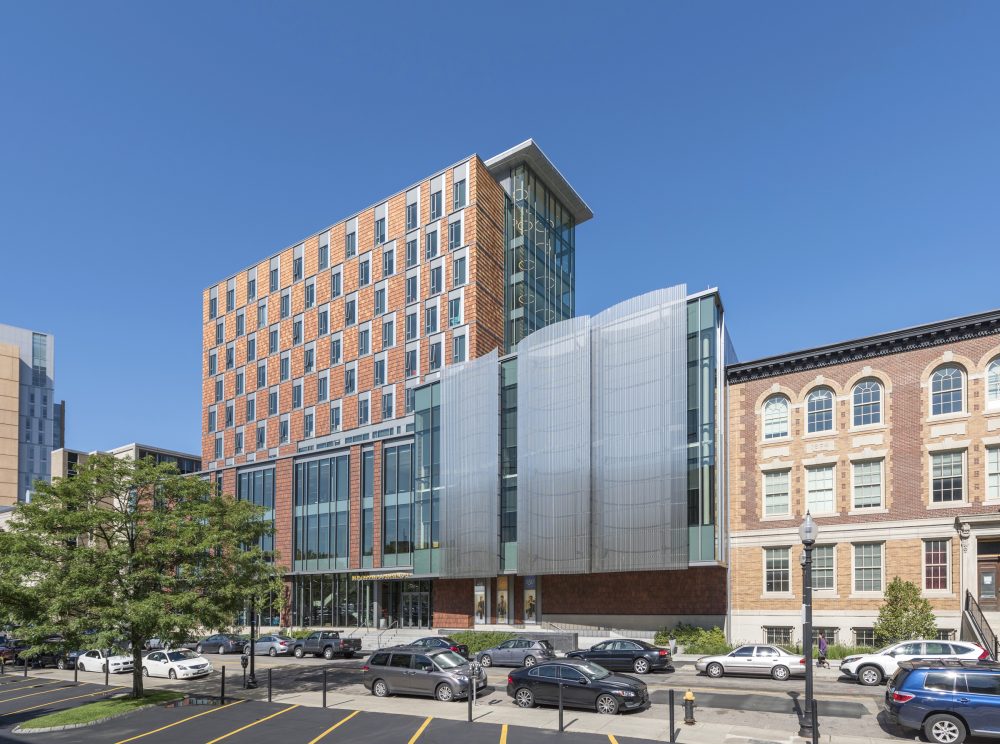 This article is more than 3 years old.
New England Conservatory boasts having one of the nation's greatest small concert venues with Jordan Hall, but the 150-year-old school in Boston's Fenway neighborhood has still struggled with a shortage of space. Hoping to solve that problem, the school is unveiling a new, $85 million building on Thursday.
NEC's Student Life and Performance Center has a 225-seat black box theater, rehearsal and recording studios and a large orchestral room that's 50 percent larger than the stage at Jordan Hall. It's the first major construction project at the historic institution in about 50 years.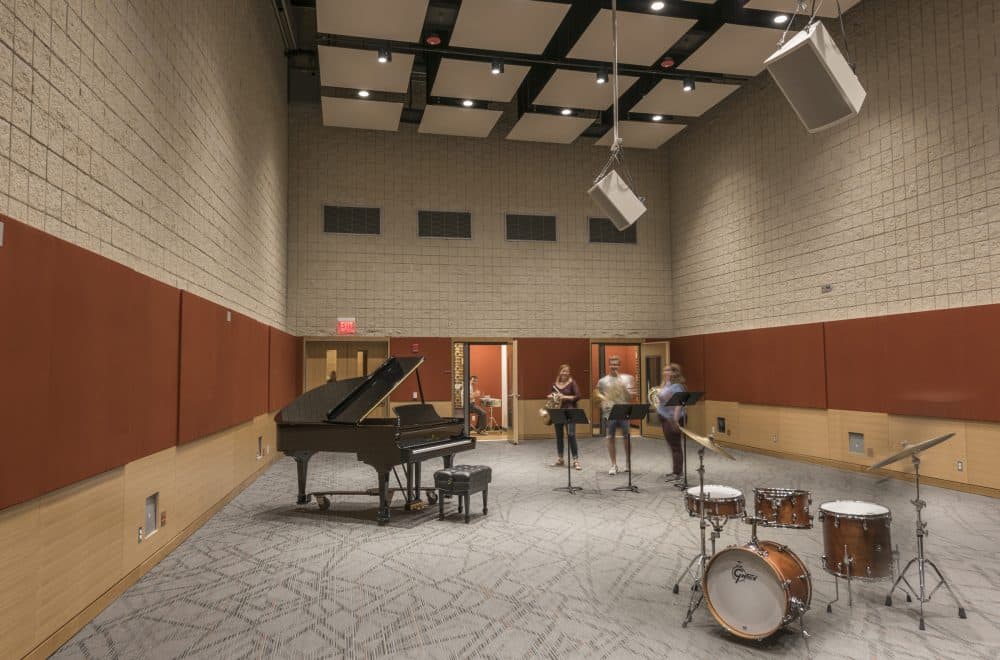 A number of other area schools are expanding their arts venues as well. MIT just opened W97, a 25,000 square foot performing arts facility. Boston University's new theater on Commonwealth Avenue is currently under construction.
NEC board chair Ken Burnes said the center will be a resource for students, outside performance groups and the community, which can attend more than 1,200 free concerts a year.
"These concerts will take place in the new building, and we're looking forward to more public access to our facilities," he said. There will also be public access to the new cafeteria and library that houses rare collections.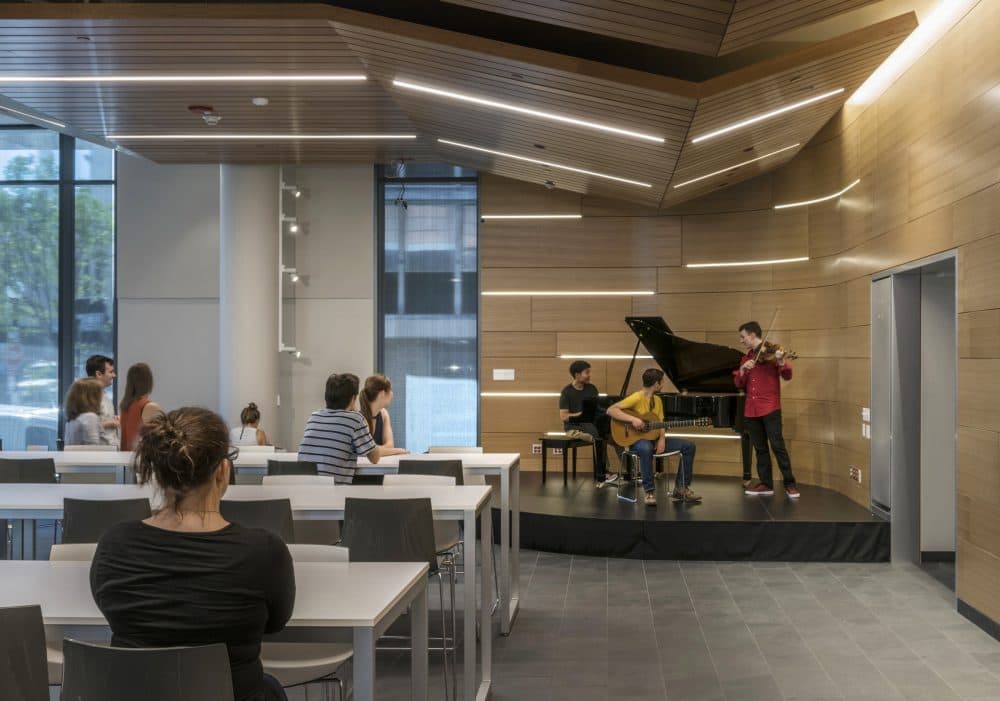 Part of the new center is a dormitory with the capacity for 256 residents. That doubles the school's on-campus space for freshmen and sophomores. About 750 undergraduate and graduate students attend NEC, plus 1,600 students study in its preparatory program.
"I think we're creating a new center of activity for the school," Burnes said.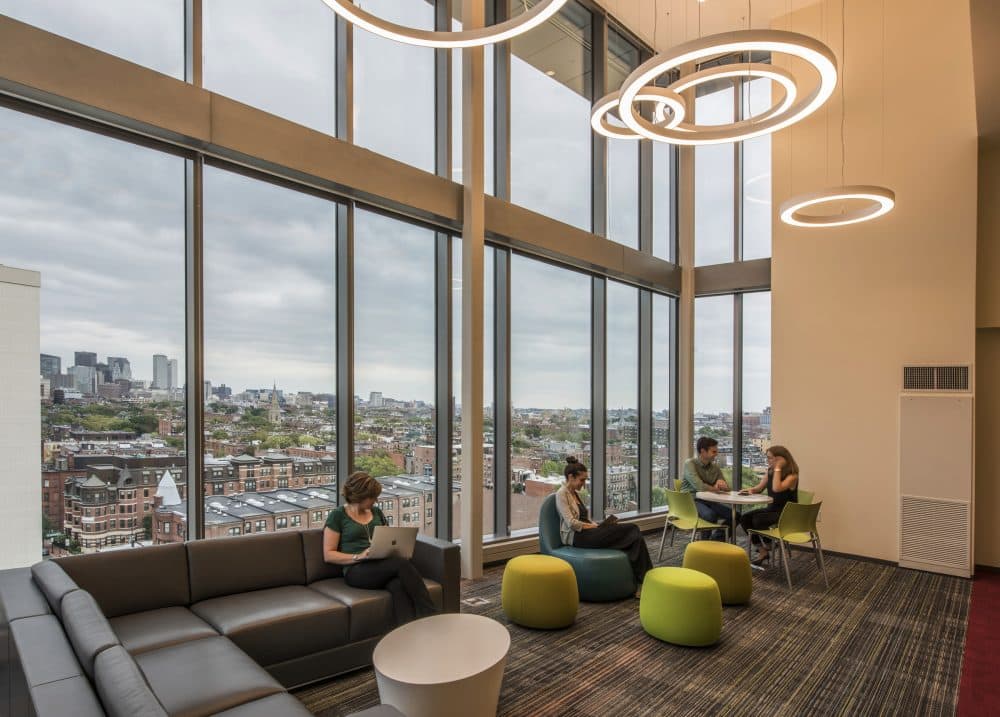 Ann Beha Architects and Gensler Boston designed the contemporary, 10-story building that features swaths of glass and terra cotta tile work on its exterior. The new center is already fully paid for, according to Burnes.
The new space has three music-themed sculptures — two outside, one inside — by local sculptor David Phillips. They were commissioned by Framingham public art teacher Anthony Lopes before he died in 2013 after battling cancer.
Correction: An earlier version of this story misspelled Lopes' last name. We regret the error.
This article was originally published on September 14, 2017.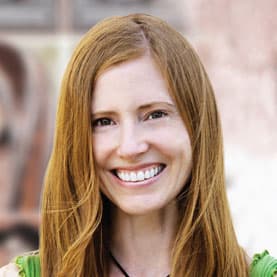 Andrea Shea Senior Arts Reporter
Andrea Shea is WBUR's arts reporter.