Photos: The Amazing, Madcap Lowell Kinetic Sculpture Race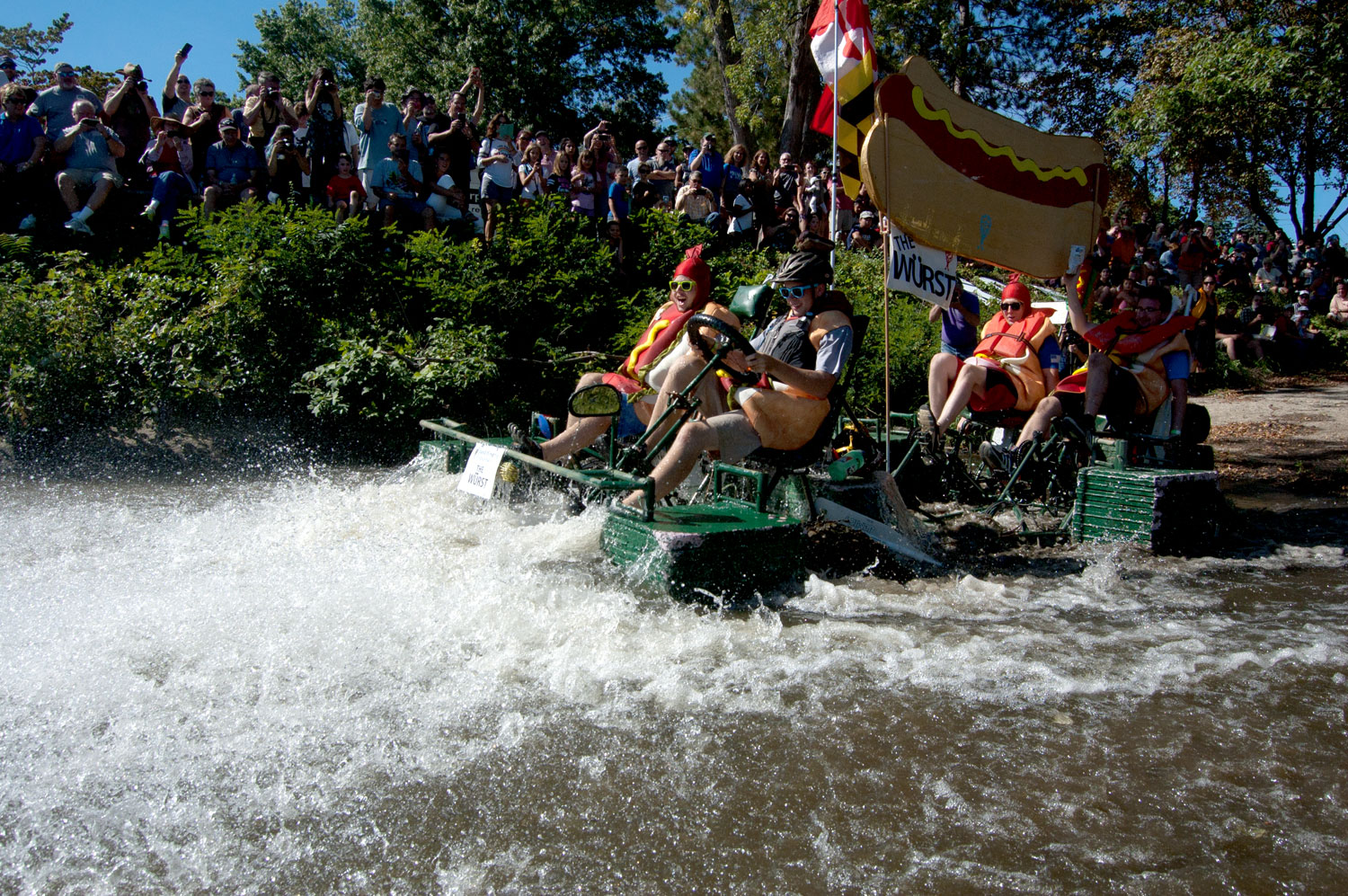 The Lowell Kinetic Sculpture Race is "a competitive parade of the arts and science. Otherwise known as the triathlon of the art world," Bianca Mauro, one of the event's producers, explained to me at Saturday's competition.
Teams assemble artistic, human-powered contraptions. There are numerous rules, one key one being "your feet can never touch the ground." Then they race the vehicles from downtown Lowell, across the Merrimack River, and back again. "There are three obstacles: cobblestones, a 50-foot mud pit and the Merrimack River. Here they go down the boat ramp, down the shore for 100 yards and up the beach," Mauro said as the race reached its halfway point.
Are these folks crazy? "Absolutely," Mauro answered. "We have 10 awards, but only one of them is for being the fastest. There's also an award for the most epic breakdown. So it's that kind of race."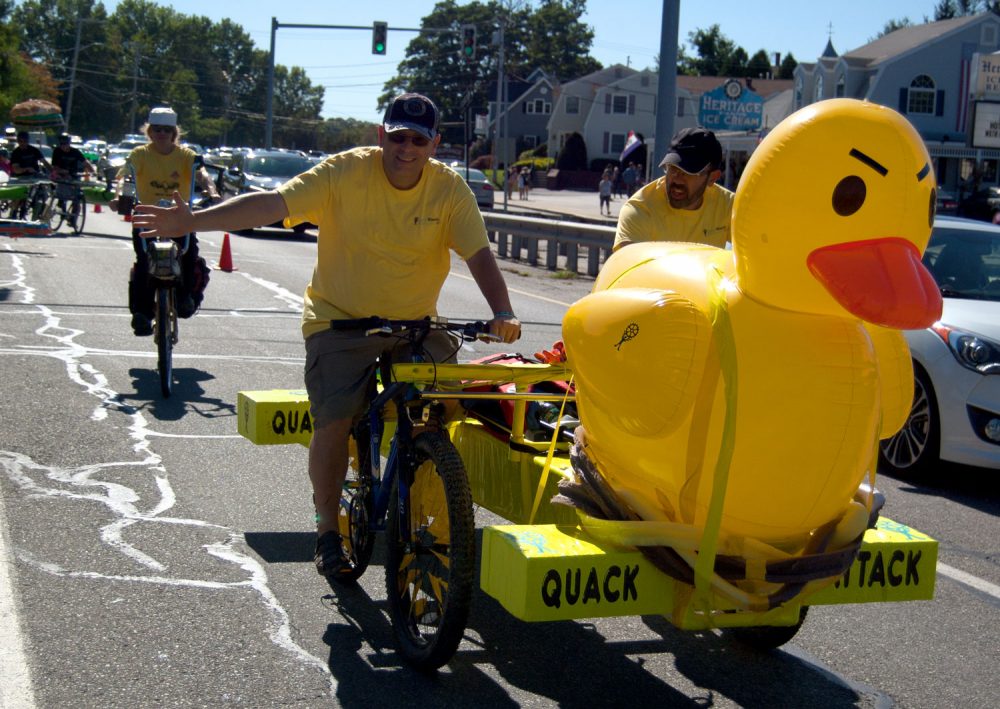 Gary Chamberlain, from Chelmsford, watched the race last year, the competition's first year. "We loved it. It was a great family event. We looked at each other and said, 'Next year we're doing it.' "
At the halfway point this year, Chamberlain and Paul DeLuca's "Quack Attack," with a giant inflatable rubber duck on the front, was one of the leaders. "We were in first place and then we got passed," Chamberlain acknowledged. " 'Sweet Victory [aka Pastirachy]' came up on our left like speed demons."
"Out of nowhere," DeLuca concurred.
"It's all right, we're going to beat them in the water," Chamberlain predicted. (Um, it didn't quite work out that way.)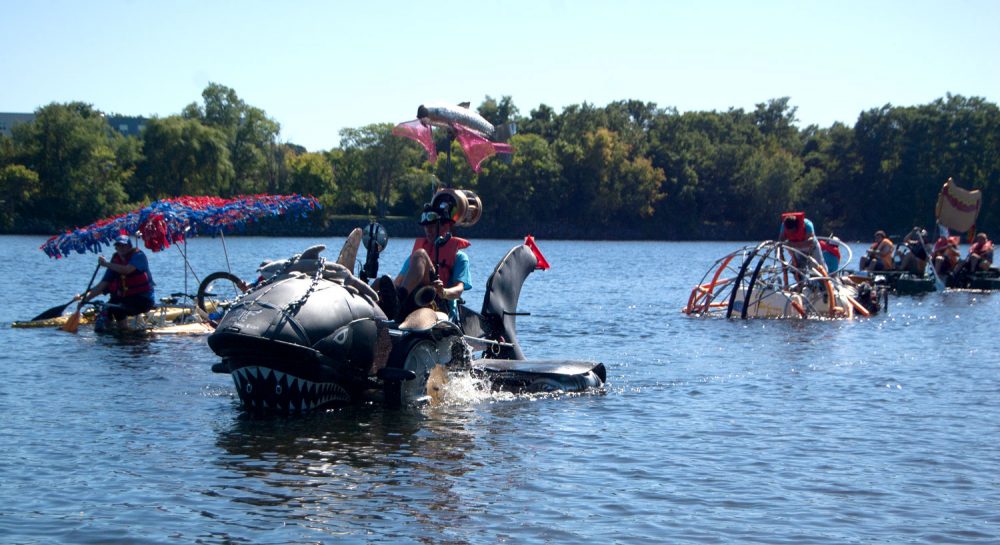 More than a dozen teams were signed up, including Pastriarchy's speedy "undersea cupcake," "Ice Cream Floats" by Action Nerds, "The Wurst" by students from Jemicy High School in Maryland, "Cheeseburgers in Paradise" by sixth graders from the Lowell STEM Academy and Jay Hungate's shark-shaped "Iconic Flying Fish," which passed other racers when they plunged into the Merrimack River.
"I think I passed three, but I'm not sure," said Hungate, of Lowell, who was competing for the second year. "It's a fish. It's meant to swim."
Just before the section in the river, "UnKarted" -- inspired by the iconic "Mario Kart" video game -- appeared to be in last place.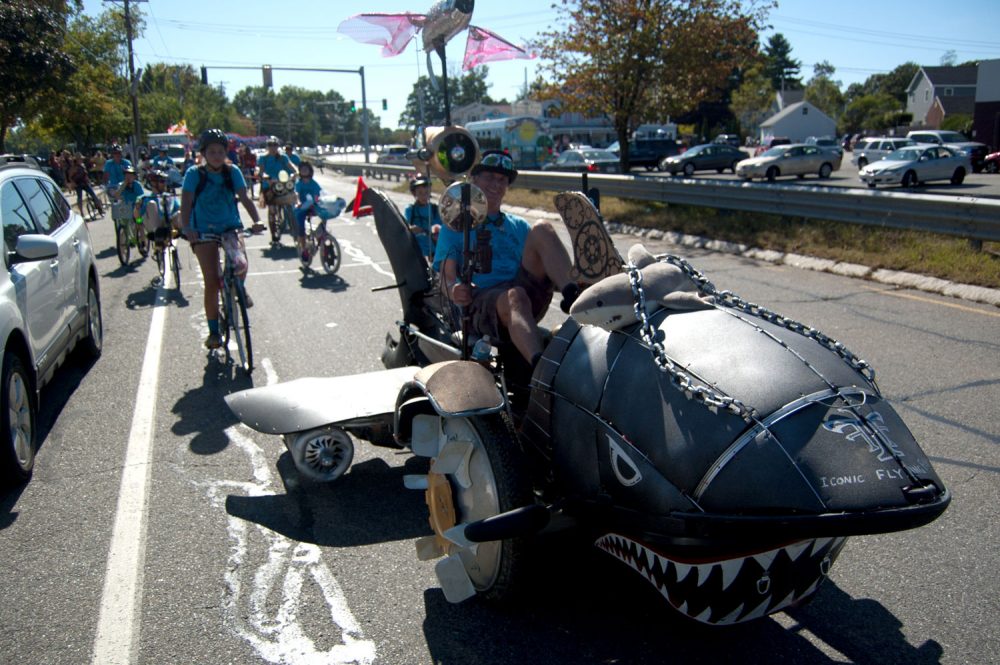 "We snapped our front tire in the mud. We had to replace it on the fly. It's been a day of adversity," said John Corey Luebbers, who was pedaling the vehicle with his girlfriend Lindsey Parker (the two of them costumed as the Mario Brothers) and a 6-month-old schnauzer-border collie-Australian Shepherd mix going by the name of Bob Barker. "He is the heart of the team," Luebbers noted. (Lisa Corkum also helped build the contraption.)
What's the secret to being last? "We're not in last. Someone broke down after us," Luebbers said, as a couple more vehicles limped up behind them.
So what's the secret to being third from last? "Ingenuity," Luebbers half joked. "A lot of help from friends and family. A lot of spite."