At The BSO, 100 Years Of The Joy Of Bernstein — And A Mere 87 Of Sondheim Everywhere Else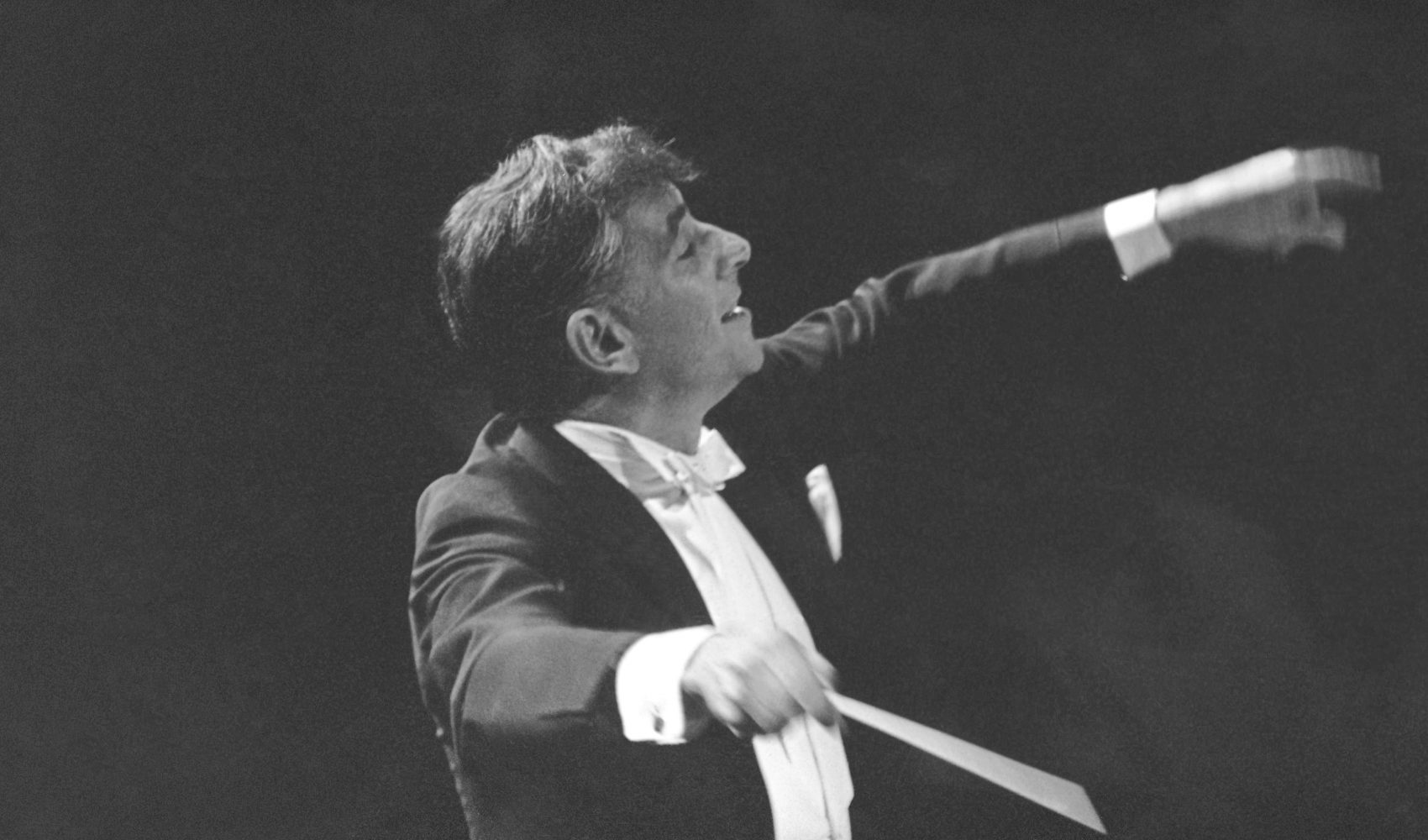 This article is more than 3 years old.
Is it Leonard Bernstein's centennial or Stephen Sondheim's? You might think it was Sondheim's given all the activity around his work in Boston and the Berkshires this year — a great "Company" at Barrington Stage over the summer followed by acclaimed productions of "Gypsy" at the Lyric Stage (through Oct. 8) and "Merrily We Roll Along" at the Huntington (through Oct. 15). Early next year, there's the Boston premiere of Sondheim's "Road Show," his latest (1999) back at the Lyric. Imagine the Sondheim centennial, 13 years from now.
Even Maria Friedman, in her enjoyably insightful one-night show at the Huntington, "Lenny & Steve: The Music of Bernstein & Sondheim," said that she had originally wanted to do an all-Sondheim revue, but was talked into adding Bernstein by music director/pianist Jason Carr, in part because Sondheim's collaboration as lyricist on "West Side Story" would be part of the program.
All good. I'm as taken with Sondheim's genius, particularly as a lyricist, as the next theater-goer and, when it comes to musical theater, Bernstein bowed out of the genre in favor of a wider embrace of classical music, which you can embrace yourself with a couple of comprehensive boxed sets from his principal recording partners, Sony and Deutsche Grammophon.
Still, this is Lenny's year and it was great to see him have the stage to himself as the Boston Symphony Orchestra began its season Friday night with an all-Bernstein program. If Sondheim had the greater influence on musical theater Bernstein had the greater influence on music as you could see with the through-line from musicals ("A Little Bit in Love") to light classics ("Divertimento for Orchestra") and on to the heavier stuff ("Halil"). (There's more Bernstein to come later in the season.)
Opening night emcee Frederica von Stade, who in her heyday was the best classical interpreter of Bernstein around, reiterated the Bernstein-Boston-BSO connection. He was born in Lawrence, went to Boston Latin School and Harvard, frequented the Pops and the BSO growing up, and was part of Serge Koussevitzky's first conducting class at Tanglewood, where Bernstein would return almost every year until giving his final concert there in 1990.
It's understandable that neither von Stade nor the program notes mention that Bernstein was also Koussevitzky's choice to succeed him, but the BSO went with the French conductor Charles Munch. While the choice doesn't say good things about the BSO in the late '40s, perhaps it's just as well. Had Bernstein become the BSO conductor chances are that the two great musicals "Candide" and "West Side Story" would never have been written.
It's equally improbable that Bernstein would have been happy with the provincialism of Boston Brahminism — Boston in general, for that matter back in the '50s. His love of living large shouted out for the big-circus joyfulness of "New York, New York." As Maria Friedman said, both Bernstein and Sondheim were "quintessential New Yorkers."
The BSO is a different kettle of conductors now, led by Andris Nelsons. Watching him conduct Bernstein's "Divertimento for Orchestra" and "Symphonic Dances From 'West Side Story' " underline how indebted he is to Bernstein's emotiveness on the podium, for better in my opinion, for worse in the judgment of others. (Many hated the Lenny Leaps and other forms of stylistic swashbuckling. I couldn't get enough of them.) Christa Ludwig said there was no joy in music for Germans and Austrians — until Lenny started conducting the Vienna Philharmonic.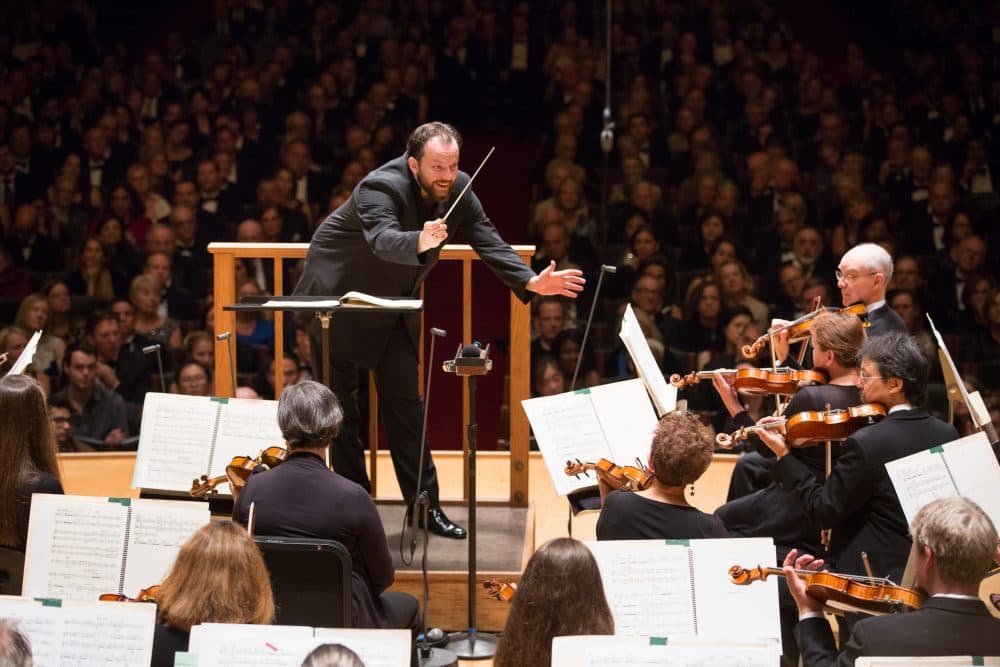 More important, Nelsons and the BSO brought a stunning sense of commitment to Bernstein's music. When Bernstein conducted the BSO, it seemed as if the players all leaned forward a little more, trying to match the passion from the podium. I'm not sure I've heard anyone conduct "Divertimento" and "Symphonic Dances" with the dynamism that Nelsons brought to Friday night's concert.
It's a shame that no one has been able to pick up where Bernstein left off as an educator. His legendary lectures on "Young People's Concerts" and "Omnibus," as well as his "The Norton Lectures" set a standard that no one has come close to. Part of the reason for that is the fact that classical music doesn't have the standing that it did in '50s and '60s America and part of it is that there were so few choices on television back then. Bernstein had a semi-captive audience. Still, attempts by Michael Tilson Thomas and Wynton Marsalis to teach music in a creative way on TV more recently don't have nearly the same pop.
But back to musical theater and Bernstein and Sondheim, whose collaboration on "West Side Story" might never be matched, with Bernstein's multicultural melodies and jazzy rhythms backed by Sondheim's awe-inspiring rhymes and lovely lyricism.
The difference between the two men centers on collaboration. Sondheim never really wanted to work with a composer; he wanted to write both lyrics and music. But it was impossible to turn down "West Side Story" and he also agreed to do "Gypsy" with Jule Styne. Sondheim became Sondheim when he wrote both lyrics and music, matching those superb rhymes to equally creative offbeat syncopations.
Listen to the time changes in the Huntington's "Merrily We Roll Along" as the cast of characters converge on Franklin Shepard, a not untypical Sondheim situation, forcing Franklin to come to terms with his past:
And listen to how the rhymes come cascading out of the music — or is it vice versa? — in "A Little Priest":
As both the BSO and Friedman's concerts reminded us, not that we needed the reminder, Sondheim wasn't Bernstein's only collaborator: Adolph Green and Betty Comden for "On the Town" and "Wonderful Town"; Richard Wilbur, John La Touche, Dorothy Parker, Lillian Hellman and Sondheim for "Candide"; Alan Jay Lerner for "1600 Pennsylvania Avenue."
I think musical theater would have been better off if it had followed the Bernstein collaborative model instead of the Sondheim auteur model, which worked for Sondheim so well, but led to the dreariness of modern musicals like Adam Guettel's "Light in the Piazza" and Michael John LaChiusa's "Marie Christine."
Fortunately, not everyone followed the auteur model as Barrington Stage reminded us this summer with its remarkable production of Lynn Ahrens and Stephen Flaherty's "Ragtime." And then there's the multi-hued composer Jeanine Tesori, who's written two of the best musicals of our time, "Caroline, or Change" with Tony Kushner as lyricist and then worked with another playwright, Lisa Kron, on the fabulous "Fun Home," which is coming to Boston Oct. 17-29.
There's the argument to be made on the auteur side of things with a little musical called "Hamilton," though it remains to be seen whether Lin-Manuel Miranda is — like Sondheim — sui generis, or whether his method is transferable to others.
Bernstein and Sondheim were similar in many ways, as Friedman made clear with Bernstein's "Take Care of This House" blending into Sondheim's "Children Will Listen." It was also clear that even at his saddest — the ending of "West Side Story" — there was something uplifting about Bernstein's work. And that even at his most ebullient, there is something depressive about Sondheim's. Just take the last three songs before the encores to see what I mean — Sondheim's "Losing My Mind" and "Send in the Clowns" and Bernstein's "Somewhere."
In an "American Masters" documentary about Bernstein, Sondheim talked about their differences, how he deferred to Lenny about the "Tonight" lyric "Today, the world was just an address." "I could barely put it on paper," said Sondheim, adding "Lenny liked … purple prose. He always wanted it to be fancier, I always wanted it to be simpler."
But Lenny was the Alpha for Sondheim — as well as for everyone caught under his spell. The main lesson for Sondheim? Lenny taught him, "If you're going to fall off the ladder, fall off a high rung."
Neither man did any less the rare times that they did fall. That they had so many pinpoint landings is more to the point. (And it should be noted that both the Lyric and Barrington Stage have done terrific Bernstein productions, as well, Barrington's "On the Town" even going to Broadway. Barrington Stage is doing a new production of "West Side Story" next summer.)
When you listen to their music the world — sorry, Steve — is always more than just an address.
This article was originally published on September 26, 2017.