5 Things To Do This Weekend, From Brass Bands And Beer To Forest Art
This article is more than 3 years old.
There's no dearth of fun to be had this Columbus Day long weekend (or Indigenous Peoples' Day weekend, as it is known in Cambridge). Mark your calendars for street parties, new work from the Boston Ballet, a dose of environmentalist art and a play that reimagines gender and history.
---
HONK! Festival of Activist Street Bands | Friday, Oct. 6 - Sunday, Oct. 8 | Somerville and Cambridge
Prepare for a brass band takeover at the 12th annual HONK! Festival — Somerville's greatest invention and its finest export, having inspired dozens of similar shindigs around the globe. The festivities kick off on Friday night with a lantern parade (you can even fashion your own mobile light source and join the march), continue on Saturday with a Davis Square-wide street carnival and culminate on Sunday afternoon in a raucous, rainbow-hued procession down Mass. Ave. (Here's my guide to HONK! all weekend and a look at the festival's activist roots.)
---
Oktoberfest | Sunday, Oct. 8 | Harvard Square, Cambridge 
Wouldn't you know it — the Harvard Square Business Association puts on a truly great party. Now in its 39th year, Harvard Square's annual Oktoberfest boasts six beer gardens, free music curated by Club Passim and, on the main stage, guest appearances from all the HONK! Bands.
---
BB@Home Series | Thursday, Oct. 5 and Friday, Oct. 6 | Boston Ballet Black Box Theatre
The dancers in the Boston Ballet are some of the best in the world, and they receive no lack of appreciation for their skills. But for two nights this week, members of the company will get to show off their choreography chops in six mini-premieres of new work. Audiences, in turn, will get a rare glimpse into the imaginations of these ultra-physical artists. (Read more about the program from The ARTery's Lawrence Knox.)
---
Hemlock Hospice | Saturday, Oct. 7 - Nov. 18, 2018 | Harvard Forest, Petersham
Did you know that the Eastern hemlock is slowly being munched into extinction by a tiny insect called the hemlock woolly adelgid? Well I didn't either, but Harvard Forest artist-in-residence David Buckley Borden has made it his mission to make art and conversation on this topic. His installation at the Harvard Forest invites visitors to contemplate the beauty of our native forests — and at the same time confront the forces that threaten them.
---
'Men On Boats' | Ends Saturday, Oct. 7 | Calderwood Pavilion in Boston's South End
"Men On Boats" tells the story of explorer John Wesley Powell's semi-disastrous quest to chart the Colorado River in 1869 — with a cast made up entirely of woman, genderqueer and transgender actors. The play, which aims a gentle ribbing at the whole concept of manifest destiny, is at once hilarious and profound. (Read more about the creation of the play.)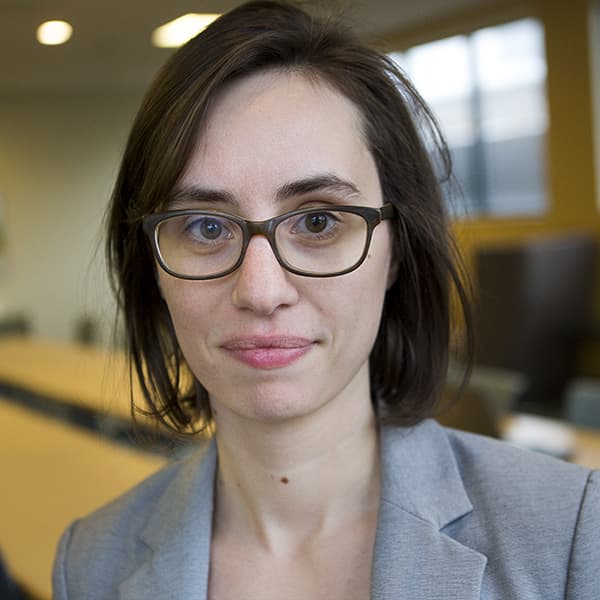 Amelia Mason Arts And Culture Reporter
Amelia Mason is an arts and culture reporter and critic for The ARTery, WBUR's arts and culture team. She covers everything from fine art to television to the inner workings of the Boston music scene.