Lion's Jaw Is 'Not Just A Festival For Dancers To Come Dance'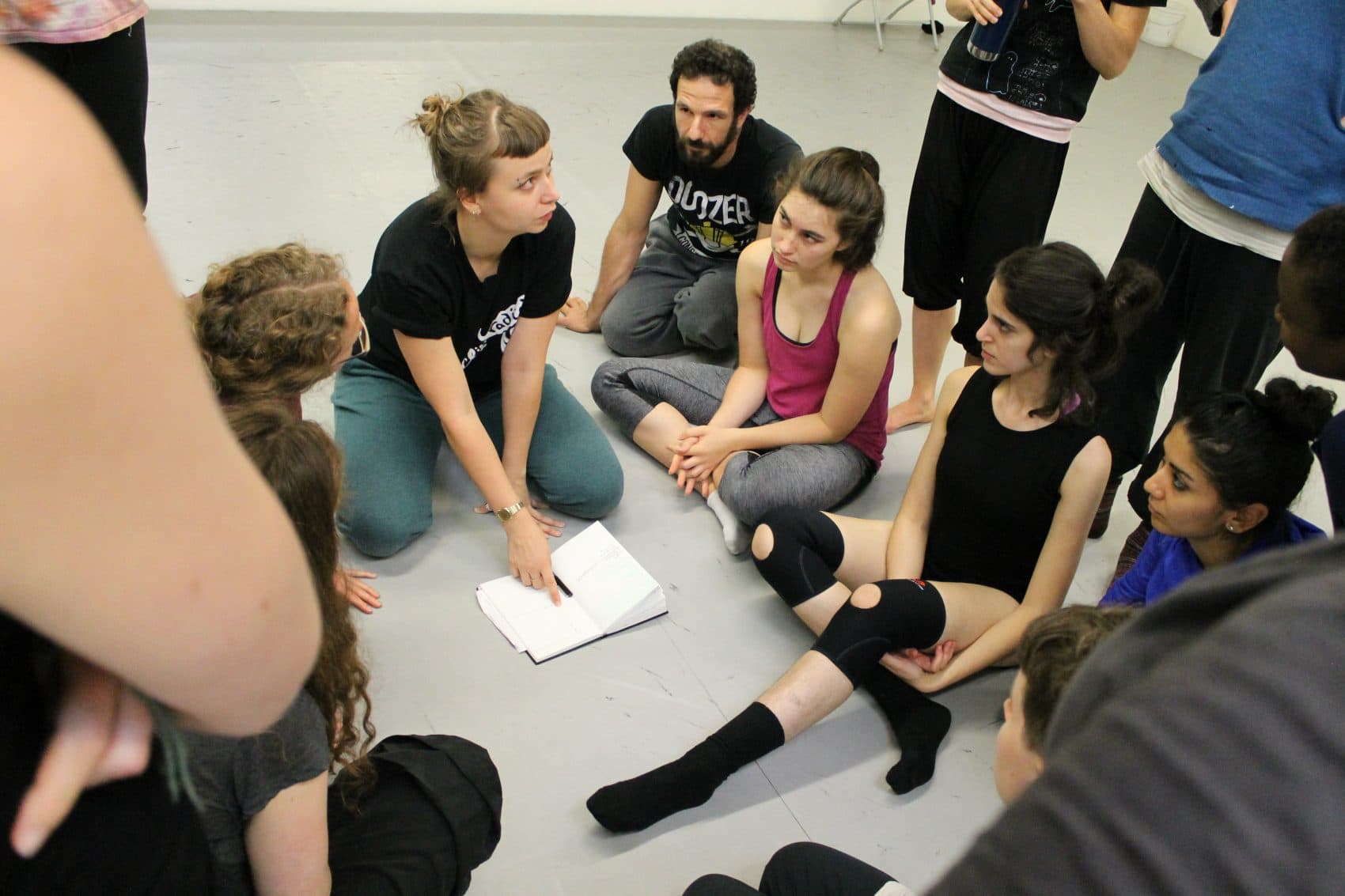 This article is more than 3 years old.
Dancers have come from as far as Seattle and as close as Cambridge to be at Green Street Studios this week for the second annual Lion's Jaw dance festival. A creation of Boston's New Movement Collaborative, Lion's Jaw is a mash-up of a festival and a think tank aiming to disrupt both the artists and the audience's expectations.
New Movement Collaborative, the 2015 brain-child of Sarah Mae Gibbons and Jared Williams, is a collection of rigorous training opportunities, community building, mentoring and research with the mission of turning Boston into a training ground for dance artists. Its banner project, Lion's Jaw, creates work and classes that very intentionally teeter between experimental and strange.
Over the course of five days (Wednesday, Oct. 4 through Monday, Oct. 9), participants are encouraged to move through the interdisciplinary workshops outside their comfort zones, take intensives and labs, and attend performances on Friday and Saturday evening, all made accessible for any level of experience.
Each session is also open to the public.
"This is not just a festival for dancers to come dance."

Sarah Mae Gibbons
"Anyone can attend," says Gibbons, who has an extensive history of performance and dance administrative roles throughout Boston. In addition to dropping in to take a class (for a small fee), "you can be a passive observer to the performances, there's a talk hosted at the ICA, this year we have a book project asking the audience and participants to [reflect]. It feels like a fun way of engaging the community and reaching out to people who don't think they're artists.
"This is not just a festival for dancers to come dance," she adds.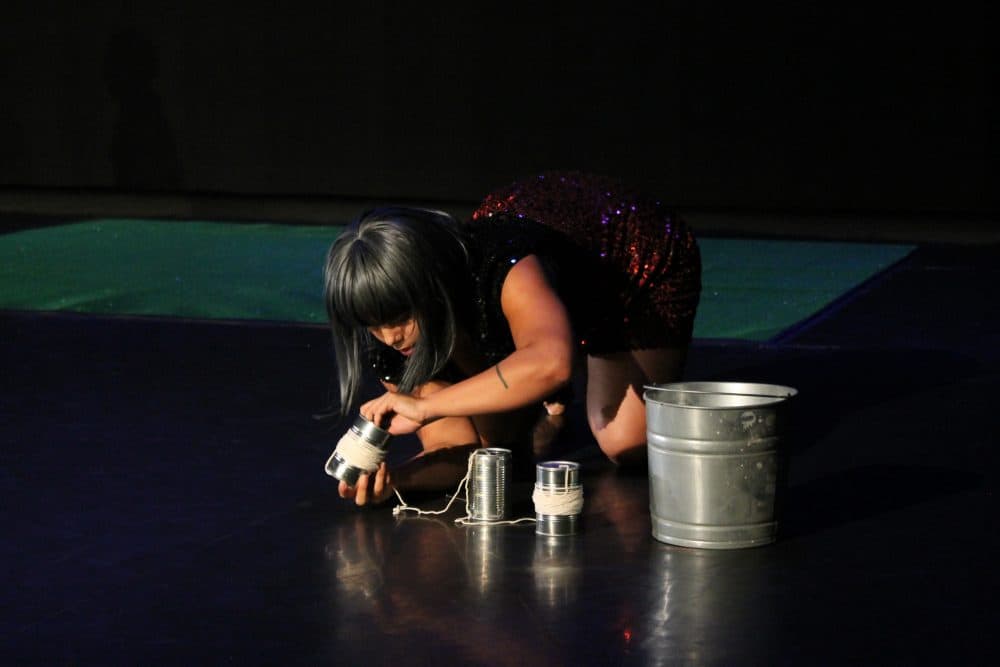 Experimentation and positive disruption are key aspects of Lion's Jaw's execution — much of the focus is on changing the expectations of dancers and audience, and making new connections.
"For at least half [of my participants] I hope to unsettle what dance is, what to expect, and what it can be used for," says Keith Hennessy about the purpose of his four-hour intensive held Thursday through Sunday mornings. Hennessey, one of the festival's headliners, is an award-winning artist who tours across the United States and internationally, and is also a published dance scholar.
"It's kind of like an incubator," says Joy Davis, associate professor of dance at the Boston Conservatory and Lion's Jaw teaching artist. "It's really trying to stir up what's underneath the surface in an honest and rigorous way."
One piece that's underneath the surface is the frustration from which the New Movement Collaborative, and by extension Lion's Jaw, was born. A commonly cited critique of Boston's dance community is its separation into various hubs — many of them, including Lion's Jaw, in Cambridge — with little communication between them and little national presence. The Boston Dance Alliance has also worked to bridge these gaps, and is one of Lion Jaw's partner organizations.
"There's so much dance here, so many different kinds of dancers really committed to their practice," says Davis. "But what tends to happen I think, is it's really sprawled out, and because everyone is so dedicated to their practice there tends to be less of a community effort."
For Gibbons and Williams, this insular environment was prohibitive to the kinds of training and material they sought.
"[We were] frustrated living and working in a city that even though there were talented artists was lacking in communal rigor, [and was] disconnected from the national conversation," says Gibbons.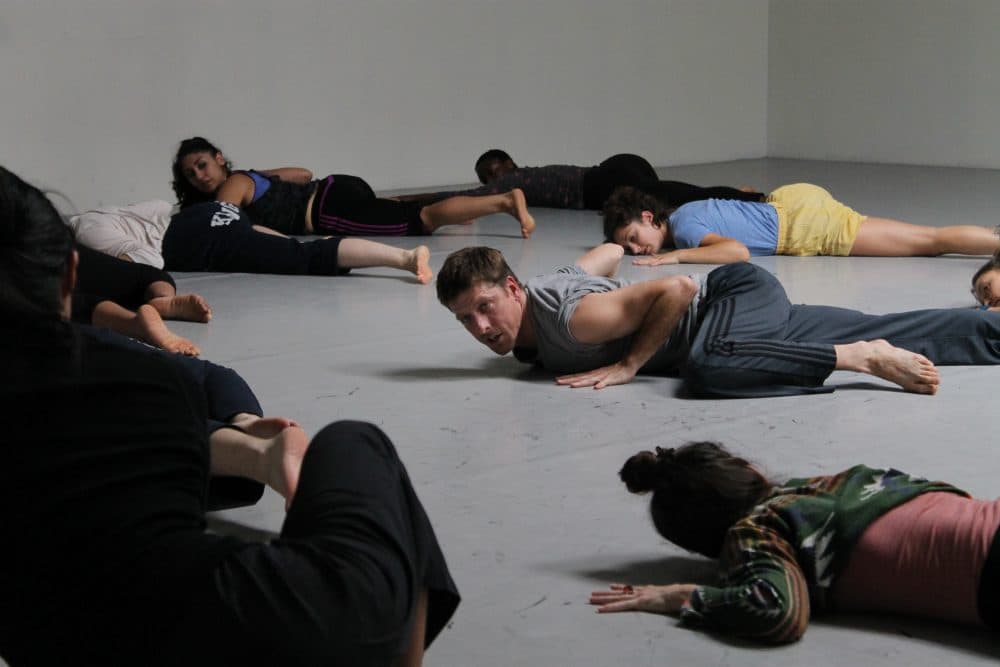 New Movement Collaborative's original programming aimed to start chipping away at what Gibbons and Williams describe as artistic isolation. This second production of Lion's Jaw is effectively the big swing.
"We want to try and bust open people's ideas," says Williams, "to create a container that is peer-based. We want people to say I'm a working artist and you're a working artist and we're going to share work."
Pragmatically, as young dancers work alongside seasoned professionals, he adds, "It's also a great way to promote networking."
The work featured at Lion's Jaw is experimental, and can be deliberately difficult to understand. The teaching artists were invited specifically for their ability to foster this sense of questioning and uncertainty, and achieve the "disruptive" goal of the festival.
"Art isn't always meant to be spoon-fed," says Gibbons.
"Art isn't always meant to be spoon-fed."

Sarah Mae Gibbons
The 12 teaching artists selected offer a wide range of perspectives and experiences, and cross multiple generations. Some are local professors like Davis, others, like Hennessy and the second intensive teacher Ishmael Houston-Jones are nationally acclaimed performers and scholars, and some work more predominantly in music or writing.
To fully engage the diversity of the teachers, Gibbons and Williams did not ask them to prepare a specific class, but to teach whatever they were interested in at that moment.
"One of the great things about Lion's Jaw is they said, 'Hey, try something new, try something experimental' -- they're not trying to fit me into a slot," says Lailye Weidman, an associate editor at the dance magazine Contact Quarterly published out of Northampton, Massachusetts, and an independent dance artist. Her class focuses on dance writing not only as an after-the-fact review or interview, but also a part of a dance practice.
"A lot of people come from different backgrounds, and I value that in a festival that wants to bring people together — creating a community and sharing all the knowledge you can to people who don't always have the means or access," says Alfonso Cervera, a young associate professor and choreographer at Riverside City College in California. Cervera is one of four recipients of Lion's Jaw's James K. Spriggs scholarship, which helps to fund his travel and participation.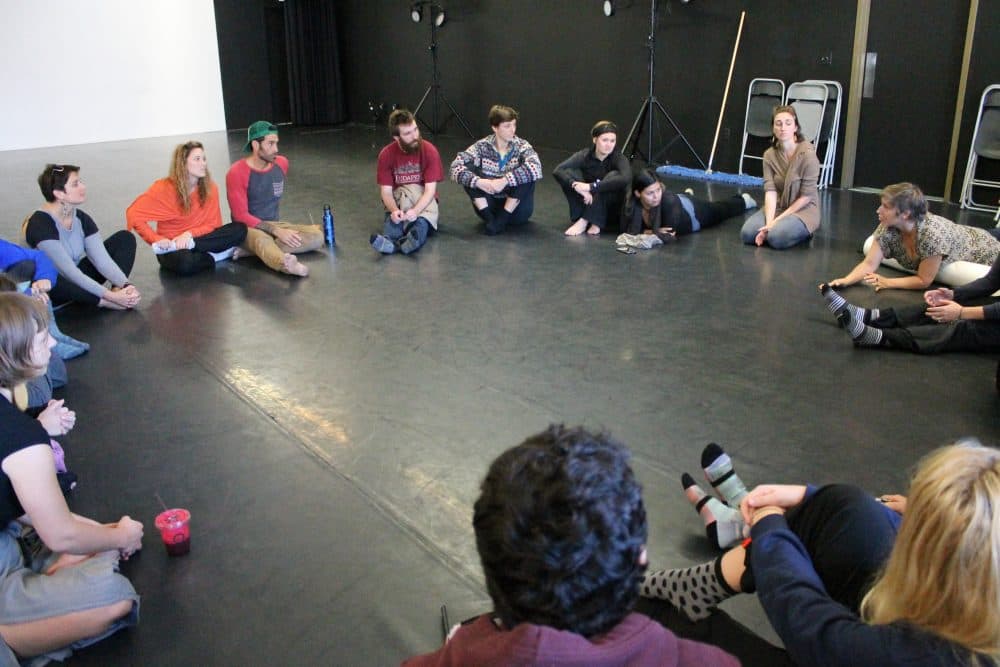 It is a tall order for both dancers and audience — particularly their intended new audience — and Gibbons and Williams acknowledge it's not a perfect system. They are asking people to try something that at times may be strange, to watch something unexpected, and be almost guaranteed to not immediately understand it. One of the classes, for example, is learning how to do a mosh pit, and Alice Gosti, an Italian-American teaching artist, was frank at the orientation meeting on Wednesday that she doesn't know if it will work.
"A mosh pit class — is it possible? I don't know. Is it correct? I don't know. But it ends with a 10-minute mosh pit," says Gosti.
"It's not going to be for everyone, we recognize that as a reality," says Williams about the experimental heart of the festival. "We want everyone to come [and see this], but we understand it's not everybody's cup of tea."
That is the difficult part about working in dance at all. "It's already so abstract," says Davis. "There has to be an education for the audience to learn how to watch dance and be OK with not knowing what it means."
With ambitious goals and an extensive body of work, there is also confidence and hope that new audiences will be open to it. Davis is encouraged by the breadth of the artists at Lion's Jaw, thinking it will draw a broader spectrum of other artists and attendees, and in turn reach a wider audience. She also thinks that particularly in Boston, it's important not to underestimate the audience.
"I really think it comes back to having spaces and being open and brave enough to show up to something and not understand it."

Sarah Mae Gibbons
"If we can give the audience a clear enough space for them to relate it to their own lives, to draw seemingly disparate ideas together, might that be a little more interesting than being told what to think?" says Davis.
For Gibbons and Williams, space to create and to think is the point of what they do.
"I really think it comes back to having spaces and being open and brave enough to show up to something and not understand it. And I think that says a lot about us as a culture," says Gibbons.
---
Lion's Jaw runs from until Monday, Oct. 9 at Green Street Studios in Cambridge.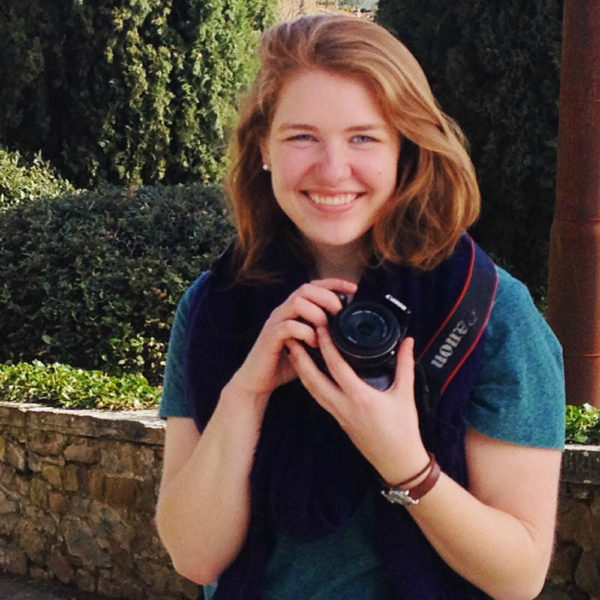 Hannah Chanatry All Things Considered Senior News Writer
Hannah Chanatry is WBUR's senior All Things Considered newswriter.