New Rep's 'Oleanna' Shows How Much Conversation On Sexual Harassment Hasn't Changed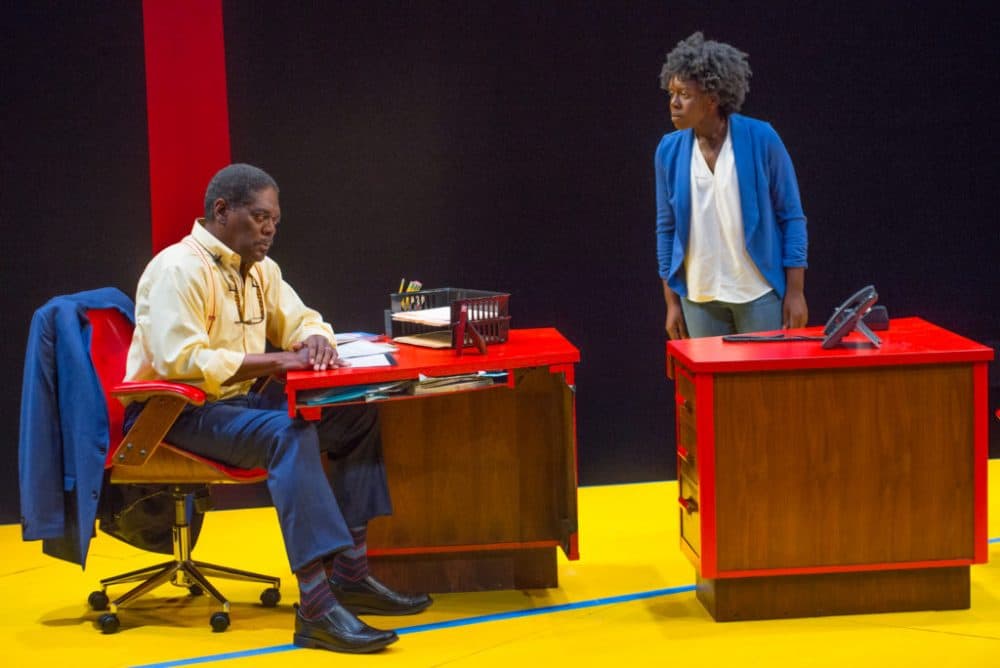 This article is more than 3 years old.
A fierce and fiery production of "Oleanna" is now onstage at New Repertory Theatre, written by David Mamet and directed by Elaine Vaan Hogue.
I remember seeing this explosive kernel of a play in its world premiere in Cambridge in 1992; it starred William H. Macy and Rebecca Pidgeon (Mamet's wife) and was the first production of the fledgling Back Bay Theatre Company led by Mamet and producer Patricia Wolff at the Hasty Pudding Theater. At the time, their intentions were to "involve the community in discussion." Mamet has since changed his tune and now has contractually prohibited the theater from hosting post-performance talkbacks. Too bad: Time has reinforced the relevance of Mamet's still provocative play. Prepare to argue after seeing.
All the action takes place in professor John's (Johnny Lee Davenport) office where his student Carol (Obehi Janice) approaches him unannounced to ask for help with a course he's teaching that she does not understand. The professor is continually interrupted by phone calls from his wife who's trying to close a real estate transaction that is hooked to her husband imminently receiving tenure. The encounter escalates, scene by scene into a violent confrontation where the student accuses the professor of sexual harassment. The play's title begins to make some sense here, ironically referring to the name of a Norwegian folk song about a Utopian American settlement.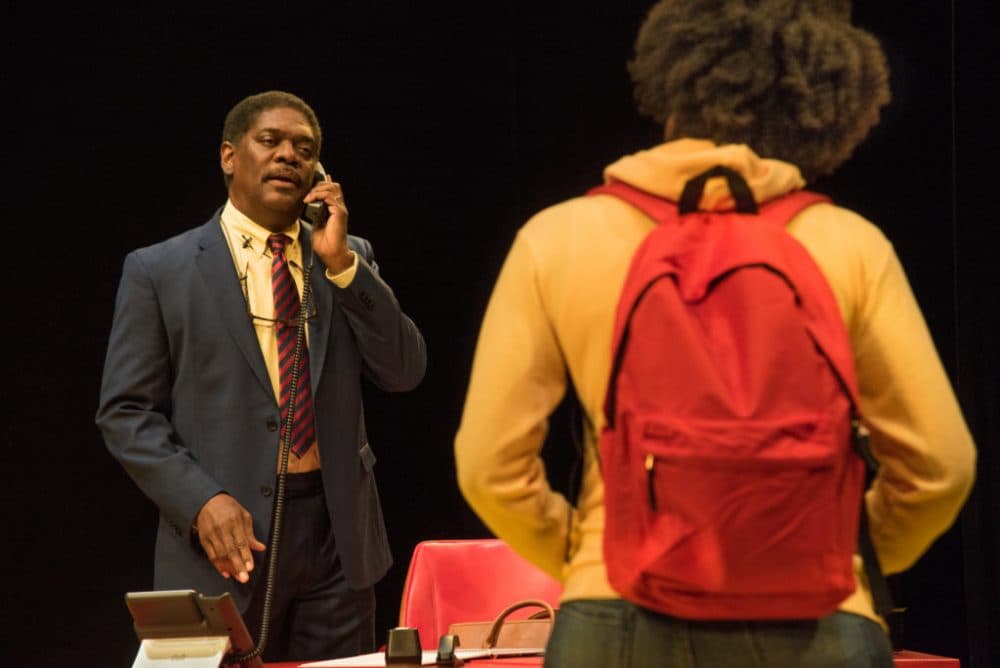 It's clear the student's accusations are extreme, and her manipulation of the facts, diabolical. In 1992, I saw the professor as presumptuously concerned with protecting the fruits of the patriarchy — his new property and his tenure — and deserving of his punishment at her hands as comeuppance for his patronizing complacency. The student who initially declared herself "stupid" and uncomprehending of the professor's book and ideas, emerges in Act 2 as an acute verbal warrior, wielding "the facts" as weapons to skewer the man in charge. The professor was perceptive enough to surmise her percolating anger, but underestimated her fury.
The 2017 production resonates somewhat differently. Davenport seems paternalistic and almost doddering, an absent-minded professor more oblivious than calculating as either a sexual predator or a smug intellectual. The actor may not have been in full possession of his lines the evening I saw him, and/or he and Janice hadn't quite mastered "Mamet speak" — the overlapping snap, crackle, pop of the playwright's stops and starts, a challenge for any actor. This had two effects — it was distracting and it made me feel sorry for the professor who was gradually annihilated as Carol sets on him like a rabid dog, eyes bulging, spitting with rage.
The single, primary-colored set is simplicity itself, until it starts to rotate scene by scene, and come apart with every twist in the interaction and shift in the balance of power. The student becomes the master, but she's warped the language to do it. The play is not really about sexual harassment at all; that's simply the way she's framed her anger. It's about power and the way in which language is used as a cudgel to assault. Can facts lie? Who sets the agenda? I hung on every turn, and once these performances settled in, I was gripped.
Prophetically, in 2017 rampant sexualization and political correctness, have both run amok. Mamet's play seems to highlight the dangers of ideological warfare and the human collateral damage. This play has little to do with literal sexual predation but everything to do with the blind manipulation of power. Is her rage justified? Has he violated her boundaries? Is he a victim of his own making — or hers?
"Oleanna" debuted in the fallout of the Clarence Thomas/Anita Hill sexual harassment hearings (though Mamet began writing it earlier); it now pops up in the middle of the toxic spill of the Harvey Weinstein scandal. Not enough has changed, and this play remains a barometer of what and how we communicate as well as the dangers of overlooking the simmering anger of the still disenfranchised. We're a long way from the utopian "Oleanna," but the play remains an insightful and incendiary cautionary tale.
---
"Oleanna" continues at New Rep Theatre through Nov. 5.
Joyce Kulhawik Contributor, The ARTery
Joyce Kulhawik, best known as the Emmy Award-winning arts and entertainment critic for CBS-Boston, is the president of the Boston Theater Critics Association.