Brian Blade Drums Into The 'Improvisational Chasm' With His Fellowship Band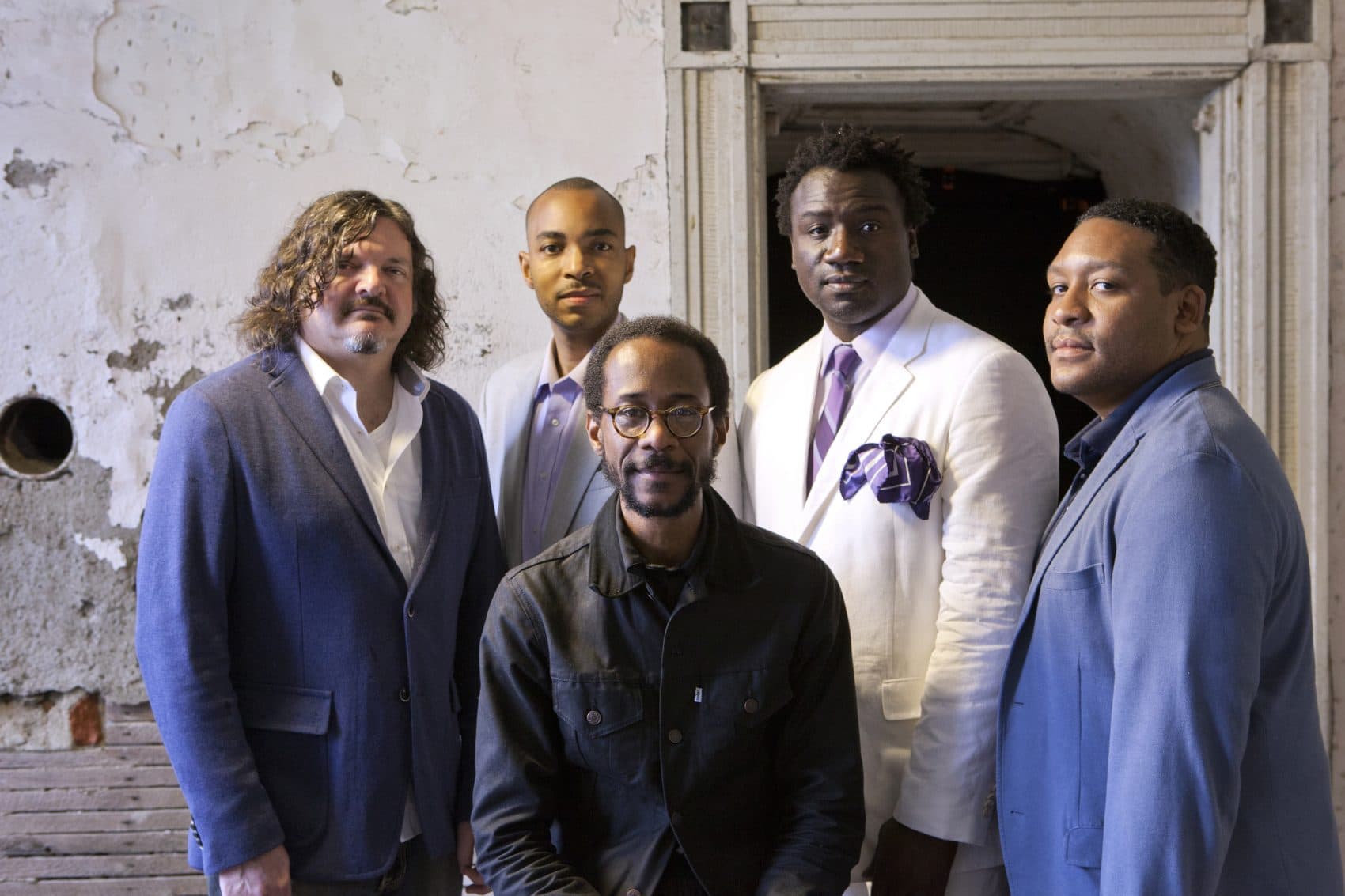 This article is more than 1 year old.
Drummers typically stay behind the scenes in American popular music. You wouldn't think of them coming out with a singer-songwriter album, or starting a band whose sound is an inventive blend of jazz, folk and gospel. Brian Blade might be the first call for Joni Mitchell, Wayne Shorter, Norah Jones and many others, but he has also established himself outside of this supportive role as a songwriter, bandleader and innovator.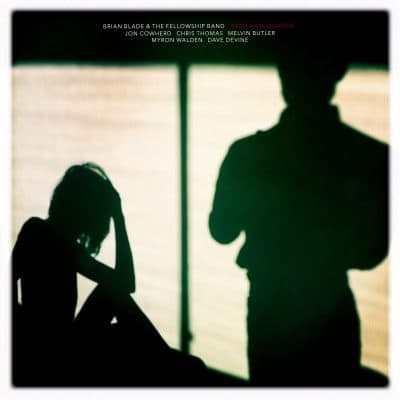 Brian Blade and the Fellowship Band will be at Scullers Jazz Club on Friday, Nov. 10. The core band members — Jon Cowherd on piano, Melvin Butler on tenor and soprano sax, Myron Walden on alto sax, Chris Thomas on upright bass and, of course, Blade on drums — have been together for 20 years. Their fifth album, "Body and Shadow," will be released on the same date of the Scullers performance, a kind of informal release show.
A sense of fellowship and community within the band comes through in the music that draws attention to sonic subtleties. The unison melody on "Within Everything" from the new album takes up most of the track. The focus is not on burning solos, but a sense of togetherness and a texture comprised of soft sounds like breathy saxophone and pillowy cymbal crashes. The musicians are playing their instruments with lightness and tenderness, propelled by Blade's consistent but gentle time feel.
I spoke with Blade about how he developed his conception of jazz and the Fellowship Band. Here's our conversation (lightly edited):
Your music is usually characterized as "folk" or "folkloric" jazz. Do you agree with this description? How do you talk about your music?
Brian Blade: Folkloric — it's hard for me to really label it as that, although I would agree with it in the sense that we play songs that well up from my spirit, and from Jon Cowherd's spirit, and from the band's collective spirit. It draws on a gospel that I grew up hearing, blues and other music that might be considered folky. There's definitely an improvisatory spirit encapsulated in it all, so it's our brand of jazz, or our brand of instrumental songwriting.
I love taking some familiar things from my upbringing, like hymns that I grew up hearing, and render those with the band to continue these songs for my generation. To me, they still speak to the heart, they haven't gone out of fashion. If they were ever popular songs is not a matter for me to question or to decide, more so, it's what touches me and what I feel is relevant to me that I want to share.
You mentioned that you were exposed to a lot of gospel in your upbringing. How does that experience influence your life and the way you play drums today?
It's the bedrock, or the foundation on which everything else has been built. Every other experience has come after my starting to play drums in church when I was 13, and before that, my brother playing drums in church, and my father is still the pastor of that church now for 56 years.
That community of people has impacted my life. I feel like no matter where I play or with who I play — a dive bar or a concert hall — it's still church, it's still that. I take it with me into every situation and I'm hopefully bringing the thing that's needed to that particular circumstance, to make the thing go higher and to serve the song. I'm so thankful to the individual bandmates that I've spent 20 years together with now, we all share this love of melodic and harmonic storytelling and this improvisational chasm that we can step into and take off with wild abandon. Kind of like in service, there are emotional moments, and scriptural basis, but then there's this extemporaneous fire that comes from that divine inspiration.
I like the description "improvisational chasm."
Hopefully people feel invited into the sonic space that the songs present, and we can take a trip together.
Twenty years is a long time. How have your relationships with the other band members developed in that time?
Jon and I met when I moved to New Orleans from Shreveport, my home town in Louisiana, to study at Loyola University. Meeting Jon was the birth of the band — this was roughly 10 years before we released a record and eight years before we all came together as a band, but meeting him was foreshadowing the genesis of the fellowship band. He was my inspiration to begin writing. At that time, Jon was always composing and we'd play together, just the two of us. He gave me that spark and an opportunity to share with someone so closely. It continues in that way today. The same with Chris Thomas, he moved to New Orleans in 1989, and to this day, we still share our lives together.
It's immeasurable, all that time spent getting in the van, walking on the stage, going to the café — just everyday life. It all adds to the story. With Myron Walden and Melvin Butler, I met Melvin in '93, '94 roughly. Betty Carter was hosting a celebration of young musicians she called Jazz Ahead, and Chris Thomas at the time was in her band. I was visiting him, and just by association she invited me to be part of this gala concert at Brooklyn Academy of Music and Melvin Butler was one of those musicians. Certain times, people come through your life or you pass through their life and you don't know if it's just for one reason, or a season, or a lifetime. But if you can acknowledge that person as being someone who can say, "OK, I recognize there's something here." You follow it, and you don't know what's going to come with the future, but you try, and here we are still standing together and making music. I'm really glad about that.
You have such an easygoing, thoughtful personality. Do you think that translates to your playing at all?
There's an illustration that Wayne Shorter talked about using on an improvisation for some recording of Joni Mitchell — I feel like that duck on top of the water and it's calm, but underneath there's fire and rebellion. I suppose I lean towards things being calm on top of the water, but hopefully keeping the wheels churning below so that we can all move forward at the same time. It's difficult to not get anxious and concerned, as we all have to, but our desire is to go higher. It challenges parts of ourselves, parts of our character, of our patience and sometimes you have to find that balance of keeping the piece but also starting fire. That's a constant challenge for me.
Tell me about your relationship with Joni Mitchell.
She's probably my greatest hero. I got my driver's license at 16 and a dear friend at that time here in Shreveport, Louisiana, gave me two cassettes to take with me in my Volkswagen, going to and from school. One of those cassettes was "Hejira," the Joni Mitchell album, and the other was "Mingus." I think I put in "Hejira" first, and immediately it spoke to me. This lady and these songs — it put a hook in me really fast and it got deeper and deeper. Then, I had to have all the records that preceded that and then coming to the present day. After I moved to New Orleans, and working with another dear friend and champion, Daniel Lanois — he invited me to be part of a project he was working on, and through him, I met Joni. Certain things you don't see coming, that's for sure. It's deep to feel as if, in some way, it was an intervention and these two cassettes were saying, "Here's the future, coming at you. Let's listen, and maybe we can actually be ready when the time comes." It's one of those beautiful things in life for me.
Brian Blade and the Fellowship Band with Joni Mitchell:
This idea of storytelling keeps coming up in our conversation and I've noticed that a lot of your songs have a narrative quality to them. What is your relationship between storytelling and songwriting?
They're essentially all these snapshots. Remembering songs, observation songs. In my own life, I've asked myself these questions: Why something is; what does a situation require of us; what's the remedy for something? Often for myself, just to quiet the chatter, I start writing words or I start writing music and it helps to have the moment be encapsulated, at least have the picture framed and allow me to move on to another one. Once a song exists and you've released it, so to speak, not like the record has come out, but you let it go and share it with someone else — there's a great therapeutic reward in that selfishly. But then selflessly, hopefully it speaks to someone else's life like, "Yeah, I feel that to" or, "I've been there" or, "I hear what you're saying." Hopefully it can resonate beyond yourself.
---
Brian Blade and the Fellowship Band perform at Scullers Jazz Club on Friday, Nov. 10.
Claire Dickson Contributor, The ARTery
Claire Dickson is a jazz vocalist and writer studying at Harvard College.