13 Art Exhibitions To Check Out Over The Holidays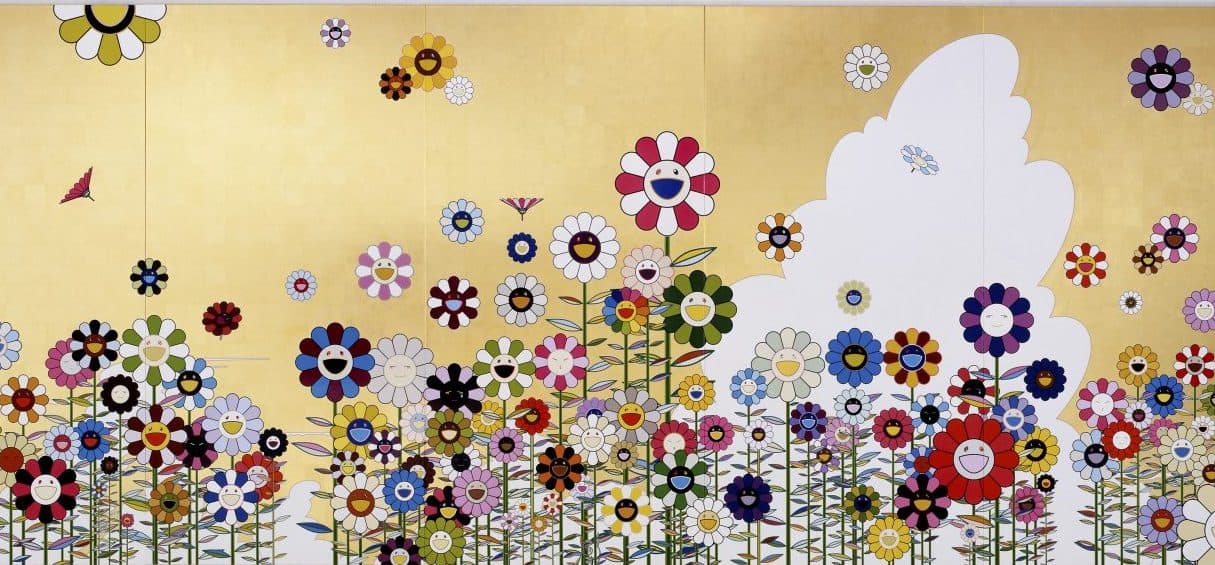 This article is more than 3 years old.
With the onslaught of holiday gatherings and performances, there's a certain relief that stepping into a gallery can bring this time of year.
Whether you've finally got some down time, or if you have friends and family to entertain, here are a few exhibitions in the area worth checking out. (Be sure to check the hours with the museum before you head out, as many have shortened hours through the New Year.)
Museum of Fine Arts, Boston
'Takashi Murakami: Lineage of Eccentrics'
One of the walls in this exhibit reads: "If you don't share a photo from this exhibition, did you really visit?" If you could look over the multiple requests to take fellow visitors pictures, this exhibit is whimsical — and fascinating. Murakami's contemporary colors carpet the floor; works of Japan's past line the walls.
The exhibit is also a testament to the friendship — and challenges — between the artist, known for his anime-like creations, and older Japanese art historian Nobuo Tsuji. Murakami reportedly painted "Dragon in Clouds — Red Mutation" (a take on Soga Shōhaku's 1763 work) in annoyance in just 24 hours after Tsuji told him, "Why don't you paint something yourself for once?"
You probably know when you're looking at a painting by Mark Rothko — the big bold blocks of color on even bigger canvas are pretty distinctive. But have you really, really looked? This exhibit challenges visitors to spend one whole minute staring at a single painting by the 20th century artist. That's right, one minute — no checking your phone. Go ahead, I dare you.
Whether it's the family you're born into, or the family you make for yourself, there's never been one way a family is supposed to look. Photographs dating back through the 19th century at the MFA make that abundantly clear. My personal favorites: a set of photographs from "Boston marriages" in the early 1900s, a self-portrait Julie Mack took of her family in the car and a big Polaroid taken by the iconic Elsa Dorfman.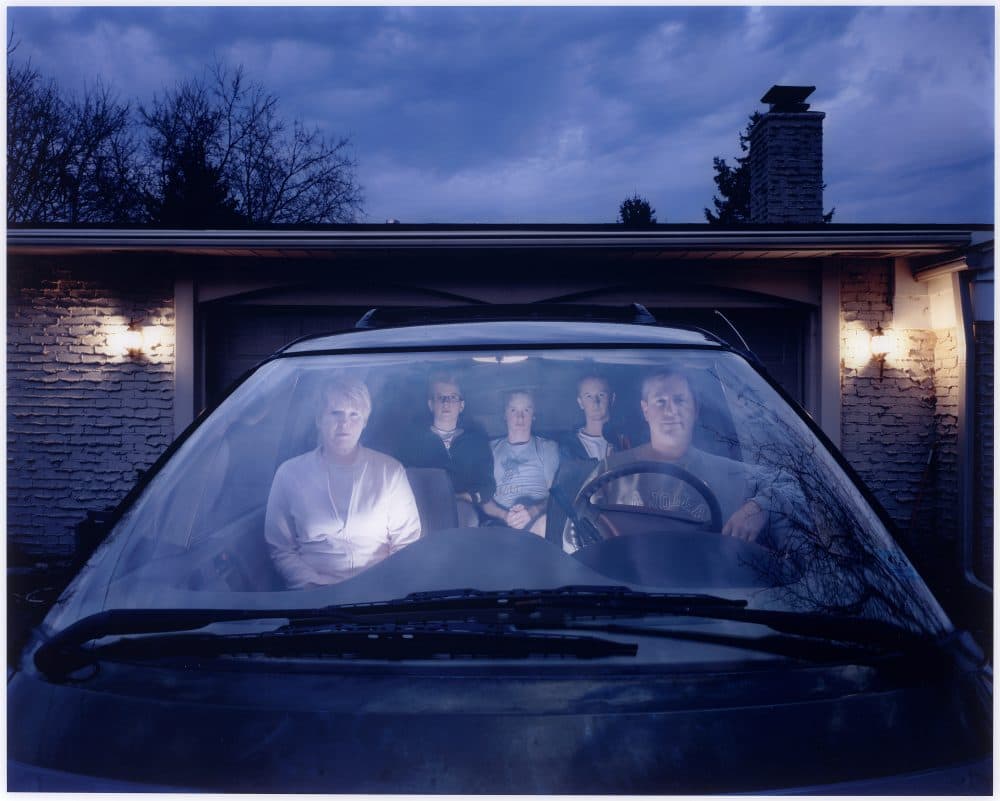 ---
Institute of Contemporary Art, Boston
There's nothing like a little science experiment at an art museum to remind you that everything is interconnected. Artist Evelyn Rydz wants visitors to think about what effects we're having on the world around us — specifically, right outside the museum in Boston Harbor.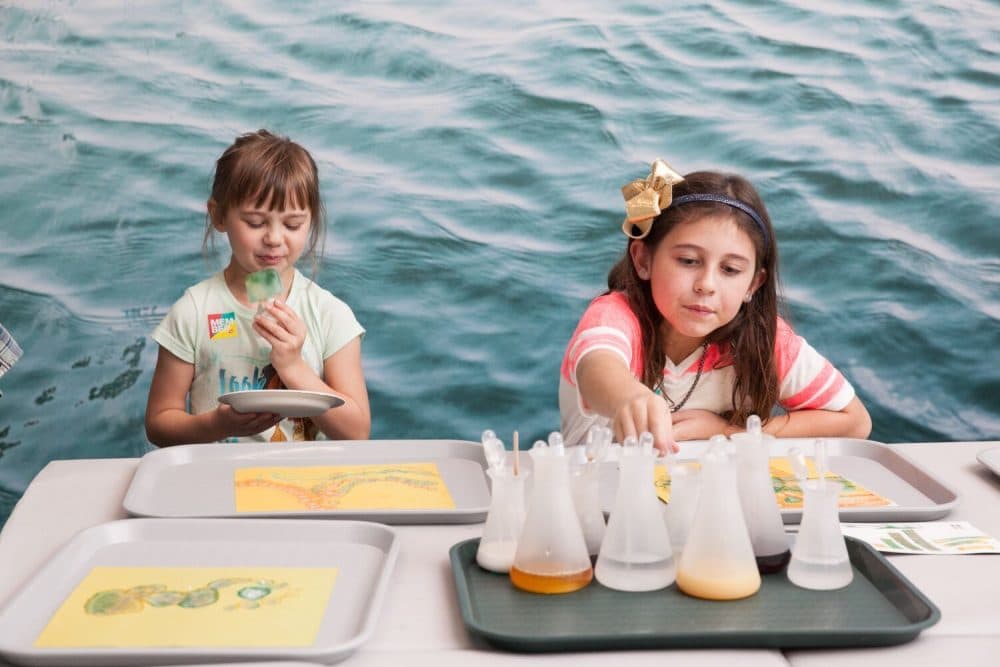 'Mark Dion: Misadventures Of A 21st-Century Naturalist'
It might be too cold for a walk through the woods, but Mark Dion's collections are the next best thing. Exploring our created environments, Dion's gathering habits give insight into our relationship with nature.
---
Peabody Essex Museum, Salem
'Georgia O'Keeffe: Art, Image, Style'
The feminist pioneer of American modernism was also a style icon, unrecognized in her time. This exhibition focuses on Georgia O'Keeffe's artistic vision holistically — not just her paintings.
'XYZT: A Journey in 4 Dimensions'
If you've got kids getting antsy at home during the school break, this could be a good exhibit to stretch the legs. Ten digital installations at PEM respond to your movement — exploring the relationship between bodies and space.
---
Worcester Art Museum
'Rediscovering an American Community of Color: The Photographs of William Bullard'
William Bullard's photographs of early 20th century Worcester were tucked away on a shelf for decades until retired history teacher Frank Morrill bought them in 2003. Since, he's been trying to track down the family members of the subjects in the portraits to tell the stories of a little-known community of African-Americans who moved there from the South in the decades after the Civil War.
---
Gallery Kayafas, Boston
Forty years ago, Jack Lueders-Booth began teaching photography to the women at Massachusetts Correctional Institution, Framingham. He spent seven years documenting oral histories and taking portraits of the women there.
In notes about the exhibition, Lueders-Booth writes: "What repeatedly drew me to this prison ... was a fascination with, and a fondness for, the women themselves -- the profound sadness of their lives, their persistence in asserting values of their own derivation, and most remarkably, their ability to find hope, and even optimism, in the seemingly impossible, and against the worst of all odds."
---
Fuller Craft Museum, Brockton
'Gender Bend: Women in Wood, Men at the Loom'
Perhaps our culture isn't past the binary just yet. This exhibit gives us a minute to reflect on why our culture assigns activities to certain individuals, while highlighting the work of people who are overlooked in their trades because of their gender.
---
Isabella Stewart Gardner Museum, Boston
'Henry James and American Painting' 
I've stopped being surprised when I hear stories reflecting what a small town Boston can be. Apparently that's been true for many years now. This exhibition brought to the Gardner Museum gives us a glimpse into the friendship between Boston's best known art collector Isabella Stewart Gardner and American author Henry James. It also stands as a reminder of how much the world is shaped by relationships — James introduced Gardner to John Singer Sargent and James McNeill Whistler, both of whom became significant aspects of her collection.
---
Harvard Art Museums, Cambridge
'The Art of Drawing in the Early Dutch Golden Age'
There's been a lot of attention on the Dutch masters in Boston this year — with a few major collectors giving work to the MFA and Harvard Art Museums. The 17th century work, mostly drawings, can teach us a lot about the medium and the divergence of high and low genres.
---
MASS MoCA, North Adams
'James Turrell: Into The Light'
MASS MoCA's massive new building, which opened this past spring, brings nine of James Turrell's artistic experiences. A major player in the California Light and Space movement, Turrell creates work that takes a minute — or a few — to really sink in. The space he works with pushes the limit of your perception. On his website, Turrell aptly describes it: "My work has no object, no image and no focus. With no object, no image and no focus, what are you looking at? You are looking at you looking."
There are plenty of other exhibitions to see out in North Adams — more than you could in a day. Building 6 brings the work of preeminent contemporary artists like Louise Bourgeois and Laurie Anderson and Robert Rauschenberg: