With Powerful Women Behind Her, Kesha Wows At Grammys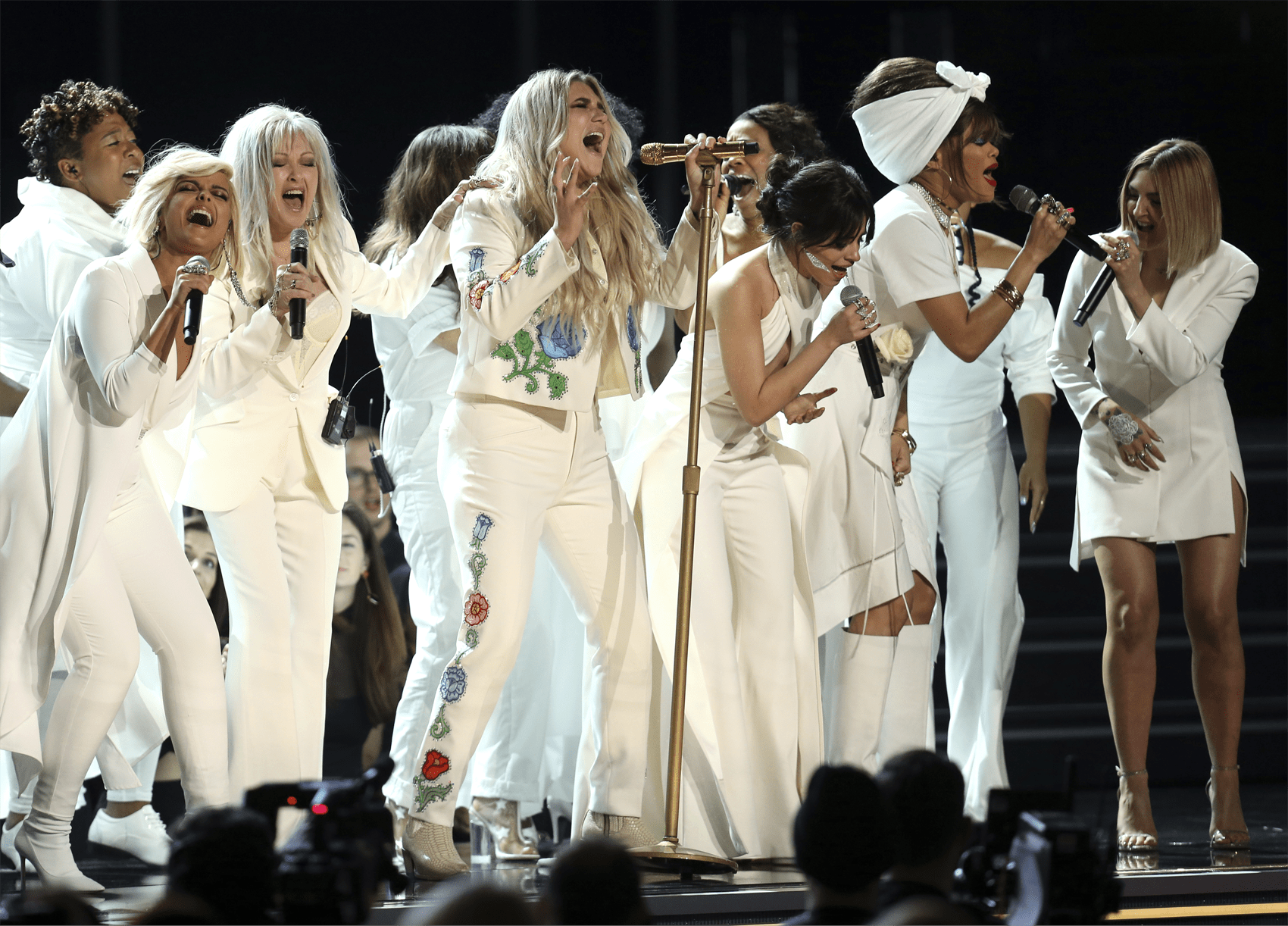 This article is more than 3 years old.
Kesha gave a passionate performance at the Grammy Awards with the help of powerful women behind her, including the Resistance Revival Chorus.
She was joined by Cyndi Lauper, Camila Cabello, Julia Michaels, Andra Day and Bebe Rexha for her Grammy-nominated song, "Praying," on Sunday at Madison Square Garden in New York City. Dressed in white, they won over the audience and hugged at the song's end as some audience members cried, including Hailee Steinfeld.
Kesha, who earned her first pair of Grammy nominations this year, has been in a legal war with former producer and mentor Dr. Luke. Janelle Monae introduced the performance with strong words.
"We come in peace but we mean business. To those who would dare try to silence us, we offer two words: Time's Up," Monae said. "It's not just going on in Hollywood. It's not just going on in Washington. It's here in our industry, too."
Before the performance, Maren Morris, Eric Church and Brothers Osborne performed an emotional rendition of Eric Clapton's "Tears In Heaven" — written after his son died — in honor of the 58 people who died at the Route 91 Harvest Festival in Las Vegas last year. The names of the victims were displayed behind them as they performed.
The performances were two of the show's serious moments. Dozens of artists and music industry players also sported white roses in support of the Time's Up and #MeToo movements against sexual abuse and harassment.
Kendrick Lamar is the king of the Grammy Awards — so far — picking up five awards, including best rap album for "DAMN." and best rap/sung performance for "Loyalty," with Rihanna.
"This is special man. I got a lot of guys in this building that I still idolize today," said Lamar, naming Jay-Z, Nas and Diddy as inspirations.
At the end, Lamar closed with: "Jay for president."
In the pre-telecast, Lamar won best rap song, best rap performance and best music video for "HUMBLE."
Lamar, nominated for seven awards, kicked off the Grammys with a powerful and poignant performance featuring video screens displaying a waving American flag behind him, as background dancers dressed as army soldiers marched and moved behind. He was joined Sunday by U2′s Bono and The Edge, and also Dave Chappelle — who told jokes in between Lamar's performance.
At one point, Lamar's background dancers, dressed in red, were shot down as he rapped lyrics, later coming back to life as fire burst to end the six-minute performance.
Lamar and Mars walked into Grammy Awards with multiple wins, putting them as favorites for top awards like album and record of the year.
Mars won best R&B album, best R&B performance and best R&B song in the pre-telecast. Posthumous Grammys were also handed out to actress Carrie Fisher, singer Leonard Cohen and engineer Tom Coyne, who worked on Mars' "24K Magic" album.
Mars gave an energetic and colorful performance of "Finesse" with breakthrough rapper Cardi B; Pink was a vocal powerhouse while she sang "Wild Hearts Can't Be Broken"; and Rihanna, DJ Khaled and Bryson Tiller teamed up for a vibrant performance of "Wild Thoughts."
Sting's performance was somewhat political as he sang his 1987 song, "Englishman in New York," which includes the lyrics, "Oh, I'm an alien, I'm a legal alien, I'm an Englishman in New York."
A shaking Alessia Cara won best new artist, winning over SZA, Julia Michaels, Khalid and Lil Uzi Vert.
"Thank you to my parents and my brother for believing in me," she said, also urging the crowd to "support real music and real artists because everyone deserves the same shot."
Chris Stapleton won three awards, including best country album, best country song and best country solo performance.
"We always try to make great records ... and I guess this is a testament to that," Stapleton said.
The Rolling Stones picked up the third Grammy of their career — for best traditional blues album for "Blue & Lonesome," while Ed Sheeran won best pop vocal album. Emmy and Golden Globe winner Childish Gambino, who picked up best traditional R&B performance, gave a smooth and sultry performance of "Terrified" in all-white featuring screeching high notes. Gambino was joined by young singer-actor, JD McCrary, who matched his vocals and sings on the original track.
Little Big Town, who sang their Taylor Swift-penned No. 1 hit "Better Man," also won best country duo/group performance with the song. Lady Gaga won over the audience with a rousing performance of the songs "Joanne" and "Million Reasons," while Sam Smith gave a powerful performance of the song "Pray
The Weeknd, Lin-Manuel Miranda, Reba McEntire, LCD Soundsystem, Portugal the Man and Shakira also won early awards. Benj Pasek and Justin Paul, both Oscar and Tony winners, won best musical theater album for "Dear Evan Hansen," shared with Tony winner Ben Platt.
Lamar beat out Jay-Z for the five awards he won. Either artist could make history and become the first rapper to win record of the year and the third to win album of the year. And the Grammys are almost guaranteeing that this year will be historic: Four of the five album of the year nominees are rap and R&B-based albums from black or Latino artists. The other big awards of the night — song and record of the year — also are dominated by hip-hop, R&B and Latin music.
It comes a year after The Recording Academy was heavily criticized when Adele won album of the year over Beyonce. "Lemonade" was seen as an album that moved the needle and dominated pop culture in different ways than Adele's colossal sales. Critics felt the Academy failed to recognize the creative and artistic elements of an R&B-based album, in the same ways they have passed over albums by Kanye West, Eminem and Mariah Carey over the years for projects by rock, country and jazz artists.
Chappelle won best comedy album during the televised show.
"I am honored to win an award, finally, and I wanted to thank everyone at Netflix, at 'Saturday Night Live,' at 'The Chappelle Show,'" he said.
Puppies were passed to the losers of best comedy album, including Jerry Seinfeld, Sarah Silverman and Jim Gaffigan.
The Grammys aired live from Madison Square Garden. Double winners included Jason Isbell, Justin Hurwitz and CeCe Winans.