Our Arts Reporters And Critics' Favorite Love Songs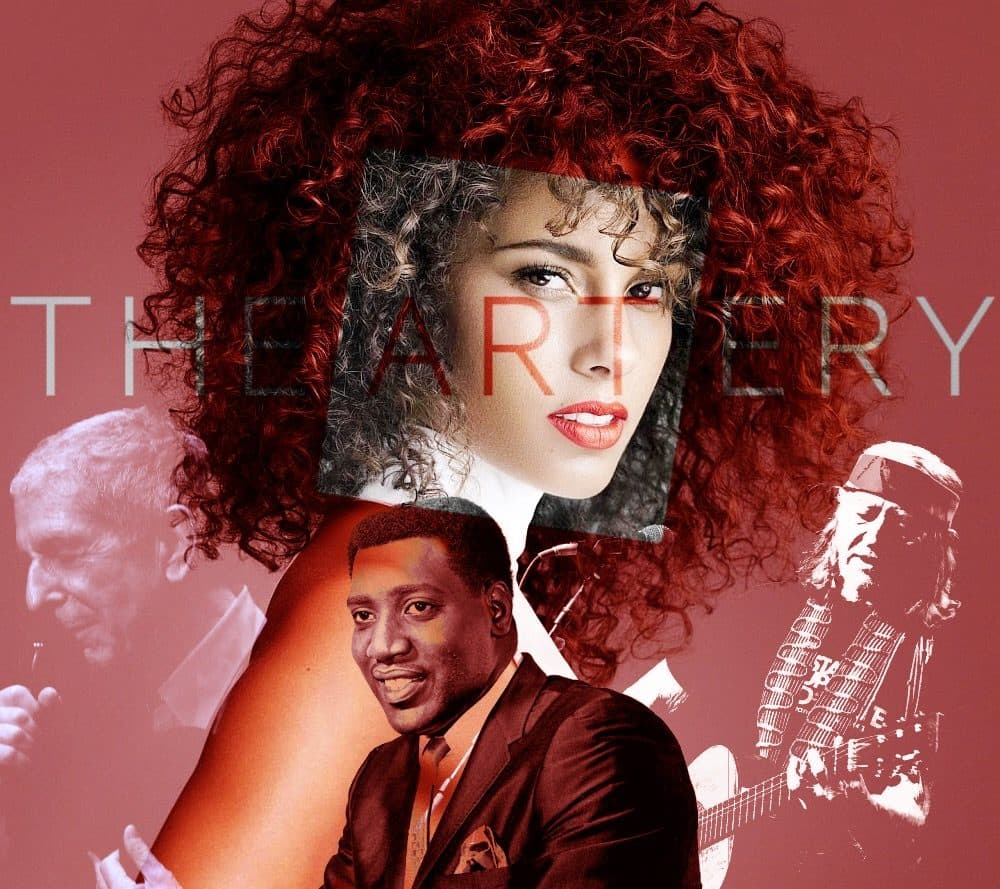 Whether you celebrate Valentine's Day or not, a satisfying love song playlist is always a good idea. No matter what phase of love you're in — the euphoric early stages, the complicated middle, the falling out of it — there's something for you in The ARTery's playlist.
Here are some of the timeless classics and new favorites from our arts reporters and critics. Scroll down to read why we chose the songs, or jump straight to the playlist here.
Maria Garcia, Arts Reporter:
Willie Nelson, "Unchained Melody"
This might be my Texas speaking, but Willie Nelson is a national treasure. "Unchained Melody," a simple 1955 ballad originally written by  Alex North and Hy Zaret, has been covered by all kinds of big names, from U2 (insert eye-roll after the Grammys) to LeAnn Rimes. No one comes close to Willie on the 1978 album "Stardust." With the minimalist use of his slide guitar, he's the master of uncluttered, pure lyricism and melody.
Donnie and Joe Emerson, "Baby"
This is one of the greatest love songs of all time that the world almost never heard. Donnie and Joe Emerson were a brother duo from an isolated Oregon farm, who made a record in 1979 and sold about a dozen copies to neighbors. No one else heard about them, until 1998, when a collector found Donnie and Joe's record in a $1 bin and bought it because he thought the sleeve looked funny. When he went home to listen to the record, it blew his mind. By 2012, the long-lost album had a cult-following online and Ariel Pink had covered "Baby." But the original is the best, truly underground masterpiece.
Cigarettes After Sex, "Keep On Loving You"
OK, so covers often fall short, compared to the original. The opposite is true for this choice. REO Speedwagon's "Keep On Loving You" is far from a masterful track. In fact, it sort of falls in the category of unoriginal, cheesy rock everyone is vaguely familiar with. But in the hands of shoegaze darlings Cigarettes After Sex, the song shines in a newly molded way. You'll be amazed at the ease by which they take a trivialized song and reframe it into a timeless love track.
---
Andrea Shea, Arts Reporter:
Hedwig And The Angry Inch, "Origin Of Love"
This song — and the adorable animation it's paired with in the movie — never fail to make me believe in the boundlessness of attraction and the age-old, seemingly universal search for a soul mate. The heart-wrenching tale John Cameron Mitchell unfurls is inspired by the platonic, Aristophanes myth about the loneliness and longing that color the human condition. Isn't that romantic? Ha ha!
"Mr. Blue Sky" and the theme to "Eternal Sunshine of the Spotless Mind"
Staying on the movie jag, Charlie Kaufman and Michel Gondry managed to hit heart-break pay dirt in their 2004 film, "Eternal Sunshine of the Spotless Mind." It follows the recurring relationship arc — from "meet cute," to painful split, to desperately wanting to forget it all -- only to then being willing to go back and do it again. In my imagination, ELO's "Mr. Blue Sky" and composer Jon Brion's theme from the "Eternal Sunshine" soundtrack are inseparable. The perfect Valentine's Day couple!
The Flaming Lips, "Do You Realize??"
Who wouldn't want to have Wayne Coyne serenade them on Valentine's Day with this weirdly romantic, beautiful yet kind of bleak song?
---
Amelia Mason, Music Critic:
Alicia Keys, "If I Ain't Got You"
"If I Ain't Got You" ain't the type of song I usually go for. "I don't want nothing at all/ If it ain't you, baby." Talk about hyperbole. And it's a dangerous notion, I think — the idea that one person can fulfill all your needs. But here's the thing: "If I Ain't Got You" is one of the greatest melodies ever written. And when Keys sings it, I believe everything she says.
Otis Redding, "Cigarettes And Coffee"
When it comes to real-life love, Otis Redding's "Cigarettes and Coffee" is more my speed. It's heartfelt, it's sexy — and it's literally about falling in love over late night coffee and cigarettes. The song starts out "early in the morning" while Redding is chatting with his lover "over cigarettes and coffee." And it's in this mundane, throwaway moment that he realizes she's the one for him. A bluesy ascending motif lends the song a perpetually rising feeling. We should all be so lucky to find someone we want to hang out with all the time.
Josh Ritter, "Joy To You"
"Joy To You" is my favorite track off of Josh Ritter's "The Beast In Its Tracks." The album was written in the wake of Ritter's divorce, and the songs excavate the grief, anger and confusion of that rupture. "Joy to You" comes toward the end, and it functions as a kind of release. "There's pain in whatever/ We stumble upon," Ritter sings philosophically. "If I'd never had met you/ You couldn't have gone/ But then I'd never have met you/ And we couldn't have been/ I guess it all adds up to joy in the end." Even though Ritter is singing about not being in love anymore, the sentiment he expresses is, ultimately, loving.
---
Ed Siegel, Editor and Critic-At-Large:
Abdullah Ibrahim, "The Wedding"
The South African jazz pianist's melodic brilliance is on full display in "The Wedding," his celebratory, communal ballad that shines its light on union -- and reunion. When I interviewed Ibrahim in 1997 I told him that that for all the joy breaking through there was a tinge of sadness to it. "You are correct," he exulted in his mellifluous Cape Town accent, going on to say that the song is about a couple separated by apartheid who are reunited after some years. Ibrahim, who changed his name from Dollar Brand, was similarly exiled from South Africa for political activism before coming back. He has recorded the song several times on solo piano and in trios but my favorite -- the one I used at my wedding — is the big-band version on "African River." The pianist introduces the song, but soon gives way to a passionate saxophone solo in which you can almost visualize the two lovers joining hands and exchanging vows. The other members of the group are the best groomsmen or bridesmaids a couple could hope to have, sending the marrieds on their way with solemnity, grace and happiness.
Leonard Cohen, "If I Didn't Have Your Love"
Leonard Cohen's love songs sometimes seem like labyrinthine anti-love songs. "Dance Me to the End of Love" and "Hallelujah" have enough romantic turns to be the soundtrack for a femme fatale film. But on his last album, "You Want It Darker," the late poet-songwriter delivered his most straightforward (but no less lyrical) love song ever. Light drumming and a stark synthesizer introduce Cohen, extolling the theme of partner as savior: "If the sun would lose its light/ And we lived an endless night/ And there was nothin' left/ That you could feel/ That's how it would be/ What the world would seem to me/ If I didn't have your love/ To make it real." That Cohen knew he was dying — you can almost hear him struggling to raise his voice above the whisper on the rest of the songs -- makes his nothing-held-back lyrics all the more heart-wringing. I can't play this song without tearing up at what he gave us with his art and what we lost with his death, never mind at the sentiment. I can't play this song without thinking of what my wife means to me.
Leonard Bernstein and Richard Wilbur, "Make Our Garden Grow"
I remember being at another wedding where the lyrics to "Make Our Garden Grow" were recited. I thought, "Boy, that's a buzzkill" -- we'll do the best we know? It's like Jay Leno once making fun of an airline whose slogan was "We'll get you there." But the more I thought about it, the more truly loving the lyrics are. After two hours of carrying on a frenzied romance, Voltaire's Candide and Cunegonde realize, with the help of the recently deceased Richard Wilbur, "Let dreamers dream what worlds they please/ Those Edens can't be found/ The sweetest flowers, the fairest trees/ Are grown in solid ground." Of course it helps if you have Leonard Bernstein and the London Symphony Orchestra sublimely upping the real-love ante, as on the Deutsche Grammophon CD:
Or having Barbara Cook and Robert Rounseville pristinely belting out the lyrics on the Columbia CD. Asking me to choose between the two is like asking, I hate to date myself, Lassie to choose between Jeff and Timmy. (See what I mean at 18:35 of this video.) I can't imagine life without the two versions, so give your valentine both of them.
---
Listen to The ARTery's Spotify playlist below, or click here.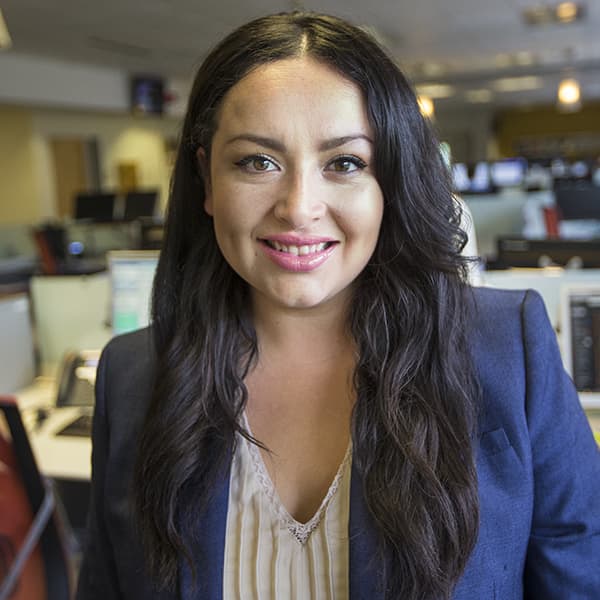 Maria Garcia Senior Editor, The ARTery
Maria Garcia is the senior editor of The ARTery, WBUR's Arts and Culture Team.