Cuban Pianists Chucho Valdés And Gonzalo Rubalcaba Imbue 'Trance' With The Energy Of Their Friendship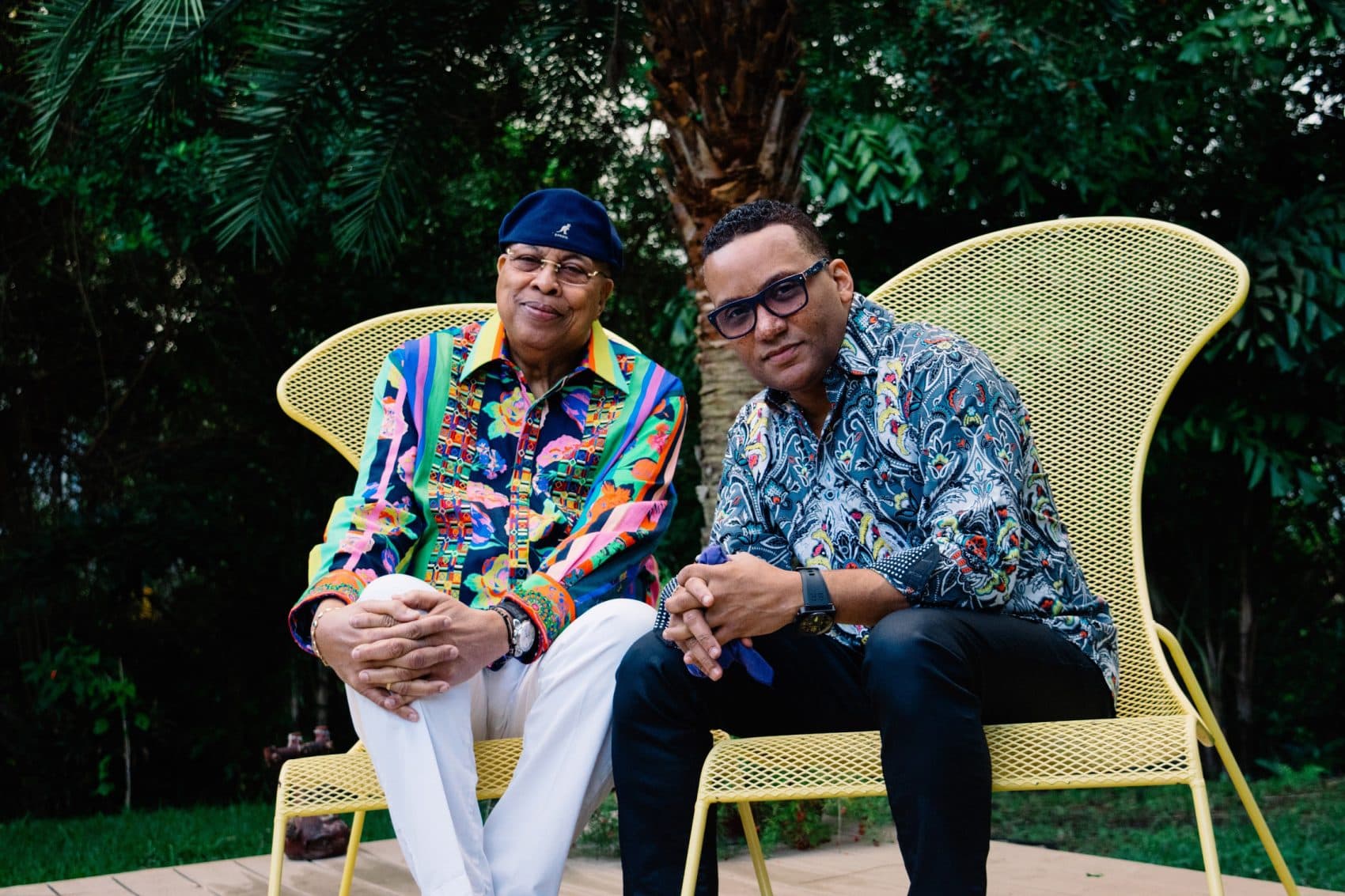 This article is more than 3 years old.
Attending a performance of improvising musicians can be an intensely intimate experience. You're a witness to an unrehearsed conversation, two people exploring their relationship in public. The more articulate the individuals, and interesting their relationship, the more captivating the performance.
The musical meeting of Grammy Award-winning pianists Chucho Valdés and Gonzalo Rubalcaba is like that of two masters of language and longtime friends. They finish each other's sentences, have impassioned debates and share stories freely.
Valdés and Rubalcaba will be creating and sharing stories together in a duo piano performance presented by Celebrity Series of Boston this Friday, Feb. 16, at NEC's Jordan Hall. Valdés and Rubalcaba's two-piano project is titled "Trance," emphasizing the energy of their relationship and their collective vision of music as a spiritual force and universal language.
Like many good friends, Valdés and Rubalcaba have a lot in common. Valdés told me, "We have the same starting point even though we are two different generations."
Both were brought up in Cuba by musical families. Bebo Valdés, Chucho's father, was a prominent pianist in the Afro-Cuban jazz scene. Guillermo Rubalcaba, Gonzalo's father, was the pianist for the band that created cha-cha-cha and played piano and arranged for many orchestras. Both draw on their Afro-Cuban heritage as well as American jazz traditions. Both, through various musical projects, have independently demonstrated an aspiration for musical community across genre, generation and culture.
Despite their similarities and longtime relationship (Valdés, who is 20 years Rubalcaba's senior, has known him since he was young), the two have not had much of a chance for collaboration prior to "Trance." Valdés has been busy playing with his new group, the Afro-Cuban Messengers, as a side-man for musicians like trumpeter Roy Hargrove, and in solo settings. Valdés notably contributed to the founding of the Afro-Cuban jazz funk band Irakere in the '70s, and was influential in developing the band's sound as writer, arranger and pianist, staying with the band from the beginning until 2005. Meanwhile, Rubalcaba has focused his career on composing and working with collaborative groups such as his trio, at one point including Charlie Haden and Paul Motian.
When Valdés and Rubalcaba play together, there is a sense of mutual understanding. They have played with many people throughout their illustrious careers, but it seems that together they can musically talk about things they do not usually get to talk about with other people. "We try to establish a dialog about the history of Afro-Cuban jazz and jazz in all of its styles," says Valdés.
Their musical conversation starts with a low register textural rhythmic figure played by Rubalcaba. It seems to ask Valdés, "What shall we play for them?" Valdés responds with staccato chords, "This one?" Soon, Valdés and Rubalcaba's voices are intertwined, telling a story together. They are attuned to each other rhythmically such that every plot twist and tempo change happens together.
When they play, the percussive nature of the piano is illuminated. The 12-bar blues form is so malleable and foundational that jazz musicians often play the stuff that is most fundamentally them. Playing the blues together, Valdés and Rubalcaba play incredibly dexterous lines and interesting harmonies, but they are most notably percussive. Even the swift descending lines Rubalcaba plays in his solo are segmented into distinct, accented rhythmic patterns. Valdés strikes the piano as he might a drum, lifting his hands high and impacting the keys in ringing bursts.
Valdés and Rubalcaba are inside the swing feel together, with every note played declaratively. Their musical personalities are strident and dramatic, which is only emphasized when they play as a collective. It can certainly be expected that Valdés and Rubalcaba will tell it like it is on Friday. As Valdés said to me about "Trance," "I think that the result is fantastic."
---
Pianists Chucho Valdés and Gonzalo Rubalcaba perform "Trace" at NEC's Jordan Hall on Friday, Feb. 16 via the Celebrity Series of Boston.
Claire Dickson Contributor, The ARTery
Claire Dickson is a jazz vocalist and writer studying at Harvard College.