Kal Marks Creates The Soundtracks To Our Harsh Boston Winters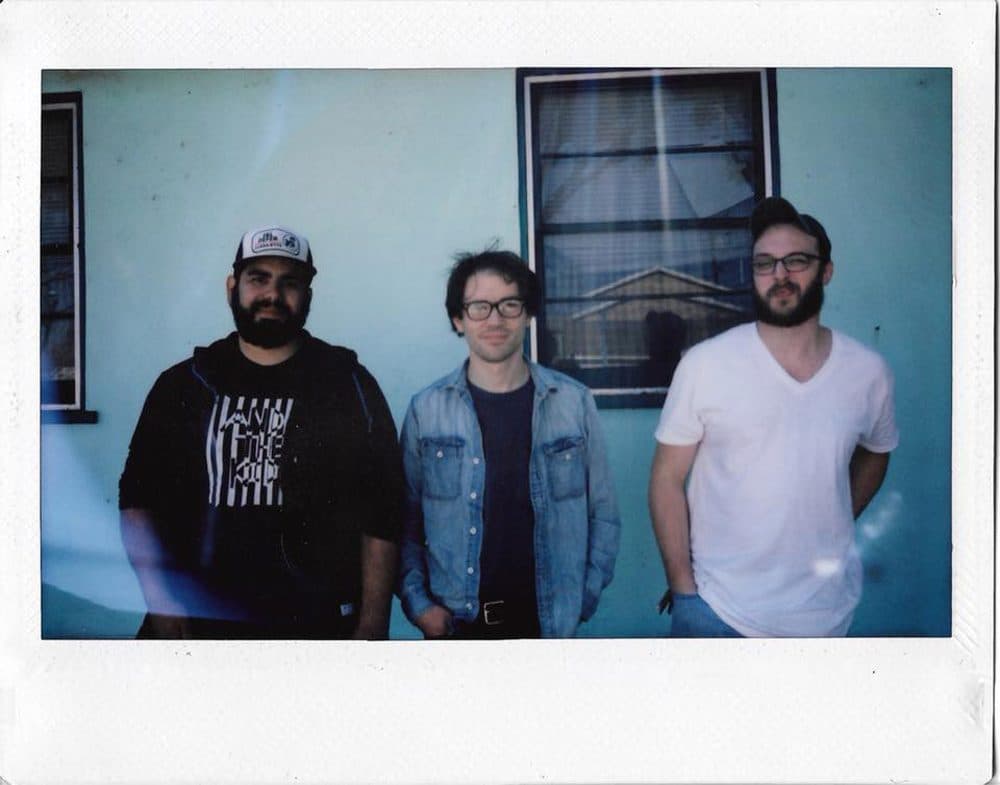 This article is more than 3 years old.
It's not until Carl Shane downs the last of his green tea that we acknowledge the apocalyptic weather outside the Brookline coffee shop we're sitting in.
For over a decade, Shane's band, Kal Marks, has been creating a soundtrack to the harsh reality of New England winters. The Boston-based trio's ominous songwriting and guttural delivery are at times hard to get through, but it's music that is ultimately as invigorating as taking on the sleeting rain without an umbrella.
Kal Marks' fourth full-length album, "Universal Care," certainly maintains that legacy, but more than ever, Shane and his band seem to find acceptance in the horrors (and victories) of forging on through life.
"The album's still filled with darkness, but I hate people saying that's pessimistic," Shane admits. "This might be delusional, but I just feel more like a realist than a pessimist. I understand that, most likely, nothing good is going to happen, y'know?"
Shane and his bandmates, bassist Michael Geacone and drummer Alex Audette, have worked to put a soundtrack to that unwavering sense of harsh realism since Audette joined the trio's crucial missing piece five years ago. Beginning as Shane's solo project, Kal Marks went through a lengthy period of finding bandmates that connected to the songs both as musicians and cheerleaders.
"It feels like it's been a million," Shane earnestly recalls of the years since Geacone and Audette rounded out the lineup. "Everything changed when he joined. I guess it was that I had someone in the band that believed in me and the group."
The fully formed Kal Marks released 2013's "Life is Murder" and its quippy sequel, 2016's "Life Is Alright, Everybody Dies," on New York-based (but Boston-adoring) label Exploding in Sound. Joining a local rock scene that valued blunt emotional transparency in its lyrics as much as knottiness in its guitar playing, Kal Marks formed an unspoken triumvirate with label mates Pile and Krill. They appeared on each other's bills and interlocked with a certain Bostonian strain of cerebral intensity in their music.
"I saw some article [years ago] that said, 'Kal Marks reaches success with 'Life Is Murder,' " Shane recalls, "and I was like, 'Success? What are you talking about? We're still playing toilets.' "
Whereas Pile eventually was named 2017's Best Band by Boston Magazine after years of slow-rising devotion, Kal Marks remained the locals' best-kept secret, even while getting viscerally louder each set. Amidst Audette pummeling his kit, Geacone's virtuosic playing and Shane's throaty croak often metastasizing into a full-bodied howl to match his guitar feedback, the band proudly told DigBoston back in 2014 they were "the band metalheads come up to after shows and just go, 'solid.' "
For Shane, who frequently mentions his recent 30th birthday like a death knell heard throughout the basement show world, the album's title "Universal Care" suggests a more meditative, emotionally settled affair. He's, of course, quick to correct that assumption.
"On paper, it looks like that. I wouldn't say things have gotten better at all, no," he says. "When you're younger, you're more dramatic. Like, 'Ugh, life is murder.' I still understand what I was saying when I decided to name a song and an album that, but you don't get anywhere by moping. I just know now that I have to get up and put my pants on."
Even at its most corrosive moments, "Universal Care's" moments of "get up and put your pants on" acceptance and moves toward contentment that ring brighter than any previous Kal Marks effort.
A xylophone cheerily sounds over Shane's throaty musings and guitar squalls on "A Place Amongst All The Angry Hordes." A song later, Shane's trying to revive a relationship with the promise that, although he can't promise a storybook ending, all he knows is "it's worth the adventure." Closing on the wordy, yet totally sincere, "Today I Walked Down To The Tree, Read A Book, And When I Was Done, I Went Back Inside," Shane spent two years considering loved ones in his life, meeting a particular person that inspired the completion of the song, and rewriting lyrics that aimed to match the simple contentment implied in the Jack Nicholson-quoting title.
"I am so happy with what we're doing," Shane says warmly. "I wish we could be playing bigger shows, going on tour with our heroes, or just living more comfortably, but I can't force that to happen. I'm trying to be happy with the fact that I'm going places creatively that I never thought I was going to go."
Still, some of Kal Marks' most inspired moments on "Care" are its darkest: the scorched-earth opener "F--- That Guy," its every-man rallying title track and the six-minute tangle of "Loosed" lead off "Care" at a furious pace.
Where most bands would come off unnecessarily brash or immature employing vulgarities on the title of their album's opening track, Kal Marks somehow creates a space that makes "Guy" seem mild.
"The song isn't about anything nice at all. It's literally about wishing someone was dead," Shane calmly admits.
Inspired by a person from his childhood that was "a very, very, very bad man," Shane's guttural howls are both teenage and inhuman, coupled with ugly blasts of distortion to further his cries. I tell him the song, even without context, is one of the most jarring opening tracks I've heard in a long time. He claims a younger Nick Cave influence ("I listened to [his] first album and had nightmares because all the songs are about murder.") and Madonna's early pop rebellion as inspiration ("Someone in the punk world is going to be like, 'Ugh, I can't believe he went for Madonna instead of Sex Pistols.' "), but Shane solely owns the sentiments on "Guy."
"You shouldn't wish someone dead, but sometimes your brain goes there," he adds, after a careful pause. "People need to follow their impulses with music. They need to go to where they're compelled to go and I was compelled to go there on that song. You've got to put that energy somewhere instead of burying it into you. And it feels great singing that song."
In the wake of a handful of loved ones dying and the state of health care in the Trump administration, "Universal Care" somehow fashions a riffy, feel-good anthem out of feeling terrible. One of the reasons the band decided it was the album title was because "if we call it something people like, maybe they'll buy the record."
"I told my parents that my generation feels like we're all working super hard just in case we get sick," Shane says. "Like, I'm working overtime in case I get sick … and I have health insurance. That's the kind of life we're living with right now."
"Loosed" is Kal Marks' finest team effort, sprawling out to give Audette's stuttering drum work and Geacone's rollicking bass a platform for Shane's squalling guitar to sound super massive. Noting Geacone's insistence on "more Latin-inspired rhythms" and his own championing of Frank Ocean's "Blonde" as inspiration to take more risks vocally, there's a greater sense that Shane is finally seeing the fruits of developing Kal Marks after years of doubt.
"I have a real bad fear of what my life will be if I give this up. It could turn around, it could never turn around, but that's a big driving thing for me," Shane says. "Everything in my life has not gone according to plan. The only thing that has gone according to plan is that I'm still playing a guitar that has strings on it."
---
The release show for Kal Marks' new album, "Universal Care," is on Saturday, March 10 at the Massasoit Elks Lodge in Cambridge. The band is planning on a full U.S. tour upon raising enough money for a new van.