With Fearless Fashion And Bold Commentary, Women Set The Tone At The 90th Academy Awards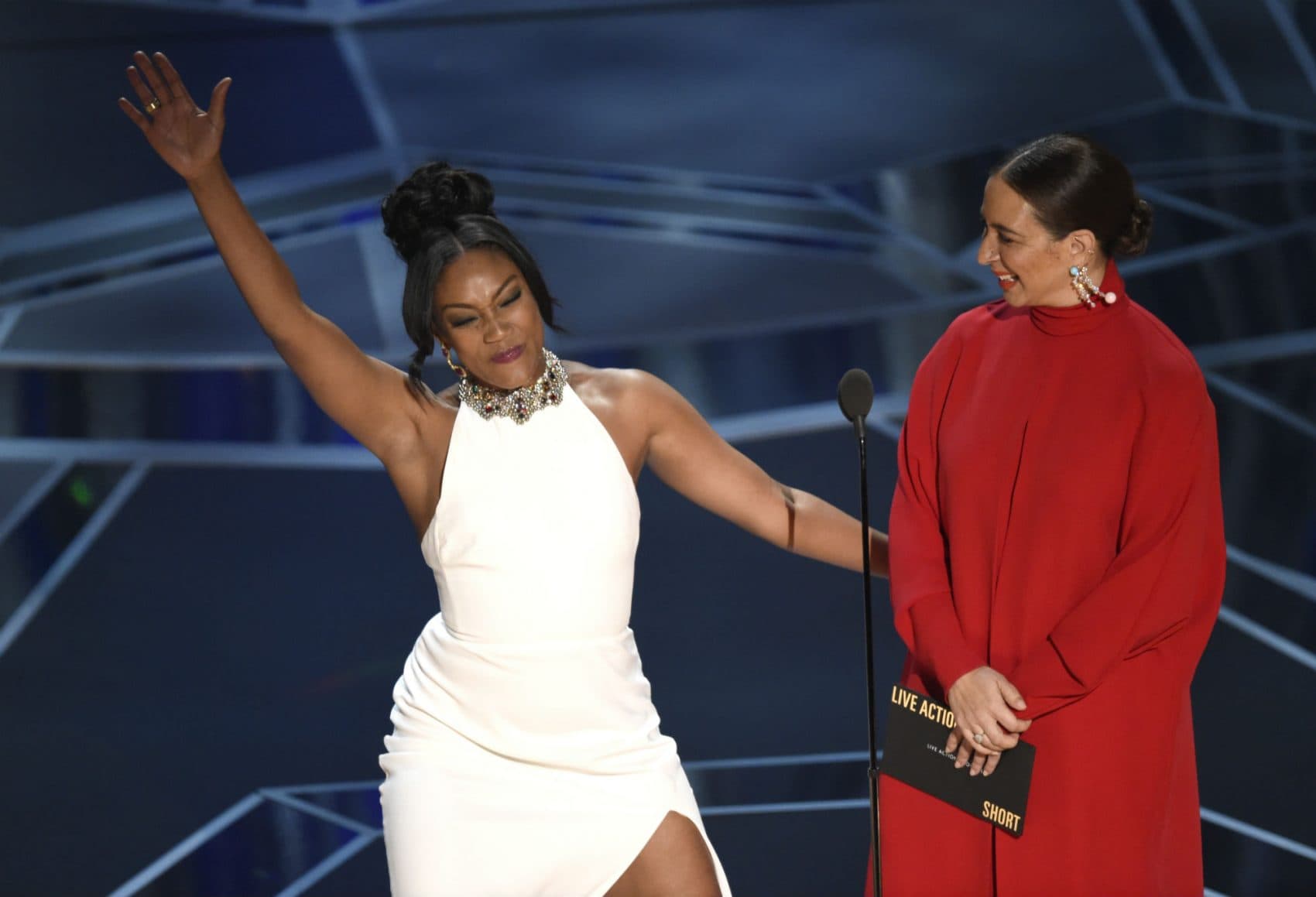 This article is more than 3 years old.
Whereas the red carpet fashion at last year's Oscars was safe — so safe — this year's veered delightfully and fearlessly off course. This must partly be due to Time's Up's embrace of more than just black, what its supporters wore to show unity at this year's Golden Globes.
Take Nicole Kidman. At last year's Oscars, her nude gown made her look as if she wanted to disappear. This year she chose an electric blue suit of armor with an entirely different message, more along the lines of, "Can't touch this." (Or as one writer tweeted, "like an insect casing.")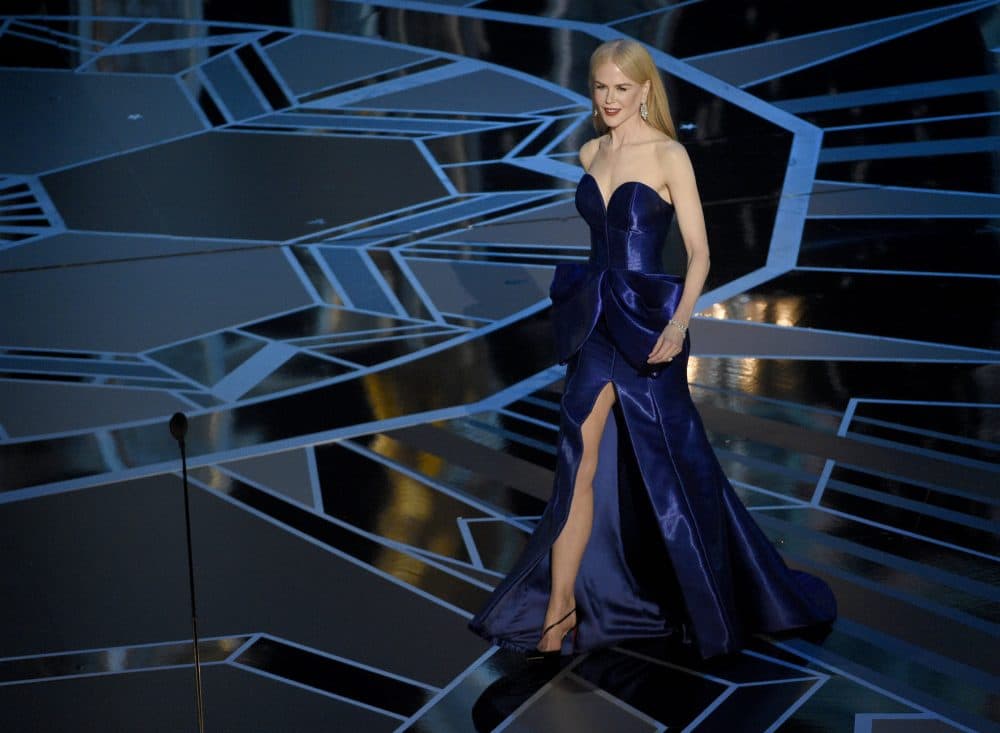 Best Documentary nominee Agnès Varda brought her trademark spunk and unevenly dyed pink hair in a flowery suit that looked like it could accommodate yoga moves. Rita Moreno proved vintage is always classy. She wore the same dress she wore to the Oscars in 1962 and looked fabulous yet again. Maya Rudolph and Frances McDormand wore "real women" (or futuristic priestess) outfits that those of us sitting on America's couches could actually see ourselves wearing.
Whereas the #MeToo and Time's Up commentary at the Golden Globes felt at times urgent, at times awkward, and at times bursting from the show's unscripted margins, the Oscars seemed to have swallowed the movement as part of itself.
The tone was set with a red carpet interview with Mira Sorvino and Ashley Judd who recapped Time's Up's goals with breezy confidence. When host Jimmy Kimmel opened the show, he poked fun (ending the night with, "I wish I was a woman, I really do"), but he more strikingly called out, with great specificity, pay inequity and underrepresentation of women. By the time Emma Stone introduced "these four men and Greta Gerwig" in her Best Director presentation, it was unclear what was scripted and what was ad-libbed.
It's hard to imagine McDormand, the odds-on favorite to win Best Actress, agreeing to say anything in particular. And yet there she was, setting down her statue, wearing a hint of lipstick, and asking all female nominees ("so few" noticed the New York Times' Jodi Kantor) to stand with her. She told the room to start asking these women for meetings. Then she made the Twittersphere go wild with two words: "Inclusion. Rider." (It seems McDormand was referring to contract language that would guarantee diversity in front or behind the camera.)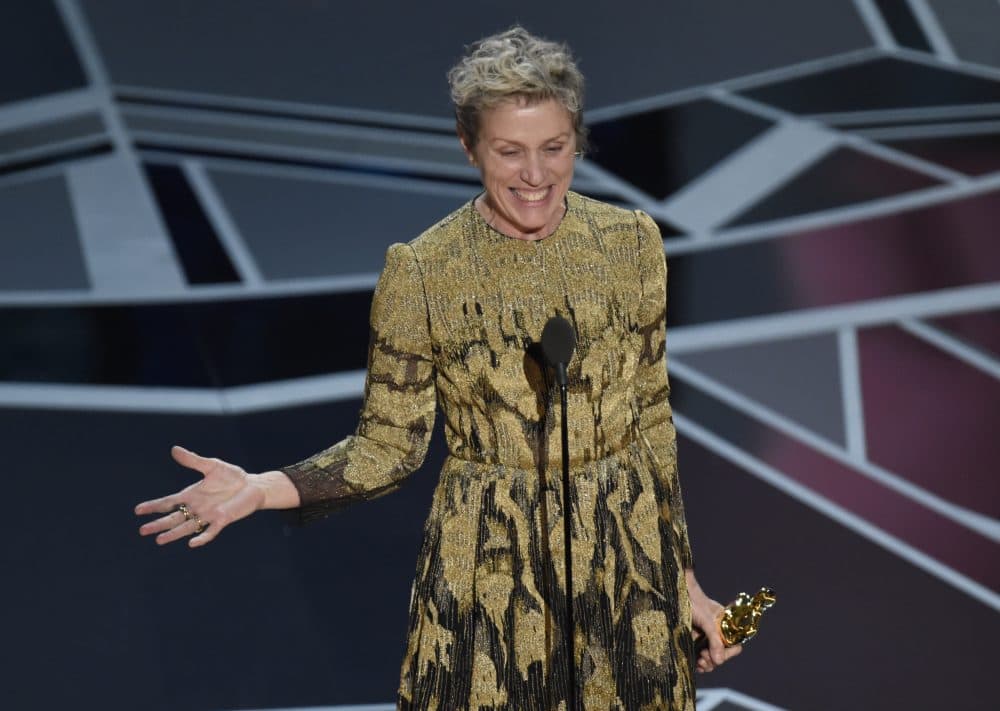 Tiffany Haddish and a shoeless Rudolph delivered comic relief with casually on-target barbs about #OscarsSoWhite. Haddish's spastics to Rudolph's I'll-have-none-of-that's cemented an argument for them to host next year.
And yet in terms of who or which films actually took home awards, the ground remained firmly male and mostly white. Gerwig did not become the second ever female director to win. Nor did the pass-the-Bechdel-test with flying colors "Lady Bird" win for any other category. Rachel Morrison did not become the first ever woman to win Best Cinematographer. Despite signatures collected in protest of Kobe Bryant's nomination, and vocal but less organized backlash directed at nominee Gary Oldman and E! red carpet host Ryan Seacrest, all three men proceeded as usual; unconfirmed sources claimed E! was delaying its live broadcast to prevent outbursts. Jordan Peele did become the first African-American to win for Best Original Screenplay, but otherwise there were few surprises.
However it came to pass, the Time's Up message of inclusion and intersectionality was present throughout the 90th Academy Awards. It felt natural. Organic. As if the fabric of Hollywood really has changed. Now that would be quite a surprise.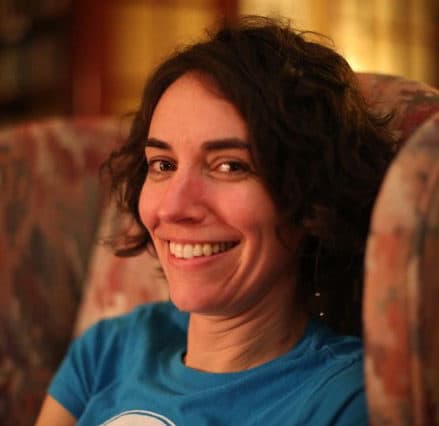 Erin Trahan Film Writer
Erin Trahan writes about film for The ARTery.