Boston's Barrence Whitfield Tries To Play 'Music That Makes People Happy'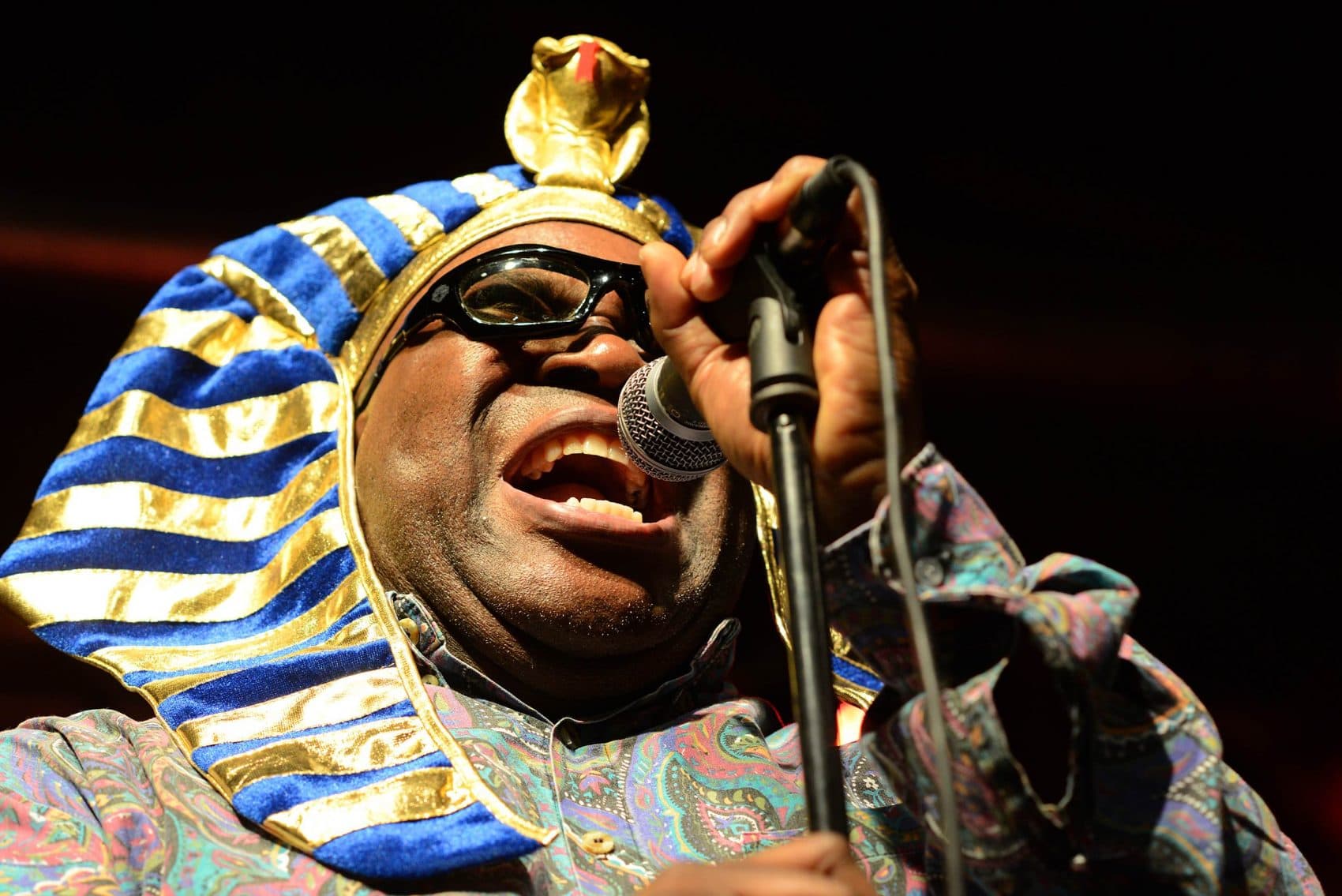 This article is more than 3 years old.
This kind of thing just doesn't happen.
The headlining band — in this case the internationally renowned, triple-Grammy winning Los Lobos — took the stage for what would become a half-hour encore at their late show on New Year's Eve in Boston. Rather than the band's primary singers taking the mic, they brought up from the crowd a fan and friend, Boston rock-and-soul stalwart Barrence Whitfield.
Los Lobos has a history of doing this kind of thing. But for the entirety of the encore? That's called respect.
Whitfield and his band, the Savages, opened for Los Lobos when the East Los Angeles band first played in town, at the Rat in 1984. The following year, Whitfield & the Savages tore it up at an outdoor festival outside Boston, one Los Lobos also played.
"I'm jumping around, rolling around, doing my usual thing, screaming and stuff," says Whitfield, on the phone from his home in Beverly. "So, we finished the set and they came backstage and went, 'Wow! You guys were great!' "
They invited Whitfield to jam with them at a Boston club gig later that night. He did just that, and says, "That was the start of a beautiful friendship."
Barrence Whitfield & the Savages released the album, "Soul Flowers of Titan," earlier this month and will play a record release party at the Middle East Upstairs in Cambridge on Friday, March 23.
"We play good old energetic rock 'n' roll music and interject it with a little soul, a little rockabilly," Whitfield says. "It's pure entertainment, music that makes people happy, jump up and down and forget about the things that happened around their lives during the day. At night, they come see a show and forget about it for 75 to 85 minutes."
For years, Whitfield has been one of Boston rock's most uplifting and dynamic performers, which is not to say he doesn't get the blues.
"Everybody has had their depressive moments in their lives, we're all human," he says. "I said this after the election of Trump: If music wasn't so important to my life I could end up being a serial killer or something. As long as I have [music], there's always an out, something to go to, something true to my heart. It's been a great tool for me, to stay away from sitting around going, 'Oh my god, what am I gonna do?' "
"Soul Flowers of Titan" is Whitfield's 14th album, his 10th with the Savages. The title was inspired by the late avant-garde jazz pianist and composer Sun Ra. "I've always loved Sun Ra," says Whitfield. "I went to see him a bunch of times and in 1985 the Savages opened up for Sun Ra in New York City. It was a show I've never forgotten — one of my top three shows of all time."
Though born Herman Blount in Alabama, Sun Ra claimed he was an alien from Saturn on a mission to preach peace here on Earth. Sun Ra created a self-mythology and believed in a concept called Afrofuturism, a sound and vision he spread in the 1974 cult movie and soundtrack "Space is the Place."
What Whitfield dug about Sun Ra was "the mysticism of his music. This thought of 'space is the place,' that everything down here on Earth is chaos -- as with what we're going through now [with Trump] -- and the best place to leave all this chaos is space. There must be some beings up there that are waiting for us to come up there so we can start a new planet or a new world. I think a lot of his music was geared to that and I really admired the fact that he was so talented, putting something he truly believed into music and poetry and words. He's probably one of the most unique artists we've had on this Earth."
Does Whitfield buy into his philosophy or is it a fantasy?
"Who knows? I can't say I believe it, but I'll tell you one thing: When he spoke, he got your attention and you started thinking, 'Well, maybe this guy is right.' "
Whitfield was born in Georgia, raised in East Orange, New Jersey, and came to Boston in 1977 to study TV journalism at Boston University. He dropped out, later doing the same at Emerson College. He worked at local record stores (including Strawberries and Nuggets) and did a brief stint as a store detective at the Harvard Coop, where he met a guitarist from Berklee. The guitarist loved Whitfield's voice and recruited him for a James Brown tribute band. Whitfield recorded one single with them, "The Combat Zone," in 1979.
Barrence Whitfield & the Savages took shape four years later with ex-members of the Lyres, including guitarist-songwriter Peter Greenberg, whom he'd met at Nuggets, and bassist Phil Lenker. They remain from those early days. Whitfield estimates at least 15 people have been Savages over the past three-plus decades. Andy Jody currently drums and writes. Regular Savage Tom Quartulli is back on board for the upcoming tour even though Derek Olive played keyboards and saxophone on the album.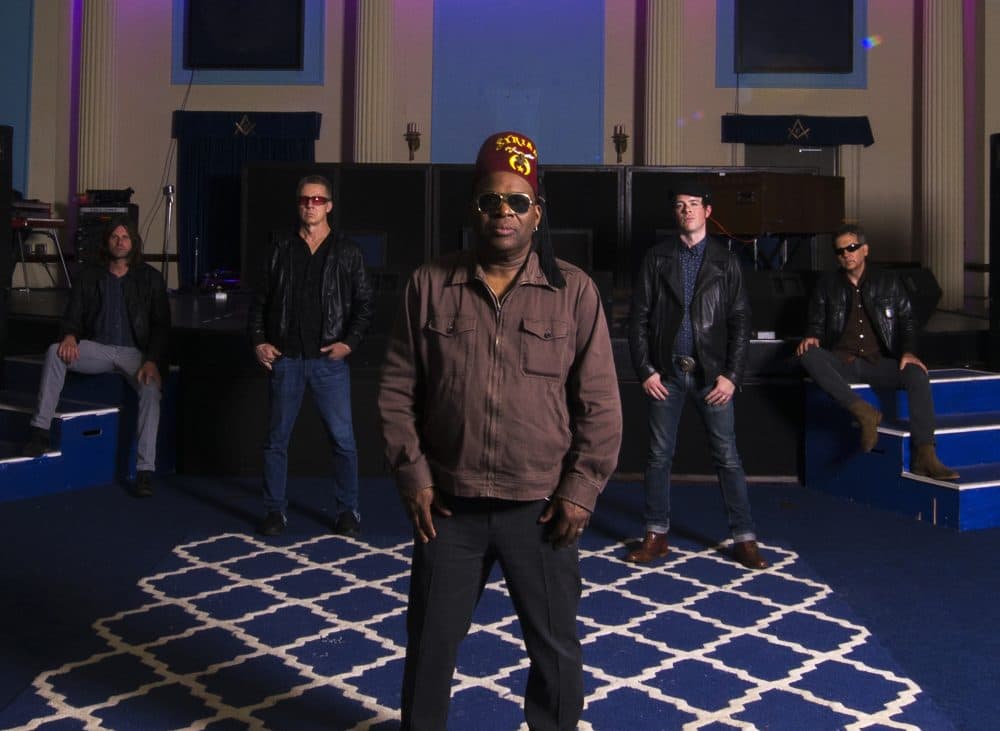 Though he's notched some songwriting credits over the years, that is not Whitfield's primary task. "I'm not a writer that much — more of a performer," he says. "I see myself as Frank Sinatra, walking in and just saying, 'OK, give me the lyrics and I'll do it my way.' But I'm not a megalomaniac. It seems to have worked throughout the years."
The Savages have always mixed (often obscure) covers with originals and that's the case on "Soul Flowers of Titan," with eight covers and four originals. All compact, all punchy. No ballads. "They had the songs and I just came in [the studio]," Whitfield says. "And they said, 'Don't hold back, do your own thing. Treat them like they're your songs.' I think on this album all of us were putting something together and doing it as a team."
Whitfield is a singer and shouter with a deep, gravelly voice in the mold of Solomon Burke or The Temptations' Melvin Franklin. And he's got that high-pitched James Brown/Little Richard/Screamin' Jay Hawkins screech-scream too. Whitfield can super-charge a song, take it to ecstatic heights while projecting a sense of controlled chaos. He admits, though, that at 62 and receiving a knee replacement, he's not quite the same ball of fire he was in the '80s.
In 1994, Whitfield was talking to me about getting older and said, "There's no more split pants, no more blood on my lips, my elbows, my knees. I don't dive from the stage any more. Maybe four years ago, the bones started to hurt a little more. The older you get, the more subtle you get. What we're doing now is more soulful and bluesy — as opposed to taking a sledgehammer and making your brains look like scrambled eggs."
Whitfield laughs as the quote is recalled. "I remember that and I sure would [stand by it today]. I might have gotten a little older, but I still go out there and slam it to the people."
Whitfield has found moderate success in the United States, but more so in England, France and Spain. Their current 16-date tour, which started this past Saturday has three U.S. dates and 13 European dates.
"Europeans, if they see something that is legit, something that excites them, they say, 'You're the real deal,' " Whitfield says. "Like Little Richard or Jerry Lee Lewis or Otis Redding. They get excited. I've been very fortunate and lucky to have to come from genes with good music flavor and I listened to all of those artists I mentioned. It's what true rock 'n' roll or true rhythm and blues or true soul music is. It's always been that way in Europe. They rally around you and really support you."
And now, his name. Like Sun Ra, Whitfield made a change early in his career. Barrence Whitfield was born Barry White, but there was already a Barry White: the smooth-crooning, larger-than-life disco-soul singer who sold 100 million albums worldwide from the '70s through the '90s.
But that wasn't the initial reason for the change, Whitfield says. In high school, his classmates bestowed upon him the nickname of "Barrence" thinking it sounded faux-haughty.
"I had friends, kids who were all kidding me and they kept throwing that name around so much," Whitfield recalls, "that I said, 'You know what? When I get famous I think I'm gonna use that name.' I remembered it as we were putting together the band and then said, 'Let's take away White, too, and add Whitfield.' My thought process went to Norman Whitfield, who had produced all those Motown hits. I put them together and there you go."
Wait, there's more.
"Years later, after Barry White passed on, I Googled his name and do you know his name was? Barrence Eugene Carter. So, I took his birth name as my name and he took my birth name as his [stage] name. There's that cosmic thing going on with the two Barry Whites."
---
Barrence Whitfield & the Savages will play a record release party at the Middle East Upstairs in Cambridge on Friday, March 23.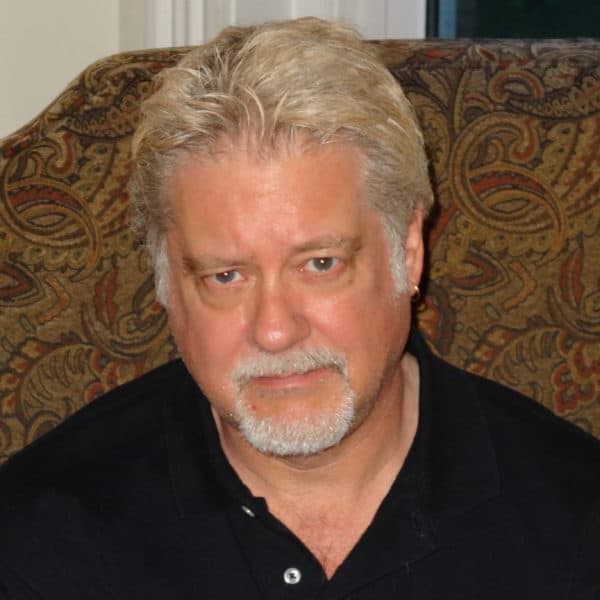 Jim Sullivan Music Writer
Jim Sullivan writes about rock 'n' roll and other music for The ARTery.