'Threepenny Opera' At Boston Lyric Opera: Oh The Shark Doesn't Quite Bite With His Teeth, Dear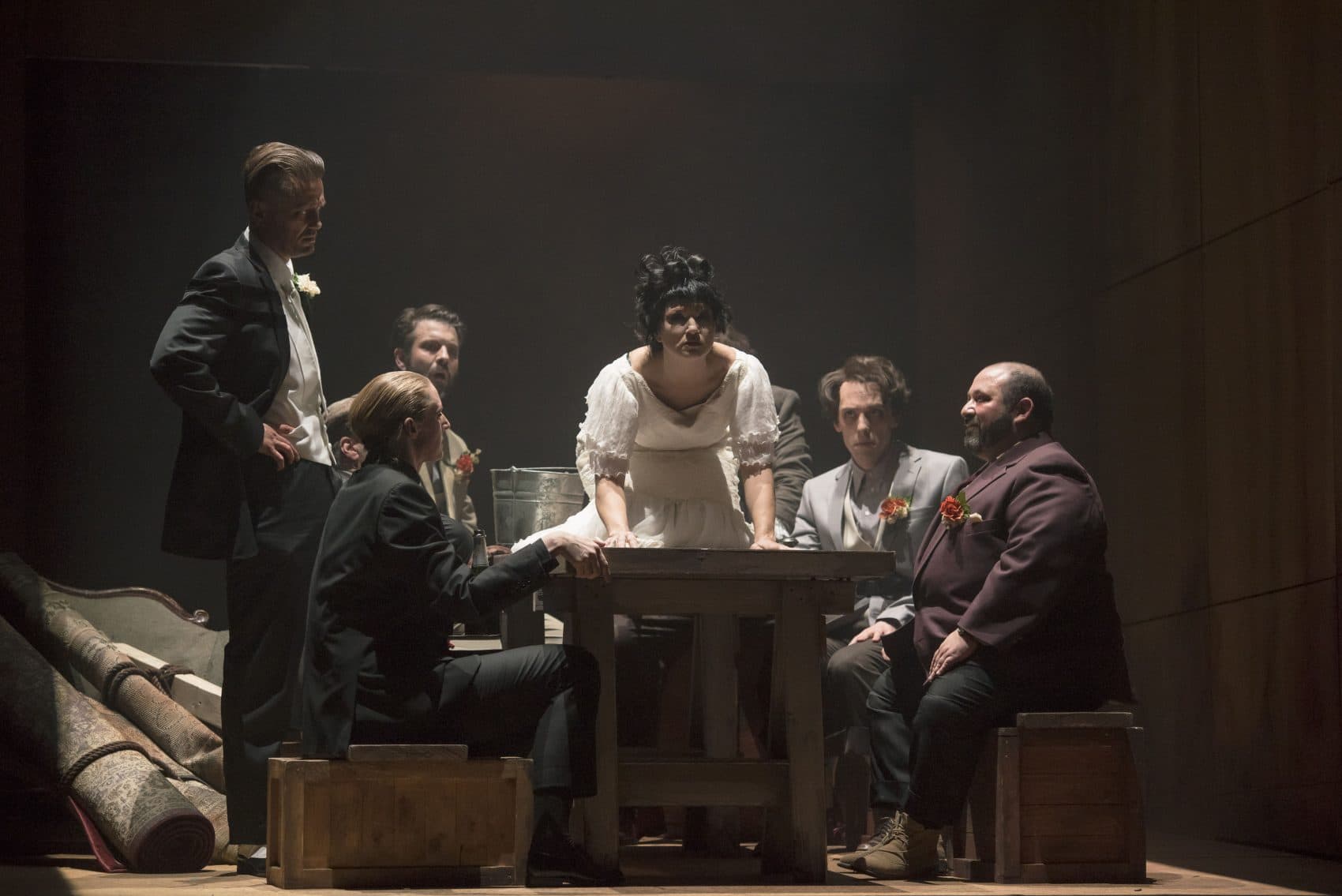 This article is more than 3 years old.
"The Threepenny Opera" was the sensation of the 1928 Berlin theater season. It consolidated the careers of its creators, composer Kurt Weill and poet/playwright Bertolt Brecht, and the celebrity of Lotte Lenya, Weill's wife, who played the featured (but not leading) role of Jenny Diver. In 1931, the show was made into a great movie by G.W. Pabst (with Lenya's role expanded). In 1933, it opened on Broadway and closed after 12 performances.
But in 1952, at the Brandeis Festival of Creative Arts, Leonard Bernstein conducted a new English version, with a translation by composer/librettist Marc Blitzstein, and starring Lenya. In 1954, that version, still with Lenya, opened at the Theatre De Lys and became one of the longest-running hits in off-Broadway history (2,611 performances!). The cast also included the appealing Jo Sullivan, Charlotte Rae and Beatrice Arthur, all establishing themselves as major new personalities. The cast album — despite (or because of?) MGM Records insisting that Blitzstein clean up Brecht's most graphic lyrics — is still in print.
This irresistibly tuneful, bitterly satiric musical drama was an updating of John Gay's 1727 "Beggar's Opera," which had been translated into German by Brecht's lover Elisabeth Hauptmann. (Laurence Olivier and Dorothy Tutin star in an enchanting 1953 film version directed by Peter Brook.) Following Gay, Brecht turns traditional personal and political morals upside down. The Peachums don't mind their daughter Polly sleeping with the notorious criminal Macheath (Mack the Knife) but don't want her to risk losing her power over him if she marries him. The gangland leader's best friend is the police chief. The abiding moral is: Food comes first, then morality. And as with Gay, given Weill's kaleidoscope of musical styles, even opera itself is a target of the satire.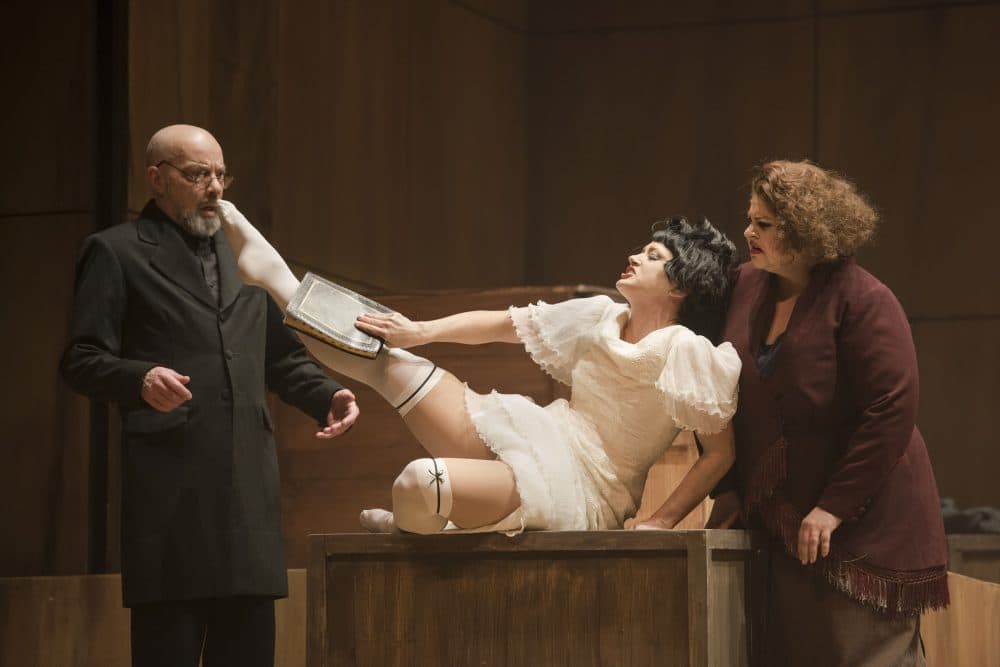 Since Brandeis, Boston has given us some notable "Threepenny" productions. Sarah Caldwell directed one in 1988, with Phyllis Curtin as Mrs. Peachum, and sopranos Sarah Reese as Jenny and Jeanne Ommerle as Polly. And back in 1965, Timothy Mayer (who is probably best known for his production of Brecht's "Mother Courage" starring Linda Hunt at the Boston Shakespeare Company), staged "Threepenny Opera" at Harvard's Agassiz Theatre, with an unforgettable young Stockard Channing. Here's what the Harvard Crimson had to say about her performance:
About halfway through "The Threepenny Opera" last night, [Stockard] Channing walked out onto the Agassiz stage to sing. She plays Jenny — Lotte Lenya's old part. She is supposed to be a tough whore, and she looks like a kewpie doll. She has a sweet, smooth voice. ... So what does she do? Does she ugly up her voice, play the sex queen, scatter knowing winks? Not a bit of it. She just stands there and sings. ... And as the song gets grizzlier she sings softer and softer, until she's almost whispering — about piles of dead bodies. It was chilling.
Would there were such chilling moments in the Boston Lyric Opera's new production. I was excited to see it on this season's roster. And the intimate Huntington Avenue Theatre seemed an ideal venue. There was a strong cast, and it was being staged by James Darrah, a hot young director from LA with an impressive list of creds, including assistant to Peter Sellars.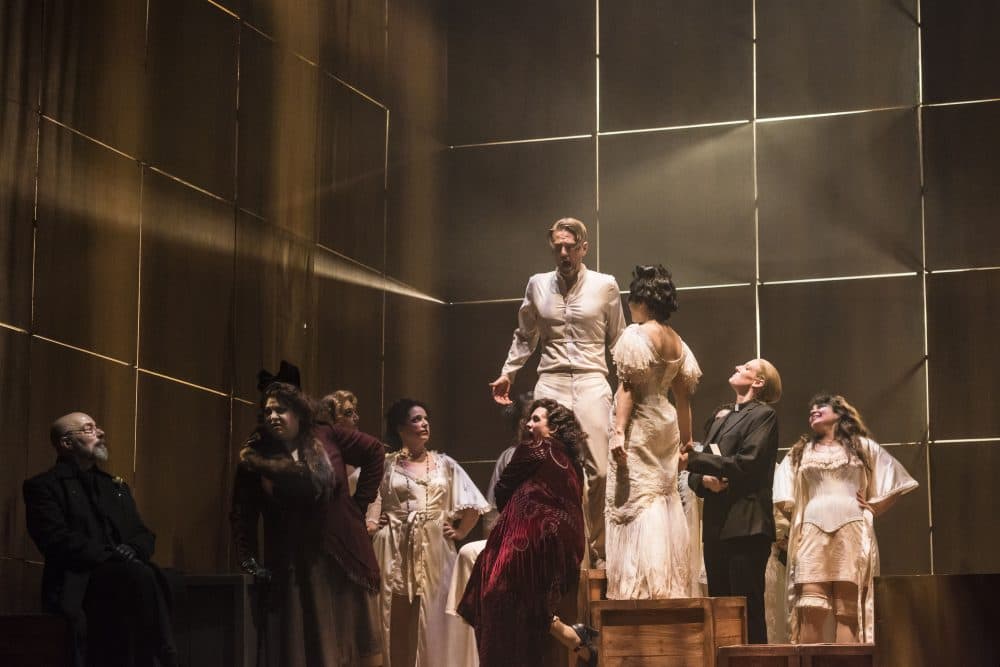 Things start propitiously. On an eerie, fog-bound stage, mysterious figures are standing like statues. The Street-Singer (baritone Daniel Belcher, who returns later as Tiger Brown, the corrupt police chief) circles the stage singing the famous "Moritat" (murder ballad) about the crimes of Mack the Knife, and as he mimes slashing these figures, they drop down almost in slow motion. This quietly sinister passage, aided immeasurably by Pablo Santiago's dramatic lighting, is all too rare in this production.
Before the opera starts, mezzo-soprano Michelle Trainor, dressed in Mrs. Peachum's blowsy rags, appears in a box seat and yells at the audience to turn off all cell phones and take notice of the exit signs. She's hilarious (and in fact the rest of that evening was cell-phone free). Unfortunately, this gauche note remains her only note.
Some of the singing is quite good, especially by soprano Kelly Kaduce, familiar to BLO audiences as Mimi, Butterfly, and Thais. But she's trapped by Darrah's conception of Polly not as an ingénue, the innocent who learns the ropes when Macheath, evading capture, leaves her to run the gang's business. In her spoken dialogue she "uglies up" her voice with an unidentifiable rancid working-class accent (Roseanne Barr?). She's already streetwise. Soprano Chelsea Basler's Lucy, Macheath's pregnant ex, is similarly heavy-handed. Kaduce and Basler, in their climactic "Jealousy Duet," end up smushing cake in each other's faces. Even Daniel Belcher's Tiger Brown overacts his excessive fondness for Macheath.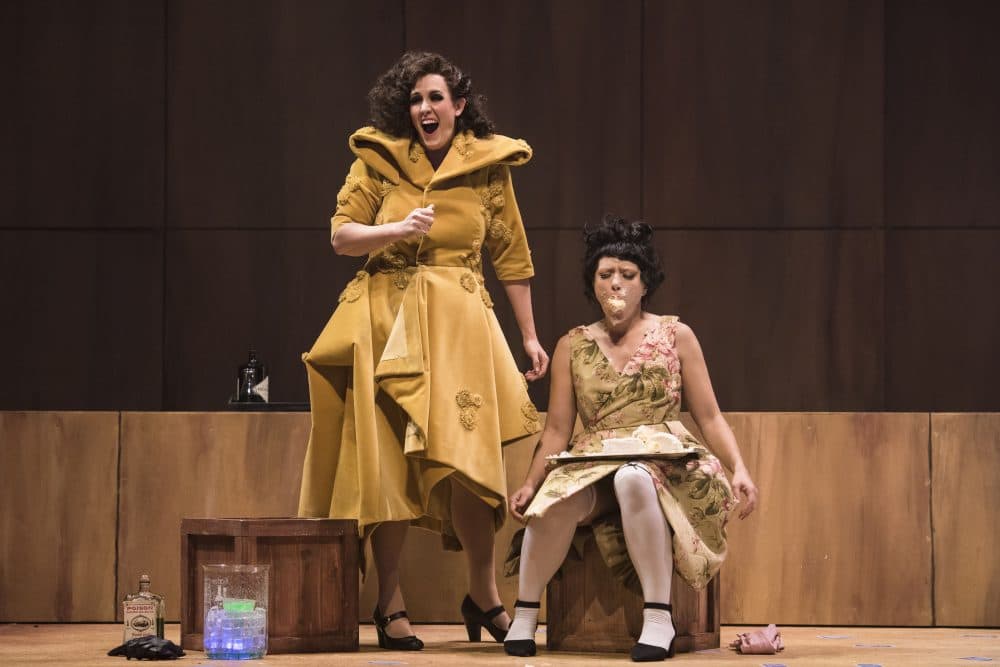 "Threepenny Opera" thrives on its unique combination of meanness and sentiment. But all the screaming and shrieking, yelling and cackling, and the totally uncalled-for slapstick are neither moving, nor witty, nor even particularly funny. Just tiresome.
Only baritones Christopher Burchett and James Maddalena don't succumb to this relentless overstatement. Maddalena (Peter Sellars's first Don Giovanni and the original Nixon in the Sellars/Adams "Nixon in China") is Peachum, Brecht's parody of a gangland — and union — boss, who runs all the beggars in London. He's a humorless, sober-sided Digger O'Dell type, grimly moralizing. And he stands out.
Burchett has a ringing voice, and also tends to downplay. He was superb in multiple roles in last year's BLO production of Marc-Anthony Turnage's "Greek" and outstanding as one of the lighthouse keepers in BLO's memorable 2012 production of Peter Maxwell Davies' "The Lighthouse." But Macheath, the center of everyone's attention, needs to exude charisma, sexuality and menace. But instead of a cynosure, Burchett is a cypher. There's little chemistry between him and either Polly or Lucy, or Jenny, the whore he can't give up even when his life depends on it (sung by big-voiced mezzo-soprano Renée Tatum, who sings Wagner roles at the Met). Their seductive, nostalgic tango-duet was barely a tango (no choreographer is credited) let alone seductive.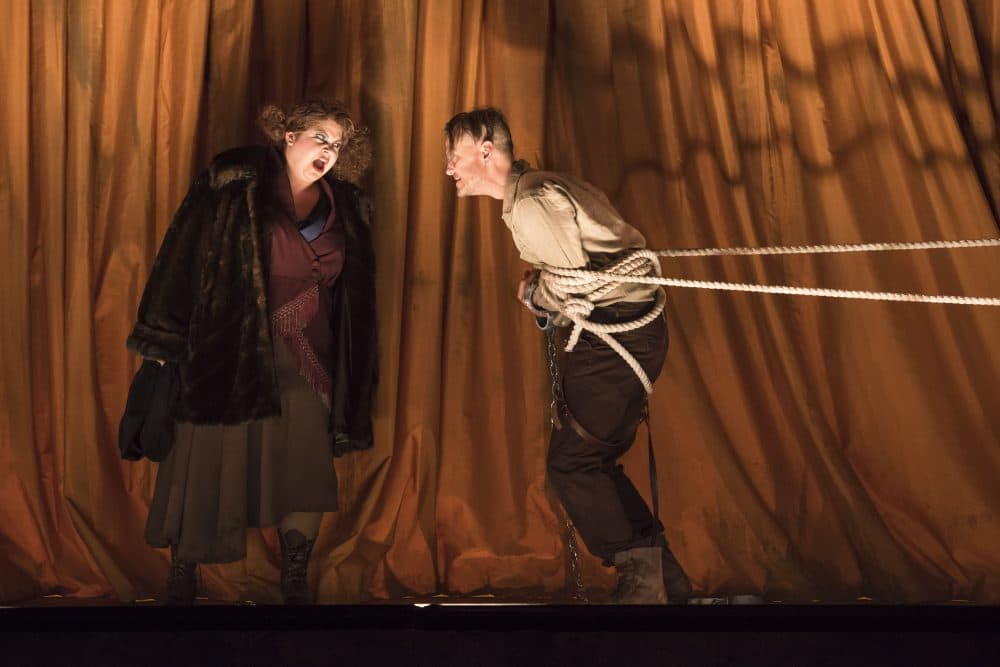 One persistent weakness of the production is musical. It's nice to hear all the instruments Weill actually asks for — including saxophones, banjo, Hawaiian guitar, accordion, piano (the terrific Brett Hodgdon) and an electronic keyboard substituting for a harmonium. Weill bans all violins! But music director David Angus never commits himself wholeheartedly to Weill's vast spectrum of musical styles: dancehall tunes, street-corner ballads, army songs, hymns and oratorio chorales. He keeps things bouncing jollily along, but everything sounds pretty much the same.
Check out this early 1930s recording of the suite from "Threepenny Opera" commissioned and led by the great Otto Klemperer. With biting humor, sly insinuation, and a tragic sense of doom, Klemperer completely captures the exciting multiplicity of Weill's score.
In at least one way, Darrah deals with the music better than Angus. The songs in "Threepenny Opera" are often isolated musical numbers that don't further the plot. This has made them easy to re-assign. Lenya eventually sung more songs than were originally written for her. In 1954, Polly's "Barbara Song" was switched to Lucy, and Bea Arthur soared to the occasion. One of Darrah's best staging devices is the sudden lighting change he has for each "number" — a lightning flash that blacks out the stage and puts the singer in the spotlight.
Another effective bit involves the ratty orange curtain that some of the characters pull across the front of the stage to hide what's behind it. The wedding-night scene between Polly and Macheath ends with him mounting her doggy-style, at which point that orange curtain gets drawn. When the newlyweds stick their heads out from a slit in the curtain, Macheath's head is directly above Polly's. It's not really sexy, but in its raunchy way, it's funny.
Like "The Beggar's Opera," "Threepenny Opera" is set in London, this time on the occasion of Queen Victoria's coronation. But Julia Noulin-Mérat's abstract and colorless set (also difficult to negotiate), along with Charles Neumann's period-indeterminate costumes fit into Darrah's desire to avoid specific identification with time or place. It's a missed opportunity.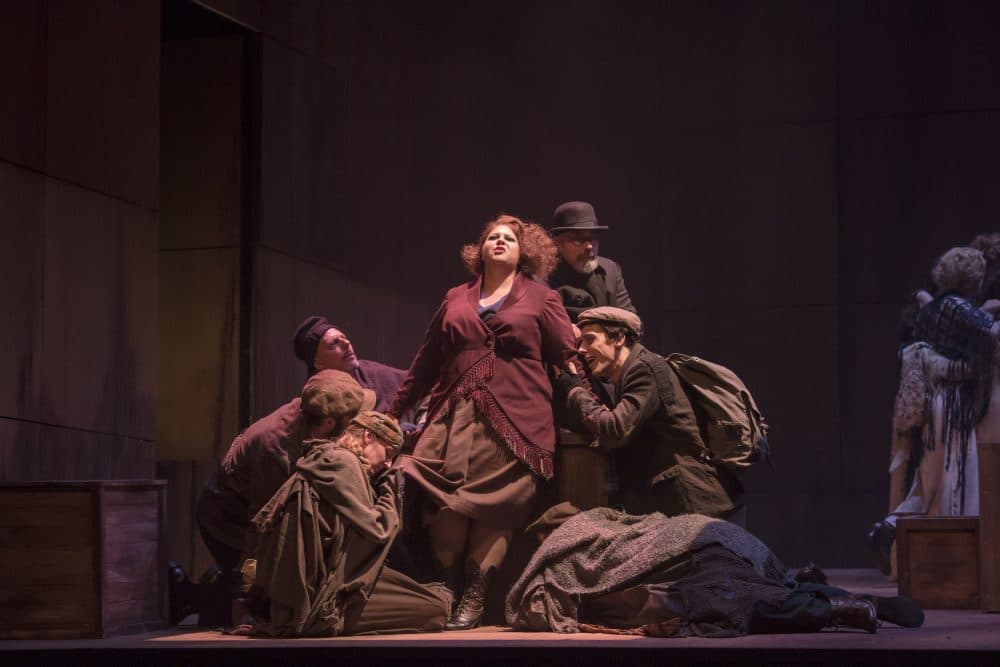 There's one other serious problem. There are several English translations of Brecht's lyrics and libretto. Esther Nelson, the BLO's artistic and general director, told me that the company tried to get the new translation used recently by England's National Theatre, but the rights weren't available. So the company resorted to the familiar but klutzy translation by Michael Feingold. I don't know why anyone would prefer this to the Blitzstein, which is so memorable — sly and pungent, and above all extremely musical. Virgil Thomson wrote in his 1954 review that Blitzstein's translation is "the finest thing of its kind in existence. He has got the spirit of the play and rendered it powerfully, colloquially, compactly. And his English versions of the songs are so apt prosodically, fit their music so perfectly, that one can scarcely believe them to be translations at all."
As a composer, Blitzstein knew which words would be most effective on which notes. Take the haunting "Pirate Jenny" song, for example, the song for which the "Crimson" reviewer praised Stockard Channing. A literal translation of the refrain would be, "And a ship with eight sails and with 50 cannons will by lying at the quay." Blitzstein's translation, evocative though not literal, begins "And a ship, a black freighter/With a skull on its masthead." The climactic high note falls on "ship" (exactly as it does in Brecht's German). Feingold's translation is "And a fifty-gun galleon/With its eight sails a-waving." The language is far from idiomatic and the strongest note is on "fif," hardly the most important or expressive syllable. One particularly unsingable line in "The Barbara Song" goes "And if he knew he should treat a lady courteously." (I'm not making this up!)
The only English version Lenya herself ever chose to sing was the Blitzstein.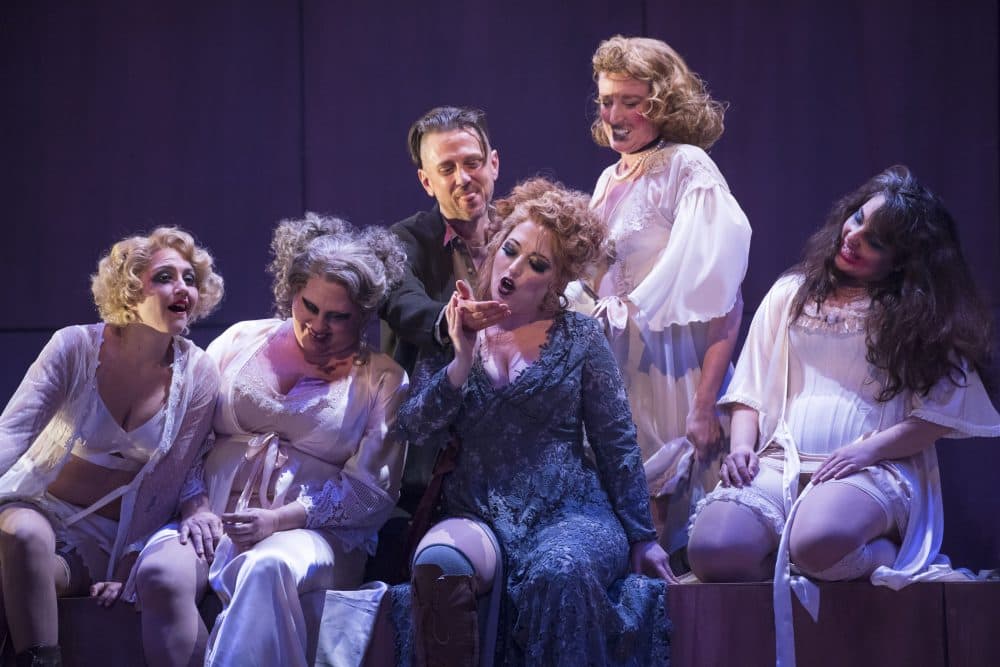 In this BLO production, it's very difficult to hear the words. Either the small orchestra drowns out the singers, or diction goes down the drain in the attempt to sing Feingold's awkward English. Stage director Darrah has said he wants audiences to give their complete attention to what's happening on stage, so he refuses "distracting" super-titles. I'm glad BLO didn't resort to amplifying the singers. But what's the use of focusing on the stage business if you can't follow the words? So very little in this revolutionary work gets to make much of an impact.
And I'd be most grateful if anyone can explain to me what happens at the very end when, instead of the "Moritat" returning with one of the most poignant passages in Brecht and Weill, Jenny starts to growl.
---

Remaining performances of "The Threepenny Opera" are at the Huntington Avenue Theatre on March 23, 24, and 25. Boston Lyric Opera ends its current season with eight performances of Leonard Bernstein's short satirical opera "Trouble in Tahiti" combined with his "Arias and Barcarolles" at the DCR Steriti Memorial Ice Rink in Boston from May 11-20.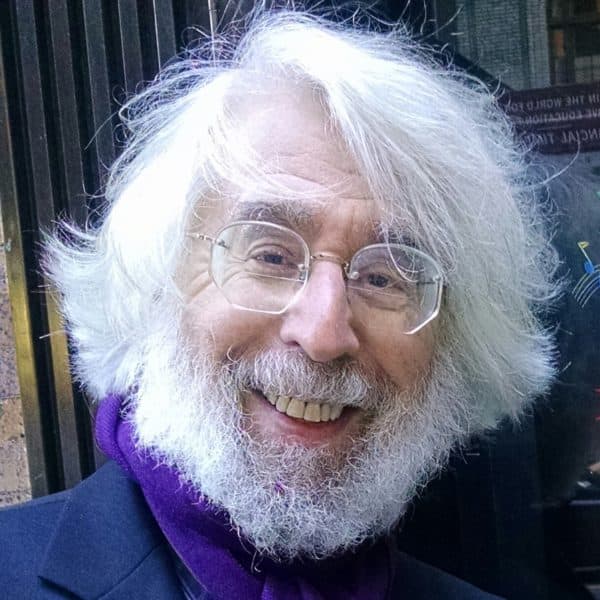 Lloyd Schwartz Arts Critic
Lloyd Schwartz is the classical music critic for NPR's Fresh Air and Somerville's Poet Laureate.