Atomizing Dance: Company Wayne McGregor Debuts 'Atomos' In Boston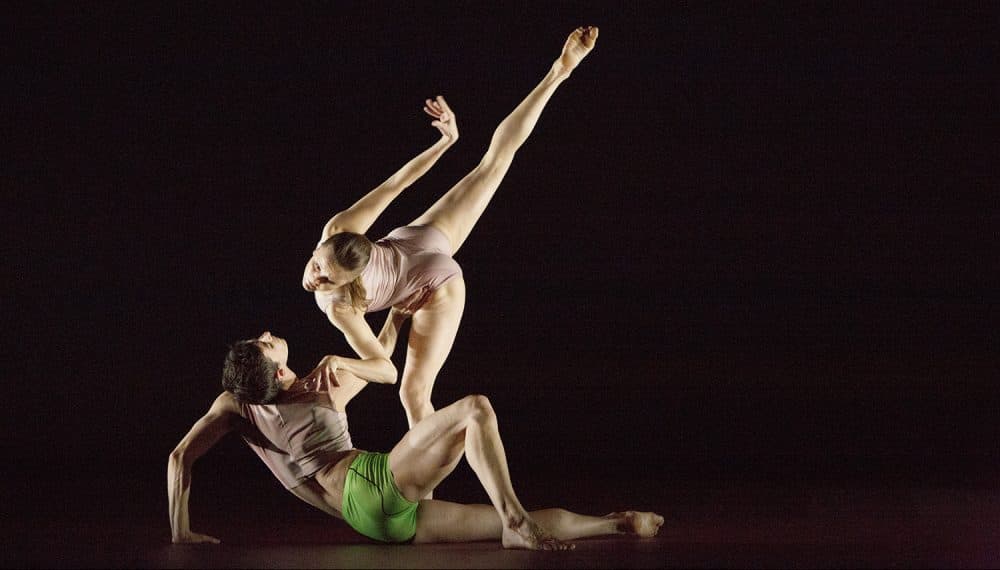 This article is more than 2 years old.
Ten dancers fill the achromatic space, energy coursing through even the smallest of muscles as they rehearse the fast-paced, anatomy-defying movements that typify the work of one of the world's most in-demand choreographers — the British trailblazer Wayne McGregor.
There is an 11th member of the cast, although it won't share the stage with the others. It sits at the front of the studio, provoking improvisation with flashes of light and color that melt into the singular vision of a dancing figure on a screen.
The artificially intelligent machine, named "Becoming," fulfills one of McGregor's longtime goals: to work with an autonomous choreographic software agent that shares attributes of a "body." Digital artists OpenEndedGroup worked for nearly a decade to perfect the structure that is programmed by an algorithm and is ultimately intended to augment the creative process.
What resulted is the scientifically-driven creation "Atomos," a cross-disciplinary production of music, lighting, costuming, film and, of course, dance, which originally premiered in 2013 at Sadler's Wells.
This weekend, the London-based Company Wayne McGregor will perform the sculptural piece, featuring a score by neoclassical composers A Winged Victory For The Sullen, lighting by designer Lucy Carter and original footage by filmmaker Ravi Deepres, at the Boch Center's Shubert Theatre. Its Boston debut, on Friday, May 4 and Saturday, May 5, is presented by the Celebrity Series of Boston.
"Wayne's work is so physically challenging for the mind and body," said James Pett, who is in his fifth year with the company. "However, what makes his work so brilliant is the refined ideas behind each step. Moreover, the detail is combined with a freedom to explore with no end."
And explore they do. In "Atomos" particularly, McGregor was interested in the concept of indivisible structures and how one might atomize the body, as well as movement, sound, light and film. In fact, an unnamed '80s sci-fi movie that resonates with the award-winning artist inspired his desire to "cannibalize" its elements -- visually, emotionally, physically and thematically -- and use that information to grow individual atoms, creating a new universe in the process.
"We dissected the film into 1,200 constituent parts, and they each drive a particular part of 'Becoming,' " McGregor said in a video interview with critic Judith Mackrell for The Guardian.
The dancers selected a frame from the film that interested them in regards to emotion, color or physicality. The autonomous choreographic agent then analyzed the motion within the frame, rendering it into math and prompting a series of physical responses from the dancers, who were wearing 3-D glasses (as the audience will do during the performance).
The costumes were created in a similar, data-dependent manner. McGregor collaborated with Studio XO, fashion innovators who design for Lady Gaga, to produce wearable technology that tracks biometric data, such as body temperature, pulse, arousal and adrenaline.
By observing physical and mental behaviors, the futuristic fashion team translated their findings into 3-D forms of different materials that the dancers could interact with. Again, they monitored the dancers, recording intimate data that would influence the costume design -- Lycra suits that are digitally printed with distinct sequences of shapes and colors that are based on each individual dancer and the way in which he or she thinks and moves.
It goes without saying that McGregor and his innovative, synergetic approach to movement is a force to be reckoned with. His insatiable curiosity with academia and his determination to combine the precise with the abstract not only influences but also challenges the art world in a progressive way.
"I feel as the world evolves in technology and science, it's important that dance moves with it and keeps evolving," Pett said. "Wayne's work has specificity and demands clarity, yet at the same time allows you to constantly explore yourself on stage. For me, it's the perfect combination."
---
Company Wayne McGregor presents "Atomos" at 7:30 p.m. on Friday, May 4 and at 8 p.m. on Saturday, May 5 at the Boch Center's Shubert Theatre.
Lawrence Elizabeth Knox Contributor, The ARTery
Lawrence Elizabeth Knox, a recent graduate of Boston University, is a freelance photojournalist in Houston, Texas, and a contributor to The ARTery.