Major Changes Coming To City Hall Plaza, Including Cancellation Of 'Boston Winter' Festival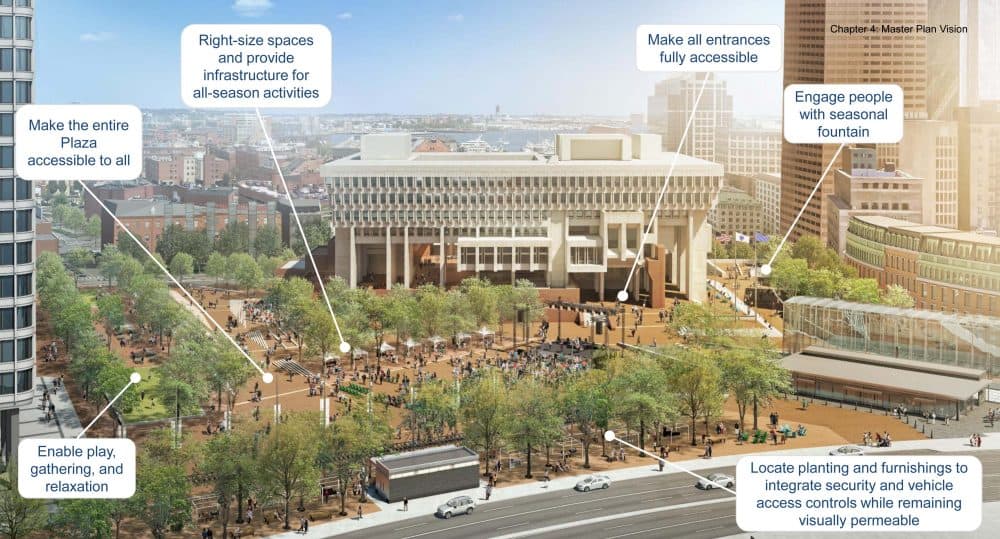 Boston City Hall Plaza will get a $60 million renovation that city officials say will make the brick expanse more amenable to events, and encourage more activity.
It'll also mean Boston Winter will not operate later this year. The festival has filled the plaza with ice skating, food and shopping in November and December during the last two years.
Among the planned changes:
making the plaza and City Hall entrances accessible for people with disabilities;
improving "plug-and-play" infrastructure — like water, electricity and data — for big events;
and creating smaller spaces to encourage gathering, with more shade.
"Over the years the Plaza has become an undifferentiated void, and the default location for large rallies and gatherings," a report commissioned by the city on the plaza stated. "Because of logistics and safety concerns, the City no longer wishes to hold large 40,000-person gatherings on the Plaza, preferring instead rolling rallies that distribute the crowd.
"Rightsizing and differentiating spaces will bring variety and more humanity back to the Plaza, while still accommodating events up to 25,000 across the whole Plaza."
First up are infrastructure improvements to the north side of City Hall, including the long-closed building entrance on that side. The city will be testing the infrastructure both above and below ground, causing disruption to the landscape there.
That'll mean the Boston Winter festival won't set up shop this year. Boston Garden Development Corporation has a three-year contract to run Boston Winter and The Patios, a summertime installation that includes a beer garden and pop-up shops. The Patios will stay through the summer.
Construction is expected to begin next year, with the first phase of renovations expected to last until 2020.
The city selected Skanska as the project manager, and is negotiating with Sasaki to become the design firm.
The $60 million will come out of the city capital budget, with most of it expected to be spent from fiscal years 2020 to 2023.
"As we prepare to celebrate Boston City Hall's 50th anniversary this summer, we are recommitting to our vision and moving forward with our plans to make City Hall the civic heart of our city," Boston Mayor Marty Walsh said in a statement. "These improvements are not only necessary for the long-term viability of City Hall and the plaza, but are an important part of our plan to make these spaces a destination."
With reporting by WBUR's Ally Jarmanning