Armed With A Dulcimer And A Song, Noelle Micarelli Offers A Fresh Twist On Folk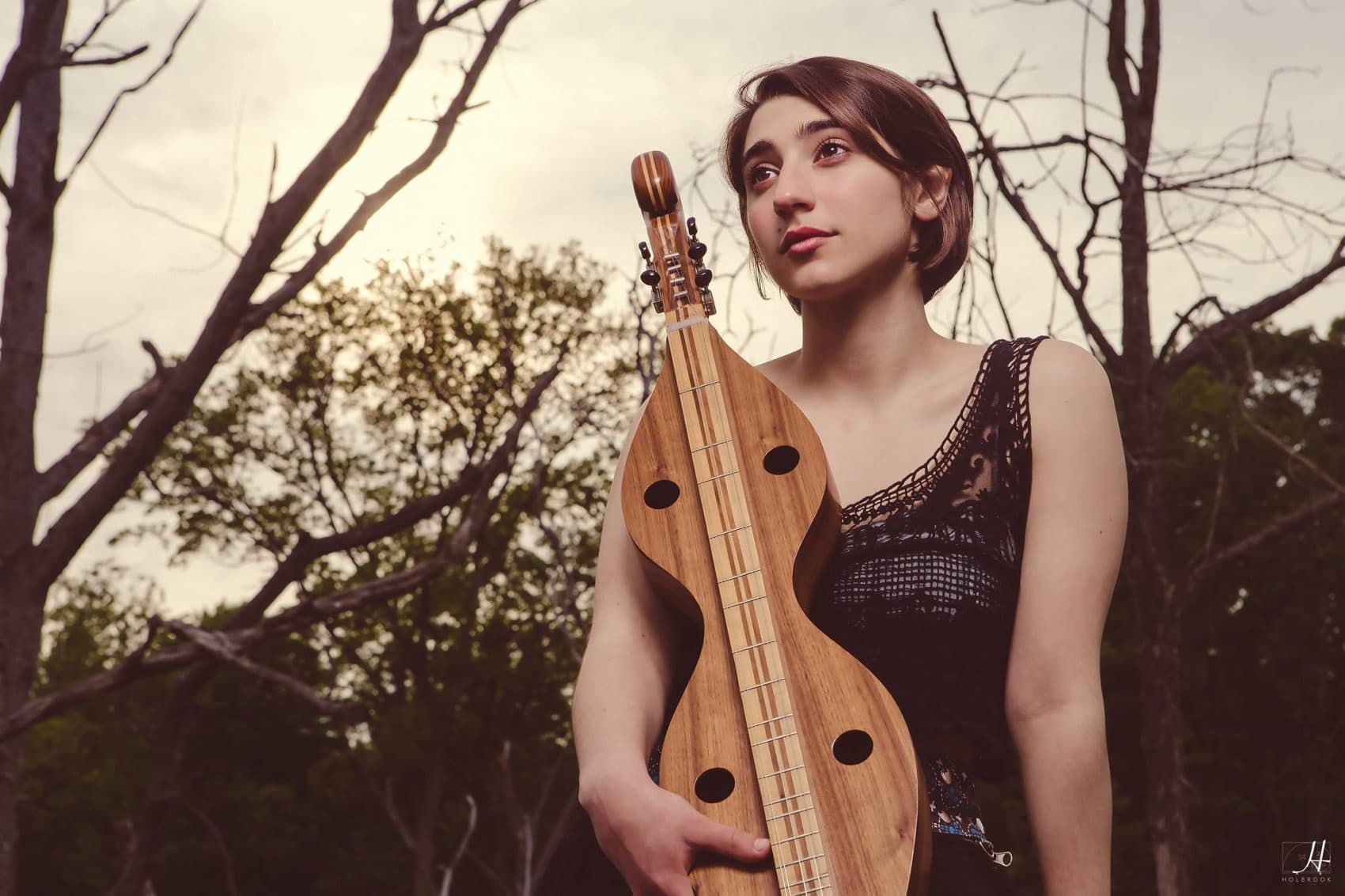 This article is more than 2 years old.
WBUR's panelists at The ARTery selected singer-songwriter Anjimile as their favorite Massachusetts entry to NPR Music's Tiny Desk Contest this year. But, our panelists wanted the chance to highlight some other entries that stood out to them. Here's what panelist Mali Sastri — a singer, composer and frontperson for Boston art-rock band Jaggery — thought of Noelle Micarelli's entry:
---
It's hard not to be charmed by the first image in Noelle Micarelli's submission to NPR Music's Tiny Desk Contest: a miniature mountain dulcimer sitting on a truly tiny desk, beside a small porcelain figurine of a woman in 19th-century prairie garb. The shot then pans up to Micarelli, dressed similarly with bandanna in their hair and long flowered skirt, plucking out polyrhythms on a dulcimer in their lap. (Micarelli uses the pronouns "they" and "them.") One can imagine the musician in the bedroom of an old farm house with creaky floors.
And then, in a voice as fresh and clear as country air, Micarelli begins to sing: "My job is I'm the weatherman." Thus unfolds a lilting folksong, delivered from the unlikely perspective of a meteorologist and the impending ending of a relationship. The lyrics are full of weather metaphors: rain and clouds are predicted in the characters' heads and hearts, while snowstorms, hailstorms and floodings prevent them from reuniting. The melody is serpentine, and though there's a simplicity in Micarelli's delivery — easy, relaxed, unaffected — it belies the richness and depth of both the rhythm and the lyrics.
"Most of my songs, or at least how I've approached the process of writing, is from the perspective of, or about, characters," Micarelli says. The 24-year-old Dorchester resident majored in theater at college, so maybe we shouldn't be surprised. Despite having a jazz pianist father, Micarelli gravitated toward bluegrass and Appalachian folk music, and mentions artists like Sarah Jarosz and Sarah Watkins as being particularly influential. The dulcimer was a gift from Micarelli's parents just four years ago, and became the first instrument the musician ever learned to play. (They've since branched off into guitar as well, writing and gigging on both.)
"I don't play it in a very traditional way," Micarelli says of the mountain dulcimer, a small, portable instrument not to be confused with the larger hammered dulcimer. "I learned to play it by picking it up and fooling around — it's so easy to do that on the dulcimer because it's just four strings, it's diatonic, it's really simple and it sounds lovely no matter what you do. It's forgiving."
No forgiveness is needed to enjoy "The Weatherman" and Micarelli's fresh take on folk music, which manages to evoke so much, so gently and quietly.